Archives
---
---
Index of Archive pages
Archive 1
Archive Page 2001 - Spiderman, Catwoman, Petreski, Tony DeZuniga
---
Archive 2
Archive Page 2002 - Julie Newmar, Superhero Underwear, Darth Throne of Game, State by state guide to favorite comic superheroes
---
Archive 2003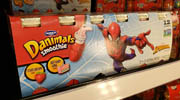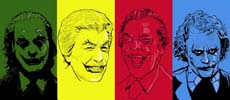 Archive Page 2003 - Superhero potty training, Marvel Movie Billions, Neal, Shaft
---
Archive 2004
Archive Page 2004 - Bruce Campbell, Spider-Man, Batman, Wonder Woman, Disney, Spider-Man departs Marvel's MCU
---
Archive 2005
Archive Page 2005 - Joker, Robert Downey, Ice Cream of the Superheroes, Spider-Man, Todd Phillips, Creating comic books for the blind
---
Archive Page 2006 - Ghost Leather and Duckhead, Disney the plucky underdog, Batman blowup soft drink, Michael Uslan
Archive Page 2007 - All-female Marvel Movie, 500 horsepower Bat-Mobile, Oscar talk Joker
Archive Page 2008 - Spider-Man, Tintin, Stan Lee, British comics history in danger of loss, Spider-Man returning to the Marvel MCU onscreen
Archive Page 2009 - George Miller, Wonder Woman, Gal Gadot, Batman, George Miller weighs in on the superhero wars
---
Archive 2010
Archive Page 2010 - Lewis Wilson Batman, Boba Fett, Star Wars Rise of Skywalker, He-Man, Martin Scorsese
---
Archive 2011
Archive Page 2011 - Zoe Kravitz, Star Wars Rise of Skywalker, Digital Comics, Todd Phillips
---
Archive 2012
Archive Page 2012 - Justice League Snyder Cut, Yellow Kid, Boom Studios, No Spielberg for Indiana 5, Lynda Carter
---
Archive 2013
Archive Page 2013 - New Batman car is a recognizeable contemporary automobile, Coronavirus, Dracula for remake, Birds of Prey
---
Archive 2014
Archive Page 2014 - Marvel delaying everything, schedules closing down from Covid-19, DCBS Comics, Michael Giacchino, Flash movie
---
ARCHIVE 2015
Archive 2015 - Spiderman roams Scotland, new techniques comic book shops are using to reach customers
---
Archive 2016
Archive 2016 - The health risks comic book artists experience, and the Pandemic, Quentin Tarantino
---
2017
Archive 2017 - Todd McFarlane: We can't just sit here and do nothing, Emmanuelle Chriqui will be Lana Lang
---
Archive 2018
Archive 2018 - New DC Comics distributor, Alicia Silverstone Batgirl
---
Archive 2019
Archive 2019 - DC Comics digital products, Harley Quinn tartan, all the Catwomen
---
Archive Page 2020 - DC vs Geppi, Marvel substitutes new art for missing art in Marvel Masterworks
Archive Page 2021 - Marvel designed covid19 masks, Why Marvel chose Iron Man for the first MCU movie
Archive Page 2022 - Apologies to the cast of Avengers, DC Comics movies list
Archive Page 2023 - New Mutants, Akiva Goldsman, Comicon San Diego
Archive Page 2024 - Comic book stores vs Covid, Batfleck, Harley Quinn cancelled
Archive Page 2025 - DC launches digital only Batman web comic, Will Affleck be turning his hand back to his incomplete Batman script?
Archive Page 2026 - Newsarama is now gone, the new Batmobile unvieled, and is Superman the Hulk?
---
Archive Page 2027 - Denny O'Neil has died, San Diego virtual con, DC Daily news is kaput, Donald Duck makes his screen debut,Film productions about to restart?
---
Original Page Sept 2019 | Updated April 2020
---
---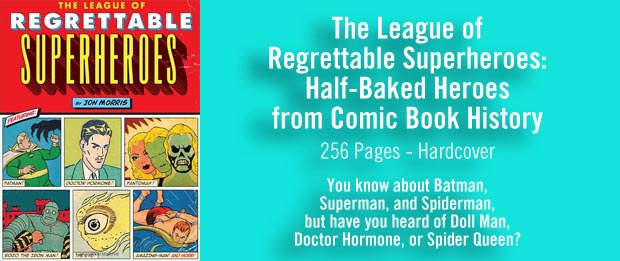 The League of Regrettable Superheroes: Half-Baked Heroes from Comic Book History - AMAZON