Archives
---
---
Index of Archive pages
Archive 1
Archive Page 2001 - Spiderman, Catwoman, Petreski, Tony DeZuniga
---
Archive 2
Archive Page 2002 - Julie Newmar, Superhero Underwear, Darth Throne of Game, State by state guide to favorite comic superheroes
---
Archive 2003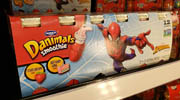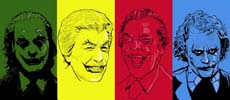 Archive Page 2003 - Superhero potty training, Marvel Movie Billions, Neal, Shaft
---
Archive 2004
Archive Page 2004 - Bruce Campbell, Spider-Man, Batman, Wonder Woman, Disney, Spider-Man departs Marvel's MCU
---
Archive 2005
Archive Page 2005 - Joker, Robert Downey, Ice Cream of the Superheroes, Spider-Man, Todd Phillips, Creating comic books for the blind
---
Archive Page 2006 - Ghost Leather and Duckhead, Disney the plucky underdog, Batman blowup soft drink, Michael Uslan
---
Archive Page 2007 - All-female Marvel Movie, 500 horsepower Bat-Mobile, Oscar talk Joker
Archive Page 2008 - Spider-Man, Tintin, Stan Lee, British comics history in danger of loss, Spider-Man returning to the Marvel MCU onscreen
---
Archive Page 2009 - George Miller, Wonder Woman, Gal Gadot, Batman dead again - Almost, George Miller weighs in on the superhero wars, Whiz Comics
---
Archive 2010
Archive Page 2010 - Lewis Wilson Batman, Boba Fett, Star Wars Rise of Skywalker, He-Man, Martin Scorsese
---
Archive 2011
Archive Page 2011 - Zoe Kravitz, Star Wars Rise of Skywalker, Digital Comics, Todd Phillips
---
Archive 2012
Archive Page 2012 - Justice League Snyder Cut, Yellow Kid, Boom Studios, No Spielberg for Indiana 5, Lynda Carter
---
Archive 2013
Archive Page 2013 - New Batman car is a recognizeable contemporary automobile, Coronavirus, Dracula for remake, Birds of Prey
---
Archive 2014
Archive Page 2014 - Marvel delaying everything, schedules closing down from Covid-19, DCBS Comics, Michael Giacchino, Flash movie
---
ARCHIVE 2015
Archive 2015 - Spiderman roams Scotland, new techniques comic book shops are using to reach customers
---
Archive 2016
Archive 2016 - The health risks comic book artists experience, and the Pandemic, Quentin Tarantino
---
2017
Archive 2017 - Todd McFarlane: We can't just sit here and do nothing, Emmanuelle Chriqui will be Lana Lang
---
Archive 2018
Archive 2018 - New DC Comics distributor, Alicia Silverstone Batgirl
---
Archive 2019
Archive 2019 - DC Comics digital products, Harley Quinn tartan, all the Catwomen
---
Archive Page 2020 - DC vs Geppi, Marvel substitutes new art for missing art in Marvel Masterworks
Archive Page 2021 - Marvel designed covid19 masks, Why Marvel chose Iron Man for the first MCU movie
Archive Page 2022 - Apologies to the cast of Avengers, DC Comics movies list
Archive Page 2023 - New Mutants, Akiva Goldsman, Comicon San Diego
Archive Page 2024 - Comic book stores vs Covid, Batfleck, Harley Quinn cancelled
Archive Page 2025 - DC launches digital only Batman web comic, Will Affleck be turning his hand back to his incomplete Batman script?
Archive Page 2026 - Newsarama is now gone, the new Batmobile unvieled, and is Superman the Hulk?
Archive Page 2027 - Denny O'Neil has died, San Diego virtual con, DC Daily news is kaput, Donald Duck makes his screen debut, Film productions about to restart?
Archive Page 2028 - Anniversary for Batman Begins, Iron Man to reboot, Black Panther suit designs
Archive Page 2029 - Anniversary for Batman Begins, Iron Man to reboot
---
Archive Page 2030 - Anniversary for Batman Begins, Iron Man to reboot, Director Joel Shumacher has died, Adrianne Palacki - Wonder Woman
---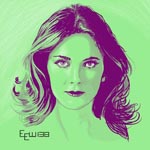 Archive Page 2031 - Lynda Carter, Margo Robbie Batman Pirate, Michael Keaton
---
Archive Page 2032 - Michelle Pfeiffer Catwoman, Bat-mania as a mental disorder
---
Archive Page 2033 - Marvel now has the Predator and Alien series, Tom Holland Spidey movies counted to six, ten cancelled DC Comics
---
Archive Page 2034 - Pandemic about to kill Miami comic book store, then Batman arrives, Pandemic in Miami and comic book store, Diamond vs the new Comic Book Distributors, Power Rangers expands at Boom
Archive Page 2035 - New Batman suit premieres in Joker War, Spidey 3D, The Shadow, Dark Knight Rises, Spiderman 3
Archive Page 2036 - The funny Bat-suit, Terminator and Ulta-Man, and Virtual Comicon 2020
Archive Page 2037 - Spidery Woman, Ghost Rider, Zack Snyder burns Joss Whedon
---
Archive Page 2038 - Iron Man III and its issues, Black Widow and Scarlett Johansson, Gal Gadot
---
Archive Page 2039 - Smallville, Kraven The Hunter, Michael Keaton and Ben Affleck, How many titles at DC Comics are losing money?
---
Archive Page 2040 - Wonder Woman Chainsaw, Thing reboot, The Hulk
---
Archive Page 2041 - Pattinson Batman, Chadwick Boseman, Charlie Hebdo humor magazine, BRZRKR comic at kickstarter
Archive Page 2042 - Black Panther, no more Iron Man from Robert Downey Jr, and Vampire Superhero Investigator
Archive Page 2043 - Archie title stops publication, Abba Super Suits, Marvel doesn't need no fandome
Archive Page 2044 - Wonder Woman 84, Changes galore at DC, Joaquin Phoenix for more Joker movies
Archive Page 2045 - Adam West Birthday, Batman Day, She Hulk, Henry Cavill
Archive Page 2046 - Luke Skywalker, Darth, Nicolas Cage, and Spock Star Trek
Archive Page 2047 - Stan Lee, Darth Vader eye strain, BRZRKR, Nick Fury, Archie Comics
Archive Page 2048 - One million superhero movies are piling up to be released, Jim Carrey, Keanu Reeves BRZRKR, Shazom 2, Godzilla
---

Archive Page 2049 - Wonder Woman 1984 to streaming, Moebius The Incal, Pattinson Batman fights with his director, Alan Moore
---
Archive Page 2050 - Gal Gadot Cleopatra, The Bat-Duck is for sale, Warner Bros layoffs, Ryan Ottley
---
Archive Page 2051 - New Spider-Man design, Shazam 2, Million dollar Punisher art, Trina Robbins searches for stolen art
---

Archive Page 2052 - Batman Forever Shumacher Cut, Nirvana Batman, Spider-Man 3, new Captain America
---

Archive Page 2053 - Mahershala Ali is Blade, Superhero Multiverse Trope, Brandon Routh Superman
---

Archive Page 2054 - John Buscema artwork stolen, Greatest Comic Book Artists of All Time, Million-dollar Detective Comics #27
---
Archive Page 2055 - Vandalized Robin the Boy Wonder suit, Wonder Woman sequel headed for HBO Max, Ben Affleck
---
Archive Page 2056 - Will Smith, Live-action Spiderverse, Fincher against The Joker, Alan Dean Foster in fight with Disney
Archive Page 2057 - $30,000 Bat-Clock, Aaron Eckhart, Flashpoint Movie

Archive Page 2058 - Disney and Marvel financial future, Wired Magazine thinks pirating is a good thing, How the gaming and comic book industry responded to the pandemic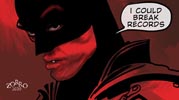 Archive Page 2059 - The Batman production could make records, Dolly Parton, Reality check on that HBO deal
Archive Page 2060 - Wonder Woman eats Taco Bell for the first time, Harley Christmas, Sinister Six or Seven, Patty Jenkins
Archive Page 2061 - Walter Hamada head of the DCU, trouble on the Batman movie set, Kamala Khan coming
Archive Page 2062 - Pattinson Batman, Heavy Metal Batman blackety-black, is Frank Castle cancelled?
Archive Page 2063 - Demon Slayer massive sales, Mint copy of Batman #1 goes for $2,220,000 million, Tintin original art
Archive Page 2064 - Steve Lightle has died, Tom Holland now shooting Spider-Man 3, Batman/Scooby Doo comic book
Archive Page 2065 - King Kong vs Godzilla, the Batman-Biden link, Spider-Man III is going to be a Ho-Ho-Ho movie
Archive Page 2066 - Multiverse streaming wars, Black Widow Johansson, George Clooney bad Batman movie endless stories, new addition

Archive Page 2067 - Captain Marvel 2, Snyder cut Justice League, Delayed 2020 films
Archive Page 2068 - Superman
Archive Page 2069 - Michelle Pfeiffer Catwoman, Graphic novel sales have increased 100%, Batwing '89 Lego, Batman Future State
Archive Page 2070 - Superheroes lead sales increases, Spawn titles spawn more titles, Jim Sokolowski, Gina Carano, HBO Max
Archive Page 2071 - Frog Brothers and Batman #14, Ryan Reynolds' Green Lantern, solo Wandavision movie
Archive Page 2072 – Ta-Nehisi Coastes Superman, Superman that was, Linearverse at DC, Roy Thomas defends Stan Lee
Archive Page 2073 – Vladimir Nabokov Superman, Cancelled Comics Cavalcade, Batman #106, Stan Lee biography
Archive Page 2074 – BRZRKR, Japan's comic book market, Kevin Feige discusses Captain America shield
Archive Page 2075 – Defending Zack Snyder, graphic novel sales, Batman and Avengers, unload your comic book collection
Archive Page 2076 - Jack Burton, Superman ripp-offs, Deathstroke, Justice League Snyder Cut, The new Captain America
---

Archive Page 2077 - William Shatner, Venom II, Pettibon, Joss Whedon, Tim Burton Batmobile
Archive Page 2078 - Superman the worst franchise, NFT Art Sales, Black Widow, Earth-2 Batman, Everything is omniverse at DC
Archive Page 2079 - Keaton is Batman again - officially, Batman #1 goes for #1.2 million, Alex Ross NFT, Tom DeFalco
Archive Page 2080 - Flash Gordon, racism, The Falcon, Batman Number 1, Iron Man Billboard
Archive Page 2081 - Big plans for Captain Marvel, Batmobile, Joss Whedon, Artist John Paul Leon, Demon Slayer, Danny Elfman
Archive Page 2082 - DC Universe Infinite, Batman #108, Stan Lee to Mark Millar, extended cut of Batman Forever
Archive Page 2083 - Batman ststus, Archie anniversary, Sasha Calle, Supergirl, Scarlett Johansson
Archive Page 2084 - Worlds biggest comic book, Incredible Hulk, Demon Slayer and Zack Snyder
Archive Page 2085 - Spawn Universe, Clooney, Joker 2, Matrix IV, Aquaman 2, Speed Racer, Kevin Feige killed?
Archive Page 2086 - Promise Collection, Pattinson Batman, Spider-Man 4, NFT buying frenzy
Archive Page 2087 - Streaming number fudging, Shock SuspenStories Wally Wood, Hiddleston Loki
Archive Page 2088 - Naya Rivera, Sal Buscema, Batman-theme restaurant in Soho, Beano, Rocketeer, Chicago Comic Art museum exhibits
Archive Page 2089 - Gal Gadot, NFT art sales, Black Widow,X-Men #1 goes for $800K+
---
---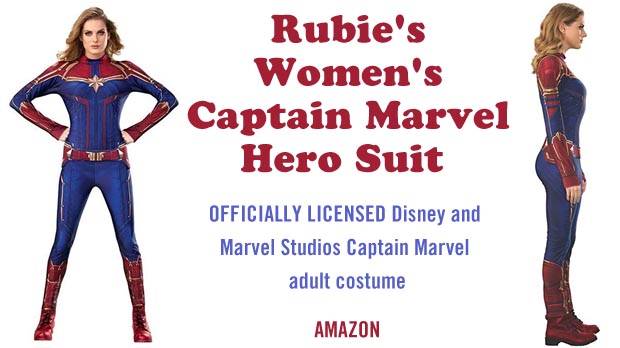 Rubie's womens Captain Marvel Hero Suit Adult Sized Costumes, As Shown, Medium US
---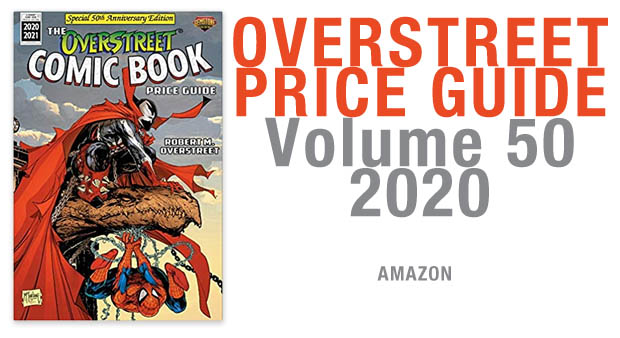 The Overstreet Comic Book Price Guide Volume 50 – Spider-Man/Spawn
---
Page Updated June 24, 2021