Archive Page 2115
December 21, 2021
---
The many deaths of Aunt May - CBR
---
Some of the coming DC Comics, Batman-centric – Batman News
---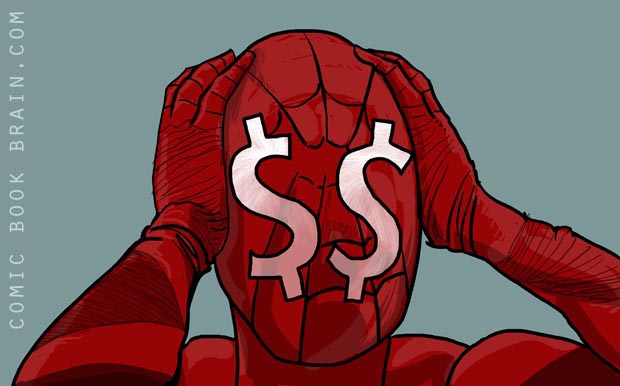 Spider-Man No Way I'm A Flop movie crosses the billion dollar mark for worldwide box-office
The movie easily conquered the three-day holiday weekend in North America, too, grossing roughly $81 million from 4,336 locations in the U.S. and Canada.
Story at NBC News
Spider-Man No Way Home
Domestic: $467,331,855
Worldwide: $1,054,431,855 - Boxofficemojo
"Spider-Man may not be able to find a way home, but Sony has certainly found a way to the bank" – Hollywood Reporter via Fark
'Spider-Man: No Way Home' Becomes Sony's Top-Grossing Pic of All Time at U.S. Box Office" – Hollywood Reporter headline
---
Batmobile '66 replica going to auction – Stuff NZ
---
Marvel NFTs launching in India – Finextra
The Chakraverse revolves around a superhero named Chakra. Chakra is a collaboration between famed Marvel comic book creators Stan Lee, Gotham Chopra, and Sharad Devarajan. The story revolves around Raju Rai, a young boy living in the bustling city of Mumbai. Raju is obsessed with the idea of the seven chakras. He believes that tapping into this power helps humanity unlock its potential.
---
Boba Fett profile at the New York Times - NY Times
---
Ringling College and artist Mike Zeck - Yahoo News
---
The perennial subject of pop culture news in December: is Die Hard a Christmas Movie? – comicbook
---
Korean Webtoon industry goes earns over 1 trillion won - i.e., $843.6 million - for the first time – Korea Times
---
Saving a Comic Book Mural in Allentown
Over the past several months, Christopher Elston has become obsessed with a wall on what was, until recently, a vacant building in the 1600 block of West Chew Street in Allentown.
It was the site of the old Beachead Comics store, complete with a 10-foot by 12-foot comics-themed mural painted on metal sheets and attached to the side of the brick building with wooden two-by-fours. The mural features Batman, Spider Man, She Hulk and Cerebus the aardvark, the latter a character from an independent comic created in the late 1970s.
"I think this might be the last thing that [the artist] painted in Allentown," said Elston, of Emmaus, who has put well over 100 hours since late summer into preserving the piece. "I think everything else has been scraped off or thrown away. And there's not too many people doing the hand-painted signs anymore."
Story at MSN Money
---
New "Batman-Catwoman" The Batman promo trailer
---
Michael Keaton has signed for another film – Cinemablend
---
And its done: Dark Horse sold – Deadline Hollywood
---
The Matt Reeves/Pattinson The Batman ain't part of the "DC Multiverse"
Story at The Wrap
"Warner Bros. has a multiverse where they're exploring different ways to use the character…we don't get involved in that," producer Dylan Clark adds in recent interview

...
Related: Zoe Kravitz "studied actual cat fighting styles" for her role as Catwoman – Uproxx
---
What are the most valuable comic books as 2022 begins? – Tuko
---
End of an era: Dark Horse being sold to European video game business
Embracer Group, a European holding company with a portfolio of video game development studios and publishers, has entered into an agreement to publish Dark Horse Comics, one of the largest publisher of comics in the United States.
Story at Comicbook
---
Free Comic Book Day Gold Sponsor revealed – Graphic Policy
---
---
Cinematic Money in 2021
The year of 2021 started off in a mess, in the sense of box office numbers, with many a person predicting that the age of in-theater movie-watching could be drawing to a close in America, clubbed to death by two indomitable opponents: a worldwide pandemic and the rise of streaming TV.
---
The Phantom artist Seymour "Sy" Barry is still drawing – Eagle Tribune
The native New Yorker was born just before the Great Depression and grew up in a poor family.
"From the time I could hold a pencil in my hand I began drawing," he said.
He first got paid for his work at 17 years old by doing small jobs for publishers and helping his older brother Dan Barry on the Tarzan comic strip. Barry eventually broke into working for Marvel and DC, illustrating superheroes on their adventures.
"It was tedious, difficult work but you have to love art and comics enough to hang in there long enough to make a name for yourself," Barry said. "I couldn't get any more out of my career than I did. It always amazed me I was making money in a field I loved."
Barry would work long hours in his Long Island basement while his children were growing up. His children would travel into the city with him often as he went to drop off the strips to be printed...
Barry worked on the comic strip during its peak — although it is still running in newspapers today. The comic strip was printed in about 500 newspapers when he started and by the 1990s it was in more than 900 newspapers...
Some of Seymour Barry's credits listed at comics.org
---
Review of Alex Ross art exhibit – Yahoo News
Super heroes, while obviously different from people in real life, are held in similar esteem as the celebrities we hold dear. There is something approachable about these pretend fantastic people that feels out of reach and relatable all at the same time. It is that relatability that makes the worlds of our superheroes so viable and successful. "Marvelocity: The Art of Alex Ross," on view at the Canton Museum of Art, is an exhibit of over 50 works that highlights the life and career of what many consider to be the most skilled artist of his genre.
Museum website here
---
---
The Milestones of Spider-Man
"Spider-Man: No Way Home" annihilated expectations in its box office debut, capturing a towering $260 million over the weekend. How mighty were initial ticket sales? The comic book adventure, featuring Tom Holland as Marvel's web-slinging hero, has generated more money in a single weekend than any other pandemic-era movie has managed to earn in its entire theatrical run — and that's despite growing concerns about the Omicron variant of COVID-19.
Story at Variety
---
The top Comic Books of the year 2021 - Yahoo News
---
This is an easy call: More Spider-Man in development says Feige – Indiewire
---
Pattinson says he has plans for Batman past the coming film due in March – Batman-news
---
No Way Spidey Home racks up biggest opening in America second only to Avengers Endgame – ABC News
Just think what it would have done without Omicron breathing over the box office
---
WIll Punisher be allowed to keep his skull logo? – SYFY
---
Spider-Man No Way Home opening weekend at $587 million, so far – Box Office Mojo
Production budget for the film estimated at $200 million.
---
Superman #1 goes for $2,604,750
More Comic Book Auction Sales numbers on this page
Overstreet Guide 2021 F/VF (7.0) value = $728,000
Story at My San Antonio and Miami Herald
---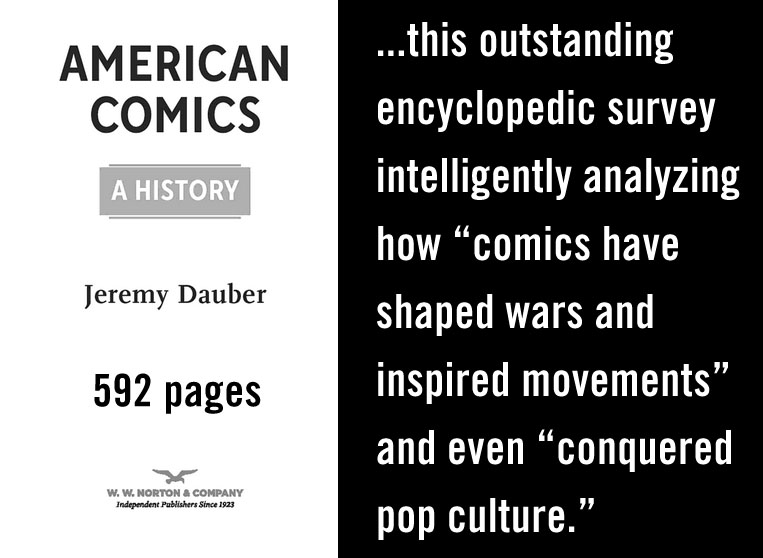 American Comics: A History – W. W. Norton & Company, November 16, 2021, 592 pages
---
---
Are we supposed to take out Spiderman and Spongebob
This is from last year but it holds true to this day
Cleric Shahab Moradi, posted a video to Twitter, lamenting the strategy of attacking USA in response to the killing of Qassem Soleimani:
'Are we supposed to take out Spiderman and Spongebob?' Iranian cleric mocks US and says Tehran can't strike back at targets of Soleimani's stature because America only has fictional heroes
Story at UK Daily Mail
Apparently Shahab Moradi didn't know that if he was the boss at Marvel, DC or wherever, you can kill characters pretty easily.
---

---

---
---
Original page December 27, 2021