Comic Book Brain
Last Update: August 15, 2019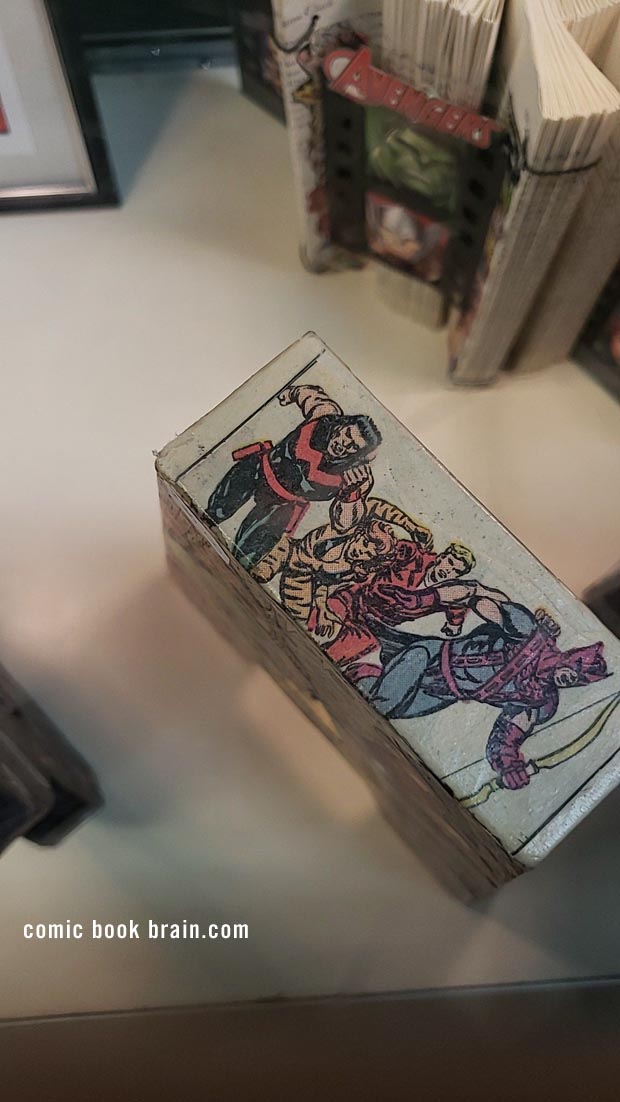 ---
Batman: Pierce Brosnan as Alfred?
Movieweb.com goes over the rumours, and the pros and cons of it really happening.
---
Marvel Comics #1000, 80th Anniversary
With cover art by Humberto Ramos with Mickey Mouse - Marvel superheroes together, plus at least another 32 variants (more about the variants at Newsarama).
---
Best Selling Comic Books of all time
Lists are out there on the internet, so we started to compile one too. The main problem is that the golden age of comic book sales was when the original comic books were first appearing, and the records for those days are very spare, to put it mildly.
See our list and the caveats - Best Selling Comic Books of all time
---
Jim Lee and Dan DiDio dispute the doom and gloom
Aug 7, 2019: Story at Hollywood Reporter on DC's new plans and what areas they're attacking in an effort to expand the DC digital world. Article goes over the failures of the last years such as the closing down of Mad Magazine and the Vertigo line.
---
Kevin Feige officially takes control of the future movie versions of Fantastic Four and X-Men
New info based on Disney's recent quarterly investor call - story at Movieweb.
---
The hazardous world of licensing
Though this article mentions Batman, its mostly a rumination on how licensing can be a help or a distraction to the original character or story (or song) and can serve, or hurt. Article discusses the war over rights that ensues when a creator tries to bust out of a contract, or the contract goes dead, or the creator never signed one when offered and now the interest has waned.
Article at Kriswrites
---
DC Universe streaming service
A tidy review of the new DC Universe service and what it has, sort've has, and doesn't have at all: syfy.com
---
Whoa: DC Comics not important inside the AT&T Borg?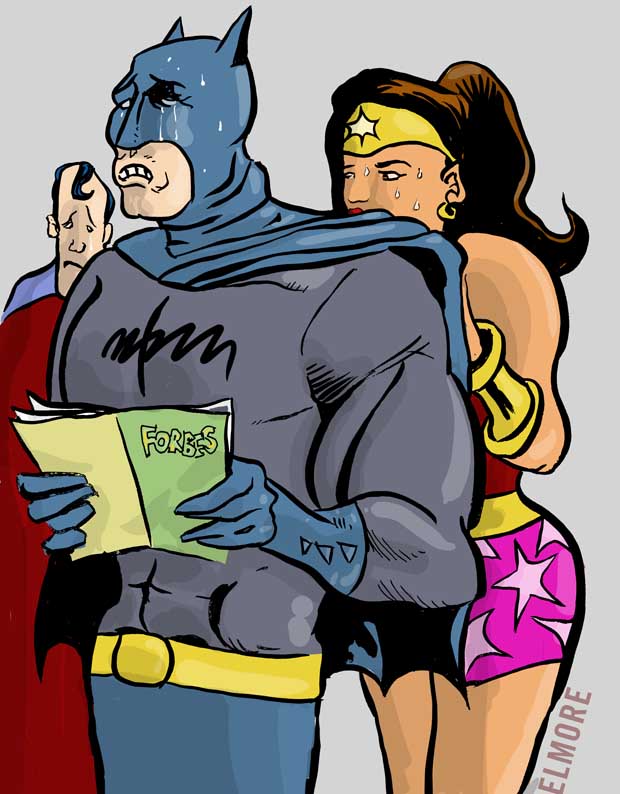 Scary article at Forbes
AT&T—now the parent company of Warner Media and its divisions, including DC Comics (previously known as DC Entertainment), HBO, Turner, and Warner Bros.—does not seem terribly interested in being in the comic book publishing business.
Predictions galore around the internet, some nearly apocalyptic, such as
DC Comics will stop printing new material entirely and live off of old stuff with new covers (like what has happened to Mad Magazine).
Go completely online digital with an end to "dead tree"products.
Scrap the whole division and hand over the characters to marketing and product development.
Why do this? Because: the new Lords of AT&T will look at the print runs on the top selling DC Comics (80K) and just laugh and then shut the whole printing division down as not worth it.
---
Hey, man, what happened to Steve Rogers' Quantum suit?
Russos continue to clarify Captain America's status from Avengers Endgame.
Story at Comic Book
---
Overpowering the superheroes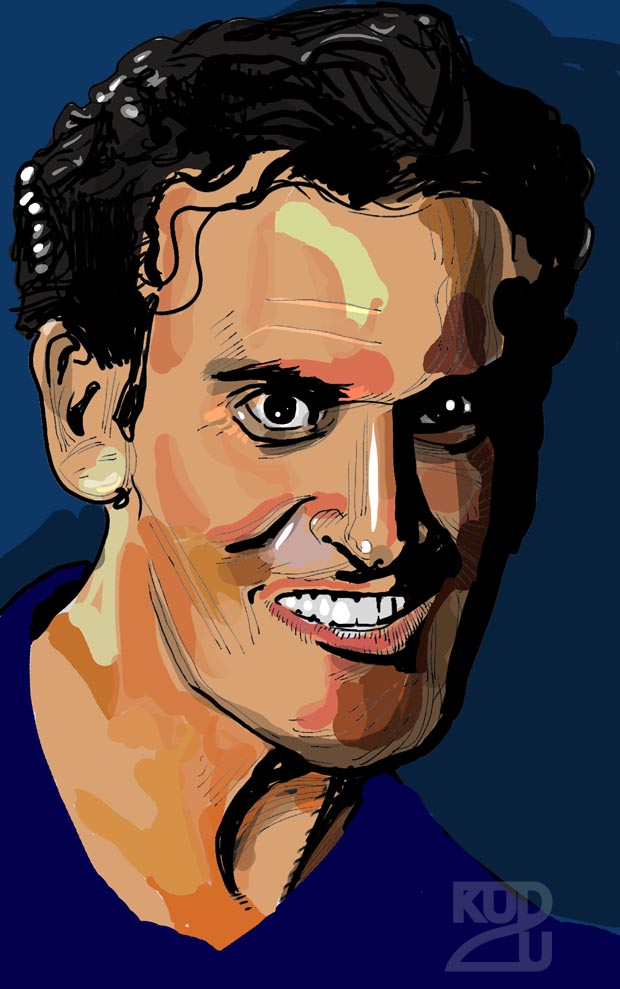 Bruce Campbell: Batman V Superman was a "stupid concept"
Story at Cinemablend
Campbell complains about how overpowered the super heroes are and therefore there's no real tension as there's no real legitimate threat to them, which he then compares to his character Ash, who is more like a real human being, who battles with a "real" chance of death (I guess if you don't concentrate on the various sequels and alternative entertainment forms that feature Ash, the number of which demonstrate how deathless Ash really is).
Superheroes being overpowered is an old complaint and has been around for as long as I've been alive, with the primary example being Superman going from originally being able to jump a building in a single bound to then able to levitate on demand and fly, his skin becoming bulletproof, all this prompting the question of how he is able to shave or get a haircut*. But more recent decades has taken the concept further, Supers has now been turned outright into a godling in various DC "mythology" series, a power-up that boosts the character right into an imitation pantheon of Ancient Greece (but with trademark and copyright protection.)
Part of the dilemma about overpowering the superheroes is just the presence of competition, if DC and Marvel don't push the limits of their fictitious characters, then they'll be left standing on the sideline as independent comic book companies run with the idea since clearly there is an audience for this. Which raises the obvious point: superhero comics have always been a reflection of society's needs and daydreams (among other things), so what is being supplied by turning the leagues of tight-suited heroes into pantheons of deathless gods? Is this just the predictable result of the erosion of traditional religion as a component of the majority of American's lives?
*The concept of the modern version of Superman doesn't work when explored logically, his mere presence among humans would constitute an enormous biological threat, let alone the issue of how he could possibly find a tool capable of clipping his toenails.
---
Superhero TV that's not kid-friendly
List of "adult oriented shows" and what is unique about them at Twin Cities.
---
Adam West in Once Upon A Time in Hollywood
Headline at Hollywood Reporter - Adam West's daughter reviews the Batman/Adam West references in the Tarantino film.
---
The coming Black Widow movie is connected to Civil War
Story at wegothiscovered
---
Affleck Batman
Before it got dropped, The Affleck Batman project was going to be centered on Arkham Asylum - story at joblo
---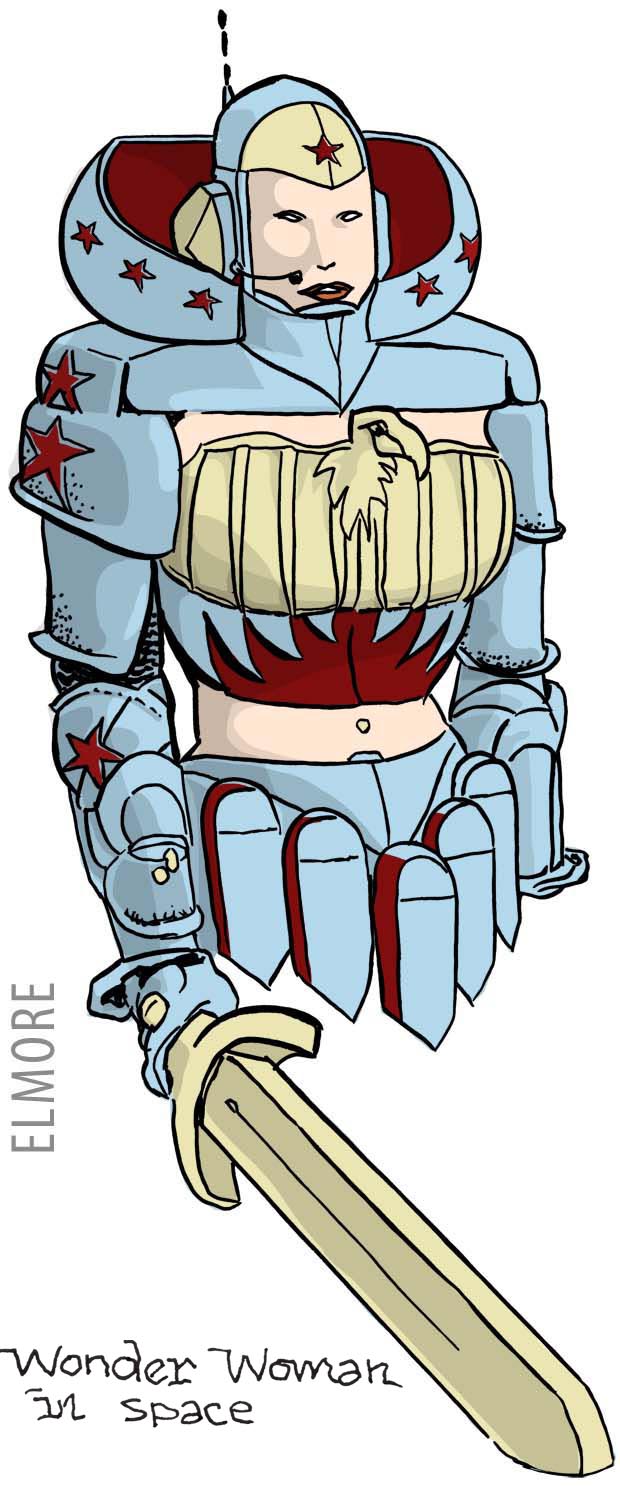 Art by Elmore
---
Wonder Woman 1984 reshoots
July 31, 2019: Nervous superhero movie news item: Gal Gadot's Wonder Woman 1984 is getting reshoots, which causes Cinemablend to say "...fans replying with fears -- or just jokes -- about Joss Whedon and Justice League-style reshoots."
---
Why Bucky ain't Captain America
And Sam is - Anthony Russo tells Yahoo Entertainment at UK YAHOO
---
Avengers Endgames still breaking records
The endcap for the 22-film MCU Phase One beat out Avatar for largest grossing film of Hollywood history, and now Fandangoplus preorder system reports it as the top pre-sell home video in history. More about this at Comicbookmovie
This reminds me of how well Tim Burton's Batman sold after hitting VHS, such that I remember seeing the film being sold in 7-Eleven and gas stations, this at a time relatively early in the home-video business, Burton's Batman blazing new ground for sell-through for the bulky VHS tape cassette.
---
World's only superhero museum
Story at USA Today
---
The Fifteen actors who have been Spider-Man
The first was Peter Soles for the 1967 CBS Cartoon.
Fifteen? That's a lot more than I would have counted. List at Cheatsheet.
---
Neal Adams doing Ras al Ghul again
Neal Adams' Batman vs. Ra's Al Ghul #1 - comes out September 4, 2019. Issue #2 comes on September 18 and issue #3 on October 16.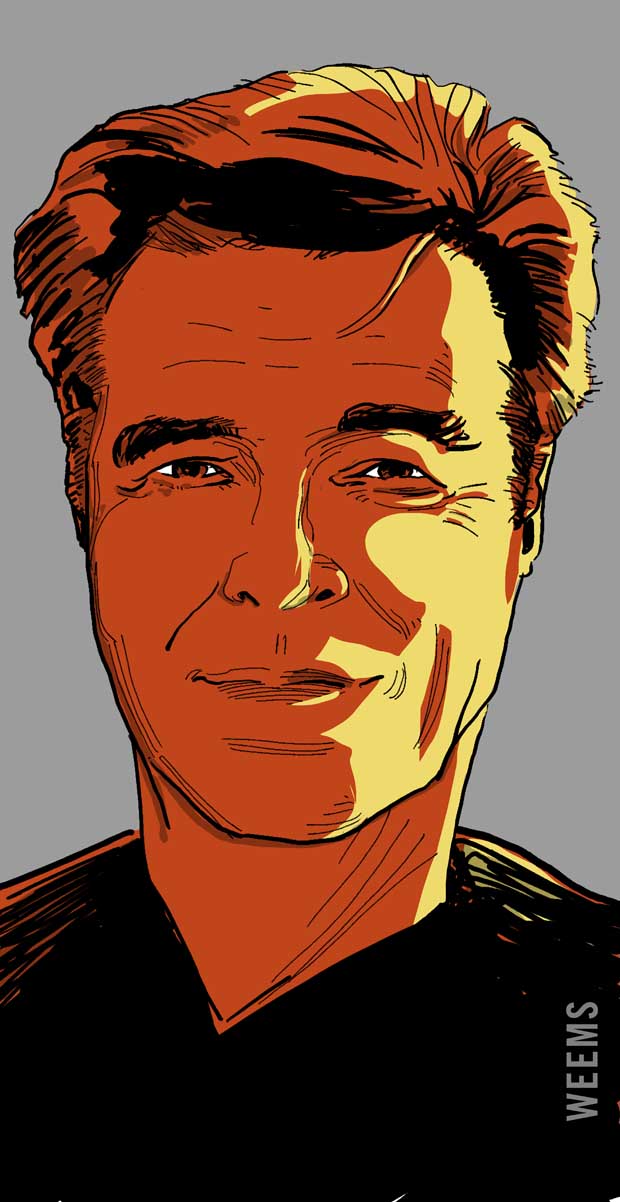 ---
Dark, darker, darkest?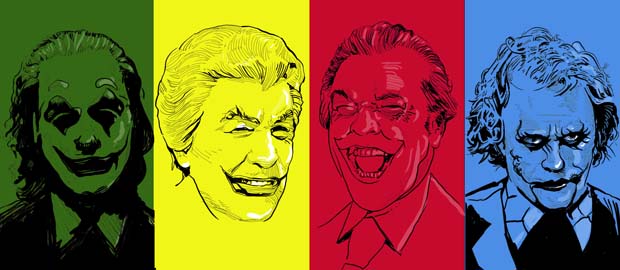 USA Today on the coming Joker movie and how it compares to Nolan's Dark Knight. Mostly they analyze the movie, without having seen it, by going over three promo shots of Joaquin Phoenix.
Also in the article, how the film will show up at the The 76th Venice Film Festival, and the festival director Alberto Barbera is saying it is "darker than the Dark Knight" with Mr. Phoenix "at the height of his powers."
The Venice Film Festival website
---
Bat-Man back-lash
Complaints and defense of Robert Pattinson (famous for Twilight) being cast as Bruce Wayne/Batman at Salon (via Michael Uslan, longtime Batman movie concierge at Warner Bros). Pattinson is working on Chris Nolan's Tenet movie currently and was going to next be doing a Souvenir sequel with Joana Hogg, but is apparently skipping that and (according to comicbook.com) going straight into Matt Reeves' The Batman, the big "tent pole" movie for Warner scheduled for June 2021.
---
TV continues to rifle through the comic book past
Story at USA Today which characterizes the Amazon series The Boys "which imagines a world where people with superpowers are self-absorbed maniacs." This of course has been done a hundred different ways throughout past comicdom, but is certainly a new thing for TV (or superhero movies) which has only gleaned off the very top of what decades of superhero writers have already explored. In fact, The Boys is based on the Garth Ennis and Darick Robertson's comic books, first published in 2006.
---
Writers on Avengers Endgame want to do Superman
Everybody wants to fix Superman. Story at Comic Book
---
Burt Ward to be in Legends of Tomorrow
And will he be Robin?
Story at Gamespot
---
Love and Thunder with Natalie Portman
Thor and Portman back together and headed for cinemas on November 5, 2021 - story at Game Radar
---
Hey, new comics-makers
Canadian publisher Bedside Press launches new creator program - description of the invitiation to new creators at Hollywood Reporter
---
DC and Marvel are "at war"
Such statements like that make me sad because it means Image, Dark Horse, etc., are still too small to be included in this corporate big-time wrestling.
Original article at Bounding into Comics about the problems DC has faced while Marvel/Disney has piled up box office. This stood out in the Bounding article:
"Smaller budgets and the promise of a high return has been a calling card for many small studios since the days of Roger Corman."
That remark made me ask: do you understand that Roger Corman's method (conservative financially in making a film, but outrageous in concept) is the opposite of superhero film-making from both Marvel and DC?
All of this is based on the original article at Empire Magazine
---
They're not joking: no Batman
From the article at Empire Magazine: "Joaquin Phoenix's Joker Movie 'Doesn't Follow Anything' From The Comics "
Which makes Comic Book Brain ask: then why does he look like Joker from the Batman comics?
The hyperbole at Empire gets a little broad: "Joaquin Phoenix ... Robert De Niro. It's set to be a showdown for the ages, the chance to see two of the greatest actors of all time play off against each other."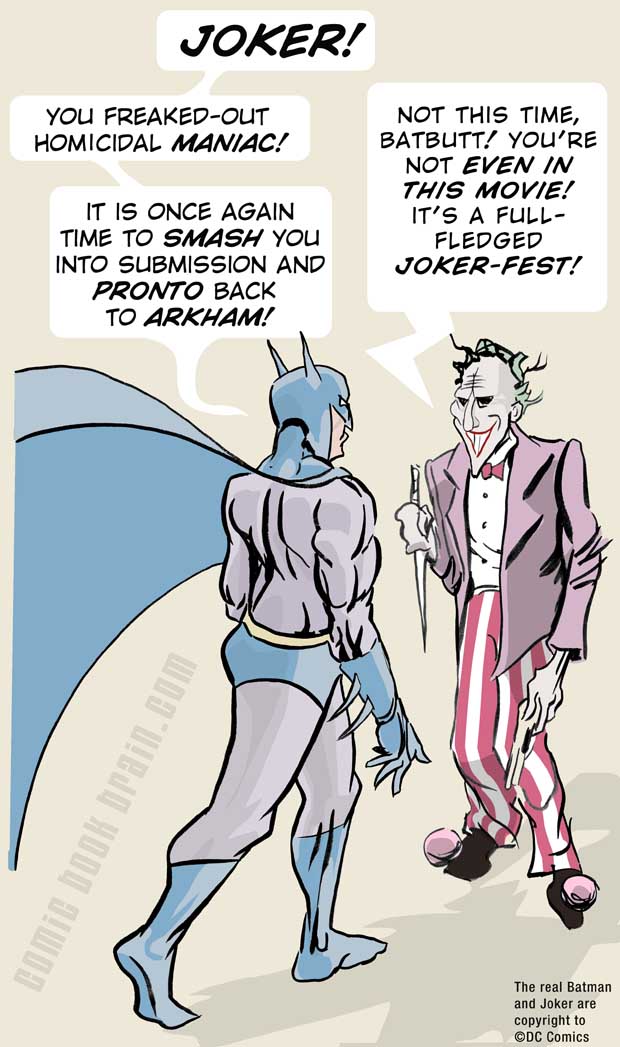 ---
More Batman
Gotham TV show is now collected into a complete bluray set - review at Forbes and here's the Amazon link for seasons 1 - 5 Gotham: The Complete Series (Blu-ray)
The unpublished Bill Sienkiewicz/Bill Lapham Batman comic art pages that didn't make it into Detective Comics #801 can be seen at comicbook.com
---
Avengers Endgame
comes forth on August 13 to Bluray - thus this Amazon link
AVENGERS: ENDGAME [Blu-ray]
---
Spider-Man Far From Home tallies up worldwide take of $577,766,500 by end of July 4th weekend
July 9, 2019: Also, Avengers Endgame is now at $2,772,462,833 billion worldwide. Marvel tacked on some extra footage at the end of the credits for Endgame, plus a mini-cameo collage of Stan Lee, with various remarks from Mr. Lieber, along with him hugging and being hugged by Marvel movie stars. It wasn't a mini-bio by any means, just an unorganized love letter. Following that was a sequence of Hulk performing heroics which is a deleted scene from Endgame, but the CGI is unfinished and jarring compared to what we usually see so carefully packaged in that department.
[Numbers are from boxofficemojo]
---
NEWS
Just a few more million dollars.... Forbes on Marvel's effort to squeeze out enough additional boxoffice from Endgame so that they sail past the record set by James Cameron's Avatar for biggest grossing movie in history (though, adjusted for inflation, 1939's Gone with the Wind still retains the crown). Looks like Disney/aka Marvel are going to pull it off.
CBR on how much Frank Miller doesn't understand Superman (well, now, maybe DC itself doesn't undertand Supers, and for that matter, that raises the question of how well the rest of the roster of characters are understood. Batman used to be a solid DC Comics character before transitioning into Bat-Dad, as if the worst aspects of Joel Shumacher's 1995 Batman and Robin were not seen as a lesson to learn from but as a guiding light for the future of Bruce Wayne, setting aside his war on crime to instead open a halfway house for Robin cosplayers.)
---
Review: Spider-Man Far from Home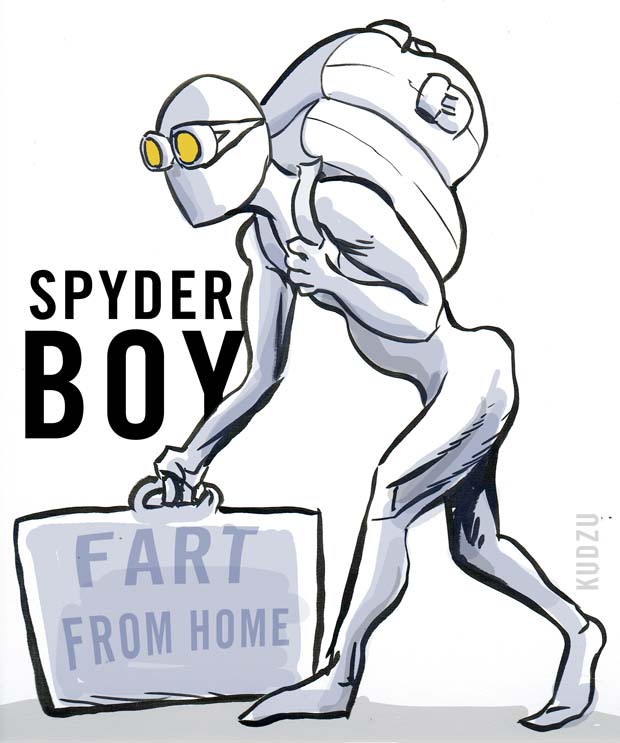 Spider-Man Far From Home released July 2, 2019 in USA. Directed by Jon Watts.
Illusion is the theme of Spider-Man Far From Home and it is played up in a number of ways. By the end of the film two on screen romances have come together and dissolved in a fuzz of hormone-addled illusion, we see Nick Fury at a beach-front vacation only to discover its just an image on a projected screen, in fact we've got [spoilers] more than one Nick Fury running loose, and of course there's illusion-master classic Spidey-villain Mysterio [Jake Gyllenhaal] dishing out visual tricks. (Even a little Hollywood music criticism plays into this theme: Peter Parker mistakes AC/DC for Led Zeppelin.)
Beyond that there's Peter Parker and his friends going across Europe on a school vacation, and most of what we see of this Europe is the stuff of postcards. Whether Director Watts intended this as a self-reverential joke for the movie itself or just the unintended result of the centering of everything on the Archie-comics-like emotions of a group of high school kid characters, I don't know, but it certainly made Europe seem empty, especially London which appears to be only populated by automobiles. That the crown jewels are guarded by only two briefly seen bearskin-hatted guards with SA80 assault rifles was about as close as we get to actually viewing the native people. Unreal.
"Night Monkey" Spidey-suit is on screen a bit, along with a whole review of all the Spider-suits during a melange of Mysterio-theatrics.
The script by Chris McKenna is just about perfectly synced with the previous film with Tom Holland as Spider-Man (Spider-Man Homecoming) and whatever was good or bad about the 2017 movie is repeated here, though the spectacular CGI of Mysterio rampaging in Europe is on a larger scale than Homecoming's Vulture (Michael Keaton) tearing up New York. For 2019, seeing Venice get swamped was a disaster-film moment, but Spider-Man Far from Home is otherwise strictly contained like a two-part Spider-man comic book tale, a bit crammed in places and though I loath extended mopery from how Hollywood taught itself to do Peter Parker, there's not too much of it here to induce audience eye-rolling.
Is this the direction Marvel is going now that their mega-epic Avengers saga has concluded with Endgame? It appears more likely that they are slow-walking the emotional growth of Spider-Man so that there will be time to include an assortment of villains in future films, and to have a maturing Spidey play a part in whatever makes up the future hero team Hollywood-Marvel decides to risk its reputation on, a dilemma they can't avoid now that the series has topped out with so much money earned and the bulk of their actors outgrown (and contract-ended) their roles.
---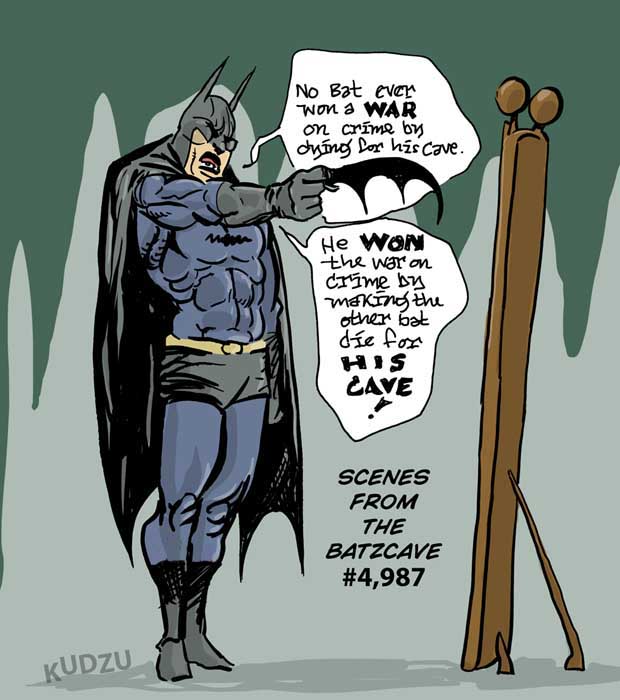 ---
Fast Review: Shaft - 2019
You go into this movie expecting to hear Samuel L. Jackson's trademark word, and you do, and not just from him (as Shaft, or really, Shaft Jr) but also everyone else in the cast makes use of the verbal ammo, with a variety of un-PC language until its ubiquitous - you could not see another mainstream Hollywood movie this year utilizing this particular vocabulary.
Jackson is the main Shaft, but there's several Shafts in the story, too, though not enough to make an army, which would be helpful considering what they're up against. In the tale Shaft /Shafts have to deal with FBI incompetence (or is it just slowness?) and a league of vicious criminals in New York City. The FBI involvement comes from Shaft's estranged son who is a FBI data analyst and who at first seems like a typical pop culture milquetoast millennial, but this is misleading as he proves to be as lethal as the movie requires (and it requires a lot of lethality). Unlike the rest of our characters, Shaft III mentions that he "hates guns" a few times after shooting people. This momentary apologia doesn't impede his skills, and everyone in Shaft seems naturally armed to the teeth to defend themselves because violence is always just around the corner in this New York City.
Though not quite a full-on action film because there's so much funny put into Shaft, nonetheless it is full of gunfire, hand-to-hand combat, racing cars, and enough action movie banter for two films from the script by Kenya Barris and Alex Barnow. All of this is wrapped around a sort of cheerful fractured family film extolling the virtues of family life and the responsibilities of fathers to sons, men to ex-wives, and the importance of getting even with druglords.
Director Tim Story keeps the tale compact and moving at all costs, and exploiting the Blaxploitation connection in a seamless way. Judging by the flabby mainstream media reviews I read after viewing the movie, the mostly packed theatre where I saw Shaft couldn't have known you're not supposed to enjoy this sort of film.
---
---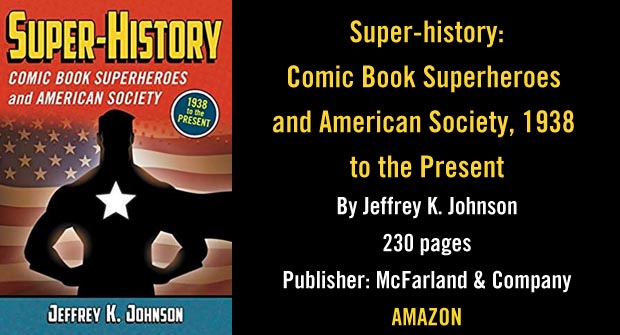 Super-history: Comic Book Superheroes and American Society, 1938 to the Present
---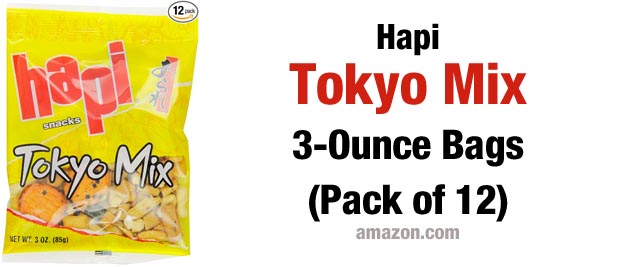 ---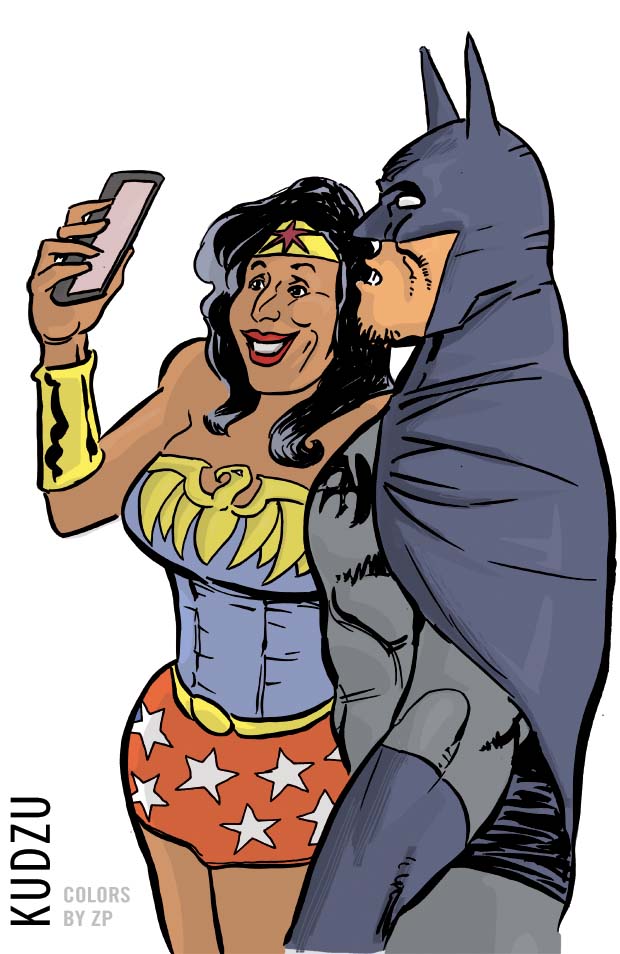 ---