Last Update: May 12, 2022
---
"Don't Be a Dope" Will Eisner's World War II Posters
Soon after The Spirit began its run, Will Eisner was drafted into the Army during World War II. During his service, he created a series of illustrations to provide soldiers with helpful information about safety and preventive maintenance. Illustrating for Army publications and maintenance manuals, Eisner created the character "Joe Dope" who, through his misadventures, reminded soldiers of the importance of maintaining their equipment properly.
More at the National Archives Web Site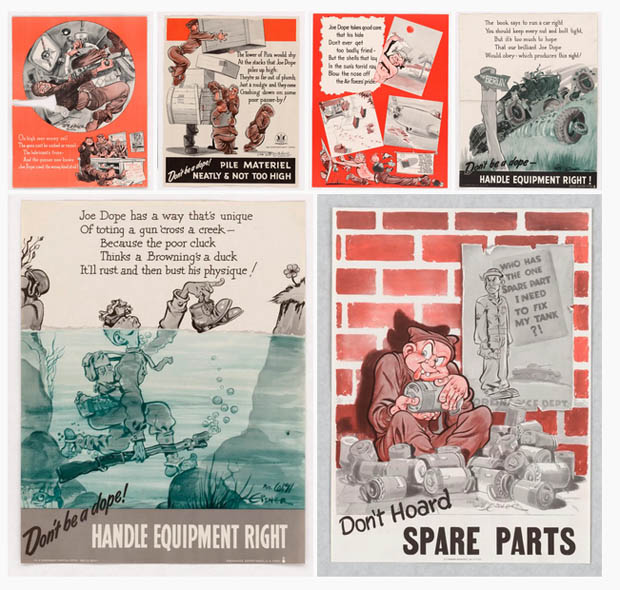 ---
Nine key George Perez Titles
Story at IGN
---
Fast Review: Doctor Strange and the Multiverse of Madness
At the end of the Mel Brooks' comedy Blazing Saddles, the cast is brawling in a cowboy saloon, and their fight crashes through a wall only to reveal an entirely different film is being made on the other side, a musical. The brawling soon envelopes the musical dancers, and then smashes through another wall into a third film. This is a bit of what Doctor Strange in the Mutliverse of Madness is like, a chase and a brawl that slips into and out of other "multiverse" worlds where sometimes there's another Doctor Strange to contend with, along with other versions of other familiar characters (and newly introduced character America Chavez, played by Xochitl Gomez).
There is some preliminary story before we're launched into a long-form chase movie that makes up the bulk of the 2 hour 6 minute running time, and a prior knowledge of the Disney TV Show Wandavision, along with the previous film Doctor Strange, helps a lot towards filling in why some characters are acting the way they do, doing the things we see, and trying to achieve whatever it is can be done within so many different shifting planes of existence. In this way the film is less a feature film than an episode in a series.
Part horror film, Director Sam Raimi adds a lot of jolt-style shocks if you're susceptible to his movie tricks, and Benedict Cumberbatch is back wearing the Doctor Strange cloak, trying to do what's right (under the circumstances) using all of his occult power, which we can see is CGI, but within the movie itself isn't explained.
Elizabeth Olsen as Wanda Maximoff rips apart dimensions in her rush to calm down her anxiety about her "children," and this is the emotional center of the movie, not Cumberbatch's Doctor. Xochitl Gomez adds a lot of fresh and youthful vigor to what's happening. She has a quasi-Wonder Woman jean jacket on, wearing a kind of flamboyant USA flag style that is circa Lynda Carter Wonder Woman, something DC abandoned for a darker and more militant appearance for Diana Prince. Gomez makes it fresh and appealing, though, like all other characters that appear in Doctor Strange in the Mutliverse of Madness, this is an action film and not a character tale, so we don't really get to know anyone very well unless we already know them from the comic books are previous Disney films.
Considering that the multiverse is a sort of sloppy conglomeration of worlds that vary from one another by just degrees in places, or completely in others (for example a paint-world where everything is apparently, well, paint) and that Director Raimi keeps it pretty coherent for us to travel through like being strapped to a little cart hurtling through a Disney theme park ride, is a testament to his narrative powers.
---
Auction on Detective #27 could fetch millions – MSN News
This is the book that started it all, though. And, as you might expect, it's likely to pull in the big Bat Bucks. Heritage Auctions sold a 7.0-grade copy of the book for $1.5 million in 2020—the highest price ever realized for any Batman comic book. The auction house also sold an 8.0-grade copy for $1.1 million in 2010. This example, meanwhile, is sitting at $950,000 at the time of this writing, with 12 days left on the sale.
More on recent Comic Book mega-prices
---
Doc Strange and Multibucks of Gladness
Somehow Boxofficemojo has the world wide total for the start of Doc Strange II's run at exactly $450,000,000.
What does the $187 million debut for Doctor Strange II mean for summer ticket sales? – Yahoo News
Big start for Doctor Strange II – Variety
---
Doc Strange Reviews
"Reasonably entertaining" movie – Times Standard
"Its rip-roaring opening owes more to "Star Wars" or "Raiders of the Lost Ark" than any Marvel jam" – Indystar
"Weirder, scarier, messier" sequel – Republican American
"Rave Reviews" for Elizabeth Olsen in the Multiverse of Madness – The Blast
Sam Raimi gives Marvel a "fresh scary vision" – ABC News
"Doctor Strange II is testing the "limits of fans and the MCU" – Digital Journal
---
George Perez has died – WLRN – Gizmodo – MSN News – Deadline
The news broke on Saturday afternoon from a message on his Facebook page, where it was said he passed on May 6 "peacefully at home with his wife [Carol] of 490 months and family by his side." In December, Pérez revealed his diagnosis with stage 3 cancer, an announcement that led to the comics industry rallying behind the creator and talking about their experiences with him and his work. More recently, multiple DC Comics artists came together to celebrate the comics titan in a legendary piece of artwork featuring an assortment of characters he illustrated for the publisher over the years. This two-page spread will be published in every issue releasing in the month of June, in honor of his birthday on June 9. Both DC and Marvel have each published their own tweets celebrating Pérez, calling him a pivotal piece of their respective histories.
---
---
Comic book stores restock and rebuild – Publishers Weekly
Per our respondents, 2021 brought the return of a (relative) status quo, and for some locations record numbers, as customers eagerly shopped in person upon being welcomed back inside physical stores. The category drivers ranged from the predictable—manga and middle grade/YA graphic novels—to an unexpected surge in single-issue sales. But the global supply chain delays resulted in the most popular manga titles often being nearly impossible to restock, putting a ceiling on what was otherwise a monster year for that sector.
While the impact on manga sales was particularly notable, publishers of all varieties of comics faced unexpected shortages and delays. Even packaging elements for single issues of serialized comics, such as bags and boards—designed for floppy comics to protect each in a slipcase supported by a cardboard insert—were in short supply.
---
Batman vs. Spider-Man
Detective Comics #27 being auctioned at Goldin Auctions
Copy of Amazing Fantasy #15, 1962 - CGC 8.0, Off-White to White Pages at Goldin Auctions
---
Doctor Strange II looking for a $175 million opening weekend
–
Variety
...overseas, "Doctor Strange 2" debuts day-and-date in most countries (excluding China, Russia and Ukraine), where it's targeting $125 million to $140 million. Based on those estimates, "Doctor Strange" could clear an impressive $285 million to $340 million in global ticket sales through Sunday. Like its Marvel brethren, "Doctor Strange 2" cost $200 million to produce, not including hefty marketing fees.
---
It's back
Free Comic Book Day has returned to its proper place in the comics universe — on the first Saturday in May — when superhero worshippers will be swooping into their nearest comic shops to catch up with the goings-on in Gotham City, Riverdale, the Marvel galaxies and other mythic worlds.
Story at Hartford Courant
---
Original Spiderman movie is twenty years ago – "Spider-Man' at 20: How Marvel's first mega-hit helped New Yorkers heal after 9/11"
Story at MSN News
---
Yahoo News can tell you why Batman doesn't disguise his voice in the new Matt Reeves film
---
NFT from Rob Liefeld of BloodStrike #1 Remastered – Yahoo News
---
Batgirl not getting a season 4 - cancelled at TV Line
---
---
Warner Bros working on another Superman movie – Bounding into Comics
---
DC Comics Ezra Miller Flash prequel comic canceled, not cancelled – Cosmicbook
---
Hero Underwear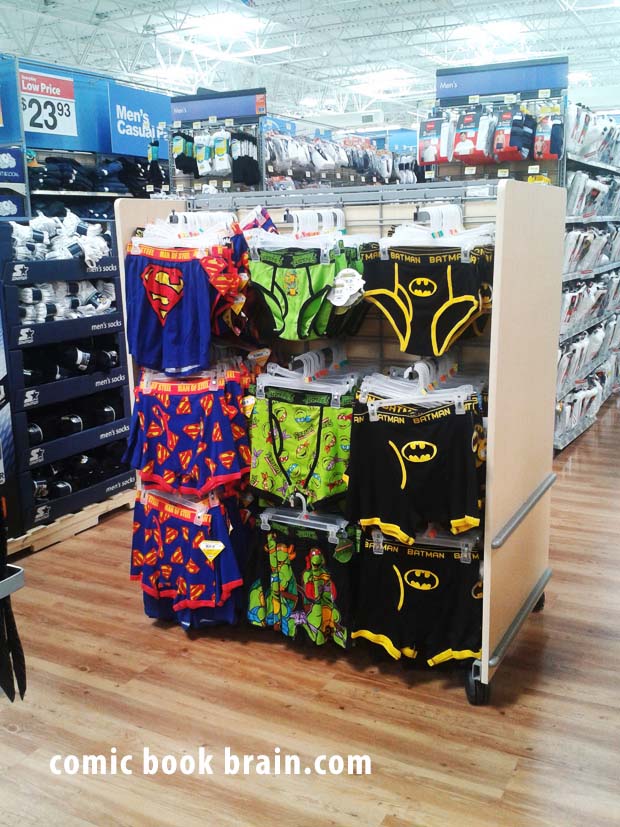 ---
The Bad Guys dominates box office this weekend, again– USA TODAY
---
Jon Watts not directing Fantastic Four movie – Superherohype
---
---
Neal Adams has died
Born June 15, 1941 – Died April 28, 2022
Adams' fame rested on his groundbreaking work on Batman in the 1960s into the 1970s (and later), plus his long career that included self-publishing, independents, Marvel and DC and just about everyone else that was publishing in the 70s and 80s. Apart from his artwork skill, though, Adams was instrumental in challenging Warner Bros to treat comic book people better, in particular Adams strongly worked on getting recognition for Jerry Siegel and Joe Shuster in the 70s during a time when Warners was gearing up for the big release of the first Superman movie, meanwhile Superman creators Shuster and Siegel were living precariously in near poverty. That wasn't the only time Adeams worked to better the plight of comic book artists and writers.
Obits:
Neal Adams, Batman Comic Artist and Eisner Hall of Fame Inductee, Dies at 80 – Variety
---
Neal Adams, influential comic artist and creators' rights advocate, dies at 80 – Among his many achievements, he revitalized Batman, co-created characters like Ra's al Ghul and John Stewart, and forced comic publishers to pay creators more. – EW Entertainment Weekly
The Adams/O'Neil team also took a politically engaged tone with their Green Lantern/Green Arrow comic, which sent Hal Jordan and Oliver Queen on a road trip across America. These two "hard-traveling heroes" encountered social problems of the day like racism, pollution, and drug addiction — the latter was memorably dramatized in a storyline that featured Green Arrow's sidekick Speedy becoming addicted to heroin. They also co-created John Stewart, the first Black Green Lantern and one of the first Black superheroes in DC period."
---
Neal Adams, Comic Book Legend, Dead at 80 – RIP to the renowned artist who helped transform Batman into the superstar he is today. – Gizmodo
Neal Adams Dies: Comic Book Legend Who Revitalized Batman, Fought For Artists' Rights, Was 80 – Deadline Hollywood
R.I.P. legendary DC Comics artist Neal Adams – Adams' version of Batman in the 1970s set the scene for a million dark and brooding takes on the iconic character – AV Club
---
More about the Frank Miller/Dan Didio comic book publishing company thats starting up – Comics Beat
---
Arctic Comic Con in Anchorage this weekend
–
ADN
---
Days of Superhero past, future
Article from 2002 looks at Spider-Man's potential for Hollywood riches, and well you know what happened next.
Story at British Film Institute
Of course, the number of comic-book films now pipelined may simply indicate Hollywood's poverty of ideas and serve further to underline the studios' reluctance to take risks with original material. The ready-made mythologies of the comic hero are, commercially at least, a far safer option. Comic-book writers have had to reinvent their characters for each new generation, developing distinctive brand identities and evolving labyrinthine histories for scriptwriters to plunder.
At a time when mainstream film-making is overwhelmingly driven by marketing concerns, the lure of familiar archetypal figures – each with a distinctive iconography and an arsenal of desirable hardware – is proving difficult to resist. Batman, Spider-Man and the Fantastic Four are a marketing executive's wet dream: their logos and tag lines are already invented, widely recognised and just waiting to be writ large across the screen.
---
Investing in artists and the future of comics has always been my one true passion and creative calling. Dan DiDio, Silenn Thomas, and I couldn't be more proud to be launching Frank Miller Presents, which will serve as fertile ground for storytellers and new creations. pic.twitter.com/Bl7sT72WpN

— Frank Miller (@FrankMillerInk) April 28, 2022
---
Pattinson coming back for The Batman sequel?
Story at CNN NEWS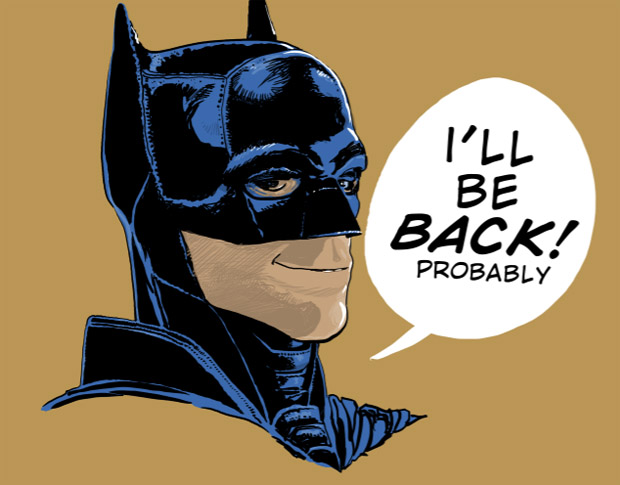 ---
Streaming was like a superhero, not its getting kicked in the shins
Story at MSN News
---
Adults buying old comic books "a retro boom"
Story at Korea Times
---
"Collectible values continue to skyrocket: Are you sitting on the next big seller?" – Houston Chronicle
With a new age of collectors diving into the market, it might be time to dig through your attic and wipe off that dust. More people are also viewing comic books and other collectibles as financial assets with a good return on investment.
A rare first-edition Marvel comic sold for $2.4 million. Without this comic, there would be no Iron Man, Captain America, Thor, Captain Marvel, Spider-Man, or any of the superheroes we've grown up on as we know it.
Are you sitting on your comic books? Then stop, you'll damage them.
---
Moon Knight TV show and Marc/Steven – comic book
You know who really was my co-star throughout this whole thing was my brother. I had my brother, Michael Hernandez, he's an actor, as well. I had him either play Steven or Marc, depending on the scene," Isaac told TheWrap. "It's the closest thing to me there is, is my little bro (laughs). So it was actually fantastic to have him there in my corner to be able to work with."
---
For George Perez birthday in June, DC Comics has special plans cooked up
–
comicbookmovie
George Perez has been staple of the comic industry for decades now. His characters, stories, and artwork have provided genre defining moments that people still fawn over to this day. From his work on Justice league, The Avengers, and Teen Titans, to iconic event series like Infinity Gauntlet and Crisis on Infinite Earths, George has literally been the artist of our childhood dreams and has brought countless young people into the wonderfully vibrant world of Superheroes.
Since the shocking revelation of Mr. Perez's terminal cancer diagnosis; prayers, praise, and admirations have poured in like a tidal wave from fans and creators alike. Marvel comics recently released a special tribute panel in in the pages of Avengers #55, appropriately titled "George Pérez: Once An Avengers... Always An Avenger". The panel featured some of the Earth's Mightiest Heroes (many of whom featured in George's Avengers run) raising a glass in toast to the artist. Furthermore, in an act that many thought impossible, DC and Marvel recently announced a partnership with Hero Inititative to produce a limited rerelease of Jurt Busiek and George Perez's iconic JLA/Avengers crossover. Proceed for the sale of this reprinting will be going to the Initiative's general fundraiser (of which Perez is a founding member).
---
Marvel comics covers of July – Gamesradar
---
Comic Pros raising money for Ukraine victims – MSN News
---