Last Update: September 22, 2021
---
Serena Williams is Wonder Woman and teams up with.... Serena Williams?
Direct TV online comic book (Part 1 of 4)
"Serving up Justice" – Yahoo News
Serena Williams, incredible human, legendary tennis player, and… Wonder Woman? It makes sense. In a recent ad campaign for DIRECTV STREAM, Williams has embodied the superhero. Instead of wielding the Lasso of Truth, Williams saves the day with a tennis racket, impressive skills, and a fierce attitude. And her role as Wonder Woman is expanding! DC Comics, Critical Mass, and DIRECTV are bringing Wonder Woman and Serena Williams together in a new digital comic, Serving Up Justice: Featuring Serena Williams and Wonder Woman.
More about this at Adweek
---
Is the Faith movie from Sony/Valiant no longer happening? – Cheatsheet
---
Can coming films like Venom and No Time to Die boost boxoffice? – Variety
---
And now there's a Batman line of makeup: Catwoman, Harley Quinn Etc. – Pink News
---
The decline of American Comic Books
"Kelly Sue DeConnick Laments The Abysmal State Of Comics After Telling People Not To Buy Her Books"
Article at Bounding into Comics
When asked why, she responded, "Because stores are closing at a phenomenal rate. Independent comic sales are down. Mainstream comic sales are down except the top three or five books are up. Everything in the mid list is way down."
---
Pandemic spurs increase in Comic Book Collecting – FOX9
---
Wayne Family Adventures webtoon gets half-million views on weekend premiere – Cheatsheet
---
Is Spider-Man III Venom in Spider-Man Now Way Home? - Yahoo News
---
The Snyder Cut Justice League tops Bluray sales – Comicbookmovie
---
Gal Gadot with Batman head gear for Batman Day at People Magazine
---
---
Third weekend of triumph for Shang-Chi
$6.1 million added to the domestic earnings column. Worldwide earnings now at $320,593,555 million. (Production budget on the film was $200 million)
Story at United Press Int'l
---
Ticket sales indicate comic book conventions returning to popularity – WTOL
---
---
The Flint, Michigan Spider-Man – M Live
---
DC Comics' media blitz for Batman Day - Cheatsheet and at Benzinga
---
Counting superhero movie money this weekend
September 17, 2021
Black Widow – Worldwide earnings at $377 million against a production budget of $200 million
Shang-Chi – Worldwide earnings at $273 million against a production budget of $200 million
For comparison sake: F9 at $714,409,845 worldwide earnings
[Sources: TheNumbers and BoxOfficeMojo]
---
Maybe Bendis is writing Batman soon – Newsarama
---
Marvel Comics list of December releases – Gamesradar
---
---
Granite State Comicon is on in New Hampshire – Comicon web site
---
Batman Day: 82 Years of the Dark Knight
Story at MSN News
---
New photos of Catwoman/Selina Kyle from The Batman – Wegotthiscovered
The pic sees Kravitz in her burglary-ready balaclava
---
Venom/Tom Hardy connection to Spider-Man No Way Home – Sports Keeda
---
More losses for Diamond Distribution: IDW is moving to Random House
Story at MSN News and at Publishers Weekly
---
Akira on DC Static Shock cover – Comicbook
---
Cover to Batman #118 recalls Spider-Man #1 cover by Todd McFarlane
Story at Games Radar
---
Is an NFT artwork or a meme? – Spectator
---
Ban on Shang-Chi in China? – Variety
---
Superman animated cartoon series 25th anniversary – Flickeringmyth
---
Bookstores have huge increase in sales for July 2021 vs last year – Publishers Weekly
---
Yumacon in Yuma, Arizona, Oct 2, 3 – KYMA
More about Yumacon
---
The pandemic and superhero movies: what's ahead? – Columbia Tribune
---
Kim Kardashian's MET superhero outfit – UK Daily Mail
September 15, 2021
Reminds CBB of: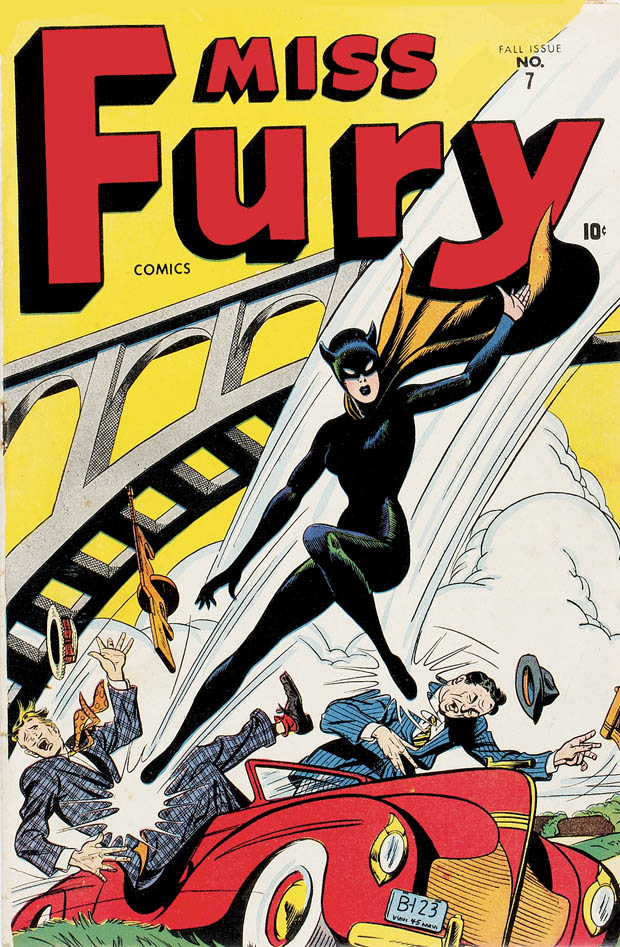 Miss Fury, cover issue #7, Fall 1945, cover by Alex Schomburg
---
Collectible comic books are going into a new "golden age"– Antique Trader
The hobby right now is burning hotter than Ghost Rider's flaming skull on the cover of his debut, Marvel Spotlight #5 — a comic from 1972 that originally cost 20 cents and recently sold at auction for $264,000.
...during the opening session, a CGC Fine+ 6.5 copy of Batman #1 brought $576,000, the highest price ever realized for that historic book in that grade. This has been such a record-shattering year for the Dark Knight that even a CGC Good 2.0 copy of his 1940 solo debut now sells for $222,000, a once unfathomable number.
Nice overview of whats happening right now in collecting with a lot of cover art images, too.
---
Spidey now the most expensive comic book, beating out Bats and Supers – Cheatsheet
---
HBO Max cartoon Harley Quinn show gets a third season – Cheatsheet
---
Marvel's Venom Let There Be Cabbage Carnage is delayed – as noted at this story at Gamesradar, the comic book is like the movie: delay, delayed, delayedest.
---
Batman goes to Prague – Radio CZ
---
Penguin show coming? Colin Farrell may reprise his The Batman role in HBO series – Variety
---
Profile of the book "Is Superman Circumsized?" – Sentinel Tribune
---
Superman and Lois Season 2 starts production – Looper
---
Why didn't George Reeves (dressed as Superman) get a cast credit for his cameo on an episode of I Love Lucy? Story at Cheatsheet
Lucille Ball found herself face-to-face with Superman in a crossover episode of I Love Lucy. But George Reeves, the actor who played the man of steel, wasn't credited for his part. Why? Because Ball didn't want her children to realize the superhero wasn't real.
---
Hawkeye Preview Trailer
---
Remembering Ernie Colan's The 9/11 Report comic book adaption
Jacobson and Colon created a tremendously readable version of the 9/11 Report as a comic book. There were graphic interpretations for data and loads of information boiled down to a hundred-some pages of masterful comic book storytelling. "The 9/11 Report: A Graphic Adaptation" even received a promotional blurb from comic book legend Stan Lee: "It will surely set the standard for all future works of contemporary history, graphic or otherwise, and should be required reading in every home, school and library." It was and remains a milestone in graphic storytelling both in terms of displaying what the comic book form is capable of achieving and better understanding the history of an era.
Story at Valdosta Daily Times
---
Shang-Chi has more triumph "rules the weekend box office" – Variety
$35.8 million!
---
Reality check on the recent Superhero Movies
Apparently none of them can make a profit
Note that very generally speaking, movies must obtain twice (and more) in box office earnings (because the theaters are keeping the other half) against a production budget before any profit is made, so by doubling the production budget you see the base line a movie must reach. That doesn't include covering all the cost of marketing the movie, which can be significant, to say the least, for example consider the estimate published at the Observer that Black Widow may have had $150 million in post-production and marketing spent on it because of its start-and-stop release date problems, which means there's been $350 million spent on making Black Widow before looking at any money coming back to the makers.
With these kinds of calculations, no superhero film since the onset of the pandemic has turned a profit, with Black Widow being the only release that even remotely comes close to being a "success" while still being deep in negative numbers.

Black Widow | Worldwide earnings at $372 million against a production budget of $200 million

The Suicide Squad | Worldwide earnings at $162 million against a production budget of $185 million

Shang-Chi | Worldwide earnings at $175 million against a production budget of $200 million

Wonder Woman 84| Worldwide earnings at $166 million against a production budget of $200 million

Harley Quinn: Birds Of Prey| Worldwide earnings at $201 million against a production budget of $200 million

Snake Eyes| Worldwide earnings at $36 million against a production budget of $200 million

Bloodshot | Worldwide earnings at $37 million against a production budget of $45 million
[Sources: TheNumbers and BoxOfficeMojo]
What might have been? If China was on friendly terms with Disney (it ain't) and if the pandemic had not appeared, Black Widow might have been hitting a box office of $670 million by now according to Scott Mendelson at Forbes:
So, right now, Black Widow has earned $360 million worldwide. That's already on par with Captain America: The First Avenger ($376 million in 2011) and with the theoretical $140 million in China and other "won't necessarily open" territories, it might very well have earned $600 million global. Throw in (very rough guestimate) $100 million in total Disney+ purchases ($60 million on opening weekend, $40 million for the next two months), for which Disney gets 85%. So that's $170 million in theoretical additional box office (although I'd never argue that every dollar toward Disney+ is a dollar otherwise spent at the box office) for a grand theoretical total of $670 million.
For more information on the mystery world of Hollywood accounting, read this ancient (in internet terms) article at the UK Guardian. The stars and film titles are all now "old," but the dilemma of whether a film is a "hit" or not is the same. The piece shows how the cost of making a movie has an unlimited series of variables to consider.
---
Comic book and pop culture auction September 25 in Cranston, RI. Will include Fantastic Four #1 and more – Yumpu
---
Jeffrey Wright talks about the differences between the coming The Batman versus older versions – Cinemablend
---
The Eternals gets a theatrical only release on November 5 – Deadline
---
Batman A Death in the Family – is this the darkest Batman storyline? – they wonder about it at Filmdaily
---

---
---
---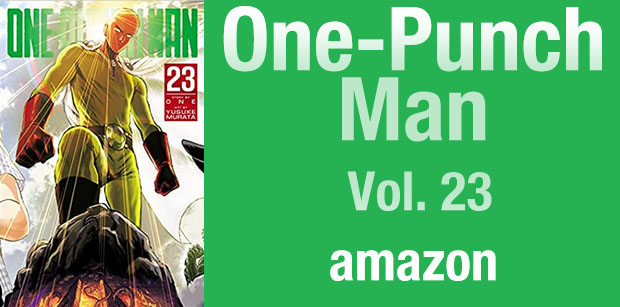 Amazon – One-Punch Man Volume 23
---

Overstreet Comic Book Price Guide Volume 51
---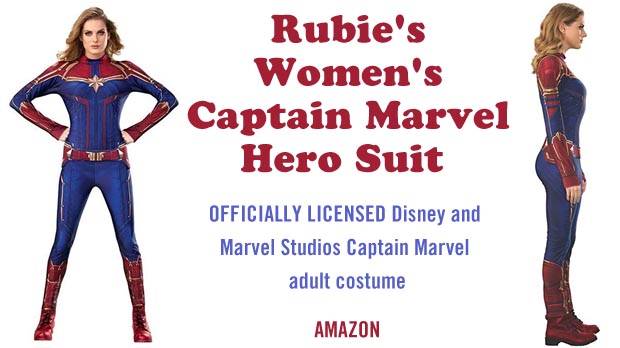 Rubie's womens Captain Marvel Hero Suit Adult Sized Costumes, As Shown, Medium US
---