Last Update: June 24, 2021
---
The NFT "buying frenzy" and Marvel teaming up with Australian NFT company VeVe
Since December, VeVe has sold more than 580,000 NFT digital collectibles to a user base of more than 340,000 customers. It has reported sales of over $40 million.
Story at Stuff Co NZ
---
Zack Snyder's Snyder cut of the Justice League Snyder Cut finally has a 4K / Blu Ray disc release date of September 7, 2021 – Zack Snyder's Justice League [Blu-ray] – Amazon
---
Collectible comic books and their vertical values
"What The Hell Is Going On In The Collectible Comics Market?"
Long dreamt of by some comic book collectors, 2021 is suddenly an era where "key" and rare issues, always safe bets within the closed-world of comic book collecting, are now rapidly expanding their market (and sales numbers) into the "civilian" world. In the process of the spreading investment interest this is pulling most of the older issue market right along with it. The depth of the change means that books from the beginning of comics (30's, 40's) up into the 1980s, roughly the time frame when newstand sales were dying and the direct market books were increasing, is the ideal range for investing, and that's a pretty broad timeframe.
2020 was a pretty good year for many investments, but one class of assets has seen nosebleed-level growth that has shocked even long-time market watchers: vintage comics and original comic book art. Though there is no market index to quantify growth in this area, the results of large public auctions provide some transparency into the value that buyers place on a variety of benchmark items. On that basis, the evidence is stark. Last week, Heritage Auctions demolished records and shattered expectations with a $22.4 million haul from its recent sale of high grade collectible comics, surpassing its recent high water mark of $16.5 million set in April.
The auction results were led by a new "pedigree" collection called The Promise Collection, featuring nearly 5,000 comics that were bought new off the newsstands in the 1940s and preserved in perfect condition for the past 70 years. 181 of those books sold in the June auction realized $7.1 million in just four hours; an additional 93 books added $800,000 to that total the next day, and the remainder of the collection will be auctioned throughout 2021 and 2022...
Anecdotal reports from dealers and collectors suggest that prices in smaller auctions, public sales and private transactions have increased well over 100% across the board in recent months...
Story at Forbes
With Forbes giving this lucrative area of comicbookdom a strong profile (the article includes an interview with Lon Allen, Vice President of Comics Administration for Heritage Auctions), watch for more digging around by journalists to find "shocking" auction and sale prices for more articles in the same vein.
With inflation across the globe a major concern for money-makers, purchases of collectible objects will only increase, and comic books have a certain distinct value in this regard. As pointeed out in the Forbes interview, though the buyer may have no real knowledge of values in the world of comic books, they can nonetheless look at the persistent increase of sales and feel safe, and in one other area they can also do something with a collectible comic book you can't do with real estate, cars, and large paintings: toss the comic book (properly slabbed of course) into a suitcase and carry it with you anywhere in the world.
---
Hiddleloki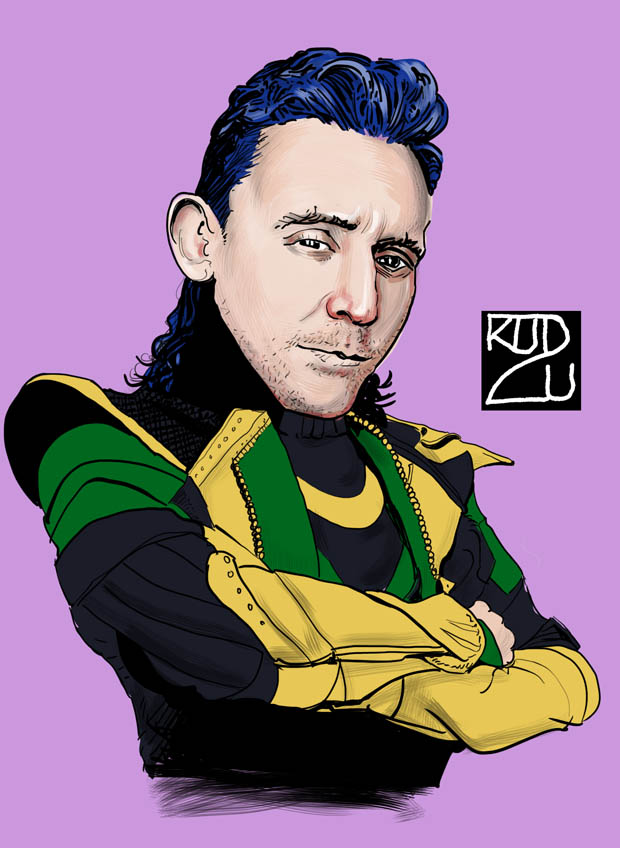 Art by Kudzuposter
---
---
Chris Ware gets top prize at Grand Prix of Angouleme
Story at Modern Ghana
---
DC Comics kills Superman/Batman title again – Games Radar
---
So they removed the "rotten" tattoo from Harley Quinn for Suicide Squad – Comicbook
---
Spider-Man meets the Pope, and not in a comic book – Yahoo News
---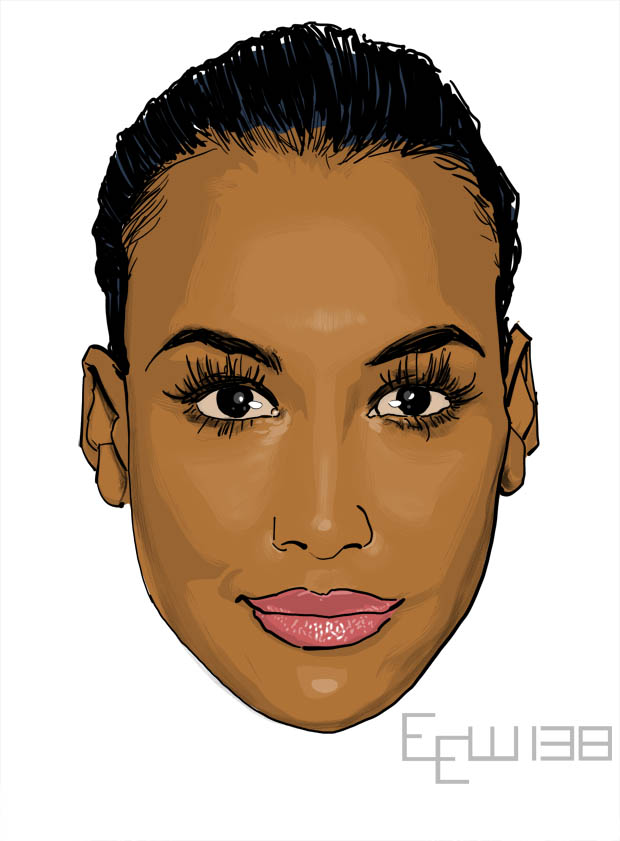 "It's an honor to play Catwoman" said the late Naya Rivera – UPI Press
Art by eew138.com
---
---
"Promise collection" highlights from the first day
There was no shortage of books selling for six figures, among them the second book offered Friday: 1944's All-American Comics No.61 graded CGC NM+9.6, which introduced DC's immortal villain Solomon Grundy and sits at No.61 on Overstreet's list of Top 100 Golden Age Comics. Its final sale price of $138,000 heralded the excitement to come. In short order, a CGC VF/NM 9.0 copy of Detective Comics No. 69 shattered pre-auction expectations when it sold for $126,000. Minutes later came the highest-graded copy of 1946's Detective Comics No. 114, at CGC NM/MT 9.8, with its double cover; it sold for $156,000. A few minutes after that followed the highest-graded copy of Detective Comics No. 124, a CGC NM/MT 9.8 with a bright Bob Kane cover that sold for $120,000.
Story at Fine Books Magazine
---
Thailand Comics – Khaosod English
---
Diamond expands plans for Free Comic Book Day
With fifty comic book titles that range from superheroes to movies and video games, to beloved franchises, and all-ages favorites, Free Comic Book Day 2021 takes place in comic shops on August 14.
Story at comicbook
---
Disneyland hotel in Paris features Marvel Art – Coventry Telegraph
---
The questions being caused by NFT crypto art sales
If you read to the end, one of the basic questions being raised is whether the NFT fad will end as all fads do, or will it become a "sustainable art form."
Bought through cryptocurrency in a digital ledger called a blockchain, NFTs are one-of-a-kind digital properties such as jpeg files, GIFs, music, and short videos. The sale of limited NFTs or through auctions recently gained traction in the mainstream. Notable NFT platforms include SuperRare, Nifty Gateway, Rarible, and Foundation.
During a panel discussion with ArtReview magazine titled, "NFT: A New Revolution or the Emperor's New Clothes?," Dubai-based arts writer and editor Rahel Aima said that NFTs open up access not only to who can sell work but also to who is allowed to buy it.
"As an art critic, I tend to think a lot about where the work begins and ends and how much the context informs and functionality completes the work," Ms. Aima said. "No matter what their material is, artworks aren't stable. They're contingent, messy, constantly building and unraveling. And I think this applies to digital works too. What an NFT does is to point to a single iteration of a work and freeze it forever in time."
Story at Business World / MSN News
---
Batman Pattison film is getting reshoots – Cinemablend
---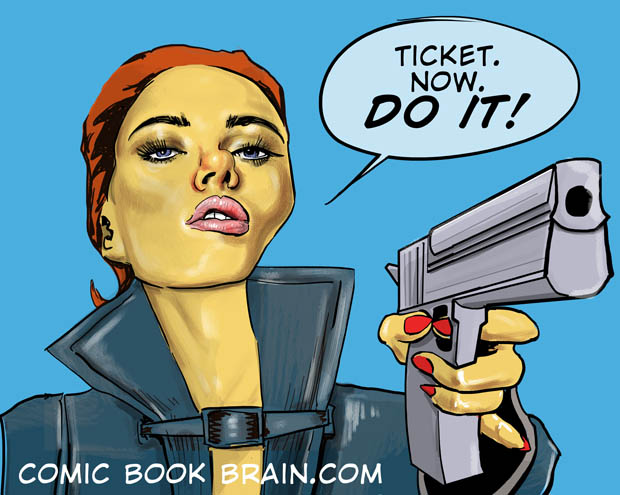 Predictions that Black Widow could open with a $90 million weekend debut
If it does, that might herald a return to "normalcy." If Scarjo/B-widow can bank that much boxoffice right out of the box, it might mean these hoped-for-Hollywood-projections can come true, and Covid didn't kill "Hollywood forever"– story at comicbookmovie
"Are blockbusters coming back? Here comes another Fast and Furious movie" – MSN News
---
Artist Ian Kennedy keeps right on drawing comics at age 88 – SundayPost
---
Papa Guinea, The Phantom, and Australia – abc.net.au
---
Lego Batman II is stuck due to property rights – Gamespot
---
Superman and gourmet Manga – Japan Today
---
Godzilla vs King Kong turned over $100 million in domestic box office – MSN News
---
Wow, pow, zap
This is one of the few times that cliché comic book related headline is appropriate: the golden age "Promise Collection" goes to auction and has started off with a $7 million dollar debut and is only 181 copies into the 5,000 collection of titles
Story at Artdaily
---
How Chicago is a central hub of importance in comics and cartooning
Story about this museum exhibit this at Sun Times
---
DC is promoting a new magazine format "DC Connect" to announce titles – see info online at DC Comics
---
The long "dark" version of Batman Forever is being brought up again as a fan pressure project. Can fans make Warner Bros pay attention to their wants? – Newsweek
---
Spidey IV details – Dailymotion
---
"Val Kilmer's Batman film anniversary"
–
Wegotthiscovered
---
Israel comics convention coming
Story at Jerusalem Post
---

---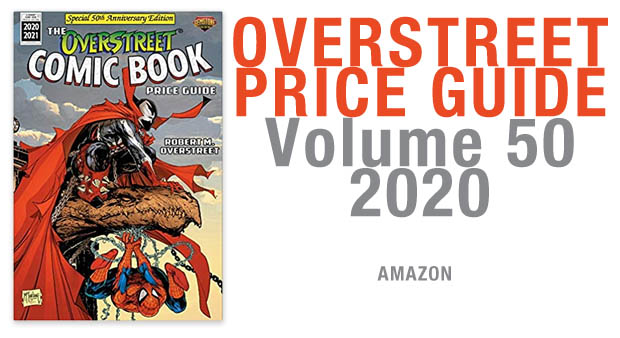 The Overstreet Comic Book Price Guide Volume 50 – Spider-Man/Spawn
---