Last Update: May 8, 2021
---
Readers from anime boosting manga sales – Publishers Weekly
---
Revival of talk about an extended cut of Batman Forever
News of the extended cut, which is reportedly 170 minutes long, was first revealed by writer and podcaster Marc Bernardin back in July of last year when he said that the cut existed somewhere in the Warner Bros. vault. At the time Bernardin said "I have it on pretty good authority that there exists in the Warner Bros. vault a 170-minute cut of Batman Forever. I think that it went much deeper into his childhood psychosis and his mental blocks and that it was a more serious, darker version of that movie that was one of the first assemblies that Joel filed with the studio and they eventually cut it down because they were like 'it's too dark for kids. We gotta sell these Happy Meals, so maybe let's not invest ourselves in the trauma of childhood murder. 'We've got Jim Carrey, let him do some sh*t."
Story at Joblo
---
Ben and Raymond Lai lawsuit against Marvel over Iron Man suit design is being revived
The Lai brothers, founders of Horizon Comics Productions, claim the armour worn by Iron Man in the movie is too similar to the outfit sported by Maxwell, a character they developed for their Radix comic series in the early 2000s.

In the brothers' failed 2013 case against Marvel, Justice Paul Oetken of the United States District Court for the Southern District of New York concluded there was no infringement because of the "distinctive features between the characters." But according to the new lawsuit, the distinctive features previously identified to justify the dismissal of the brothers' claims no longer exist in the new superhero outfits created by Marvel."
Story at MSN News
---
Searching for the Black Superman – Hollywood Reporter
---
Are movie theaters ready for the coming Spider-Man, James Bond, etc., movies?
Story at Forbes
---
Footage of Zoe Kravitz as Selina Kyle - Catwoman – story at Comic Book Movie
---
---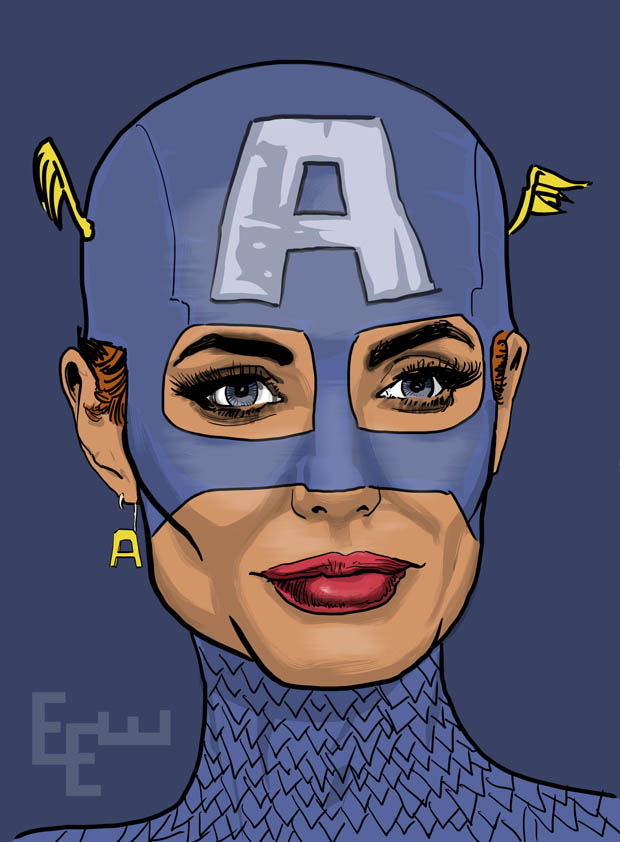 ---
I keep hearing negative reactions on the Eternals movie that's coming ("it's going to be Marvel's first flop," some are saying).
On the other hand, press promo for the film is hanging in there:
Marvel Fans Are Obsessed With Angelina Jolie's Badass Moment In First Eternals Footage"
Story at Cinemablend
---
Andrew Garfield says he's not in next Spider-Man movie
Story at MSN News
---
The "A-List" actors who play superheroes
Story at MSN News
---
Iron Man: Terrence Hall vs Robert Downey Jr
Story at Indian Express
---
"No Pants Day" to be celebrated in Newspaper Comics
Story at Wane
---
---
Brad Pitt, George Clooney, and Batman - Comic Book
---
"Bibliotheca Cloud Library now offers comic books" - Goodereader (article talks about the Comicsplus system)
---
"Kirby (not that one) returns to comics with Manga Mania"
–
Games Radar
---
Review of Cyclopedia Exotica
In "Cyclopedia Exotica," the artist and writer Aminder Dhaliwal created a fictitious community facing xenophobia, fetishization and media misrepresentation. It's resonating with her thousands of Instagram followers.
Story at NY Times
---
DC Comics' DC Universe Infinite flat-rate digital comics reading service – slate of titles for May
List of all the digital releases for May at MSN News
---
The big plans for Captain Marvel
Disney and Marvel have a wish list at MSN News
---
Fortnite earned $9bn in two years - with 80m monthly users in June 2020. – Eurogamer
---
Controversy of Warner releasing 4K HD Blu Ray of the Joss Whedon 2017 Justice League in the wake of success of the 2021 Snyder Cut
Is it bait-and-switch? Is it sabotage? Is it bad, bad timing? Is it just an easy cash run?
The promo short on Youtube for the "Josstice League" version of the 2017 film coming out on 4K Blu Ray has 98,000 downvotes (versus 4.3 thousand upvotes).
Detractors say this release is more detritus from the ongoing Warner civil-war within the company, with this 4K version of the 2017 film meant to bleed off enthusiasm (and money) for the eventual release to home video of the Snyder Cut version. These actions are seen as part of an overall campaign to squash fans pushing for a revival of the "Snyderverse" cinematic film series versus the newer plans of Warner's executives to move past the Snyder version into their latest versions of the DC heroes on film.
The usual explanation for all this that I hear and read is that ATT&T executives (who have had leadership over Warner since buying them out in 2016) will make decisions to satisfy fans (and make money) versus following some sort of agenda-driven story-telling that flies in the face of what fans actually want. This premise is that Warner executives do not like (on a personal level) the fan base and are hurriedly looking for a new coterie of fans to replace the "toxic" mass of customers they've got. But, the belief is that AT&T will follow the dollar signs and respond to fan input (and the proof for this is that the Snyder Cut ever got made).
None of this sounds like a business plan that anyone would logically construct in order to make money and get satisfied customers to line up again and again for the next iteration of a "intellectual property", but this mess does indicate how alienated the DC Comics' fan base has gotten from the leadership that is trying to lead it.
---
Artist John Paul Leon has died
John Paul Leon, a beloved comic artist known for his work on titles like Static, Earth X, and Batman: Creature of the Night, has passed away at the age of 49.
Obit at Comicbook
---
Morbius gets another delay
Moved another week back - Updated 2021 Movie release list
---
Marvel finishes titling Black Panther II (It is now Wakanda Forever) and Captain Marvel II is now The Marvels
Story at Hollywood Reporter
The coming comic book movie slate
---
The Tim Burton 1989 Wayne Manor is in The Flash movie
Story at Monsters and Critics
---
Manga adaptation Demon Slayer is at top of the box office
Story at People Magazine
---
Composer Danny Elfman talks about what wasn't done right with his score for the 1989 Batman film
Story at MSN News
---
Manga sales are "exploding" - Comicbook
---
List of cancelled 2020 Marvel titles
Story at Newsarama Gamesradar
---
The Marvel, Penguin Random House Publishing "Comics Distribution Pact"
Story at Publishers Weekly
---
Free Comic Book Day returns
Story at Times News
---
More Batmobiles of America
Story and photos at Sun Journal
---
List of Marvel Comics for Free Comic Book Day
Story and some images at Flickering Myth
---
Batmobile
This real-life, full-size New Batman Adventures' Batmobile is tricked out with rocket launchers, machine guns, the requisite afterburners, and pretty snazzy light effects, including a pair of infinity taillights."
Story at Mike Shouts
---
National Superhero Day
April 28 is National Superhero Day. We're celebrating all superheroes, including police, firefighters, military, medical professionals, and, of course, the comic book superheroes.
Story at WPDE
Story also at MSN News
---
China is "global box office champ" now
For a direct and more recent comparison of Hollywood's woes and China's rise, one need only look at the recent opening of Warner Bros.' Godzilla vs. Kong. The monster-movie smackdown earned a considerably robust, COVID-era record $48.5 million at American theaters during its first five days after opening on March 31. So far, it's made roughly $86.6 million in U.S. theaters, though viewership figures haven't been disclosed from HBO Max, where it is simultaneously streaming. Over in China, though, where most theaters currently operate with a 75-percent seating capacity, the film opened on March 26 and brought in $70 million in its first weekend alone. The movie has made $183 million in China to date...
Story at Newsweek - MSN
---
The importance of Flash Gordon to modern comic books
Tom Mattevi, owner of the comic book shop, admitted that while Flash Gordon is relatively obscure in the world of modern comics and fantasy characters, the trailblazing space adventurer still resonates from a bygone age when humans could only fantasize and speculate as to what existed in outer space.
Story at MSN News
---
Racism in comics and the reinvention by Black creators
Story at Yahoo News
---
The Falcon didn't read comic books growing up
...many fans might be surprised to find out that Mackie never read comic books growing up."
Story on Anthony Mackie at Cheatsheet
---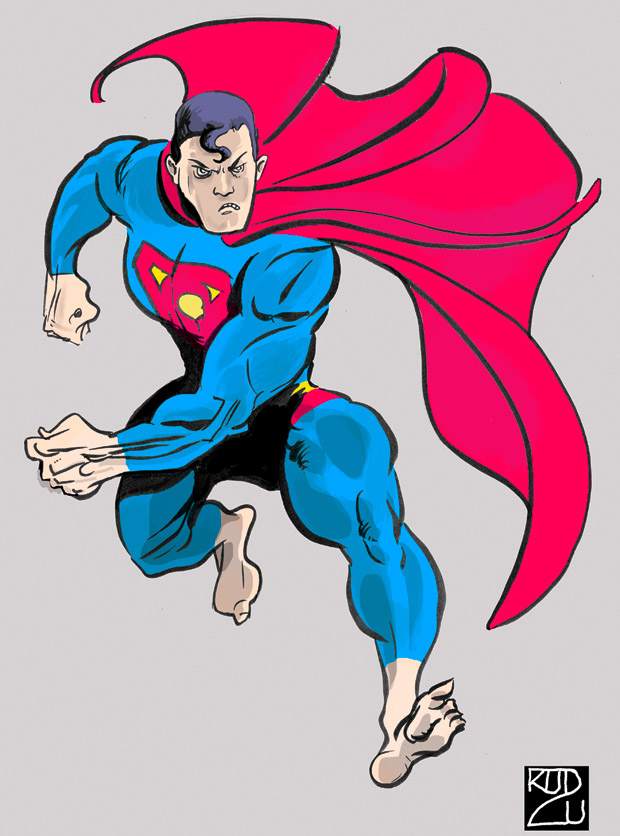 THE ABOVE IS NOT THE NEW SUPERMAN
Action Comics to get new logo and new Superman
Beginning this July, Injustice writer Tom Taylor and Young Justice artist John Timms will follow this new Superman as he takes over guardianship of Earth while his father branches out to outer space.
Story at MSN News
---
Batman #1 goes for $360K
Rated CGC VG/FN 5.0 Off-white to white pages.
April 5, 2021. Auction page at Heritage
---
Pokemon card goes for $247,230
Story at Comic Book
---
Amber Heard training for return as Mera in Aquaman II
Story at Comic Book and at Digital Spy
---
Shazam! movie is a top viewing title at Netflix
Story at Wegotthiscovered
---
"Black History and comic books" - NY Times
---
Iron Man fans
"A group of anonymous fans have paid to put up a billboard in Los Angeles that pleads Marvel Studios to revive their beloved hero."
Story at Variety
---
Leaving and returning to comic books
Story at Arkansas Online
---

---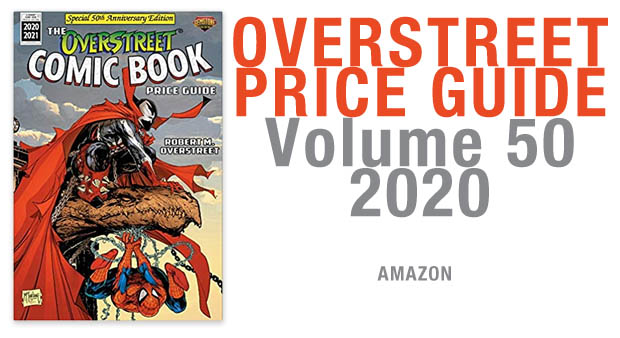 The Overstreet Comic Book Price Guide Volume 50 – Spider-Man/Spawn
---