Last Update: March 31, 2023
---
Disney Pain
One of the results of the recent calamities that have struck Disney is that some media outlets are re-evaluating the performance of past films, such as Shang-chi, The Enternals and Black Widow, all of which are now being poked at for actual production costs versus reported productions costs. The result is that there is an argument that the last film to actually make money for Disney over cost wasn't even a true Disney film, but the Sony/Marvel Spider-Man No Way Home. With recent firings and productions getting cancelled or curtailed, and news stories about cost over-runs on re-shoots and CGI, and then contradictory stories of CGI not even getting completed because people were moved Film "A" before it was even finished and put onto "Film B," which adds up to a not-so-subtle accusation that leadership has fallen apart inside Mouse House.
With Disney wounded, the Hollywood media is starting to show more teeth about the company, whereas for years there's been a tacit "everything they do it right" attitude because of the huge boxoffice.
---
Fraudsters attempt sale of $4,000 worth of stolen Marvel comic books and action figures – WSPA Spartenburg
Apparently, ripped off one comic book store then tried unloading it at a different comic book store which knew of the stolen items.
---
June releases from Boom! – Comicscontinuum
---
Looking like Gotham Knights is going to get canned after precipitous audience drop
Story at Bounding into Comics
Article say "was doomed from the start" because... "the CW is moribund and the Arrowverse is over, victims of wokeness and increasingly cheaper-looking programming."
---
Another Disney firing - Ike Perlmutter, the chairman of its Marvel Entertainment unit, is cut
Story at Bloomberg
7,000 job cut at DIsney coming – Hindustan Times
---
"Go small again" with superhero movies – MSN Collider
Unfortunately, these new follow-ups blow up the scale of their predecessors and engage in lots of CGI-heavy "epic" mayhem. All the humanity and charm of earlier Ant-Man and Shazam! adventures get lost in the middle of all the noise."
---
John Wicks has huge opening; Shazam II continues fade – Variety MSN
Boosted by positive reviews and enthusiastic word-of-mouth, the fourth installment in Lionsgate's action series, led by Keanu Reeves as a legendary assassin, landed the best start of the franchise. It's one of the rare original properties to keep growing and improving upon the last, in terms of ticket sales. The original "John Wick" opened to a modest $14 million in 2014, its sequel "John Wick: Chapter 2" took in $30.4 million to start in 2017 and the third film "John Wick: Chapter 3 – Parabellum" previously marked a series-high with $56.8 million in 2019.
DC and Marvel both hit with bombs: Meanwhile, Shazam Fury O' the Gods continues a rough slide with a $9.7 million take which means a ticket sale slide of 69% on the second weekend. Reported to cost $110 million to make with $100 million to promote it, its not going to make its money back in theaters, and this is following the same thing that happened to Ant-Man and the Wasp: Quantumania that has also not earned what's needed to cover its cost.
---
Scooby Doo show Season 2 gets pulled – Bounding into Comics
---
Kang arrested – Superherohype
---
---
Wondercon shows off "The Dawn of DC" – Comicsbeat
---
Avatar passes up Infinity War for highest grossing domestic market movie – Comicbookmovie
---
Indiana Jones project effort getting shifted to Star Wars projects at Disney – Bounding into Comics
---
The Last Ronin TMNT storyline becoming a video game – Polygon
---
Joe Giella has died
R.I.P. Joe Giella, most known for his prolific inking on DC Comics in the 50s & 60s, assisting on The Phantom & Flash Gordon comic strips, and 15 years as artist on the Mary Worth comic strip. pic.twitter.com/FuvMl1cDuV

— ComicsintheGoldenAge (@ComicsintheGA) March 22, 2023
---
DC will put out a series of George Perez variant covers in June – Comic-watch
---
Resurrecting Gold Key Comics
Story Never Dies. pic.twitter.com/Is4ya0HYRh

— Gold Key Comics (@GoldKeyComic) March 23, 2023
---
The coming The Flash movie gets a PG-13 rating – Comicbookmovie
---
The comics shops that closed down in 2022 – Comicsbeat
---
Snyder has announced that his three DC movies are coming back to theaters for a three-night "SnyderCon"
Story at SuperHeroHype MSN
---
---
this is Anthony Mackie talking about the Captain America 4 script, which is evil by itself, but also kills me because they're based on existing comic books. i can go to a comic shop and probably figure out most of what's gonna happen in the movie. pic.twitter.com/JNp6ZlAcOK

— alexis ➡️ galaxycon richmond (@theswordwizard) March 17, 2023
---
Copy of Detective Comics #27 on auction – NY Post article about the event
CGC has graded 75 known copies of Detective Comics #27
Link to the Heritage Auction page – Page blurb: "Not only is it in contention with Action Comics #1 as the most important Golden Age comic of all, it's just about as hard to find in any grade! We've offered just four copies in higher grades in the last 22 years, and just two nicer copies in the past 10 years!"
---
Shazam II and Black Adam controversy – Superherohype
Johnson blocked Levi's cameo in Black Adam, which would have seen Shazam join the Justice Society, opting to include Henry Cavill's Superman in the mid-credits scene instead.
---
---
Shazam Fury O' the Gods at $64,711,158 worldwide – started off with $30 million weekend when $35 to $40 million was expected
No more superhero movies for me says Director David Sandberg – Yahoo
Director David Sandberg and star Rachel Zegler address people hating on 'Shazam! Fury of the Gods' – LA Times - MSN News
"Superhero movies have a quality problem" – Los Angeles Times
---
The Joker Tha Man Who Stopped Laughing #9 Variant Cover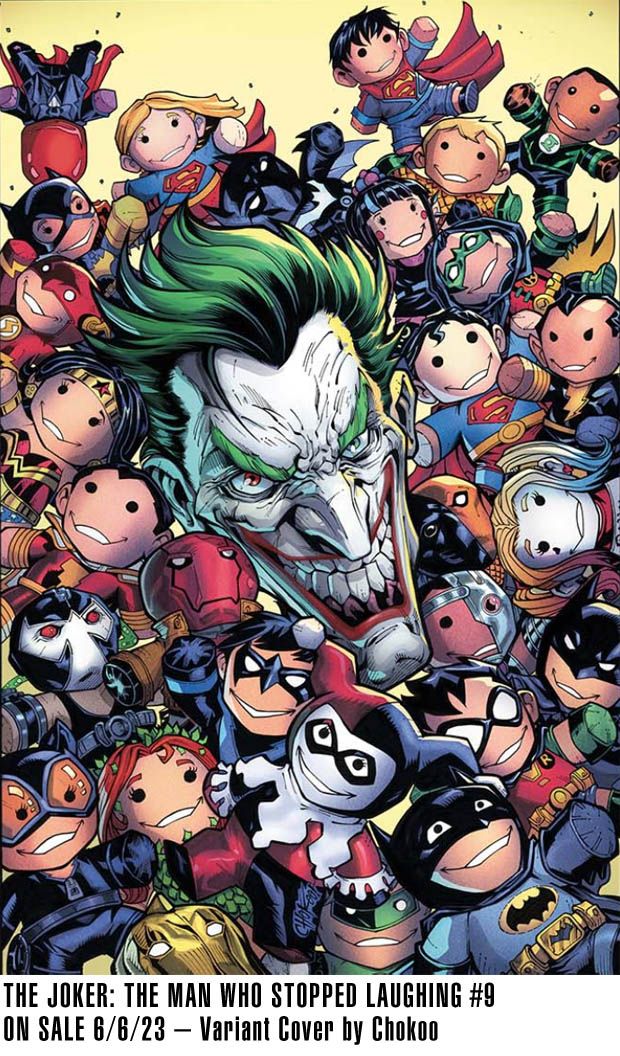 "He looks like he's surrounded by Funko Toys, I wouldn't be laughing either, a lot of comic shops are going broke on those..." – Perch on Comics You Tube
Funko plans to send $30 million worth of its vinyl figurines to the trash – The Washington-based company, known for its toys depicting pop-culture icons, cited ballooning inventory and limited warehouse capacity – USA Today
---
Blade reboot: no Black Knight – MSN Game Rant
Blade reboot will instead be about the daughter – Boundingintocomics
Following up on his previous report that the film's star, Mahershala Ali, was still unhappy with its script over eight months after allegedly having first raised issues with its quality and as such had taken the matter of fixing it into his own hands..."
About the Black Knight and Blade
---
Scott Nybakken goes from DC Comics to Dynamite as Marketing director
Story at icv2.com
---
Victoria Alonso and the exit from the MCU
---
Behind the scenes of the multiple directors for The Flash – Bounding into comics
---
DC publishes Justice Society Of America Vol 5 on occasion of SHAZAM II at the theatres, but the book stories are out of order. – Bleedingcool
---
DC Comics layoffs amid restructuring – Comicsbeat
DC has already had recent layoffs which were thought to insulate them from the general rounds of layoffs that is passing through all the Warners companies. But, according to the Comcsbeat article, it looks like DC jobs are being eliminated, apparently "people involved with the business end of things" are the ones being let go.
---
Was Gal Gadot "deepfaked" into the new Shazam movie? – CBR
---
Snyder Cut Justice League going to get an Imax release? – Comicbookmovie
---
End of the line for Batgirl with issue #19 and Tim Drake: Robin ending with issue #10 – Comicbook
---
DC Comics' releases for March 21
Batman: One Bad Day - Ra's Al Ghul #1.
Batman/superman: World's Finest #13.
Black Adam #9.
Catwoman #53.
Dceased: War Of The Undead Gods Society Of #7.
Dc's Legion Of Bloom #1.
The Flash #795.
G.C.P.D.: The Blue Wall #6
Harley Quinn: The Animated Series: Legion Of Bats! #6
Milestone 30th Anniversary Special #1
Nightwing #102
Superman #2
Swamp Thing: Green Hell #3
Wonder Woman #797
---
$30 Million dollar start for Shazam Fury O' the Gods
Story at MSN Variety
People are "senselessly mean" says Rachel Zegler about criticisms of the low-performing Shazam Sequel debut – Yahoo News
And I know, I know, 'if you can't handle the heat…' and all that nonsense, and you're right. but our film is actually very good. it's just cool to hate on fun nowadays. That's okay. We're good."
---
A copy of Detective Comics #27 with significant damages but still rated a "6", going up on auction
Story at Washington Times
---
Is Zack Snyder up to something new? Is Man'O Steel and Snyder's Cut of the Snyderverse Justice League coming to theaters? – Comicbookmovie
---
We asked GPT Model 4 AI intelligence: With Quantumania losing money, the question arises, what comic book superhero movie has had the highest profit versus production cost that has yet been made?
Answer: As of my knowledge cutoff date in September 2021, the superhero movie with the highest profit compared to its production cost is Deadpool from 2016, which was directed by Tim Miller and starred Ryan Reynolds as the titular character. The movie had an estimated production budget of around $58 million, and it grossed over $782 million worldwide, making it a massive financial success with a high return on investment.
---
Yes, I'm directing Superman: Legacy to be released on July 11, 2025. My brother Matt told me when he saw the release date he started to cry. I asked him why. He said, "Dude, it's Dad's birthday." I hadn't realized. pic.twitter.com/ohQNV8nI4g

— James Gunn (@JamesGunn) March 15, 2023
---
Marvel keeps taking body blows
Boy, looking at the news and the usual places on Youtube, Marvel/Disney is taking a beating. Disney/Marvel does everything wrong, disappoints everybody, and is getting near the end of their rope, etc. Maybe after this gloomy trend works itself out (and Marvel doesn't do anything to feed it) there will be the predictable "comeback" movie that'll show Disney/Marvel is "back on track" and like a celebrity who has graduated from the tabloid news headlines about disastrous decisions and drunken ruts, is now on the glossy celebrity magazines telling one and all how they've grown up and have experienced real love at last. When that moment comes hopefully the fanbase is rooting for Disney/Marvel to make a good film that shows the world all that success wasn't a weird fluke, instead of a crowd of burned-out gawkers hoping for a spectacular failure that nails the coffin shut.
---
"May the Marvel Cinematic Universe (MCU) rest in peace" – The Burlingame B
Marvel is simply not producing good movies, especially when compared to 10 years ago. Clearly, seeing a good movie matters far less to viewers than the hype that surrounds it. Personally, I dislike the fact that Marvel movies are taking up all of the time slots in movie theaters — slots that could be occupied by other, better movies."
---
Dawn of DC
Story at Yahoo News and more about it also at Yahoo News here
Dawn of DC initiative means new creative teams and runs on various well-known books, like Josh Williamson and Jamal Campbell on Superman (already underway) and then soon Tom King and Daniel Sampere on Wonder Woman. Also, Flash gets a reboot, and Steelworks and Hawkgirl are new titles.
Dawn of DC is an effort to create easy story start points for new readers to begin reading.
---
Does this mean no more sequels for other popular Marvel characters? – Digital Trends
---
"Black Adam bombed and Henry Cavill got fired from DC and its all Dwayne Johnson's fault" – MSN Fortune
---