Archive Page 2118
January 12, 2022
---
The Great British Comic Collection Auction for charity – "The auction consists of over 30 lots, included some fairly unique ones and lots of signed items" – happening on Facebook.
Comic creator John Wagner, co-creator of Judge Dredd for 2000AD, and Rok the God, is selling a number of comic- related items in aid of charity.
Article about the auction at Down the Tubes
---
"James Gunn Says Guardians of the Galaxy Vol. 3 Defies Fan Expectations" – that's a pretty leading comment. What if "fans" expect Vol.3 to be good? – story at Superherohype
---
It crashed in the theater, but Wonder Woman 84 was the biggest selling home video DVD/Blu Ray for 2021 with nearly $35 million in sales – Comicbookmovie
---
Marvel Unlimited digital releases a seven-issue series called Eternals: The 500 Year War only on that platform.
Article at Newsarama/Gamesradar and at The Wrap
---
---
Texas Comic book store "fire sale" – MSN News
Wolverine Comics was one of the businesses destroyed in the Kelly Square fire that happened on Halloween.
"If its just got a little bbq smell to it, then its for sale, we're selling everything for half price," Co-Owner of Wolverine Comics Beth Ward said. Wolverine Comics opened in Kelly Square in March, and eight months later they're searching for a new location after a fire broke out in the building on October 31st.
---
The "most anticipated comics of 2022" – Polygon
Mostly DC Comics and Marvel is extolled, but there are some other companies in the list.
---
The travails of Batfleck
Story at AV Club
...his franchise obligations as Batman, a gig that saw Affleck grumpily anchor huge portions of Warner Media's then-nascent DC Comics-based films. Both on- and off-screen, Affleck seemed enormously, depressingly bored by the chore of playing dress-up as a large human bat; even at the time, he occasionally made it clear that he'd taken the part less because he wanted it, but because there was some public understanding that he should want it.
"Ben Affleck says filming Justice League was more agonizing than watching it" – Fark
---
Will Omicron knock The Batman release off schedule?

Story at Variety
Given that Sony pushed its comic book tentpole "Morbius" from January to April, and Disney announced its Pixar title "Turning Red" will skip theaters in March and head straight to Disney Plus, many moviegoers have wondered if "The Batman's" release is safe. Kilar told Puck News that Warner Bros. is keeping its eye on the pandemic, but no delay is currently in the cards.
---
Dan Clowes comic book collection for sale in Hyde Park – Chicago Reader
Before he became a cartooning titan, Clowes was just a kid blowing all his cash on weekly comics releases. Now, a couple thousand of those issues are in the basement of Chicago Comics. "These are mostly things I bought out of rote obligation/OCD during a period in my teen years when I bought basically every comic coming out," Clowes says via e-mail. "My best friend worked at a newsstand on Lake Park and was able to get everything at a discount."
---
2021 ComicBook.com Golden Issue Award for Best Artist – Comicbook
It's Daniel Warren Johnson
---
Spider-Man No Way, Homie breaks Titanic record – story at NY Post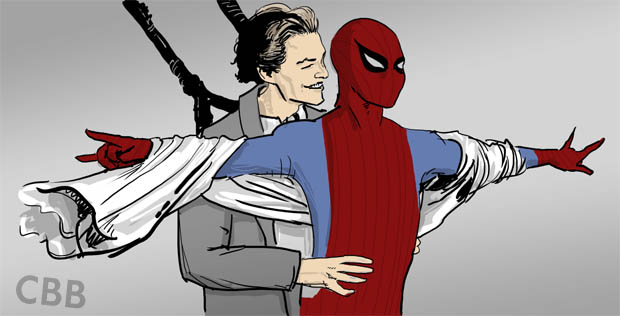 ---
Ms Marvel getting reshoots – Comicbook
---
Affleck finito with Batman again? – Bounding into Comics
---
Copy of Hulk #1 auctions for $590,000 – UPI Press
"Highly-graded copies of Hulk #1 are notoriously hard to find, due to the cheap paper used and the smudging of the gray color on the front cover," ComicConnect.com Chief Operating Officer Vincent Zurzolo said in the company's announcement. Zurzolo said there are only seven copies of the same issue known to exist with higher ratings, and it is extremely rare to find one offered for sale.
Comic Connect press release on the sale
---
New villain photo promos for The Batman movie – Yahoo
---
Here comes Justice League vs Legion of Super Heroes book – Flickering Myth
DC Comics seems to be warming up the comic book atmosphere to prepare for the Legion of Super Heroes TV show that's coming [see Screenrant]
---
Spider-Man No Way I Don't Get A Sequel has crossed the $1.5 billion dollar level in box office
Numbers at Variety
Sony's latest web-slinging Marvel adventure has grossed $1.53 billion worldwide, cementing its place as the eighth-highest grossing movie ever at the global box office (not adjusted for inflation). Over the weekend, "No Way Home" generated another $64 million internationally and $33 million domestically, enough to push the film's tally past slots nine through 12 on all-time rankings, which belonged to "The Avengers" ($1.518 billion), "Furious 7" ($1.515 billion), "Frozen II" ($1.45 billion) and "Avengers: Age of Ultron" ($1.4 billion). Does it have enough steam to take down the films that stand in six and seventh place, "Jurassic World" ($1.67 billion) and "The Lion King" ($1.66 billion)? That'll be the next box-office test of "No Way Home's" impressive staying power.
---
Autism comic book project – Independent IE
Dan Murphy is a photographer who developed the 'Here I Am' Down syndrome project in 2015.
---
What were the "hit" comic book series in 2021? – Yahoo
---
Minneapolis comic book store really tired of being robbed – Fox 9
They took about 600 comic books I'd say, four boxes of comics, ranging anywhere from three dollars to seven hundred dollars," owner Greg Ketter told FOX 9's Karen Scullin."

---
Disney wants an Oscar for Eternals – comicbook
---
Andrew Garfield can now talk about Spider-Man, and does – Variety
---
CW looks to be headed for changes – Deadline
---
New Ringo Starr comic book – story at MSN News
---
New Black Panther at Marvel – Comicbook
---
McFarlane Toys doing Batman Beyond 'figgers – Batman News
---
Looking at the Pattinson Batman suit – Mens Health
---
Paris Jackson would like to be a Marvel Superhero – Variety
Paris Jackson has a few acting credits under her belt. The 23-year-old daughter of the late Michael Jackson has appeared on television shows "Star," "Scream: The TV Series" and "American Horror Stories." On the film side, we've seen her in "Gringo" with Charlize Theron as well as indies "The Space Between" and "Habit."
---

---

---
---
Original page December 27, 2021