Archive Page 2117
January 5, 2022
---
Most read Comic Book Business articles at Publisher's Weekly for 2021 – Publisher's Weekly
---
Franchise return with Willem Defoe, Alfred Molina, Jamie Foxx – First Post
---
Agents of Shield fans trying to save the show from cancellation – comicbook
---
---
"The Absurd, Surreal, Metaphysical and Fractured Destiny of Cerebus the Aardvark" – Film Threat
To say Dave Sim's Cerebus the Aardvark is just a barbarian fuzzy animal comic book is like saying There Will Be Blood is a movie about digging a lot of holes. While starting as a Conan parody, the sword-wielding aardvark would tackle politics, religion, philosophy, and pop culture over a 300-issue run. A feisty black and white publication started in the late 1970s, the comic helped pioneer the graphic novel format and the creator-owned character concept as well as create a market for independent comics.
---
Satire and cartoon magazine Le Man in Turkey attacked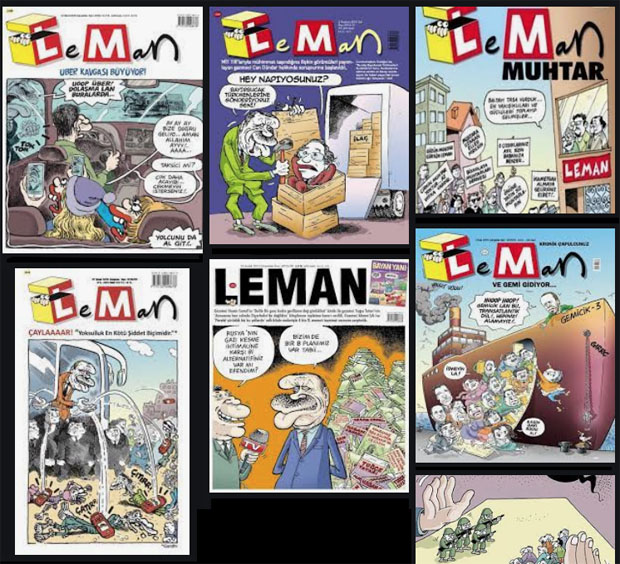 The offices of LeMan, one of Turkey's leading satirical magazines, have been reportedly attacked by supporters of President Recep Tayyip Erdogan after criticism of the magazine appeared in the pro-government newspaper, Yeni Safak. The latest issue of LaMan has also been banned from newstands according to numerous sources. The cover of the banned issue suggests that both soldiers and civilians involved in the country's recent unsuccessful coup were pawns in a larger game. In the cartoon, the hand on the left says: "I drive the soldiers." The hand on the right says: "I see [like I accept your challenge], I drive the 50%." (Erdoğan often says he has 50% of the votes.)
Story art Cartoonists Rights Org
---
Box Office 2022: the predictions – Variety
The March 4 The Batman is listed as a "sure thing."
Causes for Concern: Joaquin Phoenix's devilish turn in "Joker" demonstrates that DC can go dark, we mean Scorsese-level darkness, and still become an insanely profitable box office sensation. But will audiences respond to a gritty, gruesome Dark Knight?
The CBB view: if Warner (or whatever it is that owns Batman now) learns the lessons of The Suicide Squad tanking, they'll make sure The Batman is not an attempt to out-Joker The Joker film, because a huge amount of fan support for Batman the character is composed of very young kids wearing Batman pajamas and hoisting Batman backpacks, and a The Suicide Squad rendition of The Batman would not be accepted by the people who pay out the money for those Batman pajamas and back-backs, i.e., their parents.
There's a huge older Batman fan group for whom such concerns aren't probably prevalent, but the colossal earnings of Chris Nolan's Batman movies (and for that matter, the earlier Tim Burton movies) depended upon bridging between the two groups of older and younger fans, not ignoring one group entirely ( a la The Suicide Squad). If you look at the disaster of both Birds of Prey and The Suicide Squad there's plenty of road signs saying "don't drive the Batmobile down this road."
If anything, the latest record setting numbers for Spider-Man No Way I'm A DC Film should be a lesson to everyone, including Marvel especially, about what is wanted in mega-budget superhero movies.
---
Captain America as Hollywood dancing legend Gene Kelly – Variety
---
Michael Keaton on not making Batman III with Joel Schumacher: I couldn't do it, tone was wrong – Cinemablend
Article derived from a Backstage Podcast
---
Morbius film moved from January 28 to April 1 – Yahoo Finance
---
Spider-Man No Way I'm Bombing has now crossed $600 million in the North American market – SABC News
"No Way Home" captured $52.7 million over the New Year's holiday frame, boosting its domestic tally to $609 million. It extends an epic streak for the latest Spidey adventure, which continues to deliver the kind of ticket sales it would have been expected to make in pre-pandemic times.
Now at $1,372,600,664 worldwide [Boxofficemojo]
The speed at which Spider-Man No Way I've Got Bags Big Enough to Hold All This Money ran up to $900 million worldwide is second only to Avengers Endgame.
---
Some of the coming films in 2022
List at Prestige Online
Some of the titles in the article:
Morbius
The Batman
Doctor Strange in the Multiverse of Madness
Top Gun: Maverick
John Wick Chapter 4
Black Panther: Wakanda Forever
Jurassic World: Dominion
Thor: Love and Thunder
Fantastic Beasts: The Secrets of Dumbledore
Black Adam
Mission: Impossible 7
Aquaman and the Lost Kingdom
Avatar 2
---
Todd McFarlane interview – Business Insider
Venom was a complete accident. Marvel wanted me to draw Spider-Man in a black costume, but I didn't want to because I grew up with him in a red and blue costume. So we decided to put the black costume on another character. I did some designs, created this big monster, and we went there. I wish I had more happy billion-dollar accidents like that.
...I think for some people NFTs will replace the physical stuff, just like any other technology. The thing that's interesting about any art is the collection itself. The delivery mechanism of how you get it or the enjoyment of what you're collecting shouldn't really matter.
...I've told people before that the comic-book medium isn't going to go away but the delivery mechanism could certainly change over time.
---
TV adaptation of Rumiko Takahashi's Urusei Yatsura (Those Obnoxious Aliens) – Anime List
---
Marvel doing a Miracleman Omnibus
Marvel's promo text is interesting surrender to the "comic books are fascism" argument:
Pushing the concept of the Super Hero to its logical conclusion, MIRACLEMAN is nothing short of a revelation.
This is how a Gamesradar article defines the character:
Marvel's dark version of DC's Shazam!, Miracleman, returns with new omnibus
Profile of the character and the legal entanglements connected to it at Wikipedia
---
Best 25 Comic Books of 2021 – SYFY
---
The problem of Manga piracy sites – Japan Times
The same issues afflict comics around the world.
ABJ, an organization established mainly by publishers including Shueisha Inc. to tackle the issue of manga piracy, has compiled a list of some 400 piracy sites. The combined monthly number of accesses to the top three such sites reached 326 million in October 2021, skyrocketing from 12.5 million in January 2020, according to the group.
....Noting that damage is particularly great for new and unknown cartoonists who are active only online with their works still not published in magazines, Akamatsu said: "If such artists lose motivation, very entertaining manga works that would have appeared in the future could end up not being read. Keeping away from pirated works will lead to protecting talented artists, so I want people to enjoy manga in their official versions."
---
Little Shop of Comics of Scotch Plains, NJ, is closing –NJ 1015
---
List of black-owned comic book shops – Uproxx
---
Ten small Press Comic Books you "need to own" – Broken Frontier
UK Small Press Comic Books discussed:
Rusalka Part 1
Resistance Sustenance Protection
Wednesday's Child
Naglalamay
Colossive Cartographies
What is Britain?
Vicious Creatures
Daddy #1
Sir Gawain and the Green Knight
Horny & High Vol. 1
---

---

---
---
Original page December 27, 2021