Archive Page 2109
October 31, 2021
---
Yikes
"Eternals will open as the lowest-rated Marvel Cinematic Universe movie on Rotten Tomatoes"
Seriously, what a snooze. Fresh off of winning the Best Director Oscar for "Nomadland," Chloe Zhao has upchucked one of the MCU's worst movies in ages."
Story at MSN
---
Neal Adams NFT Hash Rush sale "the rarest comic book in the world" – PR Newswire
---
Can The Eternals get a $75 million weekend? – Yahoo News seems to think so:
[The Eternals] will tower over the domestic box office when it debuts on Friday in more than 4,000 theaters.
Eternals is first MCU film with a "rotten" score – Newsweek
---
All the times Iron Man has died – list at Screenrant
---
Aquaman II Jason Momoa tests positive – Fox News
The star is currently in the U.K. where he is hard at work on filming "Aquaman and the Lost Kingdom," which is set to premiere in December of 2022. Currently, there seem to be no plans to delay the release as a result of the actor being unable to work.
---
DC Comics artists get police protection over Superman threats – Newsweek
---
Biggest [American] comic book selling titles of October – Sneakpeak
---
If you ever wanted to own the Alvin and the Chipmunks franchise, now you can make a bid – comicbook
---
You've heard about manga and now you're curious. "Top Manga websites online" – Maketecheasier
Related: Comic book stores. What are they? How can you find them? – MSN News
---
Lego putting out an "epic" Batman Tumbler model – Digital Spy and at Brick Fan
---
Image Comics people form union (or guild) – AV Club and Comics Beat
---
Tokyo attacker link to Joker – Nikkei
A man arrested in a knife and arson attack that injured 17 people on a train in Tokyo on Halloween night has told investigators he adores Batman villain character the Joker, police said Monday.
This is reminiscent of the Joker-related attacker from the premiere week of The Dark Knight Rises back in 2012.
July 25, 2012: Christian Bale has visited the shooting victims and the makeshift memorial at the Aurora movie theatre in Aurora, Colorado, USA. Daily Mail UK has the story and plenty of photos.
---
Dune Buggy rules current box office – Variety
Venom 2 Let Them Eat Cabbage and James Bomb I Feel Like Dyin' help make October biggst box office month of 2021 – Yahoo News
---
Comic Book Movie Money Oct 31, 2021
Venom Let Them Eat Cabbage at $395,841,558 worldwide earnings [Production budget of $110 million].
Shang-Chi and the Onion Rings of Power at $423,603,767 worldwide [Production budget reported at either $150 million or up to $200 million.]
For comparison, James Bomb I Feel Like Dyin' is at $605,756,260 worldwide [Production budget estimate at $250 million plus $100 million in promo marketing] and Dune Buggy is at $296,401,232 worldwide [Production budget reported at $160 million].
Data from BoxOfficeMojo
---
Tennessee politician and comic book collector talks about comic books – Times News
---
Scott Pilgrim, Brie Larson, Rachel Zegler, Shazam II = hair
So this is news at Comicbook
---
Bane's bane: writer James Tynion "retcons" Bane – Bounding into Comics
No longer is Bane simply a master criminal and cunningly resourceful super-soldier who can get the best of any opponent with enough time and planning. Now he is a controlled product who possesses no free will."
---
George Lucas sells Lucasfilm for $6 billion – Yahoo Finance News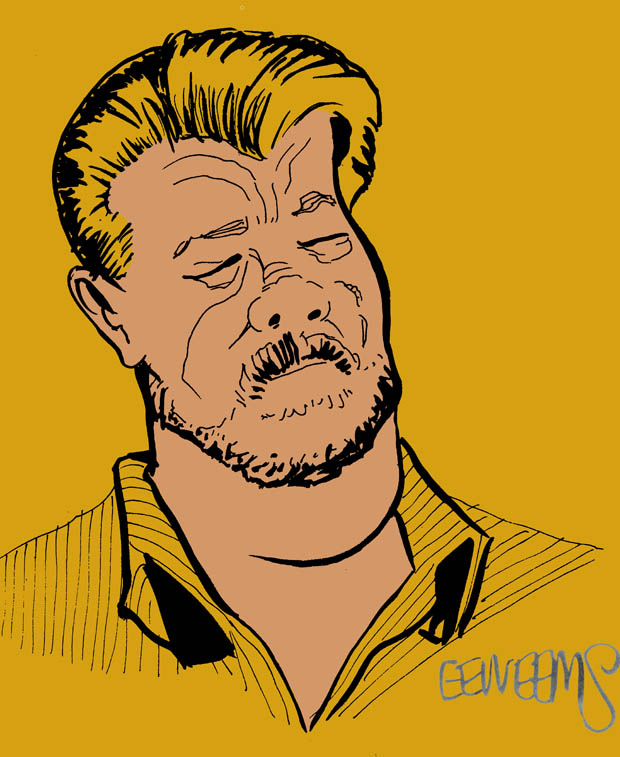 ---
Tracing the history of comic books in India – MSN News
---
Theories on the inside war between Kevin Feige and the Russo Brothers – Midnight's Edge You Tube broadcast
---
Why was there a break in posting on CBB? We were travelling.
---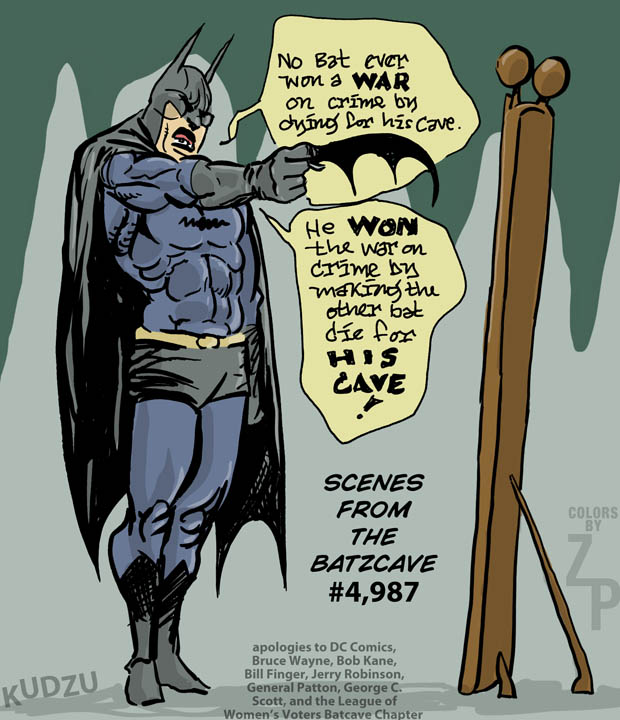 ---
A sealed copy of the 1988 video game Super Mario Bros. 2 has sold for $88,550 in an estate sale in Tennessee
Story at WATE
---
Ten Stan Lee comic book covers signed by him went up for blockchain auction – MSN News
---
Destroy all franchises Dept.
Warner has plan for Batman/Gandolf/Shaggy video game?
Story at AV Club
---
Ghost Rider series coming back – MSN Entertainment
...the new Ghost Rider title will be written by Wolverine and X-Force writer Benjamin Percy, with art from Cory Smith.
---
Tim Sale and Jeph Loeb doign a Batman The Long Halloween sequel – Yahoo News
---
Do I punch better with Wonder Woman on my arm? Hard to say for sure… but yes. I do. pic.twitter.com/jS82ToBVlX

— Stephanie Phillips (@Steph_Smash) October 28, 2021
---
Russo Brothers coming back to MCU? – comicbook
---
"The Eternals" challenges God
...super-producer Kevin Feige — having usurped every screen on Earth and reshaped the global entertainment landscape in his own image — merely straightened his baseball cap and announced that it was time to begin the next phase of his crusade. He knew there were more planets to rule, more parallel dimensions to explore, and more revenue streams for Disney shareholders to tap dry. Most of all, Feige knew that it wasn't enough to dominate the creative arts; if the Marvel brand were to achieve its rightful place in the hearts and minds of all humanity, it would have to unseat the Creator themselves.
...In other words, Marvel has made a "Dune"-sized, "Dune"-length, and almost "Dune"-portentous superhero movie about literally confronting God.
This reminds me of Billy Zane taking a look at the Titanic (mostly CGI, but a real prop built on a huge scale) from the dock from an early scene in James Cameron's film, and he says "God himself could not sink this ship."
Article about gods, God and Marvel at Indiewire
---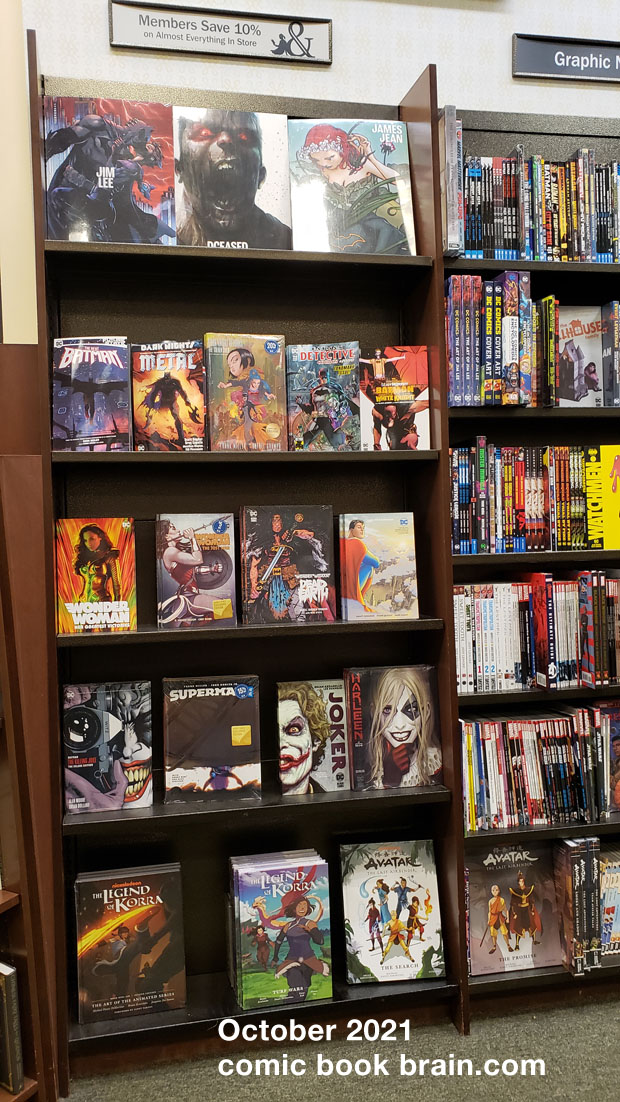 Barnes and Noble, almost all DC products. October 2021.
---
Brandon Fraser to appear in Batgirl movie – MSN News and "the comeback trail" at NY Post
---
Comics Books circa 2001 – Multiversity Comics
---
Marvel's Eternals not getting "glowing reviews" – CNET
---
Robert Downey Jr had shot at playing Doctor Doom, but ended up as Iron Man – Geek Tyrant
---
"Review: Marvel's overstuffed 'Eternals' is a star-studded exercise in superhero excess" – Yahoo News / USA Today
---
The DC Comics references in The Eternals – Cinema Blend
---
Ms. Marvel Disney+ show shall not have her enlargening powers of bigness – comicbookmovie
---
Fan reads all 540K pages of Marvel's entire output then wrote a book about it – Daily News
---
Writer Mark Baron (of Nexus fame) launching a new title via crowd-funding – Bounding into Comics
The Indiegogo link for Baron's project
---
Ten comic book characters altered to look like their movie version – CBR
---
Geppi Comic Collection at the Library of Congress – Fine Books Magazine
A new exhibition at the Library of Congress explores how comic books have permeated popular entertainment and influenced U.S. culture, highlighting selections from the Stephen A. Geppi Collection that was generously donated to the national library in 2018.
"Geppi Gems" is now open in the Library's Graphic Arts Gallery through mid-March 2022. A second rotation with different items is planned for spring 2022.
Free timed entry tickets are available for visitors to the Library's Thomas Jefferson Building on Wednesdays, Thursdays, Fridays and Saturdays between 10 a.m. and 4 p.m. To plan a visit and reserve tickets, go to loc.gov/visit. Tickets will be released on a rolling 30-day basis. For online versions of the Library's exhibitions, visit loc.gov/exhibits.
---
Kristen Stewart as Joker vs the Pattinson Batman?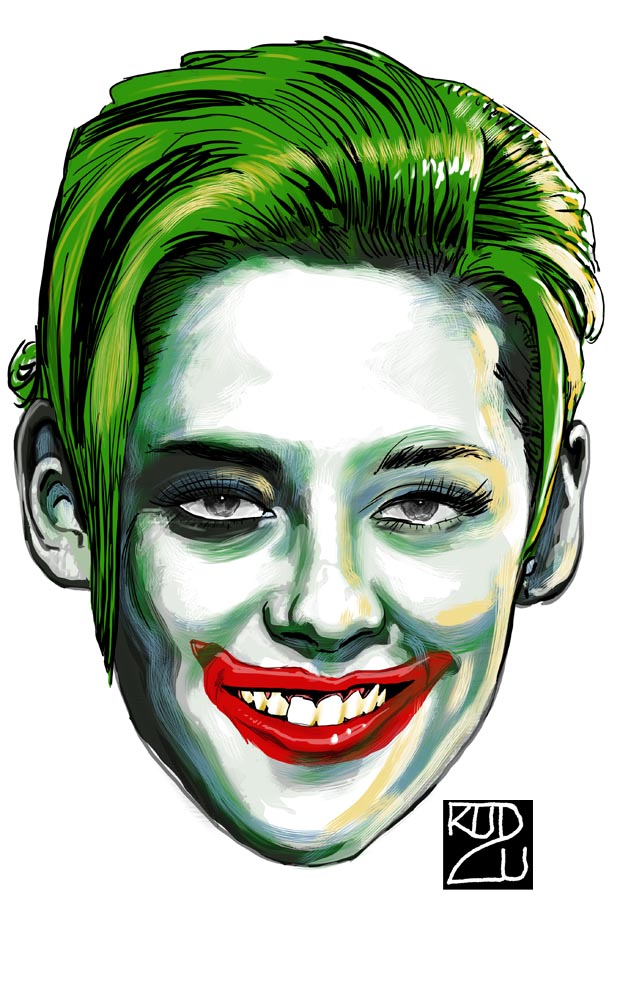 October 21, 2021: Crazy ideas at Yahoo News
---

---

---
---
Original page October 28, 2021