Archive Page 2087
June 27, 2021
---
Hiddleloki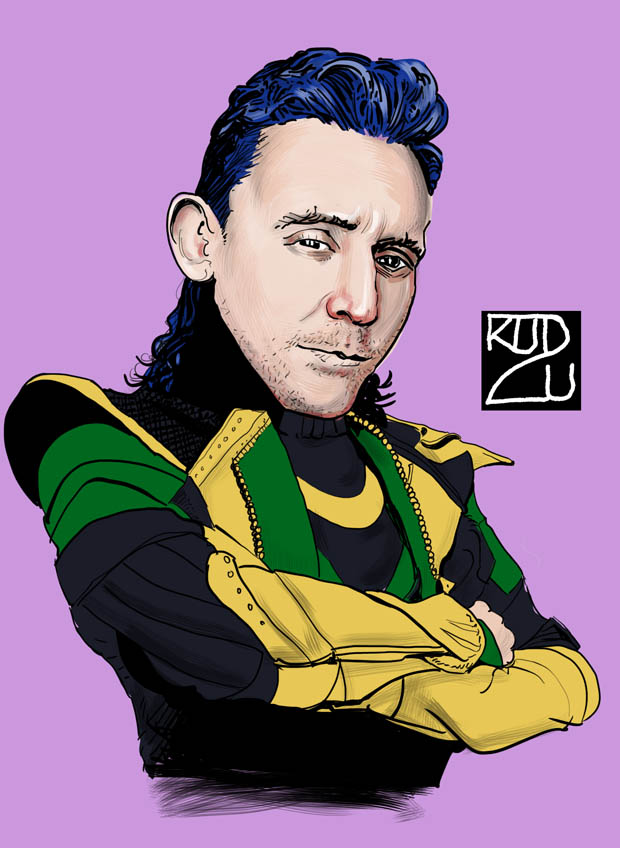 Art by Kudzuposter
---
Number fudging in the realm of streaming
Bloomberg looks at the problem of Hollywood/streaming systems self-reporting on their successes. The article talks about how Jupiter's Legacy from Netflix and Millarworld was "very popular" for viewing, but was also derided by critics, no one apparently watched it, and it was promptly cancelled only a few weeks after the debut. Why was it cancelled?
We can all speculate. Viewership fell off after the first two weeks. Nielsen only measures the U.S., while most of Netflix's customers live abroad. Nielsen only measures time spent viewing, not any of the other metrics Netflix considers. But we don't know for sure. Only Netflix knows just how popular its show are.
And therein lies one of the most confounding dilemmas of modern media. We are entering a world where it is getting harder and harder to determine what is popular, and what is not.
---
Success for Mississippi Comicon – WAPT
---
NFT "gold rush" continues: new NFT comic book lets users decide outcome
Story at Nasdaq
---
Scarlett Johansson is making Tower of Terror for Disney
Story at Hollywood Reporter
---
How Batman fits into the coming Nightwing movie – Cinemablend
---
Scarlett Johansson talks about the behind the scenes production in making Black Widow
Story at Entertainment Weekly
Related: Disney Plus will allow pre-order streaming for Black Widow beginning July 9 for $30 – Businesss Insider
Related: "Unexpected Plot" for Black Widow, say Johannson to USA Today
---
Comic art from Jose Delbo raises $443,000 in NFT sale
The piece, called "Satoshi The Creator – Genesis," was sold for 222 editions each priced at $1,999. The creation was done in collaboration with 87-year-old Argentine comic book artist, Jose Delbo. Delbo, on his site, lists having worked on DC characters such as Superman, Batman, the Marvel-published Thundercats comics, and The Transformers in the '80s. In the '90s, he worked on Captain Planet, and Disney characters such as the 101 Dalmatians and The Little Mermaid.
Story at Rappler
---
The NFT "buying frenzy" and Marvel teaming up with Australian NFT company VeVe
Since December, VeVe has sold more than 580,000 NFT digital collectibles to a user base of more than 340,000 customers. It has reported sales of over $40 million.
Story at Stuff Co NZ
---
---
Zack Snyder's Snyder cut of the Justice League Snyder Cut finally has a 4K / Blu Ray disc release date of September 7, 2021
When you buy stuff from Amazon from this link I probably get a commission. When there's enough commission, I buy comic books.
Zack Snyder's Justice League [Blu-ray] – Amazon
More about Snyder Cut Justice League
---
Shock SuspenStories No. 6 cover art by Wally Wood goes for $840,000, setting new record for original comic book art – more on Comic Book Money page
---
Collectible comic books and their vertical values
"What The Hell Is Going On In The Collectible Comics Market?"
Long dreamt of by some comic book collectors, 2021 is suddenly an era where "key" and rare issues, always safe bets within the closed-world of comic book collecting, are now rapidly expanding their market (and sales numbers) into the "civilian" world. In the process of the spreading investment interest this is pulling most of the older issue market right along with it. The depth of the change means that books from the beginning of comics (30's, 40's) up into the 1980s, roughly the time frame when newstand sales were dying and the direct market books were increasing, is the ideal range for investing, and that's a pretty broad time frame.
2020 was a pretty good year for many investments, but one class of assets has seen nosebleed-level growth that has shocked even long-time market watchers: vintage comics and original comic book art. Though there is no market index to quantify growth in this area, the results of large public auctions provide some transparency into the value that buyers place on a variety of benchmark items. On that basis, the evidence is stark. Last week, Heritage Auctions demolished records and shattered expectations with a $22.4 million haul from its recent sale of high grade collectible comics, surpassing its recent high water mark of $16.5 million set in April.
The auction results were led by a new "pedigree" collection called The Promise Collection, featuring nearly 5,000 comics that were bought new off the newsstands in the 1940s and preserved in perfect condition for the past 70 years. 181 of those books sold in the June auction realized $7.1 million in just four hours; an additional 93 books added $800,000 to that total the next day, and the remainder of the collection will be auctioned throughout 2021 and 2022...
Anecdotal reports from dealers and collectors suggest that prices in smaller auctions, public sales and private transactions have increased well over 100% across the board in recent months...
Story at Forbes
With Forbes giving this lucrative area of comicbookdom a strong profile (the article includes an interview with Lon Allen, Vice President of Comics Administration for Heritage Auctions), watch for more digging around by journalists to find "shocking" auction and sale prices for more articles in the same vein.
With inflation across the globe a major concern for money-makers, purchases of collectible objects will only increase, and comic books have a certain distinct value in this regard. As pointed out in the Forbes interview, though the buyer may have no real knowledge of values in the world of comic books, they can nonetheless look at the persistent increase of sales and feel safe, and in one other area they can also do something with a collectible comic book you can't do with real estate, cars, and large paintings: toss the comic book (properly slabbed of course) into a suitcase and carry it with you anywhere in the world.
---
Chris Ware gets top prize at Grand Prix of Angouleme
Story at Modern Ghana
---
DC Comics kills Superman/Batman title again – Games Radar
---
So they removed the "rotten" tattoo from Harley Quinn for Suicide Squad – Comicbook
---
Spider-Man meets the Pope, and not in a comic book – Yahoo News
---

---

---
---
Original page June 24, 2021