The Zach Snyder version of Justice League
LOG OF NEWS
Zack Snyder's Justice League [Blu-ray] – Amazon
---
It's 2022 and the controversy is back
January 17, 2022:
The back stage minutia about Justice League is starting up again:
"Joss Whedon Opens Up About Past Misconduct Allegations; 'Justice League' Actor Ray Fisher Responds" – Deadline Hollywood
"Ben Affleck says Matt Damon influenced his decision to quit as Batman after Justice League" – Yahoo News
"Jeremy Irons Says Snyder Cut 'Couldn't Have Been Worse' Than 'Dreadful' 'Justice League' - The Oscar winner is in no rush to revisit the troubled DC film" – Indiewire
"Joss Whedon addresses the Justice League situation, claims Warner Bros. lost faith in Zack Snyder's vision" – MSN News
"Former Warner Bros. Exec Says Zack Snyder's Personality Hurt His Movies" – Comic Book
---
---
Perhaps this is more in the nature of a re-statement
May 21, 2021
Zack Snyder: Warner not interested in my sequel ideas
Story at Yahoo News
---
Warner Bros didn't even watch Snyder Cut Until 2019 - Screenrant
May 13, 2021

---
Zack Snyder's cut of the Justice League Snyder Cut movie reviews
March 2021
What they're saying:
Empire – "...superior to its 2017 counterpart..."
Msn / Inc – "...the fact that WarnerMedia decided to make the film at all was an incredible win for its brand. It told DC Comics fans that the studio was invested in those characters in the same way Disney is invested in all things Marvel.... "
Yahoo News – "It's not just the ridiculous run time that makes the movie a beast to watch. Despite additional villain and hero cameos that will certainly have fans cheering, the original movie's problems remain relevant. The story's overarching Mother Box MacGuffins are even more confusing than before, and the same campy dad jokes abound. Additional scenes meant to personalize newer characters like Flash and Aquaman are awkward and unnecessary..."
Deadline Hollwood – "Fanboy heaven or hell. Which is it? ...After all the sturm und drang and untold millions lost on a seemingly cursed film that hardly anyone liked, the emergence of Justice League in this new form represents something akin to a resurrection..."
CNET – "...isn't worth the three-year wait or the four-hour slog."
Variety – "The new movie — and make no mistake, it really is a new movie — is more than a vindication of Snyder's original vision. It's a grand, nimble, and immersive entertainment, a team-of-heroes origin story that, at heart, is classically conventional, yet it's now told with such an intoxicating childlike sincerity and ominous fairy-tale wonder that it takes you back to what comic books, at their best, have always sought to do"
---
New Wonder Woman focused Justice League Snyder Cut teaser preview
---
Snyder Cut is credited with huge increases at HBOMAX
March 30, 2021
But no numbers to look at - story at Comicbookmovie
---
March 26, 2021
"HBO Max Reportedly Wants To Keep Ben Affleck's Batman And The SnyderVerse Intact" – We Got This Covered
"What To Keep From Zack Snyder's Justice League: A More Humble Batman" – Gamespot
Why Warners moves to get rid of the reawakened "Snyderverse" - You Tube Midnights Edge
Looking back at Snyder's DC tenure, it is clear mistakes were made, and not all of them were done by Snyder. Warner were the ones who wanted Superman reimagined as flying Batman in Man of Steel, and they approved of everything that Snyder wanted to do in the execution of the movie they wanted.
When it failed to bring in a billion, Warner were the ones that demanded Snyder scrap his plans for Man of Steel 2, in favor of bringing Batman into the fray in Batman V Superman.
Since Superman was already reimagined as flying Batman, Batman was reimagined as Punisher-Batman, and since Warner were in a rush to catch up with Marvel, they also demanded Snyder introduce Woman-Batman, Water-Batman, Speedy-Batman, and Robo-Batman, rushing to set up Justice League next.
Again, Warner approved of everything Snyder wanted to do, in his execution of the movie they wanted to the point of reportedly giving it a standing ovation at an internal screening for Warner executives.
Warner felt it was a tad long, though, so they cut it down in length, made it incomprehensible in the process.....
---
Defending Zack Snyder
March 16, 2021
No matter who's behind the camera, these days most superhero films are more the vision of studio committees than filmmakers.... And then there's Zack Snyder. His much-maligned Batman v Superman: Dawn of Justice may not be great IP management, but it is the result of a director using a nine-digit budget to make a film that nobody else would have made, and in that sense it's fascinating."
...The film really sings when Affleck's Bruce is its focus. The Ultimate Edition (a longer, proto-Snyder Cut, some might say, that teases out certain story beats and generally plays much better than the theatrical release) gives him a far more compelling and fleshed-out mystery to solve and it's a blast to watch the World's Greatest Detective actually do some, you know, detecting.
Story at MSN News
Additional: "Zack Snyder Reveals Who Wrote The Batman And Joker Dialogue For Justice League's Additional Photography" - Cinemablend
---
Apparently Zack Snyder won't be using any Whedon footage in his Justice League recut version
July 2020
Well, this is an example of the French auteur theory in action: "I'd rather set it on fire" he said when asked about reusing any of Whedon's later footage. Whedon was brought in for a $25 million job to cheer up Justice League after Snyder departed the production.
Story at Comicbook Movie
And there is footage of Zack Snyder's "black Superman suit" also at Comicbook Movie
---
Ben Affleck shooting new scenes for Snyder Cut Justice League
Story at Comicbook
November 2020
---
It's real: the "Snyder Cut" of Justice League is coming in 2021
May 2020
With so many film productions stalled (or ended) because of the pandemic, a revised version of Justice League using Snyder's footage is a bigger event than it otherwise would be considering the lack of new product being made right now, which will equal thinner competition for viewer attention later. Snyder's originally intended film (and not the finished theatre version with Joss Whedon's $25 million dollar tinkering) was supposed to be a 3 hour project. News reports say Snyder has a $20 million budget to get "the Snyder Cut" finished.
---
Zach Snyder elaborates on the connections between Batman V Superman and his Justice League cut
March 29, 2020
From Snyder's online "watch party" [which included his own commentary] came out a number of details, such as a super-scream from Superman near the end of B V S that awoke the "mother boxes" which connects to whats goign on in Justice League. More about all of this at Comicbook
---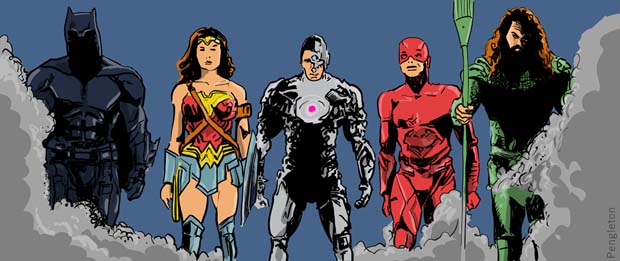 The Original "bomb" release
Justice League film bombed (if turning $657 million worldwide can be called a 'bomb,' and I guess it can) in the original release. The project had a tortured production history, cost $300 million and Joss Whedon took it over and shot $25 million dollars worth of new footage after original director Zach Snyder left the project following family tragedy.
The released feature film with Whedon's changes (news at the time cited intentions to lighten the picture with comedy) promptly did poorly at the box office and grumpy critics panned it. There has long been a group advocating for the original Snyder cut of the film to appear (a smaller but similar phenomenon exists for the unreleased David Ayers' cut for Suicide Squad, another DCU film recut before release and then savaged by critics).
The Effort to get the Snyder Cut going
Article at comicbook.com
November 17, 2019
The "Snyder cut" of the film is being promoted by the cast (Gal Gadot and Ben Affleck, among others) on social media.
On Sunday, "Wonder Woman" lead Gal Gadot tweeted "#ReleasetheSnyderCut." The sentiment was retweeted by Snyder himself and repeated by fellow "Justice League" cast members Ben Affleck (who played Batman) and Ray Fisher (Cyborg) who shared a post featuring the hashtag on Instagram. Fisher even replaced his Twitter and Instagram bios with it.

"This ancient Amazonian can't be wrong," Snyder tweeted in response to Gadot.

...

Among the people to share the sentiment were former president of DC Entertainment Diane Nelson, screenwriter Damon Lindelof, filmmaker Scott Derrickson...
Continued internet speculation on the Zach Snyder Justice League cut asks the basic question: does such a cut even exist?
Warner Bros. has to see all this fervor, after all, #ReleaseTheSnyderCut was trending at multiple points along the weekend. To think that two years ago this cut of Justice League was basically just whispers from corners of the Internet is hard to believe. Jason Momoa helped get this whole thing rolling when he told MTV News, "I think the public needs to see it. I'm obviously indebted to Warner and DC and I don't know how they feel about it, but as a fan, I'm very, very happy I got to see it."
Original article about this phenomenon at MSN News
Zack Snyder's Justice League [Blu-ray] – Amazon
Related: Ben Affleck as Batman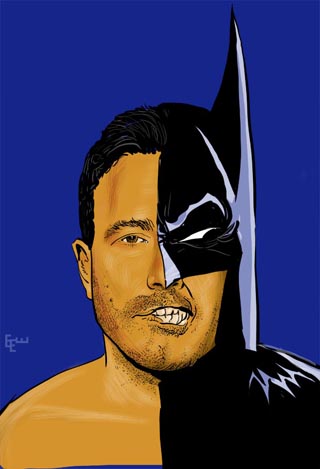 ---
---
---
---
Original page Sept 2019 | Last update January 28, 2022