NFT comics and art
The digital blockchain method of selling and owning artwork
Non-fungible tokens (NFTs) began in 2012 with Bitcoin Colored Coins which contained a "satoshis," information that linked the coin to real-world assets.
More about satoshis at Investopedia
---
Last Update June 24, 2021
---
The NFT "buying frenzy" and Marvel's teaming up with Australian NFT company VeVe
Since December, VeVe has sold more than 580,000 NFT digital collectibles to a user base of more than 340,000 customers. It has reported sales of over $40 million.
June 24, 2021: story at Stuff Co NZ
---
The questions being caused by NFT crypto art sales
Bought through cryptocurrency in a digital ledger called a blockchain, NFTs are one-of-a-kind digital properties such as jpeg files, GIFs, music, and short videos. The sale of limited NFTs or through auctions recently gained traction in the mainstream. Notable NFT platforms include SuperRare, Nifty Gateway, Rarible, and Foundation.
During a panel discussion with ArtReview magazine titled, "NFT: A New Revolution or the Emperor's New Clothes?," Dubai-based arts writer and editor Rahel Aima said that NFTs open up access not only to who can sell work but also to who is allowed to buy it.
"As an art critic, I tend to think a lot about where the work begins and ends and how much the context informs and functionality completes the work," Ms. Aima said. "No matter what their material is, artworks aren't stable. They're contingent, messy, constantly building and unraveling. And I think this applies to digital works too. What an NFT does is to point to a single iteration of a work and freeze it forever in time."
June 23, 2021: story at MSN News
---
Fathom NFT sells for $100K
Aspen Comics announced it was getting into the NFT game with the cover to Fathom No. 1, the work from late artist Michael Turner that became the top-selling comic of 1998. It felt like a safe bet, as in recent months, NFTs have seen an explosion in interest from comic creators and collectors, and Turner remains a beloved figure."
May 24, 2021: Story at Hollywood Reporter
---
Neal Adams is getting in on NFT art sales
Story at Baystreet
May 18, 2021
---
---
Limited NFT Collection for "Neon Future by Steve Aoki x Maciej Kuciara"
Story at AP News
---
Alex Ross getting into the NFT art scene
...Alex Ross, a longtime collaborator of Marvel and DC Comics, has announced plans to unveil his first painting series as a non-fungible token.
....Ross' series, backed by technology company Otoy, is titled "Shooting Up the Mainstream" and serves as a permanent digital archive of the artist's lifetime of work.
Story at Variety
More about NFT art
---
---
"NFTs give artists the chance to reverse their extinction" - Business Insider
...DC Comics has forbidden its freelance artists from selling NFTs featuring DC's intellectual property because the company itself is "exploring opportunities" to enter the NFT market, DC Comics' senior VP of legal affairs, Jay Kogan, wrote in a letter. The move comes after some artists started using NFTs to cash in on their depictions of iconic DC characters, including Wonder Woman artist José Delgo selling a Wonder Woman-themed NFT collection. This could be the latest skirmish over IP in a decades-long war within the comics industry about who owns the art: the publisher or the artist. If crypto art becomes something of permanence rather than fad, artists could see a rebirth."
APRIL 6, 2021
---
"We look at the best NFT artwork in 2021. Because NFTs – non-fungible tokens – are here to stay" - Creativebloq
---
A question for the art world: Will NFT craze last or is it just another form of 1637 'tulip mania'? - Economic Times - April 1, 2021
---
NFT sales hit a record $200M in March, more than the past 12 months combined - Finbold - April 1, 2021
---
What is NFT art? Chicago artists explain the goldrush, as one collection by Beeple brings in $69 million – Chicago Tribune - April 1, 2021
---
Warners send out warning about NFT art sales: no, no, no
The collison between digital rights and the unwritten law of freelancer art sales collide - story at bitcoin.com – March 15, 2021
DC Comics, the American comic book publisher may be getting into the non-fungible token (NFT) ecosystem in the future.
Update: the most lucrative NFT art sales – artnet
---
DC Comics warns artists about NFT sales – Gizmodo
---
Jose Delbo generates $1.85 million in Wonder Woman art sales
Jose Delbo, an artist who illustrated the comic book series Wonder Woman during the late 1970s, has made $1.85 million in an auction selling non-fungible tokens, or NFTs, depicting the popular heroine.
The 87-year-old Argentian, who also worked on Batman, Transformers, and The Beatles' Yellow Submarine comic book, collaborated with Milan-based crypto art duo Hackatao to produce the NFT drop, dubbed "Heroines."
Story at Coin Telegraph
---
Here Are the 10 Most Expensive NFT Artworks, From Beeple's $69 Million Opus to an 18-Year-Old's $500,000 Vampire Queen
Story at Artnet – March 23, 2021
---
Global Comic Book Market Growth 2021-2026
Press release:
If you are involved in the Comic Book industry or intend to be, then this study will provide you comprehensive outlook.
More info at Openpr
---
What are NFT art pieces? How do they work? - Article at Beincrypto
APRIL 7, 2021
---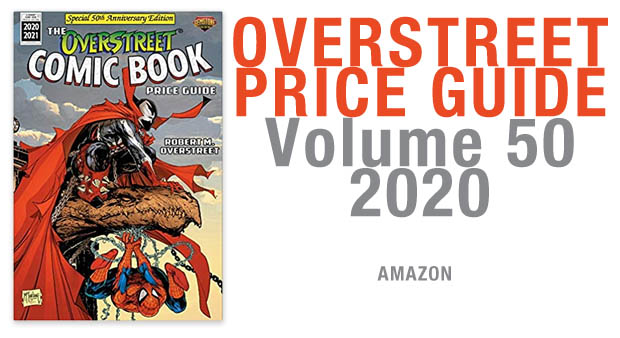 The Overstreet Comic Book Price Guide Volume 50 – Spider-Man/Spawn
---
Original page March 22, 2021 | Updated June 24, 2021