Archive Page 2142
October 2, 2022
---
First published Peanuts Cartoon October 2, 1950
---
Catawiki International Original Comics Art Auction closes up October 6, has work by Enrique Breccia, Neville Colvin, Paul Gillon, Carlos Pacheco, etc – Down Tubes
---
Bullet Train clears $100 million domestic – MSN Variety
---
The best job in Hollywood that nobody wants: running DC Films – Yahoo News
Article has a brief history of how many people have been in charge of the DC film world (they talk about three) and how finding number four is proving tough:
The other problem facing Warner is that that there are other companies which offer more latitude and are currently looking for a movie chief — including Amazon Studios, especially since MGM heads De Luca and Abdy jumped to Warner Bros. just as the online retailer completed its acquisition of MGM earlier this year."
---
Armor Wars was going to be a Disney+ TV show, now its being moved into a feature film production instead – MSN Variety
Based on the seven issue comic book series, and will star Don Cheadle.
---
Ryan Reynolds marketing skills get top marks – The Daily Star
By announcing the Deadpool 3 release date and confirming the speculations that Hugh Jackman would reprise his role as Wolverine, Ryan Reynolds broke the Internet. Fans were left in a euphoric frenzy and wondering what Wolverine's reappearance may imply after his demise in Logan, despite the news being mind-blowing. Is the character getting a reboot in the Marvel Cinematic Universe? Will a different timeline be used for Deadpool 3? Marvel fans need not worry since Reynolds and Jackman have recently produced a new video addressing all of the fans' inquiries. Well, sort of."
---
DC releases the Black Adam movie music – comicbook
---
Production wrapped on filming the Grendel adaptation and then Netflix cancelled it – MSN News
---
---
Tom Hanks wrote a novel about making a comic book movie and it is titled The Making Of Another Major Motion Picture Masterpiece
Story at AV Club
...Hanks told People that "every character in the book" experiences something that he really experienced in his actual moviemaking career..."
---
Upcoming Missouri unclaimed property auction includes comic books – MSN KTVI
---
Rumour that Wakanda Forever could be the longest MCU movie to date (or one of the longest) – Comicbookmovie
Since Eternals was released to negative reviews last November, Marvel Studios appears to have made cutting back the runtimes of its movies a priority. While there's nothing wrong with tightening these stories up a little, movies like Doctor Strange in the Multiverse of Madness and Thor: Love and Thunder actually felt too short when all was said and done. There's a chance that Disney CEO Bob Chapek is responsible as he looks to increase the studio's profits (a shorter runtime means a movie can play on a greater number of screens in a day). Regardless, it doesn't sound like the Black Panther sequel will be cutting any corners.
---
Sci-fi is when Wonder Woman fights villains from outer space, fantasy is thinking Wonder Woman will go on a date with you.

— Lynda Carter (@RealLyndaCarter) September 27, 2022
---
Harry Potter And The Philosopher's Stone first edition hardback estimated to auction at £150k
Story at MSN Daily Record
---
Maybe Kevin Feige won't recast Black Panther at all – Geekculture
---
UK Memorabilia auction featuring Wonder Woman, Batman, James Bond etc – MSN Variety
Some of the items:
Christopher Reeve's Superman complete costume from the Superman franchise movies (1978-1987) estimate $287,270-574,540.
Gal Gadot Wonder Woman Tiara from the 2017 Wonder Woman estimated $17,236-22,981.
Benedict Cumberbatch Doctor Strange sling ring from the 2016 Doctor Strange estimated $11,490-17,236.
Robert Pattinson's Batman batarang from the 2022 The Batman$11,490-17,236.
---
Ten comics "that changed the world"
Story at MSN News - CBR
Some highlights:
X-Force #116 killed the comics code authority (started the death of it, anyway).
Deathmate the comic crossover "Deathmate, Image and Valiant's crossover, was such a logistical and financial disaster that not only did it ruin both companies' credibility but it almost killed comics altogether."
Maus gets a Pulitzer Prize in 1992. That it won this prestigious award is great, but by doing so it demonstrated something else more important: comics had broken through the snob barrier (discussed by the late Will Eisner in his recollections on the history of comic books). This marked that comic books (and especially comic book creators) had finally scaled the walls that had blocked them for decades, and done so by Art Spiegelman whose motto seems to have been something like one of his single frame cartoons he drew so many years ago "comic books as a vehicle of self-expression? Oh you fool!" On the other hand, as pointed out in the CBR piece "Maus is, so far, the only comic to win the prize."
The Dark Knight Returns & Watchmen "changed Superheroes Forever" in 1986 "the year that comics grew up" – this unfortunately, or fortunately, depending upon your point of view, isn't quite true. Both books did have a huge effect, though, and for years in the late 90s into the 2000's, if you wanted to get a "civilian" into hero comics, you could hand them either (or both) of these trade paperback collections to show off a more adult sensibility within superhero books that was at least in line with what was happening in action and science fiction films at the time, and in other respects was ahead of the curve in pop culture and ended up influencing it, whether it was comic book related or not.
CBR's list isn't bad, and is more extensive that the few items listed here, but it overlooks some important things, such as the catastrophic impact of EC Comics on the industry, for good and ill, in the 1950s. Another overlooked item is the persistence of Love and Rockets to pop up (deservedly) on the radar of comic-friendly hipsters over decade after decade. Lastly, CBR, more or less like the American comic book industry as a whole, doesn't even try to wrestle with the dilemma of Manga.
---
Disney family member makes documentary on the companies poor treatment of workers – Daily Beast
If all you have is risk-aversion you can't have imagination, and all you get are tentpoles and Marvel superheroes. That is the most risk-averse strategy that will also bring you massive profits. And after the pandemic, nobody's leaving their couch for anything less than a million special effects. Everything is coming together to kill the small, meaningful drama. I completely agree with what [Scorsese's] saying. I hate these superheroes. And I know people who love them, and I'm glad for them, but just not if it's the entire landscape, which is what we have now.
---
World's Longest Book (and World's longest Comic) is "impossible to read" – UK Guardian
The 21,450-page volume of manga series One Piece is physically unreadable, to highlight how comics now exist as commodities
...A spokesperson for JBE told the Guardian that ONEPIECE is an "unreadable sculpture that takes the shape of a book – the largest one to date in page numbers and spine width – that materialises the ecosystem of online dissemination of comics." Whatever it is classed as, there certainly seems to be a market for ONEPIECE – the limited edition run of 50 copies sold out within days of its release on 7 September.
---
Wayne Enterprises is now a lifestyle brand. You can now dress as Batman's stylish alter ego – MSN Hollywood Reporter
The luxury lifestyle label was developed by Warner Bros. Consumer Products in collaboration with men's buying guide Uncrate.com, where it will first be available exclusively starting Sept. 22. The new brand channels WayneCorp chairman Bruce Wayne's tastes for the finer (and often pricier) things in life and will comprise high-end fashion, accessories, fitness gear, electronics, home goods and personal care you'd find at Wayne Manor Estate — or even parked in its above-ground garages.
---
Game Cyberpunk 2077 passes 20 million copies sold – IGN
---
---
Here's my Tomb of Dracula inspired variant cover for Archie's Halloween Spectacular, from my friends at WhatNot and Mellow Fellow Trading ! @ArchieComics @Whatnot pic.twitter.com/OSMJJ7LW0A

— DAN PARENT- Memphis Comic Expo table G10 (@parentdaniel) September 20, 2022
---
Huge "world's largest" 2,000 copy-plus Spider-Man collection going up for auction – NBC Los Angeles
---
Zack Snyder puts out armored Batsuit photo from Superman V Batman – comicbookmovie
---
Harley Quinn 30 year anniversary – MSN CBR
---
DC's Flash star Ezra Miller back in the news
"Miller has a messianic vision of themself and uses their celebrity status to groom vulnerable persons and create a cult-like following" – Yahoo News
Ezra Miller wants to Lead 'Indigenous Revolution' – Indiewire
"Friends says he has experienced 'a Lot of Trauma' in Hollywood – MSN Newsweek
---
G. I. Joe run coming to an end at IDW with #300 – Flickering Myth
Having steered the comic book license for the past decade and a half, IDW Publishing is set to bid farewell to G.I. Joe this November with G.I. Joe: A Real American Hero #300 – the culmination of legendary writer Larry Hama's 40-year run spanning both the original Marvel Comics series and its IDW revival.
---
Instead of making product, the creativity goes into merger contracts
Rumour is Comcast will buy Warner Bros./Discovery and then pack it together with NBC Universal – Uproxx
---
Saturday Sept 17 is Batman Day around the globe – Yahoo News
---
Marvel has new animation project underway – comicbook
---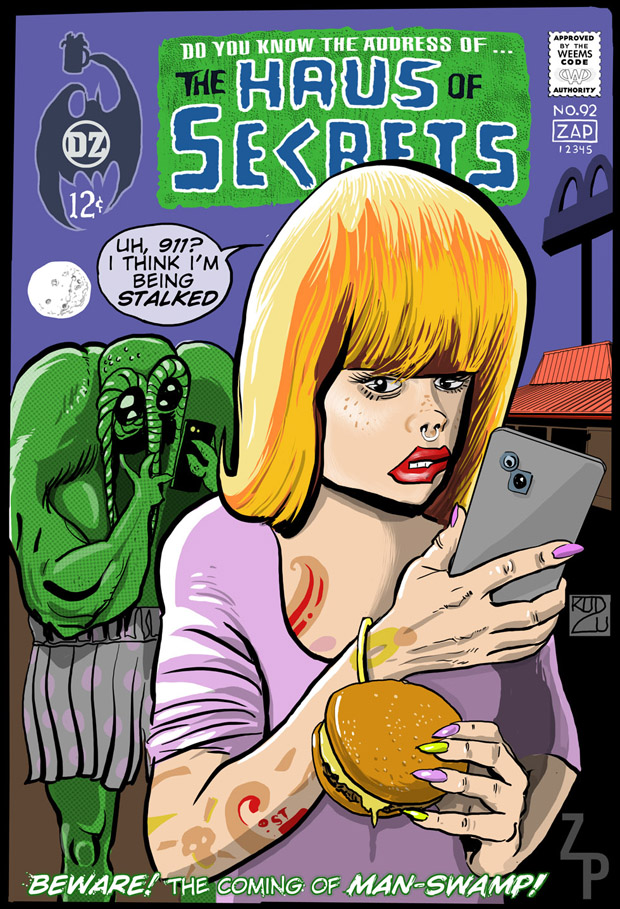 ---
Joker the Harlequin film copyright fight with Warner Bros. and DC – AV Club via Fark.com
The Joker has had a lot of iterations over the years, but none quite like Joker the Harlequin, the main character in Vera Drew's "queer coming of age Joker origin tale," The People's Joker."
---
Art auction to be held at Baltimore Comic-con to benefit Hero Initiative – Game Industry
---
With Batgirl shelved, what's the future for Michael Keaton's Batman? – Yahoo News
---
Brandon Fraser and The Batgirl movie
Brendan Fraser jokes about Batgirl's cancellation in interview for The Whale pic.twitter.com/GZmMbiBtQu

— DC Daily (@DCU_CORE) September 12, 2022
---
Casting proceeds for Joker: Folie à Deux – Hollywood Reporter
Jacob Lofland, Lady Gaga, Brendan Gleeson, Catherine Keener, and Joaquin Phoenix returns and directing again by Todd Phillips.
---
Animating the Rancor for the Star Wars Book of Boba Fett TV Show – Variety
---

---

---
---
Original page October 2, 2022