Archive Page 2140
September 4, 2022
---
Amazon alters online review system to coincide with Rings O'Power premier – UK Guardian
The move is an effort to tackle a spree of "review bombings" driven, in part, by an "anti-woke" backlash to the diverse casting in the company's Lord of the Rings prequel series, The Rings of Power, which features non-white actors cast as elves and dwarfs. On review aggregator site Rotten Tomatoes, the show has an 84% average rating from critics, but a 38% average audience score.
---
TV Show Moon Knight wins Emmy Award, with 8 nominations – Something
---
How Batman the Animated Series was life changing – polygon
To tell the truth, it's difficult for me to remember a time before I knew about Batman: The Animated Series. I can't even remember the first episode I watched. What I do remember is after I was introduced to the series, I, like so many other children of my generation, was hooked. I had watched more than my fair share of cartoons up to that point; from Looney Tunes and Pink Panther to Tom and Jerry and The Jetsons. But Batman: The Animated Series was something else. It wasn't just a cartoon, it was appointment television. The adventures of the masked brooding vigilante Batman and his crusade for justice against a cadre of villains amid the anachronistic "Dark Deco" expanse of Gotham City sent a jolt through my young imagination like nothing else.
---
Spider-Man, No Way Man, Just No Way is back as the number 1 film at the box office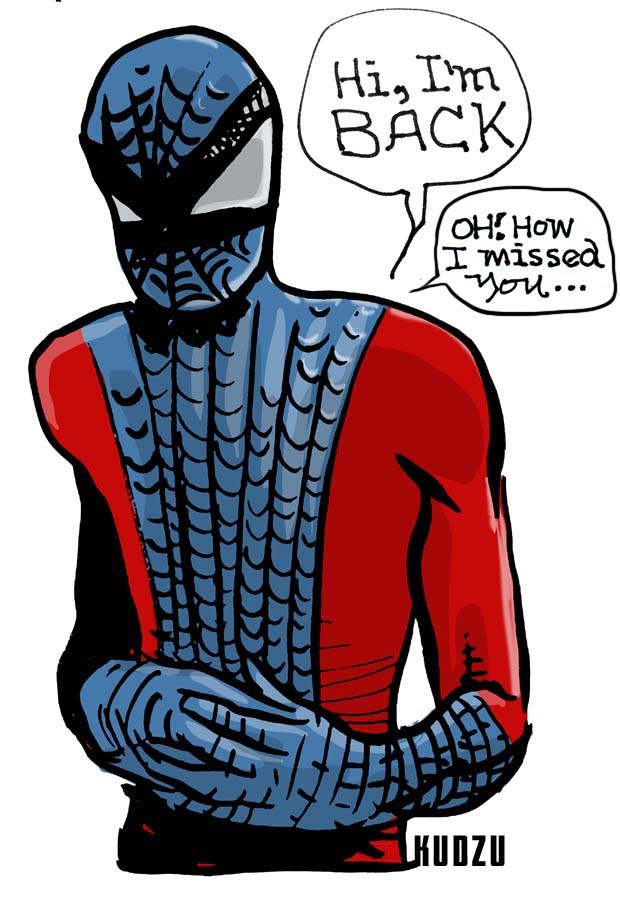 Sony re-released the film with 11 minutes of extra footage that proved to be tantalizing to some comic book fans, bringing in $6 million from 3,935 theaters over the weekend. "No Way Home" is expected to finish the extended holiday weekend on Monday with $7.6 million.
Story at MSN Reuters
---
Too many reboots – CBR MSN
---
Remember when Marvel nearly bought DC Comics? – MSN News
---
DC gets a new distributor – Gamesradar
DC officially has a new distributor for the specialty comic book Direct Market: Universal Distribution (opens in new tab), a Canadian company that's been distributing comics, tabletop games, and more for 30+ years. The two companies signed a new global agreement on September 1, which goes into effect in October.
Under this new agreement, starting in October retailers can order DC periodicals, collected editions, and graphic novels that go on sale beginning in January 2023 and beyond through Universal Distribution.
---
Lots of stuff getting cancelled, but Harley Quinn Animated Show on HBO Max gets 4th season – MSN /Film
---
Fitting Batman into the ten year plan for Warner/DC – Gamerant MSN
---
Banned Comics of the 21st Century – Daily Cartoonist
---
$1 million price tag for Han Solo Blaster put up at auction – Something
---
Marvel bringing back the 2011 Fantastic Four Spider-Man – CBR MSN News
---
Review of the new Alex Ross Fantastic Four Book – Hollywood Reporter
The book is marking several firsts. It's the first time Ross, who gained fame with his groundbreaking 1990s comics miniseries Marvels and Kingdom Come, for Marvel and DC respectively, has done a straight-up graphic novel. It's also the first time that Marvel has licensed out its characters to another publisher, in this case Abrams, in more than 40 years.
---
Latest DC controversy: accusation of racism with their Hispanic Heritage covers – Newsweek MSN
Sometimes there is the impression that Warners/DC has been turned into a whipping boy for a lot of the media, that there's nothing they can do right. On the other hand it looks like they walked right into this controversy without thinking things through and considering the environment of public opinion on social media and even among their own creative people.
Molina's original [art] features the Mexican flag and an apparition-like image of an eagle eating a snake, which appears on Mexico's coat of arms. The freelance illustrator wrote that his submission was held up "due to some legal issues."
The altered image recently seen on social media shows a bag of tamales was added to Molina's illustration. The changes didn't stop there. The superhero is not holding a Mexican flag in the updated version, but he instead has a green flag with the message "Viva Mexico!!" emblazoned on it. Proper Spanish punctuation was also ignored on the flag, which should have read "¡Viva Mexico!"
"DC Comics features stereotypical Latino foods on Hispanic Heritage Month covers" – Gwinnet Daily Post
---
Samaritan Review: Sylvester Stallone reconstructs superheroes with his Amazon film – Bounding Into Comics
The most puzzling aspect of our superhero-obsessed culture is how so many people despise the idea of traditional heroes and villains. As nihilism has become the default philosophy in western society, many people have turned their nose up at the thought of what traditional superheroes represent...
...deconstruction of the superhero is something that has become massively popular with the Amazon Prime show The Boys, but it's also the home of a new superhero-adjacent project produced by Sylvester Stallone. This is not a film that adopts the nihilistic reality of Seth Rogen. Stallone's old-school approach to good and bad makes Samaritan a more realistic take than what we have seen before.
Is the reviewer at Bounding referring to the public en masse "turning up their noses" at traditional comic book heroes? Or does the critic mean that the realm of comic critics and the filigree opinions of social media personalities have done so?
If the public at large had truly converted to "nihilism" outright then not only would comic book superhero movies crater at the box office since they still retain a pretty big vestige of the morality of the Jack Kirby-Stan Lee era of the Western World (and, ironically, do so in opposition to some of what gets published in the pages of Marvel/DC in the 21st century), but also old comics would no longer rack-up auction price records because their contents, however rare and historically important, would be considered too vulgar to possess. The more public image conscious collectors who would fear being caught with something too stupid, too racist, or too "wrong."
Probably the most effective attack against a traditional-style hero movie is simply that it is "old fashioned," and acts, looks and thinks "out of style" and reeks of being a retread of something already too familiar, no matter how successful it was in the past.
The creator who could innovate the same millennium-old archetypes but within a new storytelling guise and decorated with heroes that look like they're from an era not besmirched with too much hate by the contemporary critic scene could perhaps smuggle their tale past the guardians of disfavor and kick off another shift in entertainment. It would be the same old shift we've had periodically in the past, except looking and sounding different in a significantly facile way, and creatively original though using the same familiar story line of the hero (or heroes) acting on behalf of the same slate of victims (orphans, widows, elderly, poor, abused) against the same villain(s): unjust, cruel, betrayers, murderers and liars.
---
Hating modern comics
"You see people really going at other people, like 'you really like that mainstream crap?' Imagine how much more would get done from everyone, including creators who are doing crowd-funding, who, you know, maybe get a book out once a year, sometimes two, three years, imagine if you saved all the time of bitching about stuff you're not involved in and just moved to getting your shit done."
---
Lily Renee, Golden Age Comics Artist, has died – comicbook
Renée was born Lily Renée Willheim in 1921,and grew up in Vienna, Austria...
By late 1942 or early 1943, Renée had started to work in comics, an was drawing the adventures of aviatrix Jane Martin under a pseudonym.
---
Funny Pages movie about "young comic book artist seeking some kind of hardship to inform his work" – MSN - The Wrap
...the grotesque, and the profound ...an absurd search for meaning in the basement apartments and comic book shops of Trenton, New Jersey.
....Kline's "Funny Pages" is a delightfully disgusting and daring debut...
...privileged young artist seeking some kind of hardship to inform his work does, cosplaying as poor. He purchases a broken-down sedan by selling some old comics and rents a space in a repulsively awful illegal boiler-room apartment with two older roommates, Barry (Michael Townsend Wright, "The Rat Pack") and Steven (Cleveland Thomas Jr.). It's as if living as abjectly as possible might inoculate Robert from his own privilege, or as if the grittiness of this existence might impart some authentic "subversion" into his work, a misbegotten penance of sorts. Mostly though, it's just misguided flailing.
---
Why DC Comics didn't know when Bob Kane stopped drawing Batman – CBR MSN News
---
Marvel rewrites Black Panther – Screen Rant - MSN
---
Michael Jackson wanted to play Morpheus – Comic Book Movie
---
The Manga boom in Germany – Deutsche Welles MSN News
Germany is the third-largest comics market in Europe after France and Italy. And the boom presumably won't be ending any time soon.
---
Clickbait alert: "Time to shutdown Batman for good" – Salon
["Time to shut down Salon for good" – Bruce Wayne]
---
Danny DeVito takes lie detector test and replies when questioned about Penguin that his Penguin is the best – Yahoo News
---
Is DC really in that bad of trouble?
Is licensing money more important than sales of books?
---
GlobalComix and Top Cow doing downloadable PDF copy sales – Games Radar
Under this new initiative, readers can buy and collect Top Cow titles including Witchblade, Postal, The Darkness, and more, which can be downloaded as high-quality PDF files for permanent archiving. They can then be viewed on any device and through the reader's app of choice.
---
Latest Warner shuffleboard: Aquaman and the Lost Kingdom and Shazam Fury of the Gods moving to new release dates – Variety
Aquaman 2 moves from March 17, 2023 to Dec. 25, 2023
Shazam 2 goes from Dec. 21, 2022 to March 17, 2023
---
Review of book: How Dungeons and Dragons went astray – Washington Post
In 1970, Gary Gygax, a high school dropout, was fired from his job as an insurance underwriter. He took up shoe repair as his family — a wife and six kids — struggled. Devout Jehovah's Witnesses, they went door to door peddling their faith in Lake Geneva, Wis. Gygax spent weekends with a group of friends in basements creating and playing strategic war games, a hobby that led to what we now know as Dungeons & Dragons.
---
Looking around for someone to be in charge of DC – Variety
They mention Dan Lin, but "it's not official"
---
What happens when Batman and Superman enter public domain? – Business Insider MSN News
"Legal experts say the issue is complicated."
---

---

---
---
Original page May 18, 2022