Archive Page 2073
March 3, 2021
---
1942 poem about Superman by famed Russian novelist Vladimir Nabokov
A lost poem by Vladimir Nabokov, written from the perspective of Superman as he laments the impossibility of having children with Lois Lane, has been published for the first time. The Man of To-morrow's Lament appears in this week's Times Literary Supplement. In it, Nabokov, whose son loved the Superman comics, writes in the voice of the Man of Steel. He imagines the hero walking through a city park with Lois, forced to wear his glasses because "otherwise, / when I caress her with my super-eyes, / her lungs and liver are too plainly seen / throbbing".
New Yorker Magazine rejected the submission, I bet they'd double-back now if they could. Story about this at UK Guardian
---
---
Volumes of Cancelled Comics Cavalcade title sells for $11,000
Update March 5: Collection sells for $33K - story at Newsarama Gamesradar
O'Neil, the longtime Batman and Green Lantern/Green Arrow scribe, passed away in 2020, and many of his belongings were auctioned off by Metropolis Collectibles via ComicConnect.com on March 2. The 31 lots in total sold for just over $33,000 (before 15% buyers' premium). Many of the lots, 18 in all, were custom-bound volumes of O'Neil's work.
Part of auction of Denny O'Neil materials.
...Perhaps the rarest collector's items of the Bronze Age. DC had expanded its line in what it proudly called the "DC Explosion," but soon canceled a whole slew of titles in what wags quickly dubbed the "DC Implosion." DC produced this two-volume ashcan edition to protect DC's copyright to the content, printing a mere 35 copies. Of these, 34 were given to the creators and copyright people, and one to price guide publisher Bob Overstreet for documentation purposes.
Story at Bleeding Cool
---
Batman #106 features new "unreplaceable" Batmobile
Treating the Batmobile as precious is hardly new to the Batman continuity past or present. One of the ways a Batman could get out of that rut and do the obvious is to build and use-up Batmobiles rapidly, perhaps using 3D tech to run off dozens at a time.
This is Batman's Batmobile for the foreseeable future, and there will be no changing it. If he destroys it, there will be no replacing it easily. Unfortunately, he has to be incredibly careful with it. Otherwise, the Dark Knight could find himself without a Batmobile.
Story at CBR
---
Executives "not impressed" with the Snyder cut of Zack Snyder's Justice League Snyder Cut film - says Wegotthiscovered
---
Movie theatres will never return to normal says Disney's CEO Bob Chapek
Letting people access new titles from home is creating an irreversible situation, he is saying, though he doesn't address the obvious way back : slowly get the big titles back into theatre-only release schedules, squeezing off the supply to homes might get ticket-buyers back. Probably would be a painful process, but a must-see blockbuster would demand attention and give movie theaters a chance to impress customers, possibly re-establishing the incentives that brought people in pre-pandemic. At some point there's going to be an explosion of people wanting to enjoy entertainment somewhere other than the house they've been jailed into for a year-plus.
Story at AV Club
---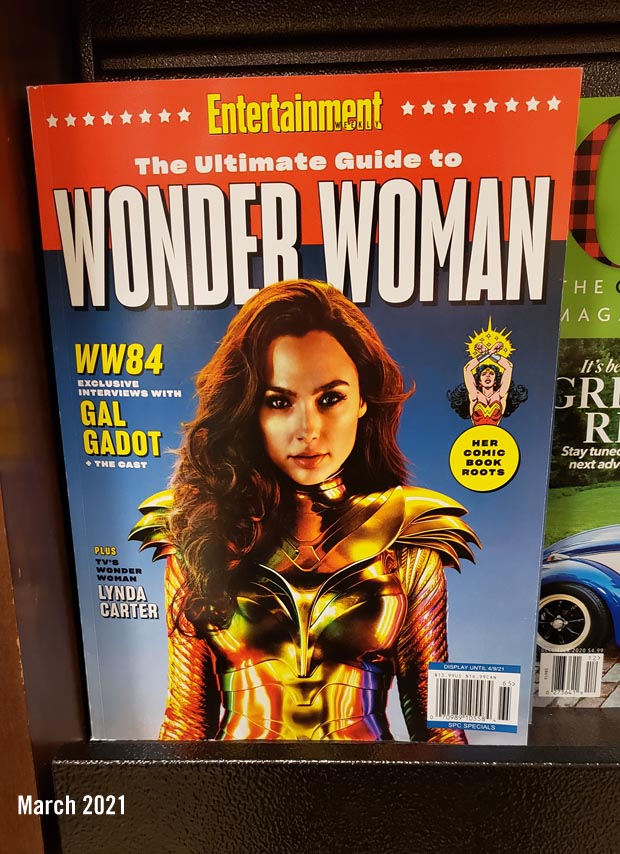 Still on the magazine stands
---
So, why's the Leto Joker in Zack Snyder's cut of the Justice League Snyder Cut so serious?
"It's a dream sequence, a psychic vision, experienced by Ben Affleck's Bruce Wayne that reveals what will happen if the superheroes fail to stop the onslaught. Joker is sort of the Ghost of Christmas Yet To Come, supplying motivation through terror."
Ho ho ho at Alt Press
---
---
This story certainly isn't going away
"Ray Fisher Shares New Details From On-Set Racism Allegations - Justice League star/Cyborg actor Ray Fisher shares new details about the on-set racism claims against Geoff Johns, Toby Emmerich and Jon Berg" – CBR
---
New Batgirl project for later this year? - Newsarama/Gamesradar
---
Stan
"Stan Lee biography mines Marvel icon's complexity: 'Neither saint nor Satan' Abraham Riesman talks about writing True Believer: The Rise and Fall of Stan Lee, which explores the man behind the myth -- and sometimes is uncomfortable to read". - Cnet
---
Marvel puts out promo for Alien #1 from writer Philip Kennedy Johnson and artist Salvador Larroca - Comicbook
---

---

---
---
Original page February 28, 2021