Archive Page 2135
July 27, 2022
---
Here comes Avengers: The Kang Dynasty – MSN - Honolulu KHNL
---
San Diego Comic-Con, the July Anime Expo, and changing trends – Publishers Weekly
Despite the diminished presence of manga on the exhibition floor of the San Diego Comic-Con, held July 21-24 at the San Diego Convention Center, manga and webtoon publishers continue to report a wave of strong sales and fan enthusiasm. And while most manga publishers at San Diego reported record sales, there was a relatively modest number of new title announcements... most North American manga publishers now focus their time, manpower and promotional budgets on exhibiting at Anime Expo ....This year at San Diego, the manga presence on the exhibit floor seemed smaller than ever...
---
Is Marvel turning to cameos because of "Ms. Marvel's Abysmal Viewership" – Bounding into Comics
---
"Iman Vellani might anonymously argue with your 'Ms. Marvel' theories on Reddit" – MSN News
---
Tampa Bay Comic Convention this weekend – MSN News
Tampa Bay Official convention web site
---
"Death of Superman" Anniversary edition out – Games Radar
---
The "historic Marvel - Disney Deal" reviewed – Yahoo News
More about this in this archive page Disney Buys Marvel 2009
---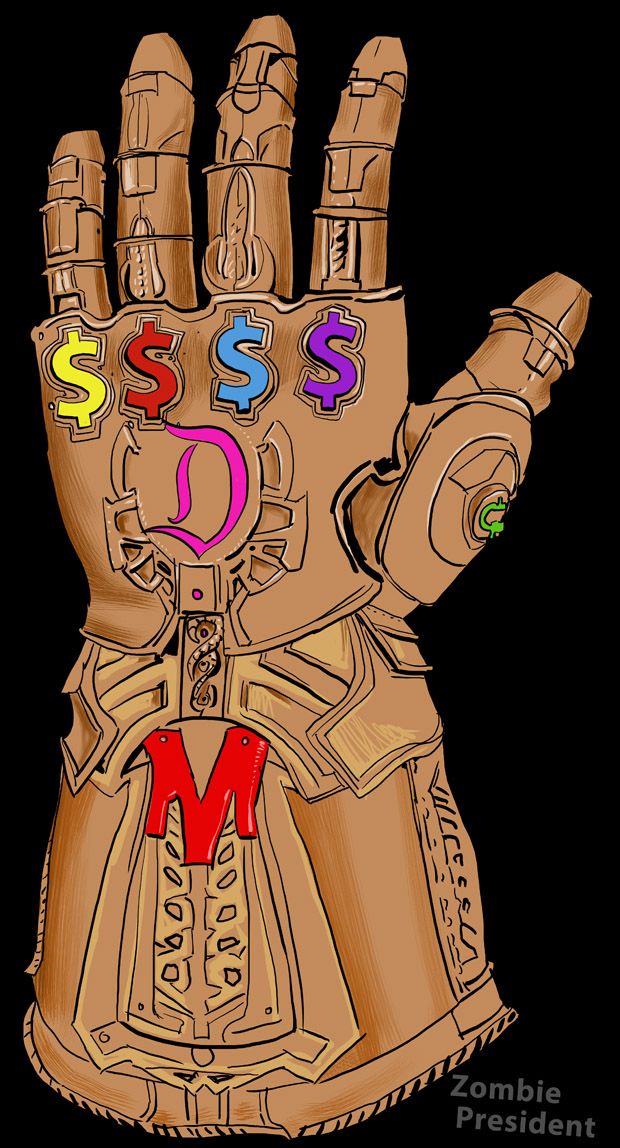 $25 million dollar Marvel novelties – MSN News
This past weekend during San Diego Comic-Con, Marvel announced that it would be launching a collection of IRL Infinity Stones, inspired by fictional relics that exist within the Marvel Cinematic Universe. New York's East Continental Gems is tasked with bringing the six magical stones to life and LA's Darren Romanelli, a.k.a. DRx, is the creative director. The total weight of the otherworldly jewels is said to surpass 150 carats, and the value amounts to more than $25 million.
---
"Why Keanu Reeves Was Perfect for Batman In Super-Pets" – Screenrant
---
Someday, Keanu Reeves could be Batman – IGN
Speaking to Extra about playing the role in League of Super-Pets, Reeves said that, while Robert Pattinson is at the helm right now in The Batman, he'd love to take on the role himself one day.
"I love Batman as a character, and I love him in the comic books, in the films, so to get the opportunity to voice, to play Batman, was awesome."
When asked about playing a live action version, Reeves said "it's always been a dream, but Pattinson's got Batman right now. He's doing awesome. Maybe down the road. Maybe when they need an older Batman."
---
Comic-Con reveals some of Marvel's plans – Yahoo News
Phases five and six with Marvel's plan – Variety MSN
---
Complaints about how Marvel gets their CGI done – AV Club
it's "darkly joked about" in the visual-effects world that working on Marvel stuff is "really hard," with the writer saying they had "six months of overtime every day" while working on one Marvel movie, averaging "64 hours a week on a good week," with coworkers who would have "anxiety attacks," "break down," and "start crying" from work.
The writer blames this on a few things, one being that Marvel has so much clout in the movie business and demands so much VFX work for its movies and TV shows that studios are basically forced to undercut every other studio's bids in order to get any work at all, which results in Marvel getting a sweet deal on VFX and the VFX studios being severely underpaid and overworked.
Related:
Disney Studios' revolutionary work, unions and under-paying – Jewish Exponent
Disney Studios' revolutionary work betrayed the conflict happening under the surface. Babbitt's animation style transformed what was believed to be achievable in the art form...
After Babbitt led his co-workers in a nine-week strike, what followed was a battle of public relations, Friedman said. Strikers were called communists, and strikers claimed that Disney was antisemitic.
And related from 2011: Disney and Slave Labor
---
"What we saw at Comic-Con" – Press Enterprise
---
Travelling Comic Book Roadshow goes to Plattsburg – Press Republican
---
Women bring the "explosion" in web comics – NY Times
---
"Big comic book sales" at Comic-Con – 10news
---
All the October DC Covers – Gamesradar
---
The graphic novel is the hero of book sales – Nielsen
...unit sales in the graphic novel category are up 10 percent year-over-year in 2013. Although Nielsen does not track actual selling price, the high-priced books at the top of the list are perhaps the most pleasant surprise for graphic novel publishers. This year, the No. 1 and No. 2 selling books in the category, "The Walking Dead" compendiums by Robert Kirkman, have sold a combined 100,000 copies, and at $59.99 each, the suggested price point is well above that of most soft covers. In fact, "The Walking Dead: Compendium One" is by far the highest-price book on Nielsen BookScan's bestseller chart for overall adult fiction top 200 year-to-date 2013.
---
"Rob Liefeld has made the demand that X-Force and Hulk appear in Deadpool 3" – comicbook
---
Alan Grant has died
"Tributes have been paid to one of Scotland's most successful comic book writers of all-time after he passed away at the age of 73" – Edinburgh News
"Batman and Judge Dredd Writer Alan Grant Passes Away at 73" – Superherohype
---
The hotel worker strike at San Diego Comic-Con – Gizmodo
---
Here comes the first in-person San Diego Comic-Con in two years – Variety
---
Thor Love and Slumber drops audience size over weekend – Deadline Hollywood
Thor's second weekend drop ranks among the MCU's worst, including Doctor Strange in the Multiverse of Madness (-67%) and Black Widow (-68%)...
---
DC puts out a Neal Adams special issue – comicbook
---
San Diego Comic-Con to the rescue – San Diego Union Tribune
---
How Marvel is "raking in the cash" for Disney – MSN Motley Fool
Marvel creates comic-book superhero action films, and Disney takes that a step further with theme park add-ons and consumer products. Disney acquired Marvel for $4 billion in 2009, and Marvel has released 29 films in the 13 years that Disney has owned it. Marvel releases have grossed more than $26 billion since then, more than any other film studio.
---
Review: Thor Love and Thunder
If you like humor in your Marvel movies, then may I tell you about the latest Thor movie from Disney/Marvel. Despite an intro prologue with a quite serious Christian Bale, this film is jammed with wise-cracks and sight gags immediately thereafter, and at least for awhile the film maker (director Taika Waititi) just doesn't want you to take anything seriously and to just relax and laugh a little/a lot and enjoy your popcorn. (The feigned informality of the film is not unlike that which is in the movie Everything Everywhere All at Once.) Whether this is a style of telling a story, avoiding a story, trying to loosen up the Marvel formula a bit like a Sony Venom movie or just a psychological and emotional set-up to make a better impact for the drama to follow later on, I don't know.
Not all of the funny in Thor Love and Thunder is good, though – more: Review Thor Love and Thunder
---
Adam Scott joins cast for Madame Web – Deadline
... In the comics, Madame Web is depicted as an elderly woman with myasthenia gravis and thus was connected to a life-support system that looked like a spider web. Due to her age and medical condition, Madame Web never actively fought any villains. For that reason, sources have stressed it's possible the project could turn into something else. Insiders say that due to her psychic sensory powers, she is essentially Sony's version of Doctor Strange.
---
Eric July raises $1.7 million funding for "anti-woke" comic book production – New York Post
The release of "Isom #1" created somewhat of a stir on social media, particularly Reddit, where promotional videos for the comic book were banned from certain subreddits for "supporting comics from hate groups."
But July tells Fox News Digital his comic book company is no such thing. "A lot of it has to do with the fact that I am a person that they simply do not like," he said.
July, a self-described libertarian, hosts his own podcast and has appeared on several media outlets as a political commentator. July said he is "on a mission to spread liberty, speak out against nonsense and work towards a more free and prosperous society."
Leftist comic book "fans" on reddit are in full-blown meltdown mode over the success of the Rippaverse. These people reveal who they are by making every disingenuous excuse they can come up with, and they STILL won't stop us. #rippaverse #isom #WeWillWin #comicbooks pic.twitter.com/urTfjS67I6

— Eric July (@EricDJuly) July 15, 2022
---
Keanu Reeves as.... Batman – New York Post
---
Best year ever for comic sales in 2021
Story at MSN News - Business India
---
This weekend in Houston: Comicpalooza
Story about the convention at Houston Chronicle
Next weekend: San Diego Comic-Con
On the eve of Comic-Con, how about a hotel workers strike? – San Diego Union Tribune
Things to do if you don't have a badge but you're at Comic-Con – NBC San Diego
While guests are required to have a badge to enter the San Diego Convention Center, where Comic-Con is held, there is so much to do, see, taste and experience just outside the doors in the Gaslamp Quarter
---
Dinosaurs vs. Aliens and NFTs – MSN
...Men in Black director Barry Sonnenfeld and... writer Grant Morrison..... an alien invasion during prehistoric times and the ensuing war for Earth. It had all the makings of a theatrical release: a splashy premise, a built-in audience from the graphic novel, and a noted director and cinematographer in Sonnenfeld attached. It was certainly meant to become a film, except the project never got out of the development phase... Last year, Sharad Devarajan, cofounder of Liquid Comics (the publisher of Dinosaurs vs. Aliens) came to Sonnenfeld with an idea of resurrecting Dinosaurs vs. Aliens as a film—by way of NFTs.
---
Kevin Smith NFT movie – Comicbook
---
Ms Marvel star is an expert on Marvel – MSN News
When it comes to Marvel trivia, there's no one better than Iman Vellani. Vellani, the lead of Disney Plus' Ms. Marvel and a self-proclaimed "walking encyclopedia" of Marvel knowledge, has been a Marvel fan, both the movies and the comics, for as long as she can remember. (Her favorite movie is Iron Man, which came out when she was five years old.)
---
Jim Starlin comes back to Dreadstar – Yahoo News
---
Batman and Wonder Woman get married, sort've – Yahoo News
The Joker could barely keep a straight face as he told Lansing Batman and Capitol City Wonder Woman they could say "I do." It was a real wedding, with a Tom Arnold introduction ("I got married in Michigan once"), Amazon bodyguards and the Fairy Godmother and Poison Ivy among hundreds of guests."
---

---

---
---
Original page May 18, 2022