Disney buys Marvel Comics - 2009
Disney buys Marvel Comics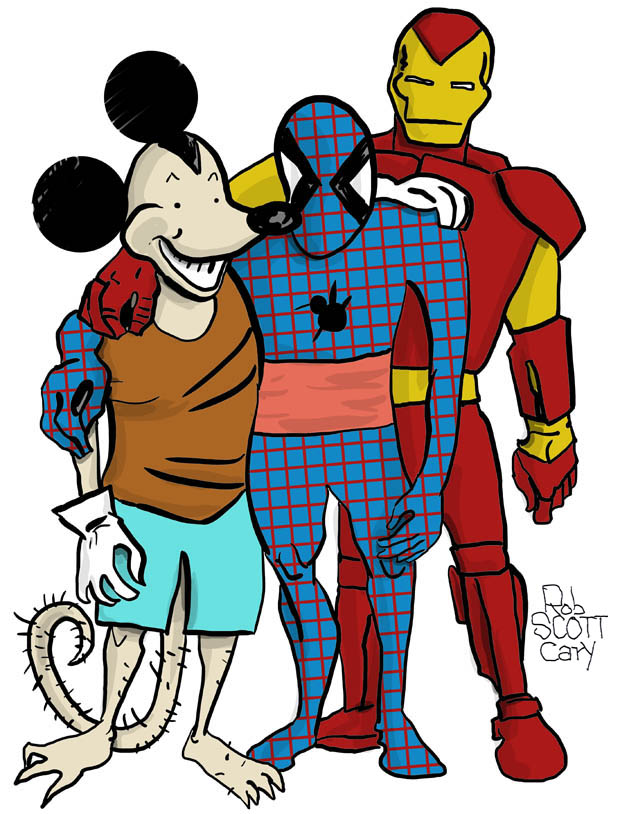 ---
September 2009
The rodent is hungry: using $4 billion USD (both cash and stock), Disney, led by Disney Chief Executive Robert Iger, acquired Marvel Entertainment, Inc in August 2009. They got the Marvel library of 5,000 characters and a control over the lucrative movie properties. Marvel had a reported profit of $206 million USD last year, with an actual revenue of $676 million USD.
This follows other lucrative purchases by Disney, for example Disney picked up Pixar studios in 2006 for $7.4 billion USD.
Marvel's chief competitor is DC Comics (Batman, Superman, Wonder Woman, etc.) which is owned by Warner Bros.
---
---
---
August 31, 2009 - Disney buys Marvel
New York Times has an article about the Marvel buyout written by Brooks Barnes and Michael Cieply.
"The Walt Disney Company's surprise deal to acquire Marvel Entertainment for $4 billion redraws the architecture of Hollywood and spotlights how the media giant has become more aggressive than its peers about growth."

Disney said on Monday that it would pay cash and stock to acquire Marvel, the comic book publisher and movie studio whose library of 5,000 characters includes some of the world's best-known superheroes: Spider-Man, the X-Men, Thor, Iron Man and the Fantastic Four."
Here's the press release from the Disney Co:
"DISNEY TO ACQUIRE MARVEL ENTERTAINMENT

Worldwide leader in family entertainment agrees to acquire Marvel and its portfolio of over 5,000 characters

Acquisition highlights Disney's strategic focus on quality branded content, technological innovation and international expansion to build long-term shareholder value

Burbank, CA and New York, NY, August 31, 2009

Building on its strategy of delivering quality branded content to people around the world, The Walt Disney Company (NYSE:DIS) has agreed to acquire Marvel Entertainment, Inc. (NYSE:MVL) in a stock and cash transaction, the companies announced today.

Under the terms of the agreement and based on the closing price of Disney on August 28, 2009, Marvel shareholders would receive a total of $30 per share in cash plus approximately 0.745 Disney shares for each Marvel share they own. At closing, the amount of cash and stock will be adjusted if necessary so that the total value of the Disney stock issued as merger consideration based on its trading value at that time is not less than 40% of the total merger consideration.

Based on the closing price of Disney stock on Friday, August 28, the transaction value is $50 per Marvel share or approximately $4 billion.

"This transaction combines Marvel's strong global brand and world-renowned library of characters including Iron Man, Spider-Man, X-Men, Captain America, Fantastic Four and Thor with Disney's creative skills, unparalleled global portfolio of entertainment properties, and a business structure that maximizes the value of creative properties across multiple platforms and territories," said Robert A. Iger, President and Chief Executive Officer of The Walt Disney Company. "Ike Perlmutter and his team have done an impressive job of nurturing these properties and have created significant value. We are pleased to bring this talent and these great assets to Disney."

"We believe that adding Marvel to Disney's unique portfolio of brands provides significant opportunities for long-term growth and value creation," Iger said.

"Disney is the perfect home for Marvel's fantastic library of characters given its proven ability to expand content creation and licensing businesses," said Ike Perlmutter, Marvel's Chief Executive Officer. "This is an unparalleled opportunity for Marvel to build upon its vibrant brand and character properties by accessing Disney's tremendous global organization and infrastructure around the world."

Under the deal, Disney will acquire ownership of Marvel including its more than 5,000 Marvel characters. Mr. Perlmutter will oversee the Marvel properties, and will work directly with Disney's global lines of business to build and further integrate Marvel's properties.

The Boards of Directors of Disney and Marvel have each approved the transaction, which is subject to clearance under the Hart-Scott-Rodino Antitrust Improvements Act, certain non-United States merger control regulations, effectiveness of a registration statement with respect to Disney shares issued in the transaction and other customary closing conditions. The agreement will require the approval of Marvel shareholders. Marvel was advised on the transaction by BofA Merrill Lynch."
---
Disney and Marvel:
Disney approaches the crossroads – Summer of 2023
Disney vs its vassal companies – 2023
The Disney and Marvel future 2020 and beyond
Marvel summary of productions, November 2020
Marvel's plans mean expansion 2020
Kicking Marvel in the kneecaps 2019
Disney Buys Marvel Comics for $4 billion - 2009 The House of Mouse buys the House of Ideas
Disney spends $71.3 billion to get 21st Century Fox - March 2019
Disney Movies:
Star Wars: The Rise O'Skywalker Log
Captain Marvel II - the Superman problem: the hero is an overpowered, unrelatable hero
Marvel currently rules the cinematic world - May 2019
My Marvel Wish List - March 2019
---
---
---
Original Page 2007 - updated last on June 10, 2019
---