Archive Page 2053
November 4, 2020
---
Oscar winner Mahershala Ali is Blade for reboot
In theory, back in the spring, it was projected that Marvel would put their incubating Blade reboot out to theaters on October 7, 2022. But with superhero-movie schedules in constant flux (for example, WW84 appears to be moving again away from December 25), as far as Blade is concerned, who knows when it will hit theaters? But that's not what this article at Cheat Sheet is really about. Instead it is a "puff" piece simply discussing Mahershala Ali and 'his road to to Blade' and what may be in the eventual film.
---
This is an understatement:
"The Superhero Multiverse Trope Is Already Overdone - and It's Only Getting Started - - The MCU and DCEU both seem to be setting up complex multiverses for coming films, but this trope could become overrated really fast."
As in all things faddish that sweeps through Hollywood, success depends upon a combination of interest and quality of execution, and that third item which is addressed in the article at CBR, which is timing.
November 4, 2020
---
---
Possibility of Brandon Routh coming back as Superman in Flash movie
The 2006 Superman Returns had a reasonably good chance for quaility and crowd appeal, but for whatever reason Warner Bros decided to go in the direction of a half-baked reboot/remake using elements out of the early Christopher Reeves' Superman films, combining that with a soap opera Superman storyline.
That certainly could have worked (there's plenty of soap opera in the ocean of past Superman comic book stories and the TV series versions) but instead the 2006 film came across as dry and imitative, and the worst element was Routh's Superman wasn't allowed to have any fun being Superman. The film showed the grind of superheroing, with Routh repeatedly shown going methodically about the business of being Superman like its just an unpleasant job Clark Kent has to do while putting up with everything else that is simultaneously going wrong in his personal life.
I think just a few good scenes of Superman actually enjoying being able to fly, or hurling boulders, or just doing something only Superman can do could have tapped into the primal fantasy and joy of the original Jerry Siegel and Joe Shuster Superman. A feature-length movie is plenty of time to also have Clark Kent modulate into facing down whatever dangerous and dark threat the screenwriters are throwing at him.
Instead Superman Returns is sort've grim and then simply innocuous, and it all just adds up to not a very good film, and I don't blame Routh for that. Maybe the film should have been titled Superman Chained.
Story at Movieweb
---
Wonder Woman 84 to move to summer 2021?
Forbes Magazine on shifting schedules for the mega movies that have no home in 2020.
---
Chris Nolan defends the box-office results on Tenet
His film was the canary in the coal mine for this years summer box office, and the canary died. Story at Hollywood Reporter
---
Million dollar Batman
Considered one of the best condition copies of a 1939 issue of Detective Comics No. 27, famous for Batman's debut, slated to clear over $1 million at auction later in November.
Updated: Page at Heritage where you can bid (bids currently at $812,500)
---
---
Spider-Man Suit Announcement
Marvel's Spider-Man: Miles Morales: Into The Spider-Verse Suit
Story at Yahoo News
---
"What the World Needs Now Is Matt Berry to Play Batman"
It may seem like an odd casting choice at first. Batman, after all, is a famously self-serious character, a hulking, somber figure who seems like the opposite of Berry's jovial, sometimes impish energy. There are perhaps some logical obstacles, too. Berry is afraid of heights, a tough situation if you're playing a character fond of gazing down upon the glittering expanse of the city from the roof of a skyscraper. Berry's acting history also suggests he doesn't have tons of experience with elaborate, comic-franchise-level fight choreography, so he might need some time to really lock that in. But those are all minor issues, easily resolved for the sake of the bigger picture: Batman could do with some ego puncturing, and Matt Berry is exactly the man for the job.
Well, there is a contingent of creative people dedicated to destroying Batman, why not listen to the opinion of this writer (Kathryn VanArendon) to further the process along? Story at Vulture
---
An old question: who was behind the cowl in Paul Pope's Batman Year 100?
Arrticle puzzling over the matter at CBR
(In Batman Year 100 from 2006, Batman reappears in the future and triggers a maniacal effort to stop him by a United States federal government obsessed with knowing every secret - - and wearing masks is certainly not allowed.)
---
Comic sales up as movie sales down
Analysis, of a sort, at Bleeding Cool
---
Sales reports shows big changes in Comicbookdom
Article includes numbers about the jump in graphic novel sales, and the drop in pamphlet sales (though it doesn't call them pamphlets, just 'comic books') and says that 93 comic book retailer operations went under in this period.
... in the opening months of 2020, the comics market appeared poised to expand on its record-setting $1.21 billion sales level set in 2019, but the arrival of COVID and the local shutdowns sent sales into a downward spiral. That accelerated through the seven week stretch in April and May when Diamond, at that time the comic industry's only distributor for periodicals, shut down operations
Story at Forbes Magazine
Related: 2019 sales numbers at Publishers Weekly
---
Snyder Cut to include many more heroes
Not only the Justice League (Bats, WW, Supers, Cyborg, Flash, Aquaman, Batmite) will be in the Snyder Cut, but also Jared Leto back in the Joker suit, and also Darkseid, Desaad, The Atom, Nuidis Vulko, Iris West, Elinore Stone, Martian Manhunter, and even more Batmite. (Batmite completely unconfirmed except at Comic Book Brain.)
Story at Cinema Blend
---
Multiple maniacs, I mean Supermen
Story at wegotthiscovered about Cavill being just one Superman among many, apparently.
I mean, just look at how the DCEU will soon be home to Pattinson and Affleck's Batmen. Not to mention Michael Keaton's, too. Which continuity this new Superman will hail from, or which version of the hero it'll be, we don't yet know.
---
Joss Whedon version of Justice League continues to have troubles - story about accusations between Ray Fisher and Whedon - story at IGN
---
Recreating the entire The Dark Knight Returns #1 by various new artists
At first I thought this was a DC Comics project, but that's not so. Organized by two art collectors who say:
Dark Knight Returns wasn't just another Batman story. It was the Batman story that changed everything, and it's the reason we have the Batman we have today...
It is a mutli-sided project with the various artists "re-imagining" things to some degree. Colelctors say they'd love to do a book, but obviously there are some rights issues in this kind of endevour. Story wth some art at GamesRadar/Newsarama
---
Is Wonder Woman 84 really coming out on Christmas Day? Maybe, maybe not
Story at Comic Book Movie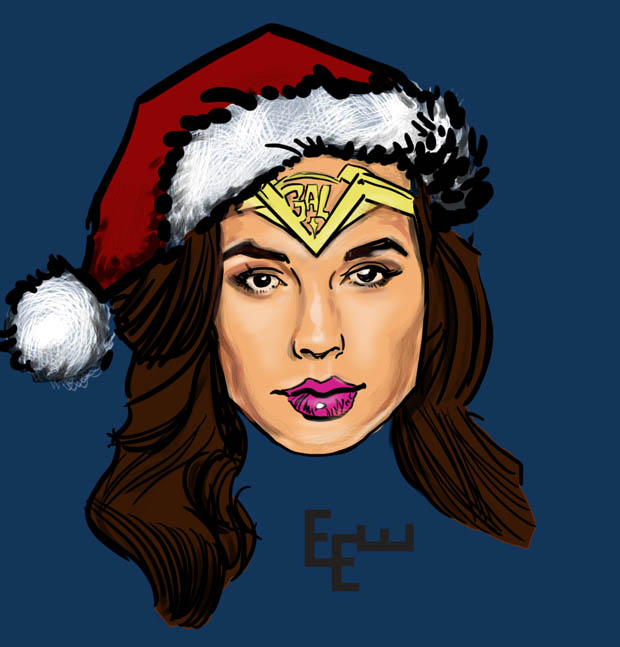 October 29, 2020
More about the Gal Gadot WW84
---

---

---
---
Original page November 16, 2020
---