Wonder Woman 84
The Sequel
Dec 19, 2019
June 5, 2020
August 14, 2020
December 25, 2020 – Theater release
March 22, 2021 – home video Blu Ray, DVD etc release
Gal Gadot (as Wonder Woman) and director Patty Jenkins return from their highly successful first film with another past-history adventure set in the world of 1984 America.
Though Diana Prince (Gal Gadot) seems indomitable in the films in which she appears, in the year 2020 she's been no match for COVID-19. The sequel has been repeatedly rescheduled in an attempt to keep this (potential) high-earning DC Comics movie from out of the path of the pandemic phenomenon which has flattened every feature film thats tried to be released in its path.
Review of the Wonder Woman 84 film
---
It crashed in the theater, but Wonder Woman 84 was the biggest selling home video DVD/Blu Ray for 2021 with nearly $35 million in sales – Comicbookmovie
January 7, 2022
---
WW 1984 Trailer
Can't tell from this if the film is loaded with good action and story (could be) or it's a messy, overlong attack on something not actually specified in the film (some reviews have said its a take down on Donald Trump, or on America, or on consumerism, or... well, who knows at this point? Like most trailers this is full of disjointed action sequences trying to not give the story away, and that makes it an easy Rorschach test for anyone looking for hidden meaning. On the other hand, any close watching of the 2017 first film shows there were some sneaky imagery in that film to make a few points to those watching intently).
Regarding the first film, it had its problems but overall a good success for DC that was built around the sheer likability of Gal Gadot (much like the likability of Lynda Carter in the 70's Wonder Woman TV show) and surely they'll not want to blow that connectivity to the audience. Anyway, can't tell much on that front from the trailer which features the building up of Cheetah vs Wonder Woman, and has Gadot in a golden Wonder Woman suit doing a kind of Las Vegas costume reveal.
---
---

If only this was the WW costume for WW 1984
---
Wonder Woman 84 moves premiere date again
Now it is set for the classic big-budget-desperation release date of Christmas Day, allowing for maximum freetime on the part of families to hit theaters (provided they're reopened, a number of major theater areas are still closed, particularly on the West Coast).
Warner Bros. has found massive success over ... holidays with its DC properties. "Aquaman," which released in 2018, generated over $1 billion after hitting theaters around Christmastime. The hope, barring a second wave of coronavirus, is that theaters in New York and Los Angeles will be able to open by then.
The obvious question after this move by WW84 is whether the other flashback-female superhero film of 2020, Black Widow, will stick with its release date of Nov. 6, or will it move, too?
Article at Variety
---
Wonder Woman 1984 comic cover redone by many artists
Story at Bounding into Comics
---
New Teaser for WW 1984
Release date is now October 2, 2020
---
Wonder Woman 1984 suit designer speaks
The costume design for the WW1984 is dipping into the world of 1980s fashion, and that means (as they say in this article) going "big."
Usually, when you are talking about superhero movies and TV shows, the phrase "power suit" could reasonably be expected to be about the superhero and supervillain costumes -- also colloquially known, especially in the post-The Incredibles world, as super suits. In the case of Wonder Woman 1984, though, "power suit" has a different, and far more conventional, meaning. With any film set in the '80s, hair, makeup, and wardrobe are all going to be playing a big part in making it feel authentic. And all of those departments are going to have to go, for lack of a better word, "big."
Interview at Comicbook
---
Wonder Woman III?
Director Patty Jenkins is already talking about a third film, but the pandemic makes it uncertain (and, though unmentioned, is the Hollywood reality that August's Wonder Woman 1984 has to prove at the box office that a third Diana Prince film would be doable). Also on topic is a Amazon film. Story at Joblo
---
WONDER WOMAN 84 - AMAZON STREAMING
---
Wonder Woman:
Wonder Woman 2017 Movie Review
A Cinematic History of Wonder Woman
Lyle Waggoner, the original TV Steve Trevor
Gal Gadot, to be or not to be Cleopatra
---
Wonder Woman - Gal Gadot 2017 - Amazon Streaming HD
---

Wonder Woman: Bloodlines
---
DCU: Wonder Woman Commemorative Edition MFV (Blu-ray)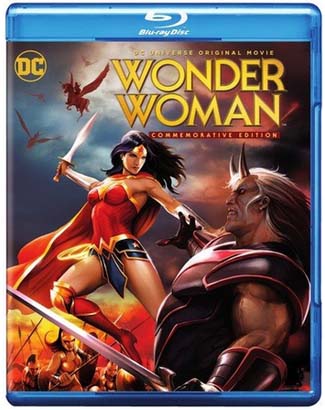 ---
---
---
Original Page November 2019