Wonder Woman Movie Log
The DCU's hugely successful Wonder Woman of 2017 ($816,501,312 Million in box office) spawned a number of toy and merchandise spin-offs, but that only set the stage for DC Warners to license an even larger number of items to coincide with the sequel. Wonder Woman 1984 was due out originally in early 2020, but the pandemic destroyed the schedule which resulted in WW84 marketing out all over the America's disposable economy, but without the movie actually in release.
---
---
2020 Sequel News
Wonder Woman 1984 set to release August 14, 2020 December 25, 2020. Announcement info at DC Comics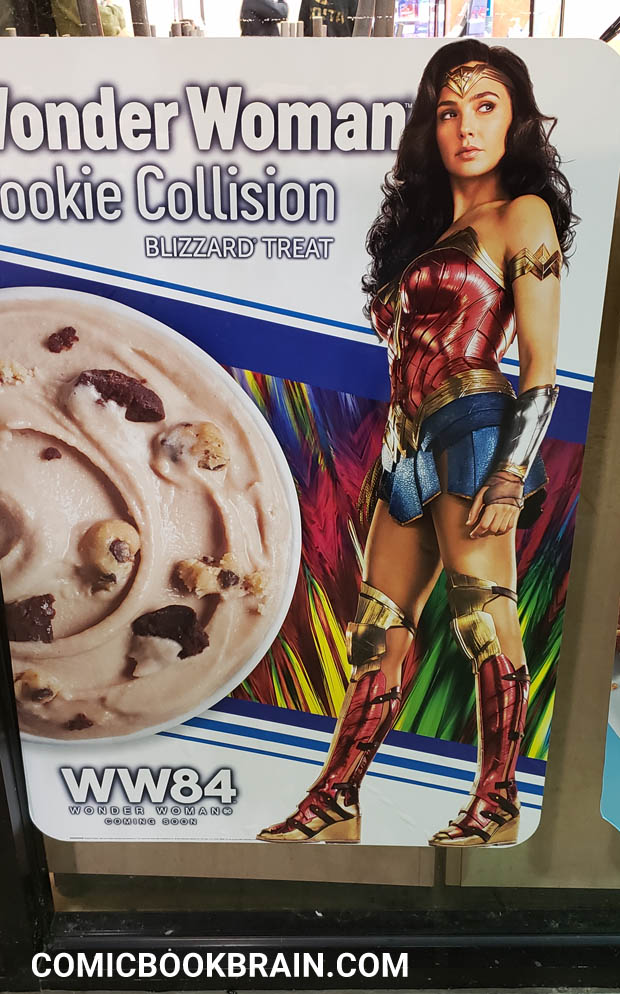 The marketing blitz around the Wonder Woman 1984 film has resulted in Gal Gadot is everywhere
---
Wonder Woman 1984 - what the poster means - reading the detritus at CBR
---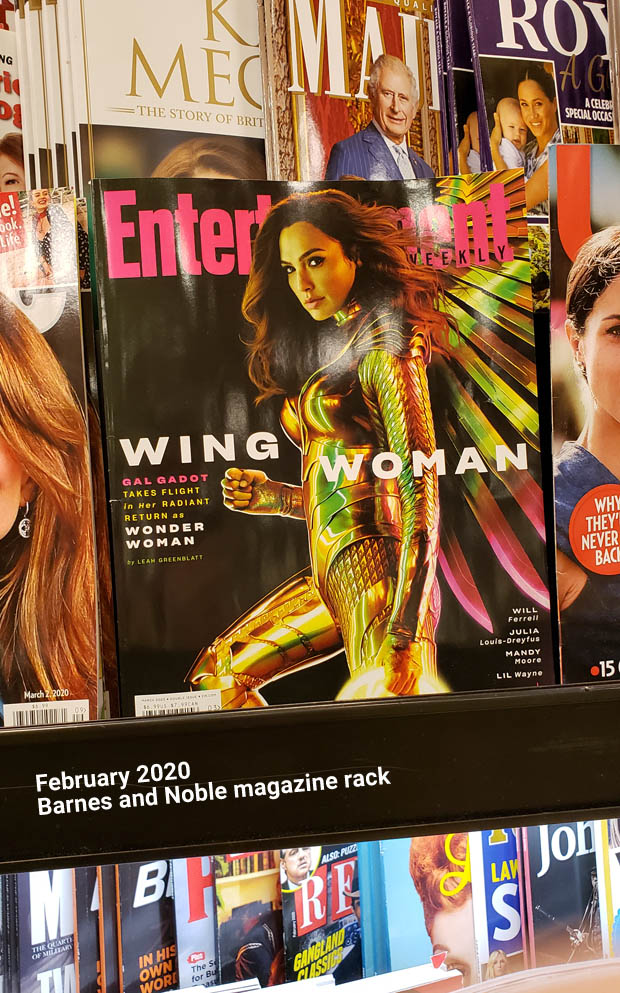 Wait a second, Chris Pine was dead at the end of the first film, hows he going to be in the second film?
[Neither of these ideas actually panned out]
Possible Wonder Woman Sequel Solution Number 1:
If DC continues embracing ancient Greek story references in a presumably modern-era Wonder Woman II, the easy way to resurrect Pine would be to build up an Orpheus adaptation with Diana Prince doing the honors of entering the underworld in order to get Steve Trevor out of danger. But this seems unlikely, the comic book Steve Trevor hasn't fared very well in the last decades with the many Wonder Woman re-inventions, and staying within yelling range of the comic book version will probably guide future Wonder Woman adaptations to the screen.
Possible Wonder Woman Sequel Solution Number 2:
There's already talk around the internet about Chris Pine coming back as Steve Trevor III, i.e., playing his own grandson. This seems like a pretty simple, but predictable, way to get Pine back into the cast for WWII. However, if they were to make the idea even lousier, they could have Pine as Trevor III and a raging misogynist, too. It would be a twist, no denying, but would fans want to see Pine insulting and berating Diana Prince (and Prince then cutting him down to size?) I don't think so.
---
Wonder Woman 2 sequel - Dec 19, 2019
The challenge going forward, now that Director Patty Jenkins is announced to continue helming Diana Prince's adventures in Wonder Woman II, is how to make up for the fact Chris Pine, who co-carries a lot of the first movie, has been blown up.
---
July 25, 2017: Internet rumor says that Wonder Woman 2 is set for a 1980s setting, and that Chris Pine will be back. The sequel is set for Dec 19, 2019 release.
---
Final Box Office earnings for Wonder Woman
Wonder Woman (2017 Warners) final world wide box office: $816,501,312 Million
(See chart of top superhero film list with boxoffice numbers here)
---
The number keeps rising: WW at $779,433,279 Worldwide
July 25, 2017: Was this planned all along or did DC just dream of these numbers? Gal Gadot's Wonder Woman is now officially the top earning movie of the 2017 summer. With a current $389 million domestic total (and sure to keep edging up for a while longer) it beats out (by about $3 million) Marvel's Guardians of the Galaxy Vol 2, which would have seemed a pretty long shot competition six weeks ago. The worldwide total for Diana Prince is $779 million, and it's going to get a shot in the arm soon when it finally opens in Japan (Guardians Vol 2 made just above $10 million earlier this year in Japan.)
---
Wonder Money
July 17, 2017: New worldwide totals for Diana Prince at $764,886,078 Million - slowing totals now casts some doubt on crossing the $800 million mark.
July 11, 2017: Patty Jenkin's Wonder Woman looks like it can go past $800 million and may very well beat Guardians of the Galaxy Vol 2 when the numbers are all finally counted up.
Related: The Cinematic History of Wonder Woman
Related: Wonder Woman 2017 Review
---
---
Whoa, Wonder Woman rolls past $700 million
July 3, 2017: When Wonder Woman was on the verge of coming out, despite some pretty good reviews (though often the positive was attached to a kind of mealy-mouthed "It's good for a DC movie but not up against Marvel...") there was trepidation that DC / Warners could be about to blow it again, and burn up more from the store of goodwill toward a famous and long-running character by putting out a lousy movie. That was then, and now Gal Gadot's Wonder Woman this weekend marched into the top-100 list of highest grossing films of all time, and is now only beaten out in the domestic market as a DC comics' film by Nolan's Dark Knight and Dark Knight Returns.
---
Who didn't see this coming? Patty Jenkins directing Wonder Woman sequel
Announced June 28, 2017: With Gal Gadot's Wonder Woman now at $663,648,207 worldwide and with a record-setting (for DC) domestic earnings of $327,848,207, putting Jenkins right back behind the camera is the obvious choice going forward with Diana Prince. Warners/DC has tried to get a multi-media Wonder Woman to impact pop culture the way Lynda Carter did in the 1970s, and now that its finally happening, they shouldn't want to jinx it now.
Wonder Woman is doing so well at the box office for DC/Warners, for raw numbers only Chris Nolan's Dark Knight and Dark Knight Rises has it beat at this point (domestically*), and Gal Gadot and Chris Pine have edged past Batman V Superman, Suicide Squad and pretty soon Man of Steel for the speed in piling up the receipts.
After the critical debacle with Batman V Superman and Suicide Squad, Wonder Woman's good reviews seems to indicate DC is starting to shake off some of the beginner's problems at producing a superhero character "universe" and now has a shot at catching up with the better developed (and more consistent) Marvel "universe."
* With $873,260,194 in worldwide box office, Batman V Superman is safe, so far, in retaining the current record for high earnings in the new DC cinematic universe.
---
June 22, 2017: Wonder Woman at $583,748,163 worldwide
---
Has DC broken it's bumpy-streak?
July 6, 2017: Wonder Woman from Gal Gadot, Chris Pine and Patty Jenkins (directing) is being hailed as the first film out of the new cinematic DCU that critics can take seriously, along with the fanbase, surpassing Batman V Superman and Suicide Squad for quality and general happy theatergoers leaving the screenings ready to see the film again.
Repeat-business and good word-of-mouth has kept big screen Diana Prince rolling at the box office, especially surprising the business while a number of other big-budget films have bombed. With Wonder Woman at one month in the theaters and with worldwide totals gone passed the $700 million mark, and domestic totals beating out the afore-mentioned two DCU films, the question is whether Spider-Man Homecoming will shove everything else (including Wonder Woman) out of the way, or if the Amazon Princess will exceed expectations another couple of weeks and pile up enough to get the movie to the $800 million mark.
Big start for Diana Prince
June 3, 2017: Boxofficemojo:
"Wonder Woman is looking strong out of the gate, delivering an estimated $38.85 million on Friday, which includes $11 million from Thursday previews. This is nearly identical to the performance of the first Guardians of the Galaxy, which brought in $11.2 million from previews, delivered $37.8 million on Friday and ultimately opened with $94.3 million, suggesting a $95-100 million opening is in the offing. Wonder Woman received an "A" CinemaScore from opening day audiences, which was 52% female vs. 48% male.

Overseas, Wonder Woman is now up to $47.1 million, bringing the worldwide cume to $85.95 million so far."
---
Roundup of praise
Wonder Woman 2017
Why Wonder Woman Is The Best DCEU Movie So Far - Cinemablend
Why 'Wonder Woman' matters to women — and is already changing the movies we watch - Businessinsider
Wonder Woman has been a warrior, a secretary and a sexpot. What version did the movie use? - Washington Post
What Are Wonder Woman's Powers in the New DC Universe Movie? - The Wrap
---
Wonder Woman Merchandise Display 2017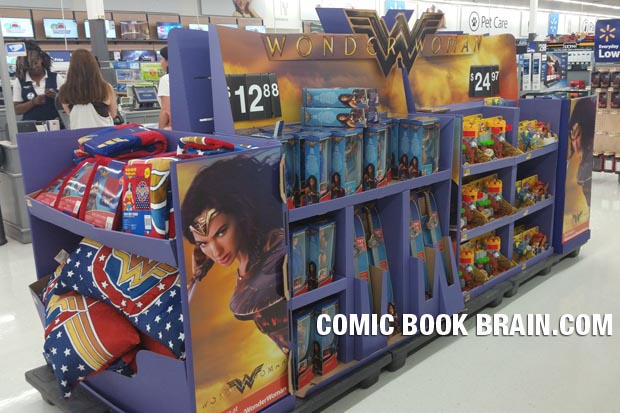 ---
Before the movies
---
WONDER WOMAN 84 - AMAZON STREAMING
---
Wonder Woman:
Wonder Woman 2017 Movie Review
A Cinematic History of Wonder Woman
Lyle Waggoner, the original TV Steve Trevor
Gal Gadot, to be or not to be Cleopatra
---
Wonder Woman - Gal Gadot 2017 - Amazon Streaming HD
---

Wonder Woman: Bloodlines
---
DCU: Wonder Woman Commemorative Edition MFV (Blu-ray)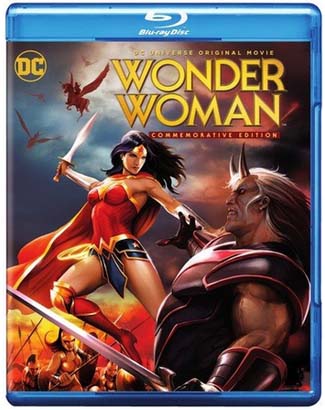 ---
Online streaming: Justice League
---
Comic Book Movies
The Coming Comic Book Movies 2023-2026
Top Earning Comic Book Superhero Movies
---
Screen Reviews
Short Review: She-Hulk, Attorney-at-Law
Fast review: Dungeons and Dragons: Honor Among Thieves
Dungeons and Dragons Honor Among Thieves – a Film with antecedents – Harry Potter plus Guardians of the Galaxy plus Lord of the Rings, etc.
Fast review: Dungeons and Dragons: Honor Among Thieves
Dungeons and Dragons Honor Among Thieves – a Film with antecedents – Harry Potter plus Guardians of the Galaxy plus Lord of the Rings, etc.
---
---
Original Page Dec 2016 | Updated Jan 12, 2021