Lynda Carter - Wonder Woman
[Below:] The January 29, 1977 cover of TV GUIDE featuring Lynda Carter as Wonder Woman.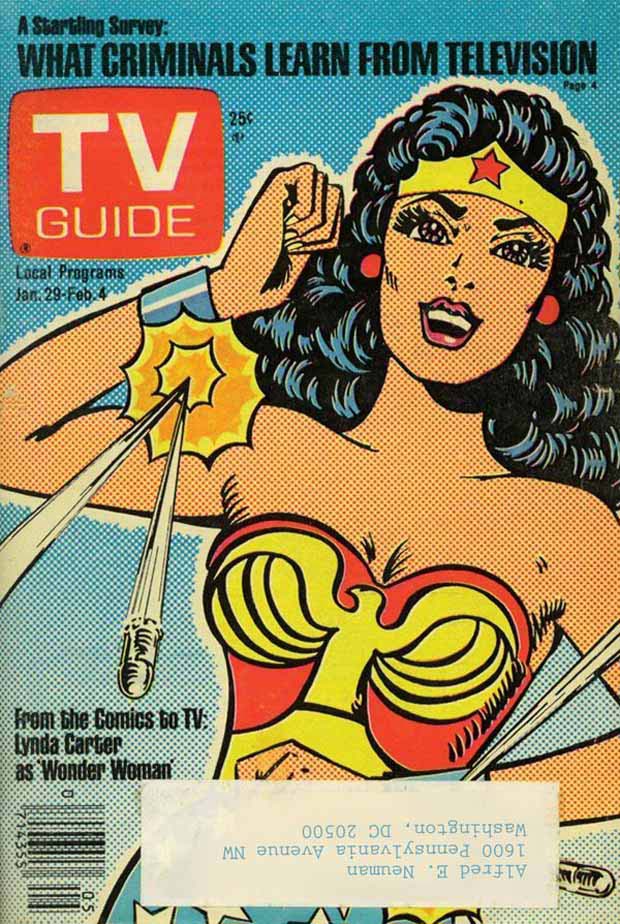 ---
Wonder Woman was created by William Moulton Marston (and his wife Elizabeth), but Lynda Carter made the character famous in a way that transcended comic books. Carter combined her beauty-contest winning looks with a friendly, honest approach to the character. The TV series (1975-1979) appeared at just the right time to ride the cresting wave of WWII era nostalgia and the changing standards which allowed for the spangled suit, a kind of stars-and-stripes one-piece swim suit.
Although Wonder Woman marked Lynda Carter the actress in a permanent way that has hovered over her career ever since, by the same token, DC Comics/Warner has yet to find a way to match the popularity and success that Carter created with the character until Gal Gadot entered the scene. (Compare Carter's run on TV against the long list of crashed-and-burned Wonder Woman projects that have followed in the decades since. Whatever Carter did, DC/Warners did not know how to imitate it. Simply put, Lynda Carter owns a big percentage of the credit for Wonder Woman's success).
---
"I believed in her"
"...I made a very specific choice to play her absolutely for real, that she believed that she was who she was, and she wasn't very impressed with her own abilities, because all of her sisters on Paradise Island could do the same thing. I really just wanted to play her for real. I believed in her." - Lynda Carter, from the commentary on Wonder Woman Season One, DVD set.
---
Lynda Carter 1977 - Wonder Woman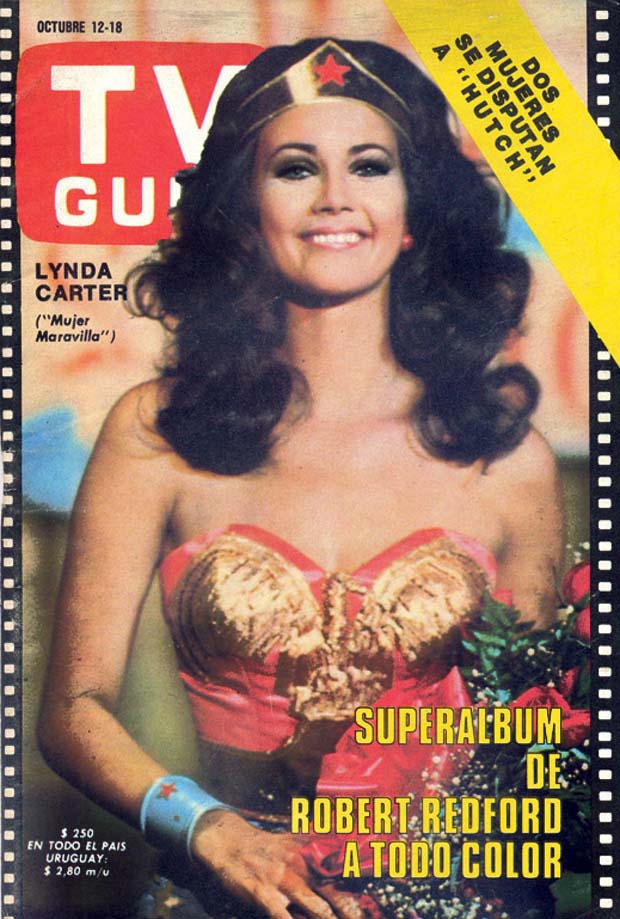 ---
Lynda Carter will not appear in new 'Wonder Woman' film
January 2016: Article at UPI on the coming 2017 Wonder Woman film:
"Speaking with the Washington Post Wednesday, Carter's publicist Pete Sanders put an end to the rumors stating that she will not be featured in 2017's Wonder Woman, but said that she is still excited about the revival. "She wishes its success," he said. "
---
Episode Guide Wonder Woman
1975: The New Original Wonder Woman This TV Movie aired first on November 7, 1975. The story tells how Steve Trevor crashes onto Paradise Island and is ultimately returned to Washington D.C. by Princess Diana, who remains in the city and assumes a secret identity. This TV movie was the pilot for the series. Broadcast originally on ABC.
1976: Wonder Woman First Season: First episode aired April 21, 1976. Final episode of this season aired February 16, 1977 on ABC.
1977: Wonder Woman Second season: First episode aired September 16, 1977, and final episode aired April 21, 1978 on CBS.
1978: Wonder Woman Third Season: First episode aired September 22, 2978, and final episode aired September 11, 1979 on CBS.
---
Comparing Season One and Season Three
"I really liked doing this series 'present-day,' because I thought it gave us so many more options. The 40's seemed to be pretty limiting, in terms of the Nazis, and fighting the evil Axis.

[In Season Three] You got to wear cool clothes, particularly - I liked that [laughs]. Well, cool for the seventies! You have to remember the time. When some of these fashions come back now, I think, 'Oh my God, I don't want to go back there again!" - Lynda Carter, from the commentary on Wonder Woman Season Three, DVD set.
---
Lynda Carter about Season Three of Wonder Woman
"I had the most fun doing the stunts. I had no idea this was our last year, you know, they don't cancel you until the very end. They kind of let you know in the middle of shooting. I was ready to move on, but it was also very sad." - Lynda Carter, from the commentary on Wonder Woman Season Three, DVD set.
---
Lynda Carter Bio
Born July 24, 1951, in Phoenix, Arizona.
Named Linda Jean Cordova Carter at birth, with traced English, Irish, Mexican and Spanish ancestry.
Career: Though famous as the preeminent Wonder Woman actress, Lynda Carter has has appeared in a number of other films and television programs as a guest star. Prior to beginning her acting career, she toured as a singer, and has continued to tour until the present time.
Lynda Carter discography:
Portrait [1978]
At Last [2009]
Crazy Little Things [2011]
Carter won the title of Miss World USA when representing Arizona in 1972. After her fame spread during the Wonder Woman TV series years, she appeared on a variety of TV specials. When performing for a music special, she ends her concerts with the Irving Berlin standard "Always."
On playing Wonder Woman: "I tried to play her like a regular woman who just happened to have superhuman powers. I figured she'd lived with it every day of her life."

---
Lynda Carter on the Wonder Woman theme song
"Boy, I'll tell you. I have people come up to me, and sing this song. And they know all the words." - Lynda Carter, from the commentary on Wonder Woman Season One, DVD set.
---
"You know, some of it is corny looking back at it now. But, I don't know, I think the show was such a gem. I really believe that... Wonder Woman, I really like her. " - Lynda Carter, from the commentary on Wonder Woman Season Three, DVD set.
---
February 2011
Lynda Carter vs. Megan Fox: Wonder Woman "Trash Talk"
Lynda Carter not pleased with Megan Fox comments about Wonder Woman (via contactmusic.com): "Megan Fox actually kind of trashed Wonder Woman. I like her, I just thought she shouldn't trash Wonder Woman".
"She flies around in her invisible jet and her weaponry is a lasso that makes you tell the truth. I just don't get it."
Megan Fox was being interviewed by the UK Times newspaper and had this to say:
"Fox reportedly turned down the chance to take over from Jolie (the two are strikingly similar, down to their mutual love of tattoos) as Lara Croft in the Tomb Raider series, and says she has no intention of starring in a Wonder Woman movie, despite recent speculation.

"Wonder Woman is a lame superhero," she says, clearly unfazed at the thought of ruling herself out of a potentially career-making franchise. "She flies around in her invisible jet and her weaponry is a lasso that makes you tell the truth. I just don't get it. Somebody has a big challenge on their hands whoever takes that role but I don't want to do it."
---
WONDER WOMAN 84 - AMAZON STREAMING
---
Wonder Woman:
Wonder Woman 2017 Movie Review
A Cinematic History of Wonder Woman
Lyle Waggoner, the original TV Steve Trevor
Gal Gadot, to be or not to be Cleopatra
---
Wonder Woman - Gal Gadot 2017 - Amazon Streaming HD
---

Wonder Woman: Bloodlines
---
DCU: Wonder Woman Commemorative Edition MFV (Blu-ray)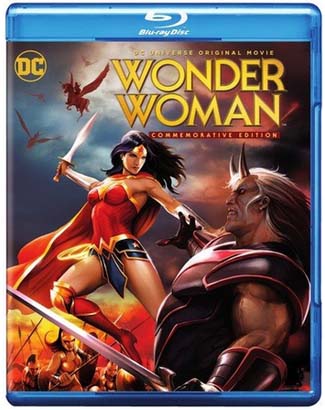 ---
---