Archive Page 2004
---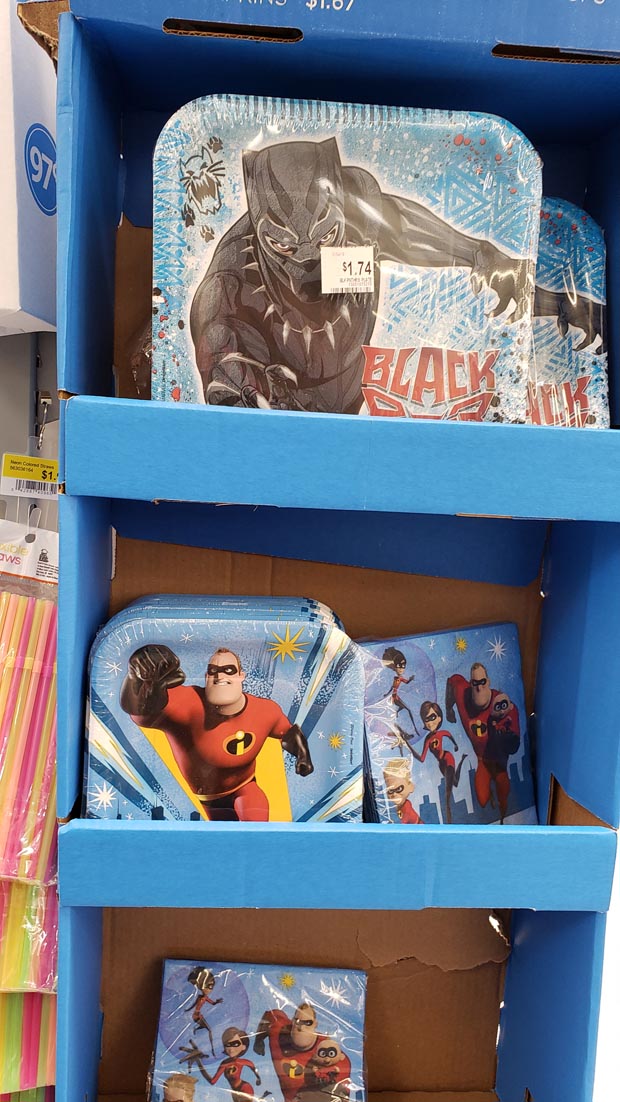 ---
Batman Movie News
More Batman 2021
---
September's biggest seller was Spawn #300
Story at Bleeding Cool
---
---
Frank Miller's Superman: Year One #2
Review at Newsarama - "an odd fit for Superman himself."
---
---
Hey, Marvel Fans
"Hey, Marvel movie fans! Stop acting like outraged religious fanatics defending their belief system."
Comedian Marc Maron from the coming Joker movie on Twitter
---
Marvel screen news
Moon Girl headed to Disney animation - Story at Indie Wire
Ms. Marvel headed to TV then into the MCU - story at Wionews
---
Batman News
Matthew Perry: "I'm Batman" - Yahoo News
Arkham Asylum 10 Year Anniversary - Playstation News
No animations in Tell Tale Batman Game - COMIC BOOK
---
Marvel
Coming MCU The Eternals film will go backwards in time to be the earliest period of Marvel filmdom - wegotthiscovered
A guide to all of the most important of the new line of Marvel heroes - Film School Rejects
---
"You are cordially invited to the wedding of Black Cat and Spider-Man!"
Thanks! I'll be there! Where are they registered for gifts?
Spidey marries the Black Cat ... coverage at The Four Color Media Monitor ("...Well I'm certainly not falling for this, even if it's just another marriage that'll never come to pass") referring to article at Newsarama.
---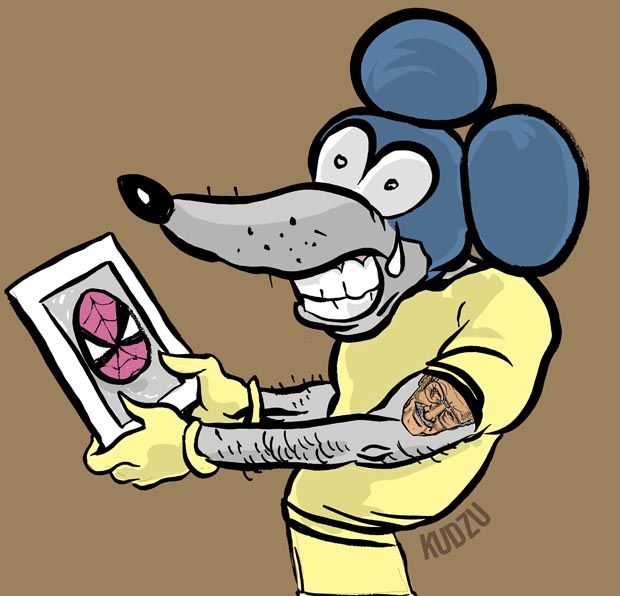 They seek him here, they seek him there, that damned elusive... Spider-Man?
Spider-Man departs Marvel's MCU
This story sounds like it can work in either direction: Sony takes back Spider-Man and this shows, post-Avengers Endgame, that Disney is losing it's deathgrip on superhero movies; or, Sony loses the services of ace Disney/Marvel producer Kevin Feige and is now left to figure out the (almost) impossible: how to make a Marvel superhero movie without Marvel's guiding hand. Either way, if the two mega companies don't come to a meeting-of-the-minds (and the news indicates that's not happening right now), it looks like Spider-Man will no longer be wistfully flash backing to Iron Man for fatherly guidance in his next cinematic outing.
From the article at Deadline Hollywood
"... it all comes down to money... "
At stake: the Deadline Hollywood article estimates 900 characters are available to Sony because of their hold on Spider-Man.
What about an almost utterly impossible future: with Spider-Man cut lose from Disney, what if Warners (now owned by AT&T) cooked up a crossover deal with Sony to spite Disney? Spider-Man V Batman, for example?
---
Marvel's Absolute Carnage #1 goes back to printer for 4th print run
Story at Bleeding Cool
---
Superman's Pal Jimmy Olsen back for 12 issue run
Positive review at Yahoo on the resurrection of this classic DC title.
---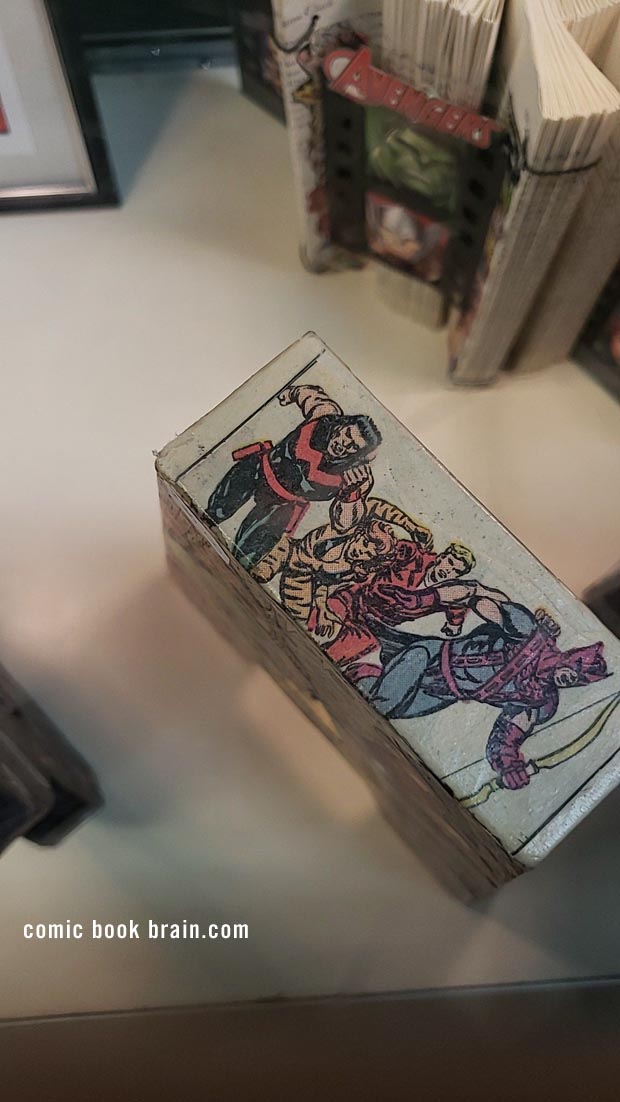 ---
Batman: Pierce Brosnan as Alfred?
Movieweb.com goes over the rumours, and the pros and cons of it really happening.
---
Marvel Comics #1000, 80th Anniversary
Aug 14, 2019: With cover art by Humberto Ramos with Mickey Mouse - Marvel superheroes together, plus at least another 32 variants (more about the variants at Newsarama).
---
Best Selling Comic Books of all time
Lists are out there on the internet, so we started to compile one too. The main problem is that the golden age of comic book sales was when the original comic books were first appearing, and the records for those days are very spare, to put it mildly.
See our list and the caveats - Best Selling Comic Books of all time
---
Jim Lee and Dan DiDio dispute the doom and gloom
Aug 7, 2019: Story at Hollywood Reporter on DC's new plans and what areas they're attacking in an effort to expand the DC digital world. Article goes over the failures of the last years such as the closing down of Mad Magazine and the Vertigo line.
---
Kevin Feige officially takes control of the future movie versions of Fantastic Four and X-Men
New info based on Disney's recent quarterly investor call - story at Movieweb.
---
The hazardous world of licensing
Though this article mentions Batman, its mostly a rumination on how licensing can be a help or a distraction to the original character or story (or song) and can serve, or hurt. Article discusses the war over rights that ensues when a creator tries to bust out of a contract, or the contract goes dead, or the creator never signed one when offered and now the interest has waned.
Article at Kriswrites
---
DC Universe streaming service
A tidy review of the new DC Universe service and what it has, sort've has, and doesn't have at all: syfy.com
---
Whoa: DC Comics not important inside the AT&T Borg?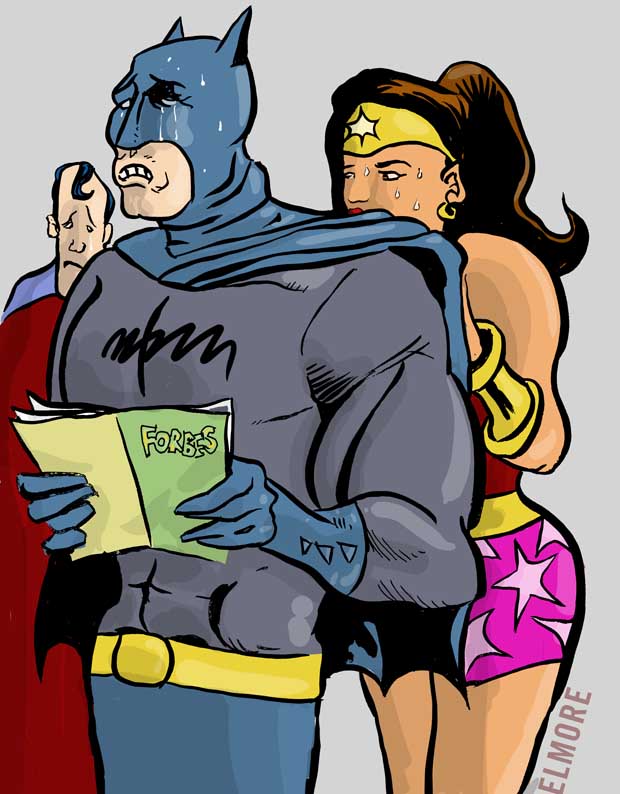 Aug 6, 2019: Scary article at Forbes
AT&T—now the parent company of Warner Media and its divisions, including DC Comics (previously known as DC Entertainment), HBO, Turner, and Warner Bros.—does not seem terribly interested in being in the comic book publishing business.
Predictions galore around the internet, some nearly apocalyptic, such as
DC Comics will stop printing new material entirely and live off of old stuff with new covers (like what has happened to Mad Magazine).
Go completely online digital with an end to "dead tree"products.
Scrap the whole division and hand over the characters to marketing and product development.
Why do this? Because: the new Lords of AT&T will look at the print runs on the top selling DC Comics (80K) and just laugh and then shut the whole printing division down as not worth it.
---
Hey, man, what happened to Steve Rogers' Quantum suit?
Russos continue to clarify Captain America's status from Avengers Endgame.
Story at Comic Book
---
Overpowering the superheroes
Bruce Campbell: Batman V Superman was a "stupid concept"
Story at Cinemablend
Aug 5, 2019: Campbell complains about how overpowered the super heroes are and therefore there's no real tension as there's no real legitimate threat to them, which he then compares to his character Ash, who is more like a real human being, who battles with a "real" chance of death (I guess if you don't concentrate on the various sequels and alternative entertainment forms that feature Ash, the number of which demonstrate how deathless Ash really is).
Superheroes being overpowered is an old complaint and has been around for as long as I've been alive, with the primary example being Superman going from originally being able to jump a building in a single bound to then able to levitate on demand and fly, his skin becoming bulletproof, all this prompting the question of how he is able to shave or get a haircut*. But more recent decades has taken the concept further, Supers has now been turned outright into a godling in various DC "mythology" series, a power-up that boosts the character right into an imitation pantheon of Ancient Greece (but with trademark and copyright protection.)
Part of the dilemma about overpowering the superheroes is just the presence of competition, if DC and Marvel don't push the limits of their fictitious characters, then they'll be left standing on the sideline as independent comic book companies run with the idea since clearly there is an audience for this. Which raises the obvious point: superhero comics have always been a reflection of society's needs and daydreams (among other things), so what is being supplied by turning the leagues of tight-suited heroes into pantheons of deathless gods? Is this just the predictable result of the erosion of traditional religion as a component of the majority of American's lives?
*The concept of the modern version of Superman doesn't work when explored logically, his mere presence among humans would constitute an enormous biological threat, let alone the issue of how he could possibly find a tool capable of clipping his toenails.
---
Superhero TV that's not kid-friendly
List of "adult oriented shows" and what is unique about them at Twin Cities.
---
Adam West in Once Upon A Time in Hollywood
Headline at Hollywood Reporter - Adam West's daughter reviews the Batman/Adam West references in the Tarantino film.
---
The coming Black Widow movie is connected to Civil War
Story at wegothiscovered
---
Affleck Batman
Before it got dropped, The Affleck Batman project was going to be centered on Arkham Asylum - story at joblo
---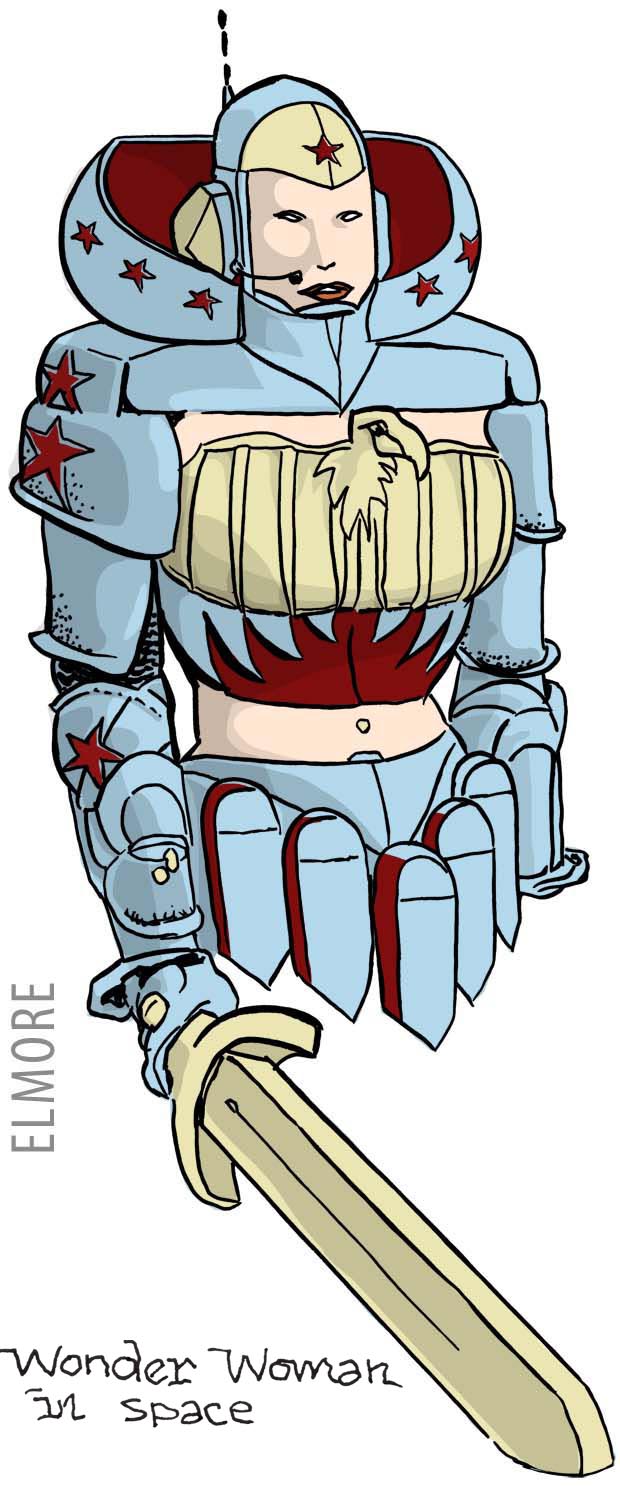 Art by Elmore
---
Wonder Woman 1984 reshoots
July 31, 2019: Nervous superhero movie news item: Gal Gadot's Wonder Woman 1984 is getting reshoots, which causes Cinemablend to say "...fans replying with fears -- or just jokes -- about Joss Whedon and Justice League-style reshoots."
---
Why Bucky ain't Captain America
And Sam is - Anthony Russo tells Yahoo Entertainment at UK YAHOO
---
Avengers Endgames still breaking records
The endcap for the 22-film MCU Phase One beat out Avatar for largest grossing film of Hollywood history, and now Fandangoplus preorder system reports it as the top pre-sell home video in history. More about this at Comicbookmovie
This reminds me of how well Tim Burton's Batman sold after hitting VHS, such that I remember seeing the film being sold in 7-Eleven and gas stations, this at a time relatively early in the home-video business, Burton's Batman blazing new ground for sell-through for the bulky VHS tape cassette.
---
Review: Spider-Man Far from Home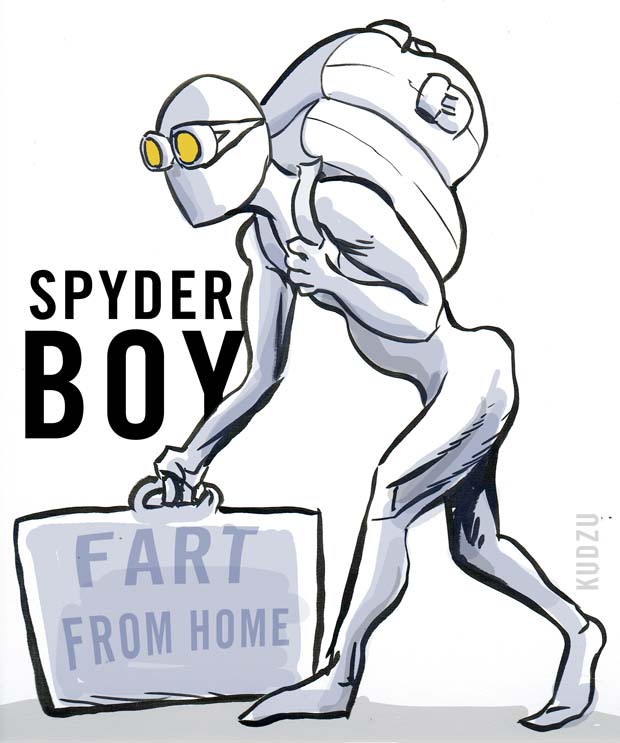 Spider-Man Far From Home released July 2, 2019 in USA. Directed by Jon Watts.
Illusion is the theme of Spider-Man Far From Home and it is played up in a number of ways. More on Spider-Person Far from Home
---
July 20, 2019: The Eternals movie gets previewed (as an idea, not as an actual made-film) at AV Club.
---

---

---
Overstreet Comic Book Price Guide Volume 51
---
---
---