Review: Spider-Man Far from Home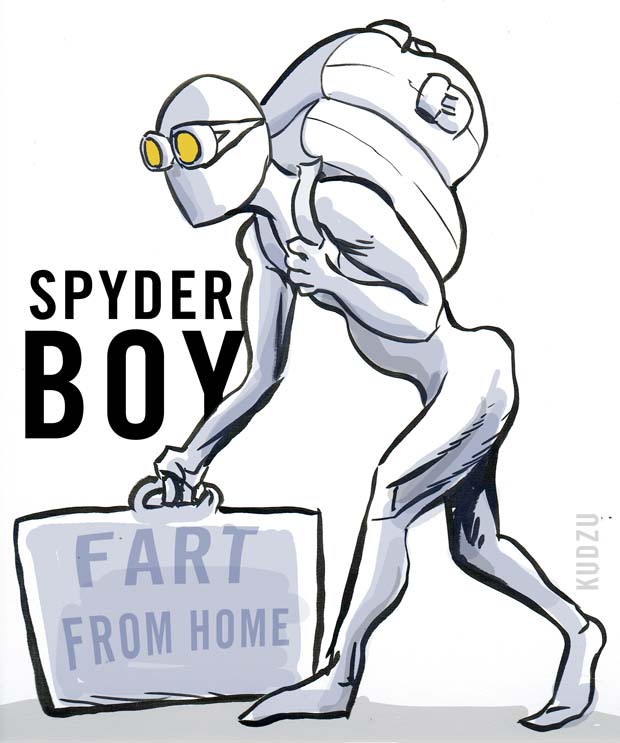 Spider-Man Far From Home released July 2, 2019 in USA. Directed by Jon Watts.
Illusion is the theme of Spider-Man Far From Home and it is played up in a number of ways. By the end of the film two on screen romances have come together and dissolved in a fuzz of hormone-addled illusion, we see Nick Fury at a beach-front vacation only to discover its just an image on a projected screen, in fact we've got [spoilers] more than one Nick Fury running loose, and of course there's illusion-master classic Spidey-villain Mysterio [Jake Gyllenhaal] dishing out visual tricks. (Even a little Hollywood music criticism plays into this theme: Peter Parker mistakes AC/DC for Led Zeppelin.)
---
---
Beyond that there's Peter Parker and his friends going across Europe on a school vacation, and most of what we see of this Europe is the stuff of postcards. Whether Director Watts intended this as a self-reverential joke for the movie itself or just the unintended result of the centering of everything on the Archie-comics-like emotions of a group of high school kid characters, I don't know, but it certainly made Europe seem empty, especially London which appears to be only populated by automobiles. That the crown jewels are guarded by only two briefly seen bearskin-hatted guards with SA80 assault rifles was about as close as we get to actually viewing the native people of the United Kingdom. In one word, unreal.
"Night Monkey" Spidey-suit is on screen a bit, along with a whole review of all the Spider-suits during a melange of Mysterio-theatrics.
The script by Chris McKenna is just about perfectly synced with the previous film with Tom Holland as Spider-Man (Spider-Man Homecoming) and whatever was good or bad about the 2017 movie is repeated here, though the spectacular CGI of Mysterio rampaging in Europe is on a larger scale than Homecoming's Vulture (Michael Keaton) tearing up New York. For 2019, seeing Venice get swamped was a disaster-film moment, but Spider-Man Far from Home is otherwise strictly contained like a two-part Spider-man comic book tale, a bit crammed in places and though I loath the extended mopery from how Hollywood taught itself to do Peter Parker, there's not too much of it here to induce audience eye-rolling.
Is this the direction the Marvel-Sony partnership is going now that Marvel's mega-epic Avengers saga has concluded with Endgame? It appears more likely that they are slow-walking the emotional growth of Spider-Man so that there will be time to include an assortment of villains in future films, and to also have a maturing Spidey play a part in whatever future hero team film Disney-Marvel decides to risk its partnership on.
Vaguely related:
---
---
---
Original Page May 2019 | Updated December 2021