Archie Comics
Always from Riverdale, always stuck in the middle between warring best-friends Veronica and Betty, and always best pal to Jughead, the stomach-centered friend with a crown-cap. Archie doesn't change, always modulating from one decade to the next.
Archie's first appearance was in Pep Comics #22, published Dec 22, 1941. The story was drawn by Bob Montana and written by Vic Bloom. The characters were created by comic book publisher John Goldwater.
Official web site Archie Comics
---
July 2021: Did Archie Comics predict online schooling? – Tripzilla
---
Archie Comics to bring out some Stan Lee-backed titles
The comic book publishing agreement follows Genius Brands International striking a joint venture with Stan Lee's POW! Entertainment to acquire never-before-exploited IP from the creator of iconic superhero comic characters like Spider-Man, the X-Men, Thor, Iron Man, Black Panther and the Fantastic Four.
July 15, 2020: story at Hollywood Reporter
---
---

The Archie Wedding: Will You Marry Me? - AMAZON
---
Archie Comics going full-Comixology
"...the new initiative marks the first time a major U.S. publisher has made content available day-and-date with the subscription-based streaming service". The new level of service begins with this week's release of Sabrina: Something Wicked #3. But, along with the latest release, comiXology Unlimited users can now read the full Archie library on the service. ComiXology Unlimited is a subscription-based service that offers access to 25,000 comic books, graphic novels, and manga for a flat fee of $5.99 a month.
September 23, 2020: Story at MSN News
---
Feb 2018: Vampironica! Veronica becomes a vampire in new Archie comic - Entertainment Weekly
---
Riverdale Archie cast being assembled
Feb 2016: Article at Deadline Hollywood:
"Riverdale has cast two of its four main characters. Lili Reinhart (Surviving Jack) is set to play Betty Cooper, while former Disney Channel star Cole Sprouse (The Suite Life Of Zack & Cody) will play Jughead Jones in the CW pilot based on Archie Comics."
More Coverage at Variety: Betty and Jughead Cast
"Riverdale" is set in the present day and follows Archie and his friends attempt to survive small-town life. Reinhart's Betty Cooper is the ideal daughter with a crush on Archie, her best friend, who gets sick of being picture perfect and turns to her new friend Veronica for advice. Sprouse's Jughead Jones is the former best friend of Archie's who is still prickly about what has come between them."
---
Archie turns 75
...Archie Comics CEO Jon Goldwater said that the new look keeps the characters relevant and also feeds Archie book sales, which account for a major portion of the company's revenue. Goldwater noted in the article that bookstore sales of Archie titles have increased 736% since 2008, reflecting the publisher's introduction of over fifty new titles from 2010-2014. The company has big plans for 2016, with a TV special, a musical, and more book events to celebrate 75 years and over 2 billion issues sold. Not bad for a freckle-faced teenaged Casanova.
2015: Story at Fine Books Magazine
---
Archie 1000 Page Comics Delight (Archie 1000 Page Digests) – Amazon
---
---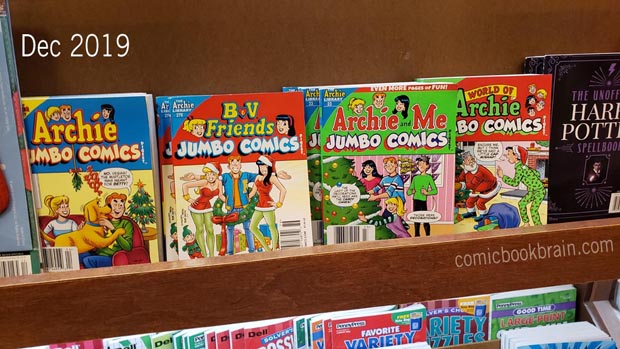 ---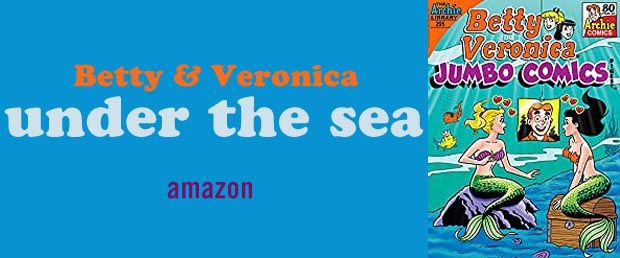 Betty & Veronica Jumbo Comics Digest 295 – Amazon
---
---
---
Original page Feb 2015 | Updated July 2021