Spider-Man Fo Way Home
---
Big hopes riding on the new Spider-Man movie
Plenty of Hollywoodian voices are hoping it can save the year after mostly dismal box office and point toward a revived industry in 2022.
"'Spider-Man: No Way Home' Swinging To 3rd Best Domestic Opening Ever With $253M+ Overtaking 'Force Awakens'; Is 'Infinity War' Next?" – Deadline Hollywood
"Box Office: 'Spider-Man: No Way Home' Swinging to Massive $240 Million-Plus Debut After Record-Breaking Opening Day" – Variety
"'Spider-Man' leaps to second-highest opening in box office history – film trails only "Avengers: Endgame" in first-day North American ticket sales " – Tampa Bay Times
"Weekend predictions: Spider-Man eyes $150-million weekend" – The Numbers
---
All the Spider-Man movies ranked – AV Club
They say that 2012 The Amazing Spider-Man is the worst; 2004 Spider-Man 2 is the best. As Vizzini said "inconceivable!"
---
Spider-Man No Way Home has "shattering" preview start with $50 million dollar box office– Variety
Could have $150 million dollar weekend – theNumbers
---
Spider-Man is "ruining cinema" and stop liking it right now says movie critic
Editorial at UK Independent via Fark
---
More record breaking for Spider-Man No Way Home
2021 has been a rocky year at the box office, but it is all set to end on a high note. Despite the disappointing returns of the last two weekends, which were the lowest grossing since September, the next two weekends may very well become the year's biggest. Leading the charge and gearing to break pandemic-era box office records is Sony's Spider-Man: No Way Home, swinging into theaters in the prime pre-Christmas slot.
Spider-Man: No Way Home is the eighth live-action Spider-Man film and the third film in this MCU connected series (all directed by Jon Watts thus far) which stars Tom Holland as Peter Parker, Zendaya as MJ, and Marisa Tomei as Aunt May in addition to a slew of MCU characters who show up. This installment ups the ante even more, with a spell from Dr. Strange that goes wrong and opens up a portal to other Spider-verses.
Story at Box Office Mojo
---
Spider-Man No Way Home Ticket sales surge crash AMC website – UK Daily Mail
---
No Way Home tickets being sold for $10K – Ladbible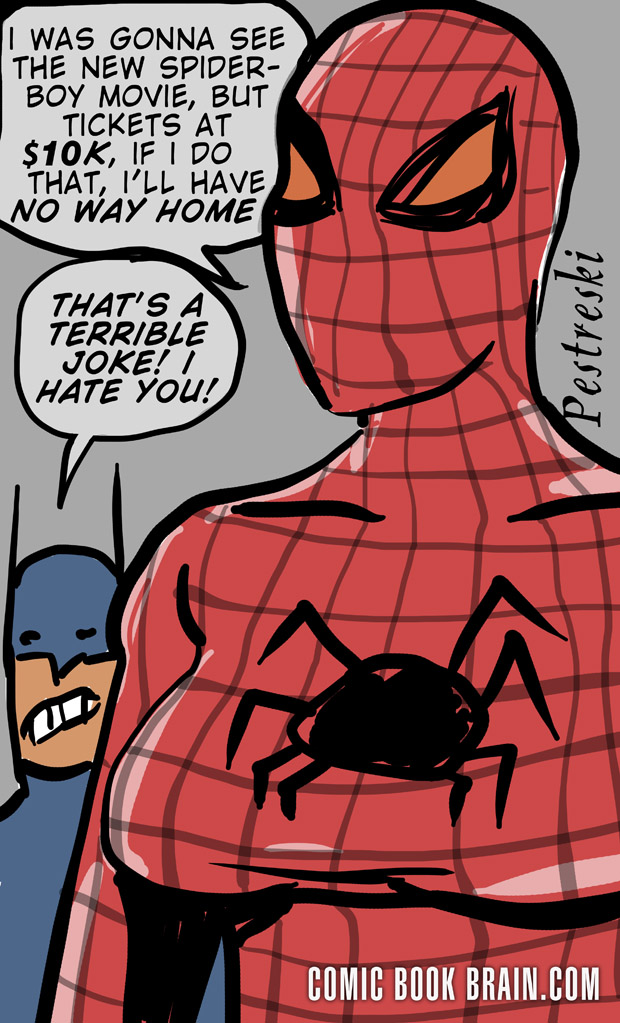 Marvel fans looking to get hold of tickets to see Spider-Man: No Way Home have run into something of a snag after cinema websites on both sides of the Atlantic crashed and left fans unable to purchase tickets for showings. You can see the trailer for the new blockbuster below:
With a matter of hours, tickets started appearing on sites such as eBay for eye-wateringly large sums of money, with one even listed for $10,000 (£7,500).
---
---
Spider-Man No Way Home makes record at Fandango – Comicbook
Spider-Man: No Way Home has broken the Thursday night box office record for 2021 according to Fandango. This would mark the best movie performance that day since Avengers: Endgame. Shang-Chi and the Legend of the Ten Rings was the previous record holder...
---
Spider-Man NFT offered with ticket sales for No Way Home
Apparently some fans "hate it" – Cheatsheet
---
---
Spider-Man: No Way Home makes record with advance ticket sales – Yahoo News
---
---
---
Original Page December 2021