Archive Page 2093
July 29, 2021
---
Whoa! Scarlett Johansson goes to war with Disney
A tangle of issues seems to make up the lawsuit, but the primary one is Disney damaging its own theatrical release of Black Widow (apparently on purpose) in order to drive up Disney+ subscription numbers which then benefited those in the executive offices... and that's just for starters.
More at Scarlett Johansson vs the Mouse page
---
---
Frank Miller gets zapped from line-up at U.K. comics convention
The 2021 Thought Bubble convention announced it was removing Frank Miller from its guest lineup "...in response to backlash from attendees and other guests."
Reason: "misogyny" and "Islamophobia."
Story at Daily Dot
---
Next Captain Marvel movie is The Marvels
The Captain Marvel sequel definitely appears to be heading in a different direction than we initially expected, though there's an awful lot of excitement to see Carol Danvers assemble on screen alongside Monica Rambeau/Spectrum and Ms. Marvel. This team-up promises to be one for the ages, and it's widely believed the three superHERoes will be taking on the Kree.
Story at Comicbookmovie
No sign of any concepts to somehow include the original Captain Marvel (no, not the DC Shazam "Captain Marvel") the Marvel Comics Group Cap'n Marvel by Roy Thomas from Marvel Super-Heroes #12, January 1967, or the Jim Starlin version from Captain Marvel #25, Mar 1973.
---
Superman roundup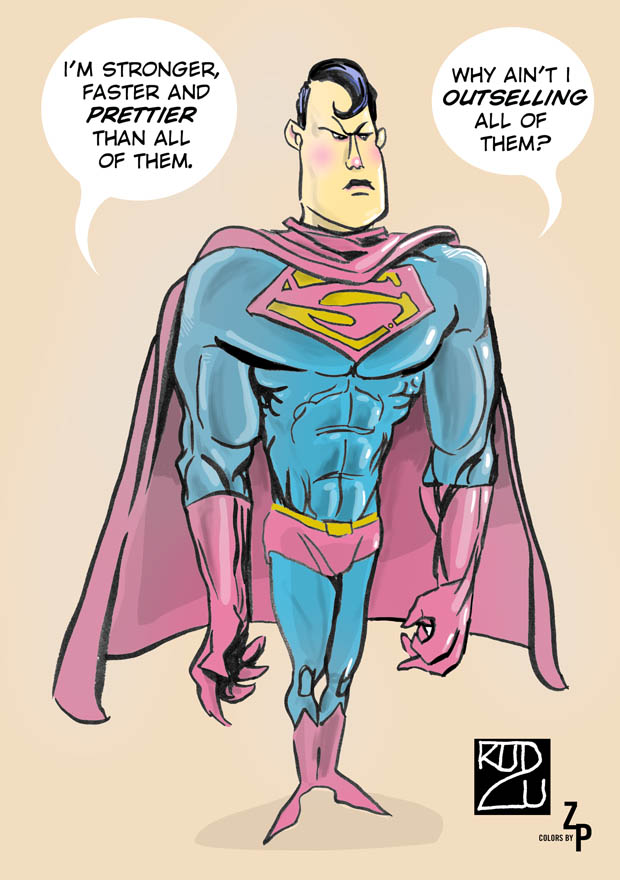 Going "full black"
After the success of Black Panther, I say: isn't it clear we can do better than Black Superman?
Story at Yahoo News

The "full woke" Superman... "Sky News host Paul Murray says Superman's iconic catchphrase 'truth justice and the American way' has been replaced with 'truth, justice and a better world' in a new comic book series featuring Superman's son."– Sky News

The new James Gunn The Suicide Squad film was originally pitched to Gunn to be a Superman film – Newsweek

Superman title comic book sales figures at Comichron (only up through 1987, but the steady decline over the years is quite obvious)
---
Miles Morales Spider-Man game has sold 6.5 Million+ – Comicbook
The big competition for Comic Books (and for Hollywood) is the same thing: gaming.
---
The "mysterious" real life Spider-Man of Dickinson, ND – Twin Cities
---
Stunt-double Batman filming in Glasgow streets for Flash movie – Den of Geek
---
"The USA Olympic team look like Batman villains" – MSN News
---
Loki and Stargirl "feud" – Comicbook
---
New Shang-Chi promo
---
History of Free Comic Book Day – Patch
---
THE Suicide Squad promo stuff hitting the press
The Exhilarating and Emotional Blockbuster That DC Deserves – Comicbook
More fun than last time but still with DC darkness – Financial Times
James Gunn's 'The Suicide Squad' is a bloody marvel that blows up the superhero genre – MSN News
'The Suicide Squad' Even Existing, Let Alone Being Good, Is Kind Of A Miracle – Uproxx
Greatest film ever made – The Duck One
---
Hey DC Comics!

The printing is misregistered on issue #110 of Batman! Colors aren't aligned!
---
Emily Blunt, Dwayne Johnson interview
While Johnson sees Black Adam as the culmination of his career, Blunt is uninterested in comic book films. "I really understand that [superhero movies] are like a religion for a lot of people," she says. "They don't appeal to me in the same way. I don't have this burning desire to play a superhero." While Johnson has been shooting Black Adam, Blunt has been shooting a Western for the BBC called The English, which Amazon will release in the U.S. She plays an aristocratic woman who's seeking revenge for her son's death and befriends a Pawnee warrior. "It's about love and revenge and race and history," she says.
Interview with Blunt and Johnson at Hollywood Reporter
---
Giant batcycle "takes over Glasgow" Scotland streets – UK Metro
---
John Romita Jr doing Fantastic Four anniversary issue – Gamesradar
---
DC Comics August release list – Dualshockers
---

---

---
---
Original page July 28, 2021