Black Widow 2021
It has been more than ten years of waiting for Natasha Romanoff's solo film
Release date July 9, 2021
Running time: 2 hours and 14 minutes: 134 minutes
Cast of performers from Black Widow
---
Black Widow total worldwide box office earnings 2021: $379,631,351 (Production cost reportedly $200 million)
---
What will it take for Black Widow to turn a profit?
Black Widow's reported production budget is in excess of $200 million, equalling the budgets of MCU Phase 3 movies Black Panther and Guardians of the Galaxy Vol. 2. It actually cost more to make than a majority of the non-Avengers films in Phase 3. The lone exception is Captain America: Civil War ($230 million), which boasted an Avengers-level ensemble cast. Black Widow's $200 million budget does not account for marketing costs. Going by the general rule of thumb (production budget x 2 = break even point), Black Widow would need to gross about $400 million worldwide to make its money back. However, in this case, it's likely a bit more.
July 7, 2021: Screenrant article
---
July 20, 2021: Black Widow to appear in Shang-Chi movie? – Comicbookmovie
---
Yikes ... Black Widow suffers gigantic box office decline in second weekend?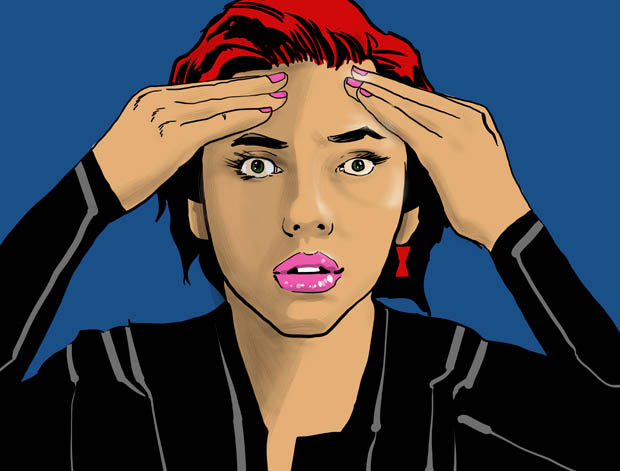 July 18, 2021: Theater owners furious at Disney strategy on Black Widow – Deadline Hollywood
In a press release dropped this afternoon following our analysis of what went sideways with the Marvel Cinematic Universe title, NATO asks how can a well-reviewed, well-received, highly anticipated Marvel title underperform leading to a first weekend Friday-to-Saturday collapse of -41%, and a -67% drop in weekend 2? NATO comes to the same conclusions as we did in regards to Black Widow getting her legs picked off: Piracy, and Disney+ at-home cannibalization which impacts not just the box office, but the pic's subsequent home window as well.
Some places were claiming an 80% drop in the second weekend, which probably makes Black Widow the all-time MCU champ (at least so far) for losing audience in a matter of seven days.
Well, turns out that's the case:
Black Widow has biggest box office drop of any film in MCU – Deadline
Hollywood "rattled" by Disney strategy on Black Widow – Hollywood Reporter
Piracy "spike" on Black Widow – MSN News
There were claims over the weekend that Disney has been doing phantom lay-offs and this will increase with news like Black Widow, meaning, according to the internet accusations, Disney is moving a lot of jobs to Florida and this means California employees have to either move or face dismissal, so, in effect, layoffs.
The question is how this might reach into Marvel.
---
The disturbing stats on Black Widow – Wolfstreet – July 12, 2021
Walt Disney disclosed the other fascinating thing about the plight of brick-and-mortar movie theaters: It had raked in $60 million from streaming "Black Widow" over the weekend on Disney+, for $29.99 per home, on top of the monthly subscription fee, no theaters involved.
Disney gets a cut of maybe less than 50% of the $80 million in box office ticket sales. But it gets 100% of the $60 million it took in via Disney+.
This was the first time that Disney disclosed this type of streaming data since it launched Disney+ in November 2019 – and it shows the very chilling prospects for brick-and-mortar theaters.
Are Movie Theaters doomed?
The suggestion in the article is that Disney is on the verge of discovering the link to cutting movie theaters out of the loop of selling a movie to a popcorn-eater. This strikes me as far-fetched, though I understand it seems tantalizing since it is a dream that production companies have sought as a promised-land of super-profits every since each iteration of technology comes along promising to free them from subservience to the theater chains, though none have yet to do so (the "captive audiences" of the pandemic hardly counts as a technological revolution).
More Are Movie Theaters doomed?
---
Black Widow crosses the line... of $200 million global theater earnings
Disney's "Black Widow," the first Marvel movie to grace theaters in two years, has surpassed a notable box office milestone, hitting $200 million worldwide. For the Marvel Cinematic Universe, a franchise that remains unrivaled at the box office, that would not traditionally be a benchmark worth highlighting. Many of its recent installments, at least the ones released pre-pandemic, have flown past $200 million globally in their opening weekends and climbed to $1 billion with relative ease. But, even as vaccination rates increase and people adapt to the outside world, moviegoing has yet to revert to normalcy.
Story at Variety
---
Black Widow movie audience is.... mostly male – CBR
---
July 11, 2021: Black Widow made $39 million Friday – Hollywood Deadline
---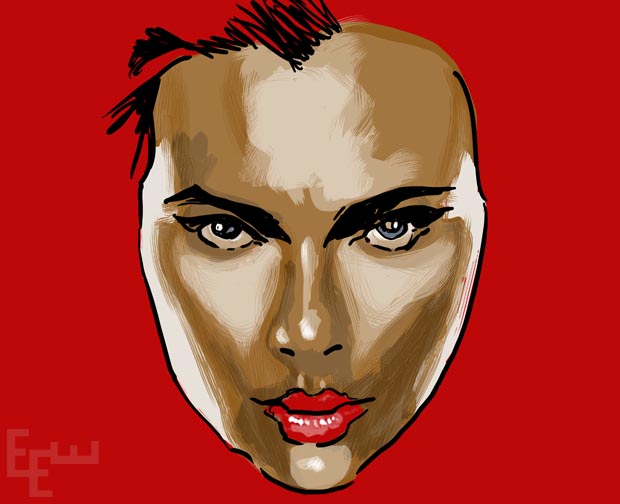 The Black Widow pro media reviews
"A hero gets her moment in 'Black Widow'" – Los Angeles Times
"...there are three ways to watch Scarlett Johansson star in her standalone Marvel movie" – Yahoo News
"Marvel's 'Black Widow' Debuts to Mighty $13.2 Million in Thursday Previews" – Variety
"As Marvel's epics get bigger, Black Widow's stakes feel too small" – The Verge at MSN News
"Black Widow Bids a Barbed Farewell to the MCU's First Female Superhero" – Vulture at MSN News
"Black Widow Is Too Late to Be the Movie She Deserved" – Slate
"Scarlett Johansson Says She Has 'No Plans' to Return as Black Widow: 'I Feel Really Satisfied'" – People MSN News
Negative reviews
---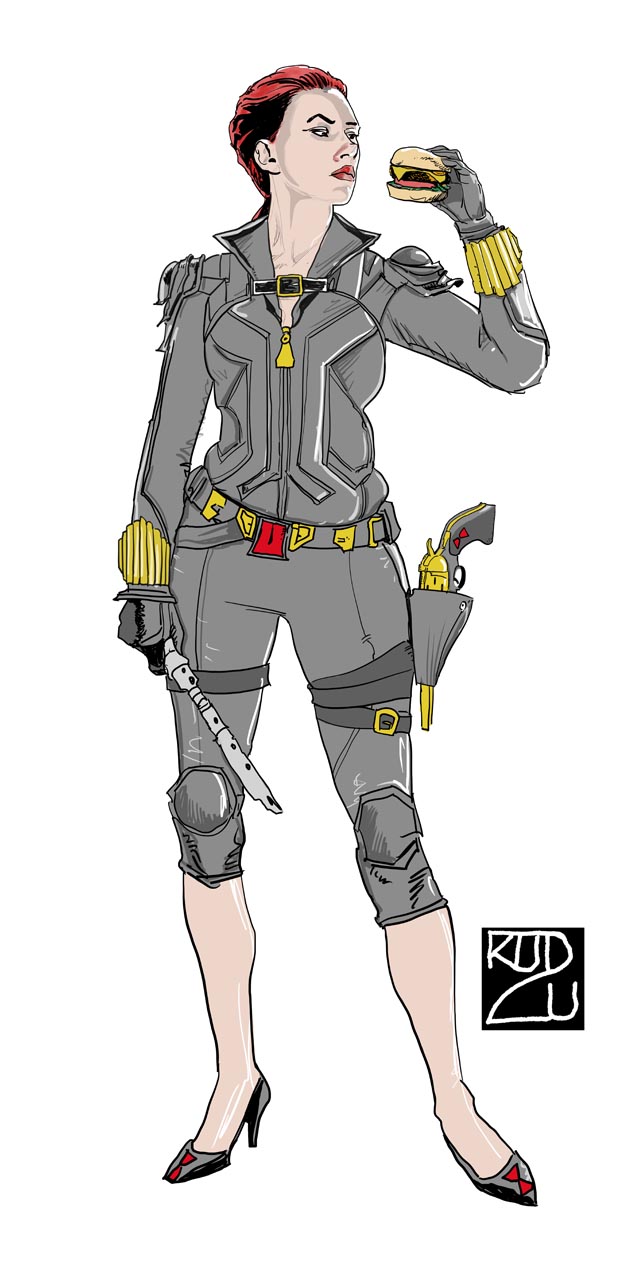 ---
Black Widow movie to beat out F9 say professional predictors – Variety
July 7, 2021
After a year-plus delay, "Black Widow," the standalone adventure starring Scarlett Johansson, is finally hitting theaters on Friday and is expected to have the best opening weekend of any pandemic-era release. Playing in 4,100 North American locations, "Black Widow" is currently on track to generate between $75 million to $85 million at the domestic box office over its first three days. It's poised to make an additional $50 million internationally, where the film is playing in 46 overseas markets. In China, a critical moviegoing market for Marvel installments, "Black Widow" still doesn't have a release date.
Should estimates hold, "Black Widow" will overtake "F9" and its $70 million domestic debut as the best start for a movie released during the pandemic.
(Notice that China still isn't playing ball with Disney.)
---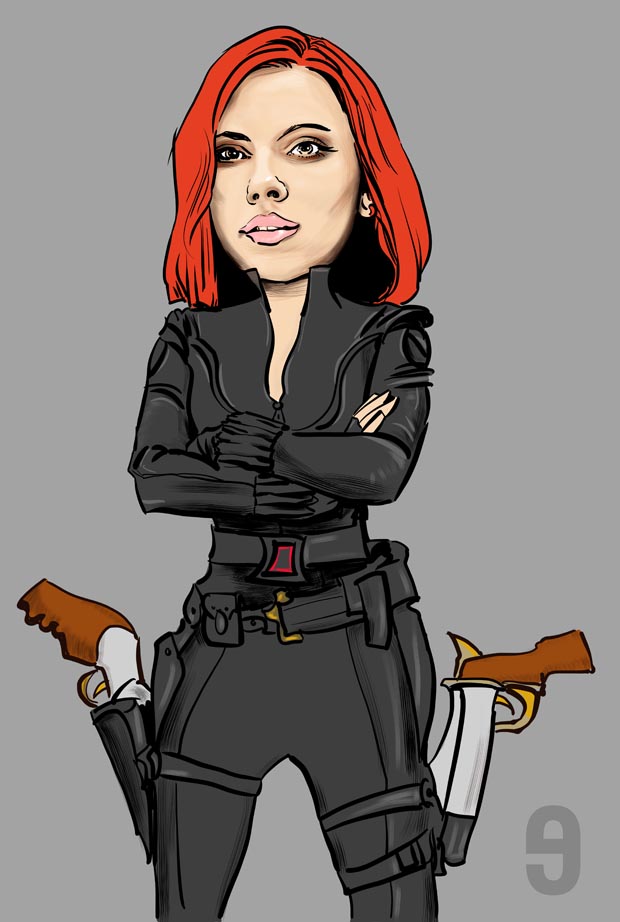 ---
---
Natasha Romanoff - origin story mentioned
"Though her costume was unforgivingly unbreathable and she spent months training to perform in it, Johansson said she'd wear it again in a second to tell the story of Black Widow.

"I love her origin story. I think it's just such a riveting one," she said. "It's just steeped in history and the richness to shoot in Russia, perhaps. ... I hope that the fans' voice is loud enough and they want to see a Widow origin story, I know Marvel would be happy to entertain that. We've spoken a lot about it."

..."You see a little bit about how Natasha joined and it's not that she's fighting for the greater good of humanity," the actress said. "She was almost salvaged by S.H.I.E.L.D. and so she's loyal to that group, to that agency, but only as sort of paid debt."
---
Scarlett Johansson signed for NINE films
2010: Brief story at fandango about the future for the Black Widow / Natasha Romanoff character in the Marvel movieland:
"...it is an indication of where Marvel plans to go once they're done with their current crop of superhero cross-promotion. While speaking at a press conference for the new Iron Man 2 DVD, Marvel chief Kevin Feige admitted that they're currently working on a spin-off film for Scarlett Johansson's Black Widow character. He noted, "We've already started discussions with Scarlett about the idea, but The Avengers comes first." Feige later added that they haven't done much else except begin to put concepts together."
---
---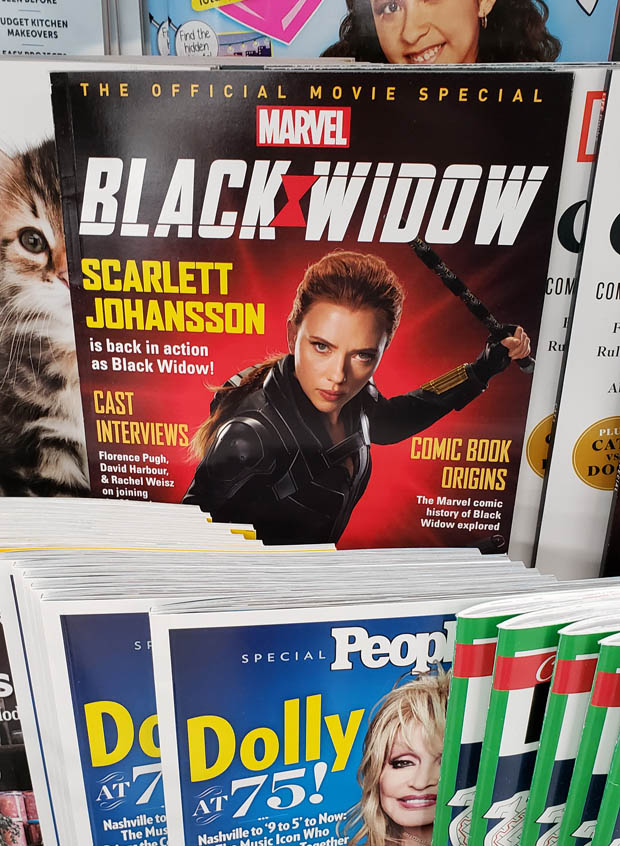 ---
The actors in the film Black Widow 2021
Scarlett Johansson
Florence Pugh
Rachel Weisz
David Harbour
Ray Winstone
Ever Anderson
Violet McGraw
O-T Fagbenle
William Hurt
Ryan Kiera Armstrong
Liani Samuel
Michelle Lee
Lewis Young
C.C. Smiff
Nanna Blondell
Simona Zivkovska
Erin Jameson
Shaina West
Yolanda Lynes
Claudia Heinz
Fatou Bah
Jade Ma
Jade Xu
Lucy Jayne Murray
Lucy Cork
Eniko Fulop
Lauren Okadigbo
Agel Aurélia
Zhane Samuels
Shawarah Battles
Tabby Bond
Madeleine Nicholls
Yasmin Riley
Fiona Griffiths
Georgia Curtis
Svetlana Constantine
Ione Butler
Aubrey Cleland
Kurt Yue
Doug Robson
Zoltan Nagy
Marcel Dorian
Liran Nathan
Judit Varga-Szathmary
Noel Krisztian Kozak
Martin Razpopov
Olivier Richters
Dalibor Bajunovic
Andrew Byron
Ed Ashe
Dawid Szatarski
Cali Nelle
Geoffrey D. Williams
Robert Pralgo
Jacinte Blankenship
Josh Henry
Jose Miguel
Valentina Herrera
Danielle Jalade
Aria Brooks
Sophie Colgrove
Caister Myung Choi
---
---
Amazon - BLACK WIDOW (Scarlett Johansson) - Captain America: The Winter Soldier (2014) : Movie Poster (Thick) 24" x 36" Inches - Chris Evans, Frank Grillo, Scarlett Johansson
---
Comic Book Movies
The Coming Comic Book Movies 2023-2026
Top Earning Comic Book Superhero Movies
---
Screen Reviews
Short Review: She-Hulk, Attorney-at-Law
Fast review: Dungeons and Dragons: Honor Among Thieves
Dungeons and Dragons Honor Among Thieves – a Film with antecedents – Harry Potter plus Guardians of the Galaxy plus Lord of the Rings, etc.
Fast review: Dungeons and Dragons: Honor Among Thieves
Dungeons and Dragons Honor Among Thieves – a Film with antecedents – Harry Potter plus Guardians of the Galaxy plus Lord of the Rings, etc.
---
Ghost World - Watch Online at amazon.com
---
---
Original page June 22, 2021