Scarlett Johansson vs the Mouse
August 7, 2021
---
Johansson's legal case has courtroom chance – claim at Arstechnica via Fark
Johansson's challenge to the Mouse is bringing out other suits:
Gerard Butler suing over Olympus Has Fallen profit sharing – People
Emma Stone suing over Cruella? – Cheatsheet and at Metro
---
Scarlett Johansson vs the Mouse
This is one of those cases where a media story is a Rorschach test where everyone can see what they want, versus the simple technicalities of contracts, something that will take a courtroom argument to establish. It's going to come down to legal teams and the merits of the case vis-a-vis contract law.
"CAA's Bryan Lourd Slaps Back at Disney's 'Shameless' and 'False' Response to Scarlett Johansson Lawsuit" – MSN News - The Wrap
"Scarlett Johansson's 'Black Widow' Lawsuit Is Game-Changing, But May Be Legally Weak" – Hollywood Reporter on MSN
"Scarlett Johansson's Disney Lawsuit Makes Us Wonder Whether Movie Stars Have a Future With IP driving the future of franchises more than famous faces" – Indiewire
"Disney Strikes Back Over Scarlett Johansson's 'Black Widow' Lawsuit, Reveals Her $20 Million Payday" – Deadline Hollywood
"Disney Slams Scarlett Johansson's Lawsuit ... Disney is calling Scarlett Johansson's lawsuit "sad and distressing" " – People Magazine
---
Whoa! Scarlett Johansson goes to war with Disney
A tangle of issues seems to make up the lawsuit, but the primary one is Disney damaging its own theatrical release of Black Widow (apparently on purpose) in order to drive up Disney+ subscription numbers which then benefited those in the executive offices... and that's just for starters. Interesting to see a major superhero movie headliner like Johansson going to bat against one of the biggest corporate legal teams in the entertainment industry. The article doesn't really address all of the other players besides "Scarjo*" in Hollywood who might claim they've been wronged by day-and-date releases in theaters and on streaming platforms. If the Johansson lawsuit gets traction in court and moves forward, then maybe a lot of others who might say this strategy of split releasing hurt their films (and contracts) might start filing their own suits.
 

The lawsuit claims that, by steering audiences to Disney+, the media conglomerate wanted to grow its subscriber base and boost its stock price. Yet that was at the expense of Johansson, whose compensation would "largely be based on box office receipts," according to the lawsuit, while she "extracted a promise from Marvel that the release" of Black Widow would be a theatrical release.
 The lawsuit also claims that "Disney's financial disclosures make clear that the very Disney executives who orchestrated this strategy will personally benefit from their and Disney's misconduct..."
Story at Deadline Hollywood
*Scarjo aka Scarlett Ingrid Johansson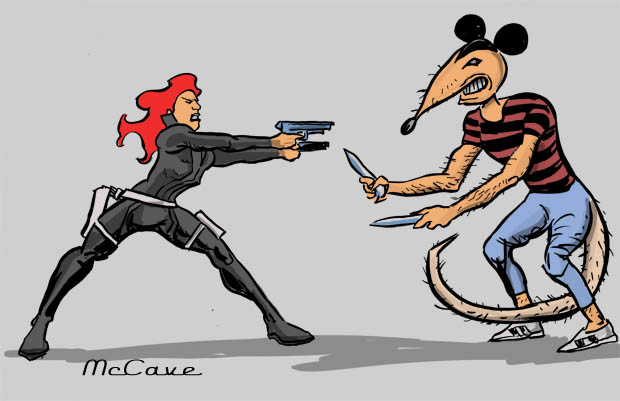 ---
---

---
---
Original page July 28, 2021