Archive Page 2022
---
Los Angeles Times holds competition for best summer film from 1975–2019, and The Avengers wins
Story at LA Times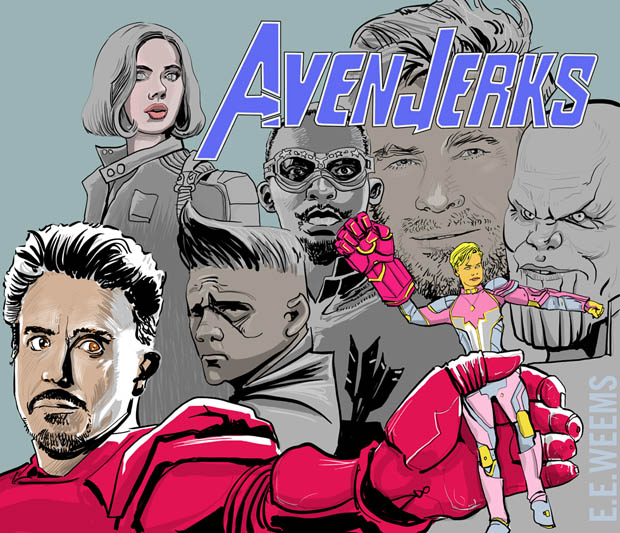 Apologies to the cast of Avengers
---
Tom Holland, Tobey Maguire, and Andrew Garfield could have all been in Spider-Man: Into the Spider-Verse
Idea didn't make it into film. Story at Collider
---
DC Comics movies list
The entertainment industry is plotting to get back into full-money-making mode, and so the online websites are starting to fill will plans for releases and now concoctions of stars + characters. Here's the DC movie list, which was blown up by the pandemic, but is now starting to stabilize with films that were put on hiatus. It looks like now these titles are being nailed down to new, firm release dates.
Wonder Woman 1984 (August 14, 2020)
The Batman (October 1, 2021)
The Suicide Squad (Aug. 6, 2021)
Black Adam (Dec. 22, 2021)
The Flash (June 3, 2022)
Shazam! 2 (November 4, 2022)
Aquaman 2 (Dec. 16, 2022)
More DC Movies: no dates on these projects, but said to still be possible (caution, there's a lot of abandoned DC Comics movie projects to be found in old news releases):
Aquaman The Trench
New Gods
Batgirl
---
Spider-Man 2099
Apparently Sony and Disney are thinking of a not-Peter Parker version of Spider-Man for TV programming on Disney Plus streaming service. Story about this at MovieWeb
---
Suicide Squad movie for 2021 will also be titled Suicide Squad
Huh? Why not at least call it The New Suicide Squad, that sufficed when rebooting the comic series a decade ago.
The new film has a lot of familiar cast, but no Will Smith:
Viola Davis
Idris Elba
Margot Robbie
Jai Courtney, Joel Kinnaman
Steve Agee
Flula Borg
Juan Diego Botto
Alice Braga
Peter Capaldi
John Cena
Joaquín Cosío
David Dastmalchian
Pete Davidson
Nathan Fillion, Sean Gunn
Jennifer Holland
Tinashe Kajese, Daniela Melchior
Mayling Ng
Storm Reid
Michael Rooker
Julio Ruis
Taika Waititi
The director is James Gunn
(Concerning things of Suicide Squad nature, no disrespect to Mr. Gunn, but sure would like for the Dave Ayer's original version of Suicide Squad 2016 to be released, maybe in a deluxe box set with the unreleased Snyder Justice League. And if the buyer still has their ticket stub from the (sub) standard Justice League 2017 theatre release, you get a discount on this box set.)
---
DC Comics top ordering items at Diamond
Heaviest orders are for Detective Comics #1022, Catwoman 80th Anniversary issues, and Action Comics.
Story at Bleeding Cool
---
Whats next for the Star Wars franchise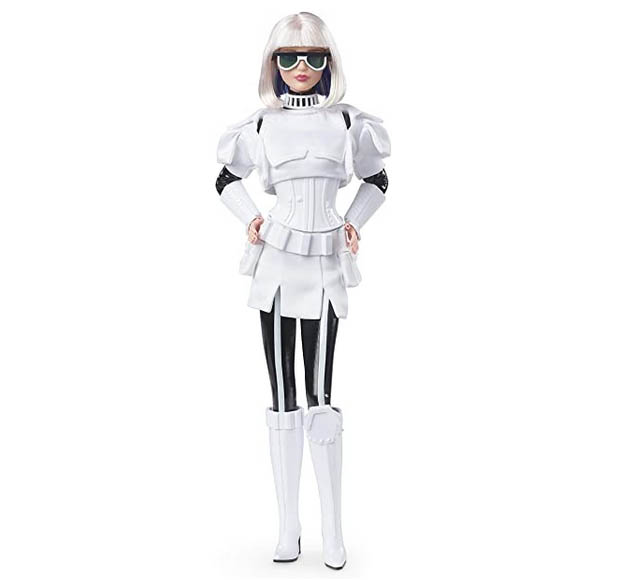 Barbie Entertainment Star Wars Stormtrooper Doll - AMAZON
---
Batman: The Definitive History of the Dark Knight in Comics, Film, and Beyond - AMAZON
---
Avengers Endgame puzzler solved
Despite originally emerging from the rubble wearing just a black t-shirt, War Machine is later released from Scott's giant hand wearing a patriot coloured super-suit. So, what gives?
Story at Digital Spy
---
X-Men: The New Mutants going straight to streaming
Story at UK Film Stories
---
Batman wants you to wash your hands
---
Geppi at Diamond Distributors says comic sales are increased as new orders are being taken
...what we learnt from Steve Geppi is that the order numbers that have been coming in for the new Final Order Cut-Off dates that were far stronger than Diamond was expecting, Nevertheless he predicted that they are still going to sell out and retailers would be ordering more.

"
Story at Bleed Cool and at Newsarama
---
Making a database of your collection
App to get your comic books, movies, etc., into order. Cost varies. A downloadable version is $29.95 for a year. Includes syncing to artwork and information to make gathering info apparently relatively easy if you use a scanner on a phone.
App at Collectorz
Story about the app at Cnet
---
Wrightson and Frazetta top auction
Story at Broadway World
The Frank Frazetta The Serpent (aka "Aros") Paperback Novel Cover Painting Original Art (Paperback Library, 1967) and Bernie Wrightson Mary Wollstonecraft Shelley's Frankenstein Front Endpapers Illustration Original Art (late 1970s) sparked furious bidding to lead Heritage Auctions' Comics & Comics Art Auction to $9,099,710 in total sales April 30-May 3.
New: Frank Frazetta's Destroyer analyzed
---
Masque Season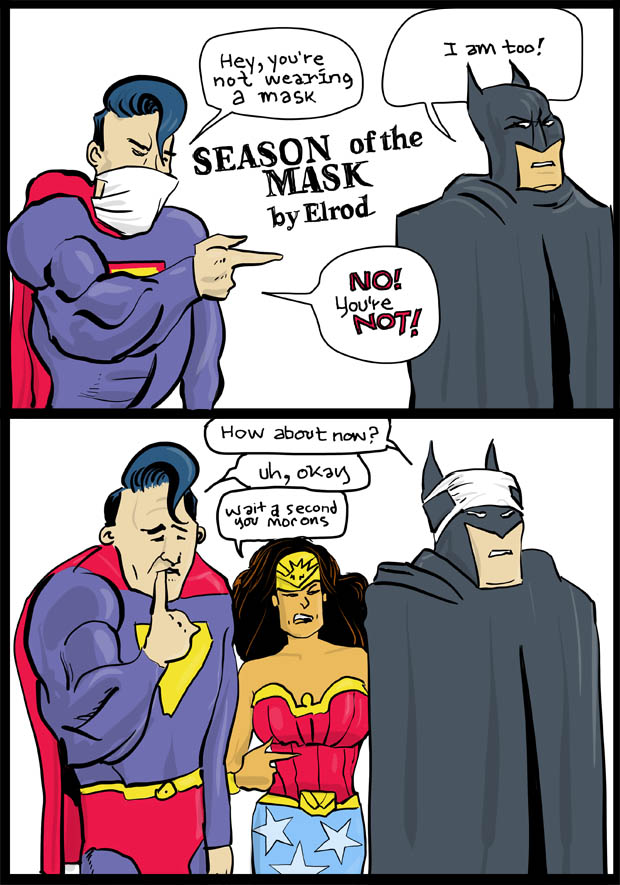 More Superhero Mockery
---
Coming comic books on schedule from publishers
Industry starting to wake up - CBR
---
Marvel shipping to stores end of May
Starting with a few titles and building up between May 27 and July 8.
Story at NY Times
---
Praise and hate for "emo Spider-Man"
About the third Sam Raimi Spiderman film - at Collider
The scene, from Sam Raimi's Spider-Man 3, is one of the most divisive, criticized moments from a film already regarded as one of the genre's most disappointing duds. It is, in fact, aggressively cheesy. It is, for sure, a gigantic swing. And it's also a genuinely clever bit of character work that's unlike anything in the comic book movie realm both before and afterward, offering the kind of layering that the MCU could absolutely benefit from borrowing once in a while."
---
Has Pandemic changed movie theater going forever?
Story at Times Union
---
For DC "New Comics Day" is now Tuesday
The new comic distributing companies Lunar and UCS will have Tuesday as their new comics release date, instead of the traditional Wednesday release Diamond Distributors use (and requires from retailers).
Story at Bleeding Cool
---
Hathaway as Harley Quinn
Originally, Anne Hathaway thought Nolan's 2012 Dark Knight sequel film was looking for a Harley Quinn, so she came to her meeting with the director dressed somewhat like Joker's favorite heart throb, expecting that was the role he was seeking to fill.
"I came in and I had this lovely Vivian Westwood kind of beautiful-but-mad tailoring top with stripes going everywhere," Hathaway recalled. "And I wore these flat Joker-ey looking shoes. And I was trying to give Chris these crazy little smiles."
Story at IGN
---
New Diamond Previews catalog #380 coming May 27
Will contain items for August. Details at Newsarama
---
Spider-Man's official cinematic home has an exciting, familiar new name
... IGN has confirmed that Sony has given an official name to the series of films they plan to make using characters from Marvel Comics: Sony Pictures Universe of Marvel Characters. It's not as catchy as the Marvel Cinematic Universe, and the acronym SPUMC doesn't have quite the same ring to it as the MCU. But it does the job of indicating that these films are based on the immensely popular Marvel characters, and don't rely solely on Spider-Man to attract viewers..."
Well, it's better than SPASM (Sony presents a Spiderman Marvelverse).
Story at IGN
---

---

---
---