Archive Page 2159
March 17, 2023
---
If you have seen the work of Roy Lichtenstein in the various museums that hold his art pieces, then you know that his sourcing from comic books is pretty deep.
More on Roy Lichtenstein and the comic books he cribbed from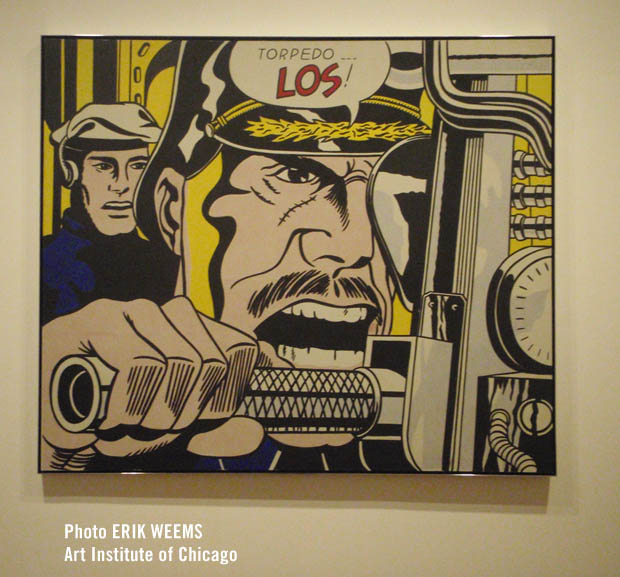 Torpedo Los, art by Lichtenstein
---
A copy of Detective Comics #27 with significant damages but still rated a "6", going up on auction
Story at Washington Times
---
Is Zack Snyder up to something new? Is Man'O Steel and Snyder's Cut of the Snyderverse Justice League coming to theaters? – Comicbookmovie
---
We asked GPT Model 4 AI intelligence: With Quantumania losing money, the question arises, what comic book superhero movie has had the highest profit versus production cost that has yet been made?
Answer: As of my knowledge cutoff date in September 2021, the superhero movie with the highest profit compared to its production cost is Deadpool from 2016, which was directed by Tim Miller and starred Ryan Reynolds as the titular character. The movie had an estimated production budget of around $58 million, and it grossed over $782 million worldwide, making it a massive financial success with a high return on investment.
---
Yes, I'm directing Superman: Legacy to be released on July 11, 2025. My brother Matt told me when he saw the release date he started to cry. I asked him why. He said, "Dude, it's Dad's birthday." I hadn't realized. pic.twitter.com/ohQNV8nI4g

— James Gunn (@JamesGunn) March 15, 2023
---
Marvel keeps taking body blows
Boy, looking at the news and the usual places on Youtube, Marvel/Disney is taking a beating. Disney/Marvel does everything wrong, disappoints everybody, and is getting near the end of their rope, etc. Maybe after this gloomy trend works itself out (and Marvel doesn't do anything to feed it) there will be the predictable "comeback" movie that'll show Disney/Marvel is "back on track" and like a celebrity who has graduated from the tabloid news headlines about disastrous decisions and drunken ruts, is now on the glossy celebrity magazines telling one and all how they've grown up and have experienced real love at last. When that moment comes hopefully the fanbase is rooting for Disney/Marvel to make a good film that shows the world all that success wasn't a weird fluke, instead of a crowd of burned-out gawkers hoping for a spectacular failure that nails the coffin shut.
---
"May the Marvel Cinematic Universe (MCU) rest in peace" – The Burlingame B
Marvel is simply not producing good movies, especially when compared to 10 years ago. Clearly, seeing a good movie matters far less to viewers than the hype that surrounds it. Personally, I dislike the fact that Marvel movies are taking up all of the time slots in movie theaters — slots that could be occupied by other, better movies."
---
Dawn of DC
Story at Yahoo News and more about it also at Yahoo News here
Dawn of DC initiative means new creative teams and runs on various well-known books, like Josh Williamson and Jamal Campbell on Superman (already underway) and then soon Tom King and Daniel Sampere on Wonder Woman. Also, Flash gets a reboot, and Steelworks and Hawkgirl are new titles.
Dawn of DC is an effort to create easy story start points for new readers to begin reading.
---
Does this mean no more sequels for other popular Marvel characters? – Digital Trends
---
"Black Adam bombed and Henry Cavill got fired from DC and its all Dwayne Johnson's fault" – MSN Fortune
---
Shonen Jump introducing new title – comicbook
---
Marvel What if? show invents entirely new superheroine not derived from comics – Superherohype
---
Comic books 😂 pic.twitter.com/YAoPHqhTpv

— 🔫UR a Smart Ass, Carl🔫 (@Ur_a_Smartass_C) March 11, 2023
---
Anime version makes for big jump in sales for Bocchi the Rock! – Comicbook
---
Oscars 2023 'Everything Everywhere' wins seven statues – USA Today
Michelle Yeoh takes best actress for Everything Everywhere All at Once
The movie is a multi-dimensional sci-fi film that in many ways acts like a Marvel or DC movie and its obsession with time travel/do-over dimensions, except Everything Everywhere All at Once doesn't have superheroes, and its story is more tightly wound and executed versus a Disney/Warners version with tights.
---
But you merely adopted comic book collecting; I was born in it, molded by it. I didn't see my first graded book until I was already a man, by then it was nothing to me but plastic and dreams!

— Aaron Meyers (@AaronMeyers) March 11, 2023
---
Quantumania will probably finish out its run under $500 million – comicbookmovie
Bad news for the franchise and for Marvel in general, and last but not least, movie theaters that bank on high-earning movies to make up the massive deficits that have developed since the pandemic wrecked auditorium venue earnings.
---
"We all knew it was inevitable ... Quantumania is the first MU movie people are apologizing for" – Comicsbeat
It will take more than one shoddy Ant-Man movie to halt the Marvel juggernaut

...
---
Dwayne Johnson to sue/not sue James Gunn/DC – Boundingintocomics
---
Bob Iger at Disney: we've got a lot of characters and we've got New Avengers to come
Story at Yahoo News [English]
Internet commentary seems to be saying that Mr. Iger is telling the investment class who are the ones that help finance Disney projects through stock buying is that even though the cast of actors from the previous billion-dollar movies have mostly all departed, Marvel has a lot of other great ideas (bought with Marvel) ready to go.
Marvel — there were 7,000 characters, there are a lot more stories to tell. What we have to look at at Marvel is not necessarily the volume of Marvel storytelling, but how many times we go back to the well on certain characters," Iger stated. "Sequels typically work well for us. Do you need a third or a fourth, or is it time to turn to other characters?"
Ant-Man and the Wasp: Quantumania is the marker for the beginning of Phase 5. Phase 5 projects includes Guardians of the Galaxy Vol. 3, Loki Season 2, The Marvels, and Thunderbolts. Looking forward, Phase 6 probably means Fantastic Four, Avengers: The Kang Dynasty, and Avengers: Secret Wars.
---
'I Don't Need to Be in the MCU, I'm Nic Cage'
Story at MSN Variety
---
Ant-Man Quantumania at $456,027,697 Worldwide – Boxofficemojo
---
Yes, Manga confirmed with rising high sales – Comicbook
Apparently, the Japanese Manga industry took a look at the American comic book market and said "Hey, since you're not really using it, how about I use it to sell some of these Manga books to the tens of millions of kids who don't wanna read American comic books?"
Once considered niche products outside of Japan...reading manga online has never been easier, and the industry is selling volumes like mad. And now, a new report confirms manga is still growing in the United States. ...manga readers pushed the medium's sales up 9% year over year. And when talking about sales at comic book stores, figures increased 12.5% from 2021 to 2022.
---
How long can sales be terrible and the Big Two not care?
The video discusses the mental situation for the Big Two: DC and Marvel are treated as marketing arms by the big entertainment companies which own them. Because of the money to be made off of licensing the characters, the comics divisions just don't cost that much, and in the end they do cover the costs for publishing, so a normal competitive situation (say, the Big Two going up against Manga) isn't pressing on them that hard. Also, the Perch video says there's a corporation mentality of comfort within the Big Two, meaning, though maybe the business is declining slowly and sales aren't what they once were, the larger businesses that own them have made it safe to operate in this manner.
The comparison that makes this even simpler is that Manga "went everywhere and built a media empire.... relentlessly and aggressively." So why have the BIg Two let it happen that way?
You've got billion-dollar movies, recognizable licenses around the world. ...Marvel and DC should just be fucking taking names and killing everything in its path... That's what would be normal... that fact it's not... it's struggling, that it's allowing Manga to eat its lunch, the fact its allowing comics to slip into 40,000, 30,0000, 20,0000 ....that's its wholly dependent upon the Direct Market as a channel. Is this failing? We can argue that its not winning."
---
The rumor that Henry Cavill was coming back to the DCU to play Frankenstein in Creature Commandos gets debunked – Comicbook
Would have been quite the ironic casting.
---
The most popular American Comic Book character in Europe?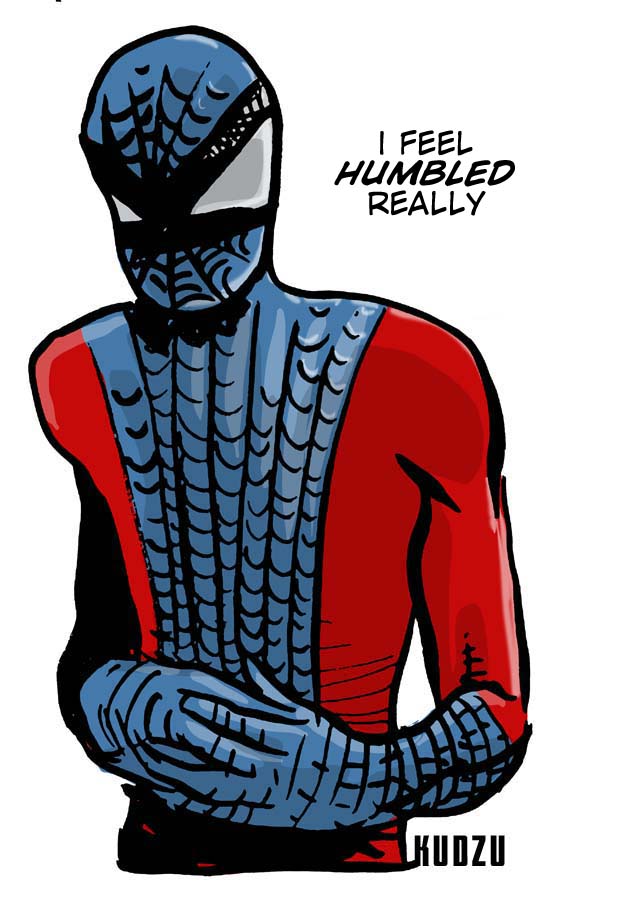 Research leads no where since publishers keep numbers secret, but the likely character (according to a query to CHAP GPT) that the most popular in Europe is Spider-Man (there's been polling elsewhere to help substantiate this)*. After Web-head, there's Batman, Superman, and the X-Men.
* A long time ago I was in Europe and the Kiosks would have Marvel comic books(but no DC) pinned and hanging where kids could see them amid the comics particular to that country. It was an impressive thrust for Marvel to get their English language books out in front of people who would likely only be able to follow the story via the visual storytelling.
---
Colin Farrell back in Oswald Cobblepot gear as shooting on The Penguin TV show gets going – MSN News Metro
---
The twenty top Graphic Novels of Feb 2023 in sales
Adventure Zone seems to be the only American title in this list
My Hero Academia Vol. 33
The Adventure Zone: The Eleventh Hour
Demon Slayer: Kimetsu No Yaiba Vol. 1
Chainsaw Man Vol. 1
My Dress-up Darling Vol. 7
Spy X Family Vol. 1
My Hero Academia Vol. 1
Chainsaw Man Vol. 2
Chainsaw Man Vol. 3
Komi Can't Communicate Vol. 23
Spy X Family Vol. 2
Spy X Family Vol. 3
Kaiju No. 8 Vol. 5
Jujutsu Kaisen Vol. 18
Chainsaw Man Vol. 4
Chainsaw Man Vol. 7
Blue Lock Vol. 1
Chainsaw Man Vol. 9
Chainsaw Man Vol. 10
Chainsaw Man Vol. 5
Derived from the NPD Group/BookScan
---
ITHICON tickets for April 22-23 show go on sale, Ithica New York – Graphic Policy
---
"Quantumphobia" – Comicsbeat
We all knew it was inevitable that the MCU, for the last decade the hottest franchise on planet earth, would eventually cool down.
---

---

---
---
Original page Febraury 14, 2023