Archive Page 2103
September 23, 2021
---
The 1964 Hobbit Comic Book - Tolkien disliked the Gandolf depicted therein – Story at Cheatsheet
---
Is the Faith movie from Sony/Valiant no longer happening? – Cheatsheet
---
Can coming films like Venom and No Time to Die boost boxoffice? – Variety
---
And now there's a Batman line of makeup: Catwoman, Harley Quinn Etc. – Pink News
---
---
The decline of American Comic Books
"Kelly Sue DeConnick Laments The Abysmal State Of Comics After Telling People Not To Buy Her Books"
Article at Bounding into Comics
When asked why, she responded, "Because stores are closing at a phenomenal rate. Independent comic sales are down. Mainstream comic sales are down except the top three or five books are up. Everything in the mid list is way down."
---
Pandemic spurs increase in Comic Book Collecting – FOX9
---
Wayne Family Adventures webtoon gets half-million views on weekend premiere – Cheatsheet
---
Is Spider-Man III Venom in Spider-Man Now Way Home? - Yahoo News
---
The Snyder Cut Justice League tops Bluray sales – Comicbookmovie
---
Gal Gadot with Batman head gear for Batman Day at People Magazine
---
---
Third weekend of triumph for Shang-Chi
$6.1 million added to the domestic earnings column. Worldwide earnings now at $320,593,555 million. (Production budget on the film was $200 million)
Story at United Press Int'l
More at Shang-Chi and the Legend of the Ten Rings
---
Ticket sales indicate comic book conventions returning to popularity – WTOL
---
The Flint, Michigan Spider-Man – M Live
---
DC Comics' media blitz for Batman Day - Cheatsheet and at Benzinga
---
Counting superhero movie money this weekend
September 17, 2021
Black Widow – Worldwide earnings at $377 million against a production budget of $200 million
Shang-Chi – Worldwide earnings at $273 million against a production budget of $200 million
For comparison sake: F9 at $714,409,845 worldwide earnings
[Sources: TheNumbers and BoxOfficeMojo]
---
Maybe Bendis is writing Batman soon – Newsarama
---
Marvel Comics list of December releases – Gamesradar
---
Granite State Comicon is on in New Hampshire – Comicon web site
---
Batman Day: 82 Years of the Dark Knight
Story at MSN News
---
New photos of Catwoman/Selina Kyle from The Batman – Wegotthiscovered
The pic sees Kravitz in her burglary-ready balaclava
---
Venom/Tom Hardy connection to Spider-Man No Way Home – Sports Keeda
---
More losses for Diamond Distribution: IDW is moving to Random House
Story at MSN News and at Publishers Weekly
---
Akira on DC Static Shock cover – Comicbook
---
Cover to Batman #118 recalls Spider-Man #1 cover by Todd McFarlane
Story at Games Radar
---
Is an NFT artwork or a meme? – Spectator
---
Ban on Shang-Chi in China? – Variety
---
Superman animated cartoon series 25th anniversary – Flickeringmyth
---
Bookstores have huge increase in sales for July 2021 vs last year – Publishers Weekly
---
Yumacon in Yuma, Arizona, Oct 2, 3 – KYMA
More about Yumacon
---
The pandemic and superhero movies: what's ahead? – Columbia Tribune
---
Kim Kardashian's MET superhero outfit – UK Daily Mail
September 15, 2021
Reminds CBB of: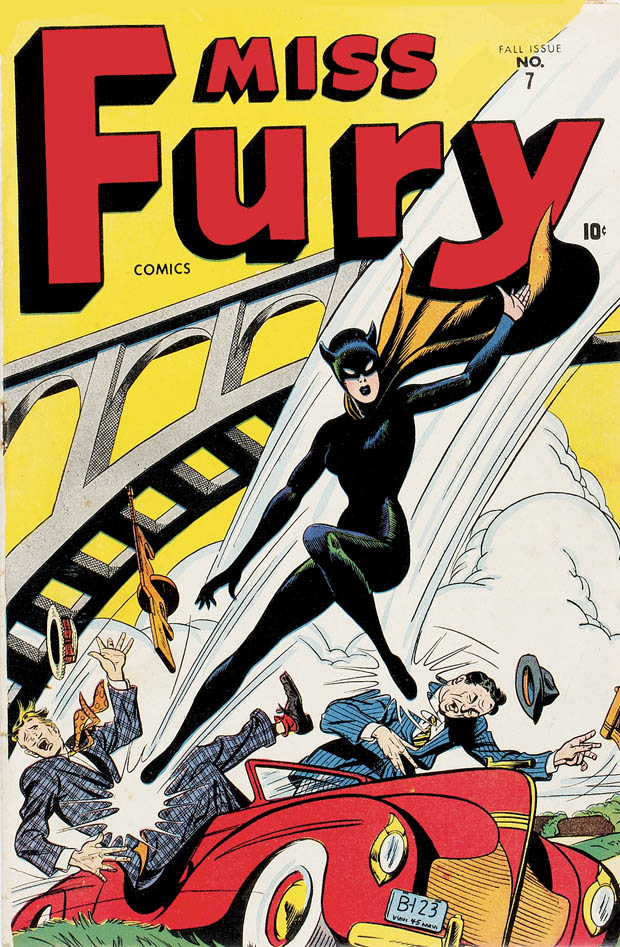 Miss Fury, cover issue #7, Fall 1945, cover by Alex Schomburg
---
Collectible comic books are going into a new "golden age"– Antique Trader
The hobby right now is burning hotter than Ghost Rider's flaming skull on the cover of his debut, Marvel Spotlight #5 — a comic from 1972 that originally cost 20 cents and recently sold at auction for $264,000.
...during the opening session, a CGC Fine+ 6.5 copy of Batman #1 brought $576,000, the highest price ever realized for that historic book in that grade. This has been such a record-shattering year for the Dark Knight that even a CGC Good 2.0 copy of his 1940 solo debut now sells for $222,000, a once unfathomable number.
Nice overview of whats happening right now in collecting with a lot of cover art images, too.
---
Spidey now the most expensive comic book, beating out Bats and Supers – Cheatsheet
---
HBO Max cartoon Harley Quinn show gets a third season – Cheatsheet
---

---

---
---
Original page September 30, 2021