Archive Page 2128
March 29, 2022
---
Whatever we call them, comics are books – Publishers Weekly
The article gives us a history lesson on the development of comics material into major sales centers for the book trade.
...no matter what we call comics—be it comix, comic books, cartoons, webcomics, and so on—they are also books. The transition of North American comics publishing from the traditional monthly comic book format to an emphasis on books has also influenced American comics storytelling commercially and artistically. Over the past 25 years or so, the book format and the book trade have had a tremendous impact on the popularity, sales reach, and diversity of comics material of all kinds published in the U.S. market.
...The popularity of book format comics—graphic novels and graphic nonfiction—in the North American marketplace highlights a key moment of development in the comics medium, as well as in the comics business in America.
More education from this point of view with a timeline tracking developments from 1996 to 2020 – also at Publishers Weekly
(The timeline fails to incorporate earlier milestones, such as Will Eisner's Contract with God graphic novel and Rich Corben's Bloodstar from 1976.
---
Bill Sienkiewicz exhibit at the New Dunn Museum – Daily Herald
The Dunn Museum, Illinois website
Bill Sienkiewicz (pronounced sin-KEV-itch) is an Eisner-winning and Emmy-nominated artist, best known for revolutionizing the style of comic and graphic novel illustration over the past four decades. Landmark works such as Marvel Comics' Elektra: Assassin and his acclaimed graphic novel Stray Toasters, have earned him an international reputation and cult status across media industries. This exhibition showcases sketches and original paintings spanning the artist's career from the 1980s to present day. View over 60 works of art and video interviews to discover how Sienkiewicz's renderings incorporate abstract and expressionist influences. 
---
Manga title My Dress-Up Darling adds new millions of copies sold to total – Comicbook
Square Enix's Weekly Gangan magazine (as reported by Anime News Network) has announced that the manga now has six million copies in circulation. This is 2.5 million more than before the anime's release, and continues an upwards trend as the series had grown to five and 5.5 million copies through the anime's run.
Meanwhile, in American comic books: Scorched #1 from Image sold over 257,000 copies to retailers – Comichron
---
Profile of Bill Sienkiewicz and Moon Knight – Forbes
Sienkiewicz didn't create Moon Knight. That was writer Doug Moench, working with artist Don Perlin, who debuted the character as a villain in an issue of Werewolf by Night in 1975. The spectral mercenary proved enough of a hit with fans that Marvel kept bringing him back for guest appearances and backup stories. One such backup appeared in Rampaging Hulk magazine, and it was low enough stakes that Marvel assigned the art chores to a raw 20 year-old newcomer who'd come recommended by top artist Neal Adams.
Seeing the talent evident even in those earliest works, editors scrambled for projects to keep Sienkiewicz in the Marvel fold. They offered him and Moench a monthly Moon Knight series in early 1980 that became one of the first Marvel comics sold primarily through the direct market rather than newsstands. Moon Knight was a tremendous hit, and it's fair to say the character and the artist put each other on the map.
---
Why won't the "big dumb movie franchises" die? – Daily Beast
---
Josh Brolin almost played Batman – MSN
---
You could own a "batcave" in Manchester, England – MSN News
A newly listed property in Manchester, United Kingdom may leave you wondering if this is where Batman might reside. A recent listing on luxury residential and commercial brokerage firm NestSeekers, offers a glimpse into an all-black flat situated at Manchester City Centre. Dubbed as "Gotham City," the fictional city where the DC Comics superhero resides, this flat comes with luxurious amenities but with walls and interiors painted in black. A look at the pictures of this flat and you may either completely like it or just experience a weird feeling.
---
DC comics has multi covers for Batman #125 on sale July 5 – DC Comics
Here's how DC describes it:
Features a wraparound cover by Jorge Jiménez
Variant cover by DC Publishing and Chief Creative Officer Jim Lee
Variant cover by InHyuk Lee
Variant cover by Gabriele Dell'Otto
Acetone variant cover by Simone di Meo
Black and white variant of the main cover by Jorge Jimenez
Variant cover by JOCK
Foil variant cover by Alex Garner
Variant cover by series writer Chip Zdarsky
Black and white variant cover of Jim Lee
---
Superman triumphs over Spider-Man in collectible sale record
Story at BroBible
Today, Certified Guaranty Company, the world's biggest comic book grading company, reported that a deal had been brokered back in January for the sale of an 8.0 graded copy of Superman 1 at a price of $5.3 million.
The previous record for biggest sale in comic book history came back in September when a 9.6 graded copy of Amazing Fantasy #15 (the first appearance of Spider-Man) sold for $3.6 million dollars. Now that number has been demolished by Marvel Comics' greatest rival.
---
Mad Cave Studios is seeking creator-owned work
Here's the story at ICV2
Here's their website
---
Dueling display stands at Wal-Mart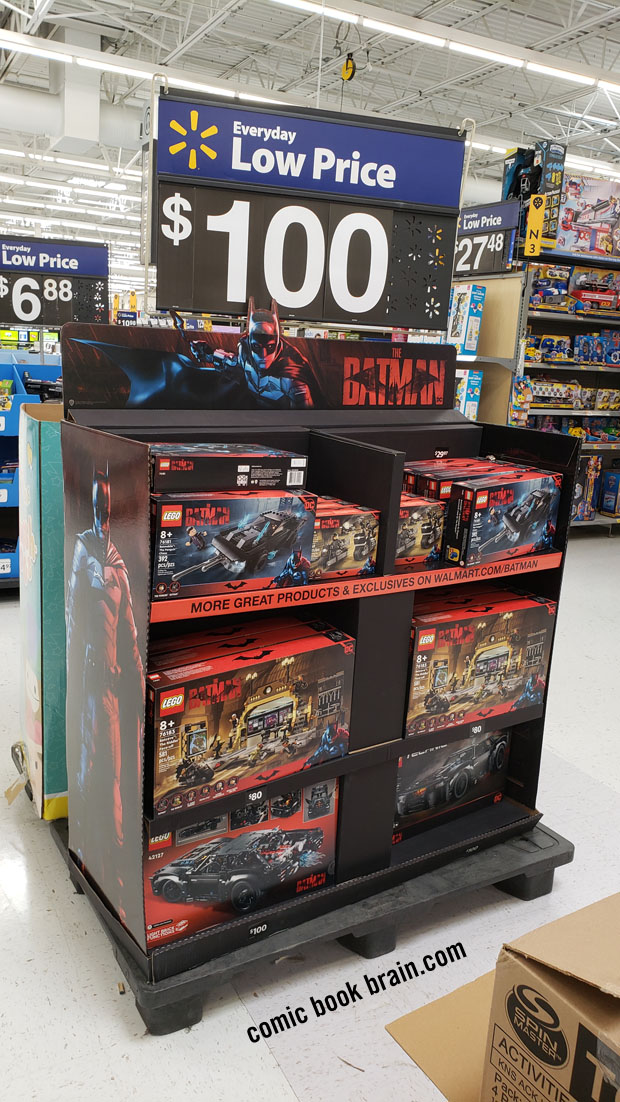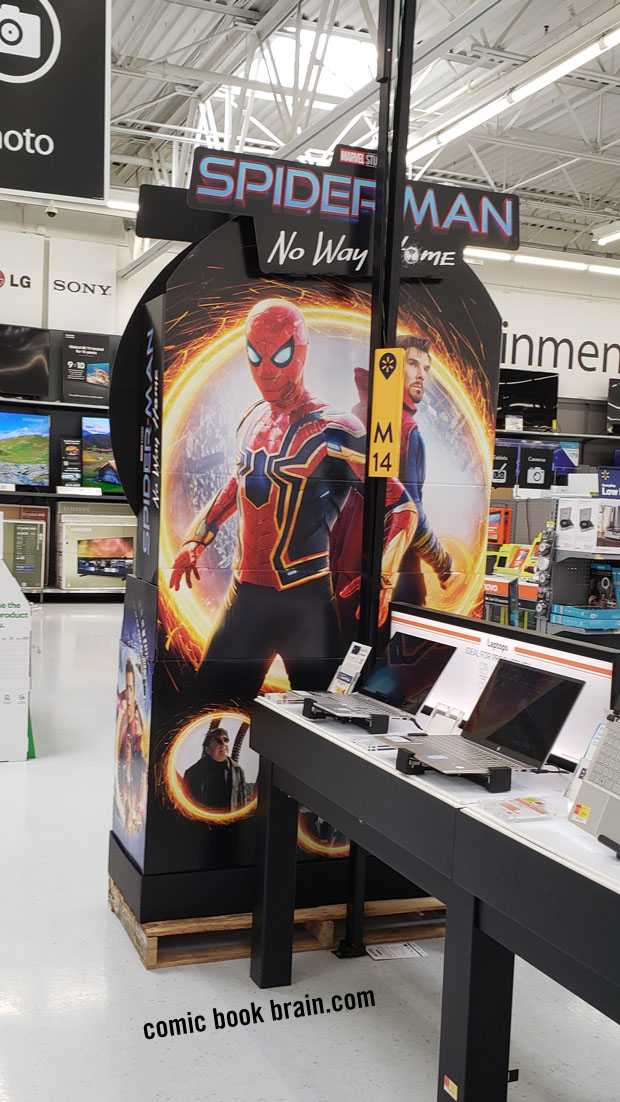 ---
That copy of Superman that sold for $5 million
Story at Comicbook
The comic market has been experiencing record growth of late, evidenced by other multi-million-dollar sales that include two copies of Action Comics #1 (CGC 8.5 for $3.25 million, which in hindsight feels like an absolute bargain), Captain America Comics #1 (CGC 9.4 for $3.12 million), Marvel Comics #1 (CGC 9.2 for $2.4 million) and Batman #1 (CGC 9.4 for $2.22 million).
---
Webtoons doing three DC titles – Econo Times
The four-day April 7-10 Comics & Comic Art Signature Auction kicked off its with a few record-setting, international headline-making marvels starring Captain America and the Fantastic Four, but the record breaking sales then just kept coming. The four-day event was, in every sense, a tale to astonish. Nearly 6000 bidders from around the world participated in the auction,and every single one of the 1766 lots offered was sold – every historic issue, every singular work of art, every ephemeral keepsake (including Warren Publishing's accounting ledger, spanning 1968-1972). The final number was split almost evenly between comic books and original art. No auction has ever before approached the $14,040,290 (£10,782,240) realised by the art alone sold during the four-day event.
---
Heritage breaks records again with latest auction series of comic book items – Down the Tubes
---
Manga and Comics growth continues into 2022 – MSN News
---
Sales on comic books soaring... in Maine – Press Herald
---
The $3.2 million dollar auction of Captain America #1 means it is now the 5th most costly comic book in the world – BroBible
---
Issue #1 of Fantastic Four sold for $1.5 million on Thursday – Forbes
See the item at Heritage Auctions
Fantastic Four #1 (Marvel, 1961) CGC NM- 9.2 White pages. This is the most stunning copy of the premiere Marvel Age issue we've seen since we offered the White Mountain copy over eight years ago in the same grade and page quality. No other copy we've offered in our 20+ year comic auctioning history comes close to this beauty! Frankly, it looks nicer than 9.2! But even at 9.2, it has few peers in CGC's census.
---
Superman game for Unreal 5? An imaginary possibility – Comicbook and Gamespot
---
Fandango says that Doctor Strange In The Multiverse Of Madness is breaking records for Advance Ticket Sales – Comicbook
---

---

---
---
Original page April 30, 2022