The Batman Movie 2022
Release scheduled for March 22, 2022
Review: The Batman 2022 with Robert Pattinson
Log of news on the coming Robert Pattinson / Matt Reeves film
Reeves was named as director Feb 23, 2017. There was a period of time when he quit the film before rejoining production.
Cast
Batman (Robert Pattinson)
The Penguin (Colin Farrell)
Catwoman (Zoë Kravitz)
Alfred Pennyworth (Andy Serkis)
The Riddler (Paul Dano)
James Gordon (Jeffrey Wright)
Carmine Falcone (John Turturro)
(CBB asks: why ain't Bat-Mite in the cast?)
---
"So many people connect with him on such a deep level for so many reasons," says Pattinson, a longtime Bat-fan.
He also told a story about how, doing an early screen test, Pattinson had to wear Val Kilmer's rubber Batsuit from 1995's "Batman Forever."
"It was crazy but I remember putting it on and thinking, 'This is going to be absolutely impossible.' I remember doing like two takes and (director Matt Reeves) being like, 'What can we do about that sweat?' Nothing!"
Story at Yahoo News
---
Kristen Stewart as Joker vs the Pattinson Batman?
October 21, 2021: Crazy ideas at Yahoo News
---
"That's Robert Pattinson's Real Voice in The Batman" – Popsugar - October 21, 2021
---
July 10, 2021: Pattinson says "no thanks" to working with director Matt Reeves again – Wegotthiscovered
---
June 21, 2021: Batman Pattison film is getting reshoots – Cinemablend
---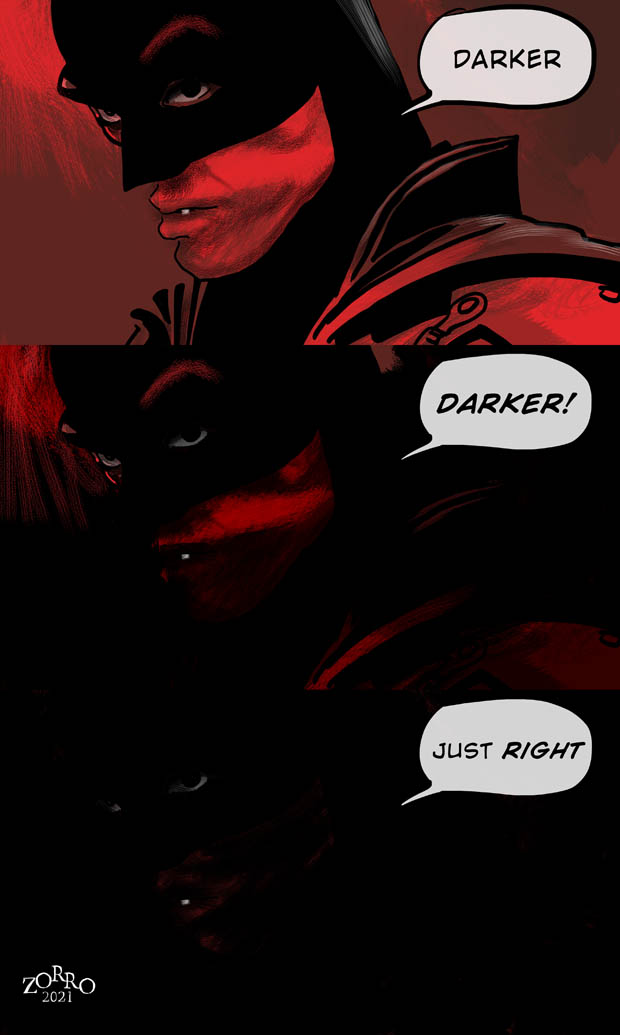 Pattinson said he wants The Batman movie to be even "darker" – Koimoi
---
Plans for expanding Matt Reeves/Pattinson The Batman story world
Story at Cinemablend and at MSN News/Deadline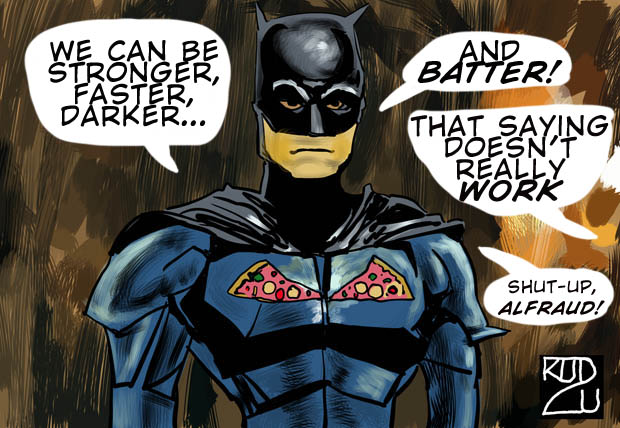 ---
The Pattinson "Batman Universe" to get its own Superman
June 3, 2021: So says We Got This Covered
---
Warner Bros and Pattinson sign big deal on future films
May 24, 2021: The star of next years The Batman is getting deeper into the Warner world - story at Hollywood Reporter
---
New Pattinson and Riddler pix released for The Batman movie
May 20, 2021: Story at MSN News
---
April 2020: Like most film projects around the world, The Batman shutdown for the pandemic. News at the time said approx 25% of the film had been shot.
---
---
---
The Batman movie resumes production
At this rate, we'll get to see Pattinson (as Bruce Wayne/Batman) literally age as we watch the finished movie since it will be made up of scenes shot over a longer and longer period of time.
Story at SF Gate
September 17, 2020
---
Catwoman to have 'Strong Femininity' in coming Batman movie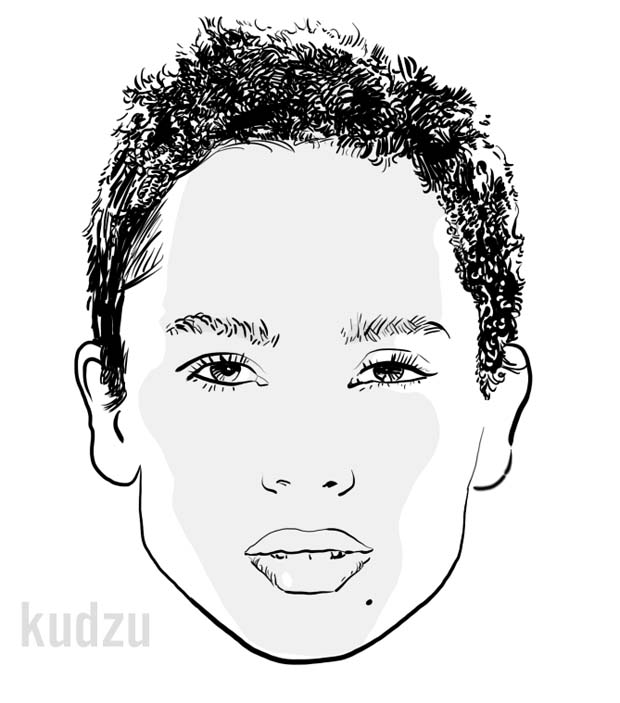 Story at Indie Wire
---
Batman film to ape Joker?
With Joker piling up the Academy Award nominations (beating out the previous most nominated superhero film which was The Dark Knight) and considering Jokers $1 billion dollar boxoffice, the impact it is having on the future of superhero movies, particularly and obviously DC/Warner superhero movies, is becoming evident. Declarations that the next Batman movie will be going in Jokeresque directions seems to be manifesting with the people attached to the project driving media headlines like "Robert Pattinson Is Ready to Push The Batman in a Really Crazy New Direction - Movieweb."
Similar:
Peter Sarsgaard says The Batman has an edge - MSN News
Peter Sarsgaard says The Batman filled with the power of chaos - Comicbook Movie
---
---
Coming Batman movie loading up with supervillains
Shades of Schumacher
November 5, 2019
Media (article at Deadline Hollywood) is saying Colin Farrell could join cast as Penguin. If so, that brings the super villain count to three. The cast now stands as:
Rob Pattinson as Batman/Bruce Wayne
Paul Dano as The Riddler
Zoe Kravitz as Catwoman
Jeffrey Wright as Commish Gordon
Three villains gives me a flashback to Joel Schumacher's Batman and Robin which also was a three-villain fest (Mr. Freeze, Poison Ivy and Bane) and is usually considered the poorest Batman film of all time.
---
Everything Batman in entertainment news means these kinds of articles:
October 2019
"Robert Pattinson Reveals His 'Piratey' Batman Voice Will Be Inspired by Willem Dafoe " - MSN News
"Robert Pattinson Wants His Batman To Be 'Frightening'" - Cinema Blend
"Robert Pattinson wants to lose himself in Batman role" - MSN News
---
Batman cast confirmed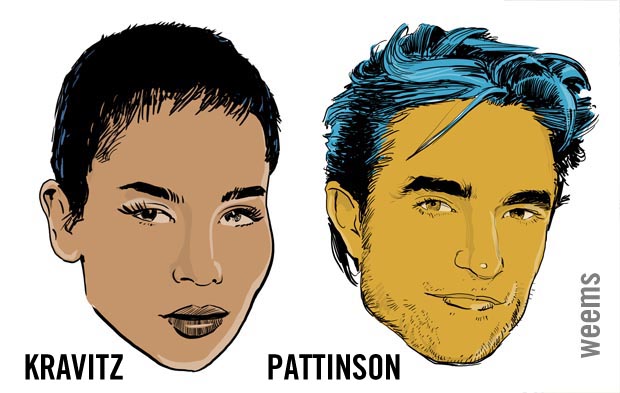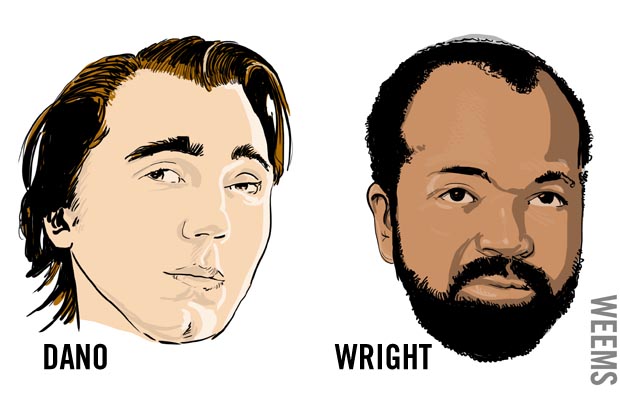 Matt Reeves' BATMAN cast:
Robert Pattinson is Batman
Zoe Kravitz is Catwoman
Jeffrey Wright is Commissioner Gordon
Paul Dano is The Riddler
---
Batman Movie News
September 4, 2019: Robert Pattinson as Bruce Wayne, blah blah blah:
Vanity Fair - He's "f*cking furious!"
Indie Wire - He "got furious!"
Variety - "The pressure of being Batman"
USA Today - "He's relieved"
MSN News - "He's unfazed!"
---
Batman: Pierce Brosnan as Alfred?
Movieweb.com goes over the rumours, and the pros and cons of it really happening.
---
Bat-Man back-lash
July 2019
Complaints and defense of Robert Pattinson (famous for Twilight) being cast as Bruce Wayne/Batman at Salon (via Michael Uslan, longtime Batman movie concierge at Warner Bros). Pattinson is working on Chris Nolan's Tenet movie currently and was going to next be doing a Souvenir sequel with Joana Hogg, but is apparently skipping that and (according to comicbook.com) going straight into Matt Reeves' The Batman, the big "tent pole" movie for Warner scheduled for June 2021.
---
Review: The Batman 2022 with Robert Pattinson
---

Batman: Year One (Batman (1940-2011) - Amazon
---
More Batman on this website
The Batman movie 2022 - Robert Pattinson
Adam West - Batman for All Time
All the Batmen - actors who played the Dark Knight
Batman and Robin 1997 - The greatest superhero film of all time
Batman Family - the past and future of Batman
Batman Returns 1992 - Tim Burton II
Batman V Superman Dawn of Failure
Batman the Billion Dollar Hero
Detective Comics #27 - First Batman appearance
Joker Graphic Novel by Azzarello
Is the Bat-suit funny looking, and Mask of the Phantasm
---
Comic Book Movies
The Coming Comic Book Movies 2023-2026
Top Earning Comic Book Superhero Movies
---
Screen Reviews
Short Review: She-Hulk, Attorney-at-Law
Fast review: Dungeons and Dragons: Honor Among Thieves
Dungeons and Dragons Honor Among Thieves – a Film with antecedents – Harry Potter plus Guardians of the Galaxy plus Lord of the Rings, etc.
Fast review: Dungeons and Dragons: Honor Among Thieves
Dungeons and Dragons Honor Among Thieves – a Film with antecedents – Harry Potter plus Guardians of the Galaxy plus Lord of the Rings, etc.
---
---
Original Page March 2020 | Last updated April 4, 2023