Joker Movie Log
Joker officially joins the Billion Dollar Club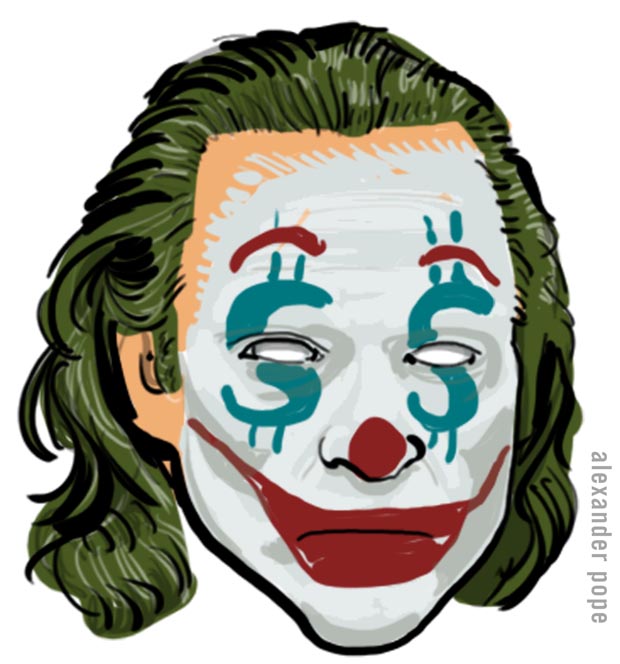 Earnings as of January 26, 2020: $1,070,401,461 Worldwide
Related: Joker the cardboard movie display case: enjoying the moment
---
---
Behind the scenes at the Joker production
May 2020
Story at ComicBookMovie about director Todd Phillips on shooting scenes with Joaquin Phoenix
---
This is not the plot to a 1954 issue of Detective Comics
Joker gets 11 Oscar Nominations
This will certainly boost sales of the just released Blu Ray and DVD
Story at USA Today
These are the categories Joker is competing for an award:
Best Picture
Leading Actor
Directing
Costume Design
Sound Mixing
Sound Editing
Original Score
Film Editing
Cinematography
Makeup and Hairstyling
Adapted Screenplay

---
Warner's now has a Oscar compaign to get Joker some of those golden statues
Nov 18, 2019: Story at Cheatsheet
---
Joker film Cinematographer Lawrence Sher wins "Golden Frog" Award
Story at Hollywood Reporter
---
$1 billion getting closer for Joker
You can fully expect Joker to finally eclipse that $1 billion mark this weekend at the worldwide box office, making it one of 44 movies in the history of cinema to do so.
Story at Forbes
Update Nov 17: So close, now at $996,539,593 worldwide (according to Boxofficemojo)
---
Joker slows down, at $986,512,810
Can Warners get it over the $1 billion dollar worldwide speed bump? Details on number breakdown at boxofficemojo
---
Joker at $934,011,992 worldwide - eclipsing Wonder Woman, Justice League, Batman V Superman, Suicide Squad, etc.
Nov 4, 2019: Director Todd Phillips' brutal story of how Arthur Fleck becomes Joker continues to gain numbers that shows that a DCU film can still bring in the box office when the film is right. Considering the production cost on Joker is reported at $55 million, the closing-in-on-one-billion-dollar earnings report is a huge shot in the arm for the anemic earnings column of the DCU cinematic world.
Also expect a lot of imitation in follow up in superhero films, though Joker was carefully staged as a "one-off" title and maybe something of an experiment by Warners, but the success in filling seats doesn't lie. The general good critical response is icing on the cake for the applause-deprived world of DCU moviedom.
The 2017 Logan from 20th Century Fox was a "gritty" take on one of Marvel's best known heroes, and now Joker has continued in that vein, but has ramped up the attitude of civilizational decay and character misére, combined with an intelligent script.
Read the Comic Book Brain review of Joker
---
Joker #1 Box office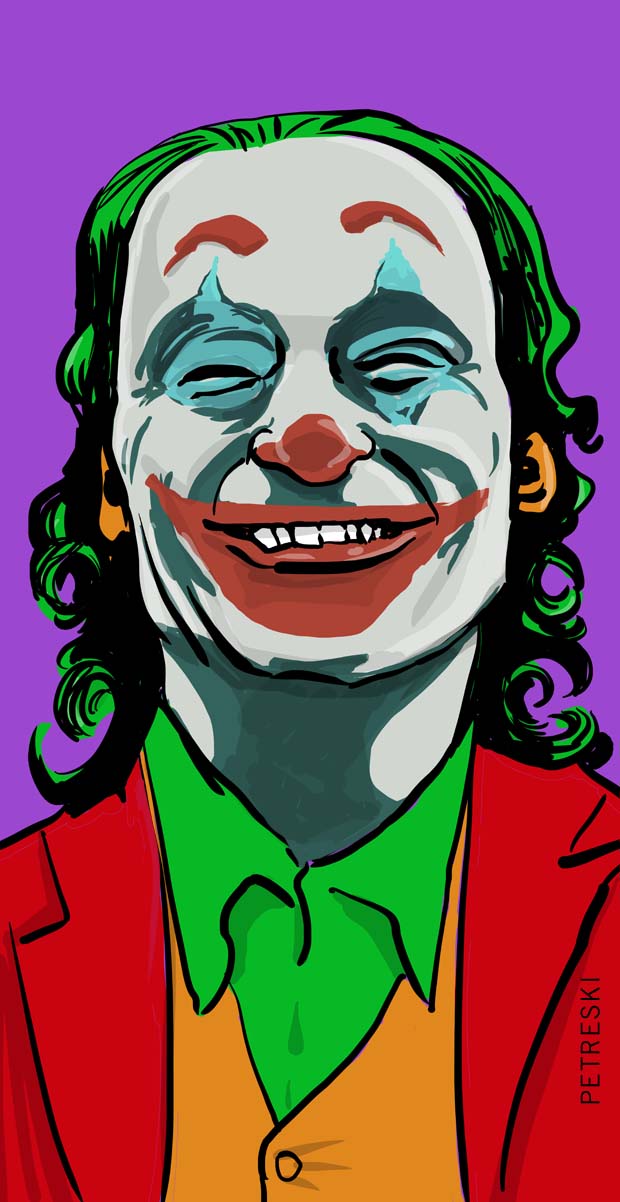 Worldwide earnings at $289,928,787 [Source: boxofficemojo]
The natural result of Joker's success - imitation:
Six DC characters who need a Joker like movie version – Cinema Blend
---
Joker screening violence - in Burbank, Los Angeles - CBS
---
Media latches onto Joker movie success
Washington Post – "edgy comic book fare big appeal"
Collider – "Joker sets records"
Newsarama – "Joker director thanks fans for success"
And this one is funny, as if they're deliberately prodding the bear with a stick:
"How Martin Scorsese paved the way for Joker" – Hollywood Reporter
For context, see:
Armand White for "Martin Scorsese Dissents from the Comic Book Movie Fanboys" – National Review
Martin Scorsese says "Marvel movies ain't real cinema" at UK Guardian
---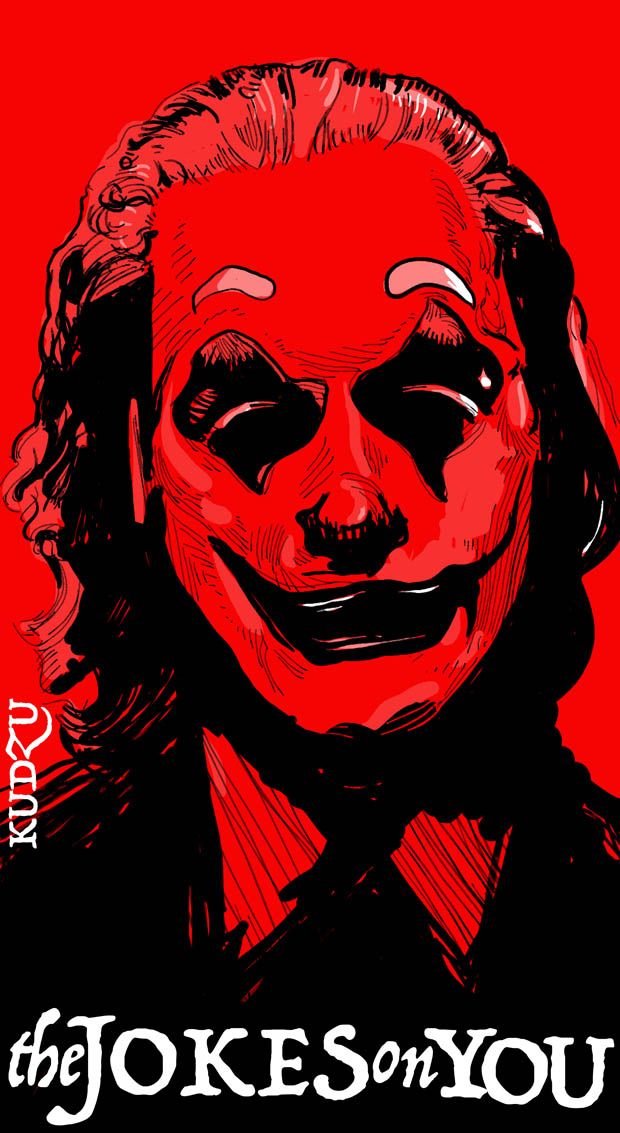 Joaquin Phoenix Joker movie wins the top prize at the Venice Film Festival
Man, if there wasn't already a land rush to grab superhero movie roles in Hollywood, expect it to turbo once the realization that a 4-color movie can get the primo honors in Europe sinks in. I don't know if this is good news or bad.
Chicago Tribune - "Who's laughing now?"
New York Daily News - "Phoenix's menacing portrayal of the consummate evildoer deserved all of the credit."
MSN News - "Joaquin is the fiercest and brightest and most open-minded lion I know."
aaaand, Bruce Pattinson "sparks theory that Joaquin's Joker will crossover into his Batman movie" - Indie Wire - - (UK Guardian talked about this idea a few days ago)
---
Joker the Movie Review
---
---
More Joker
The Joker Movie Log
---
Comic Book Movies
The Coming Comic Book Movies 2023-2026
Top Earning Comic Book Superhero Movies
---
Screen Reviews
Short Review: She-Hulk, Attorney-at-Law
Fast review: Dungeons and Dragons: Honor Among Thieves
Dungeons and Dragons Honor Among Thieves – a Film with antecedents – Harry Potter plus Guardians of the Galaxy plus Lord of the Rings, etc.
Fast review: Dungeons and Dragons: Honor Among Thieves
Dungeons and Dragons Honor Among Thieves – a Film with antecedents – Harry Potter plus Guardians of the Galaxy plus Lord of the Rings, etc.
---
---
Original page January 2020 | Updated March 30, 2020