Batman vs Superman
Batman vs Superman: Dawn of Justice Directed by Zack Snyder
---
Batman vs Superman and the Shadow of Marvel
May 2016
Now that Batman V Superman has come and gone, it looks as if for several years superhero film efforts at Warners/DC have been compromised between two goals: making Marvel-sized money while steering clear of the Marvel style.
Leeching off Marvel would consequently get them labeled as imitators, a morale-damaging issue that would have serious ramifications in the long run, causing problems in enlisting talent and building the large, multi-faceted money-making film universe that only looks simple on the outside when considering DC's army of world famous character properties. The company executives can digest the numbers and see there is a vast audience waiting for superhero movies that meet some undetermined criteria. But, what is it?
The Nolan Batman films harvested that vast audience well (the two Dark Knight movies each grossed over the billion dollar mark) and they contained a style that was not-Marvel. After that, Zach Snyder's Man of Steel did a nice turn with $668,045,518 worldwide gross. That's a great number, but it's not a billion and now it looks like that should have been a warning for Warners/DC.
Disney/Marvel continues to pile up serious box office. Their films come out like clockwork, and of course, the question is what does Marvel have that Warners/DC is lacking? Superficially, Marvel films give a brighter, happier movie experience (with abundant character one-liners) though the plots themselves are dark and charged with fashionable 21st-century cultural angst and paranoia.
---
---
The fear I see among the fanbase is that the easy-fix will be for Warner executives to command the pumping of more comedy into the filmland DCU, which could disastrously lead to the bad decisions that produced Batman and Robin, trashing a whole fanbase in one fell swoop.
The bold move at Warners/DC would be to refine what they've already done, use well what they've got, and to build forward using veteran moviemakers who know how to tell a story clearly and with whatever stylistic panache they've developed on their own.
With Suicide Squad coming later this summer, we'll get to see what Warners/DC has decided to learn from March 2016 (what we know is that they're still shooting new footage for the film even this late in the schedule, apparently in a backlash panic over Batman V Superman,) and that is not a good sign.
Too many wrong moves and this contest between the two biggest comic book worlds could start to look like K-Mart vs Wal-Mart.
---
Superman in Kennett Missouri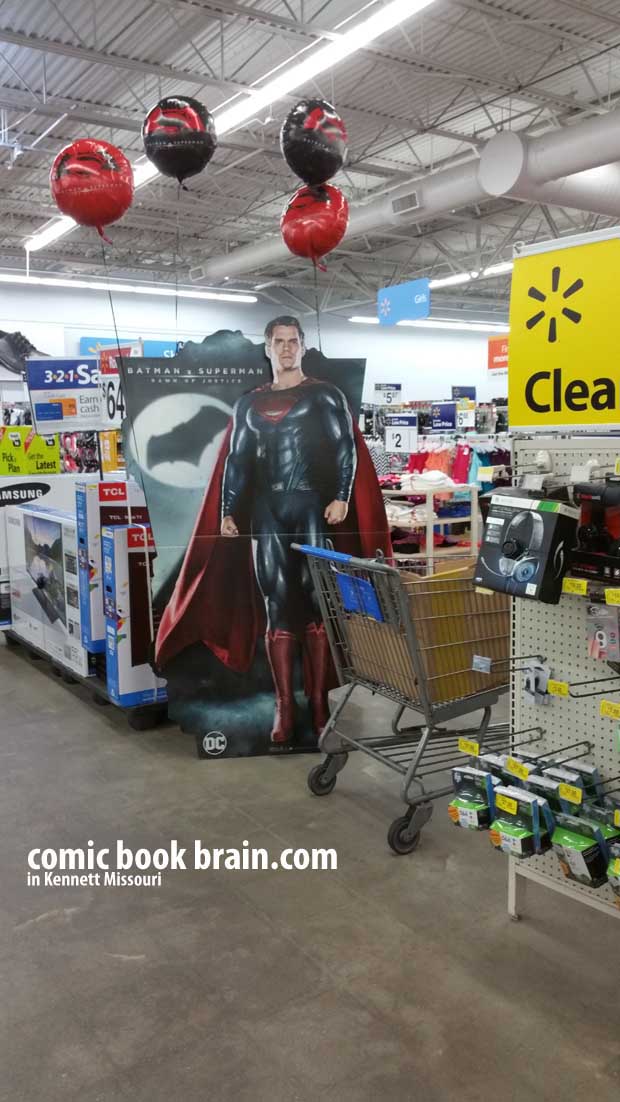 ---
---
Disney v. Warner: How Captain America Beat Batman and Superman
May 27, 2016: New York Times examines what happened between the Batman V Superman V Captain America blowup this spring, and comes up with a lot of the usual ('one film must be better than the other'), but does provide interesting background information on how the films are made and how different the behind-the-scenes efforts were:
"..."Batman v Superman" would seem to have the edge where it really matters to the studios, which is at the box office. It opened first (on March 25). It had the two most valuable intellectual properties in the comic book universe, appearing together in starring roles. And it had enough A-list Hollywood talent to fill a multiplex.

Yet the results are in, and it's not even close. The theatrical run of "Batman v Superman" is all but over, with a worldwide box office gross of $871 million. "Captain America" has surged past $1 billion in just three weeks.

Warner insists its film will earn a profit. But given that the studio gets only about half the box-office gross, any profit margin will be slim after deducting the film's enormous production and marketing costs. And that has to be a disappointment considering what the studio must have expected.

...Wonder Woman seems awkwardly gerrymandered into the plot. Batman delivers a ponderous final speech that could (and probably will) run as a trailer for the forthcoming "Justice League: Part One."

Marvel, too, teases future films ("Spider-Man" and "Black Panther" in "Civil War") but seems more adept at it. "
---
In the wake of Batman V Superman
May 18, 2016: Article at Hollywood Reporter on the result of Batman V Superman not plowing up as a high a stack of boxoffice as was intended: 'Batman v. Superman' Fallout: Warner Bros. Shakes Up Executive Roles
Although the article at HR doesn't make it explicit, it looks like Zach Snyder's powers to shape what hits the screen is being seriously curtailed (the article mentions the 'door WAS open for Snyder to completely shape the filmland DCU' ...seeming to imply that arrangement is over).
"Current executive vp Jon Berg and Geoff Johns, DC's chief content officer who successfully launched the comics label's foray into television, will co-run the newly created DC Films, according to multiple sources.

...Comics writer-turned-exec Johns, meanwhile, was key in working with showrunner Greg Berlanti on the ascension of superhero shows such as Arrow, The Flash and Supergirl...

.... the studio is working to smooth out the third act of Suicide Squad, its big August movie from director David Ayer that could change the perception of its DC line. The pic's trailers have generated massive positive interest in the all-star actioner that features DC villains, and the studio wants to make sure audiences' expectations are not only met but exceeded.

Suicide Squad recently went under major additional photography (multiple sources say it was not to add humor) to clear up the issues...
And more Batman-Affleck at Hollywood Reporter-Ben Affleck's Stand-Alone Batman Movie Is a Go
"The stand-alone Batman movie has yet to be officially dated, although there's rampant speculation that it will take one of the two slots Warner Bros. recently reserved for two untitled DC films: Oct. 5, 2018, and Nov. 1, 2019. The other could go to Suicide Squad 2."
---
Spider-Man V Batman V Superman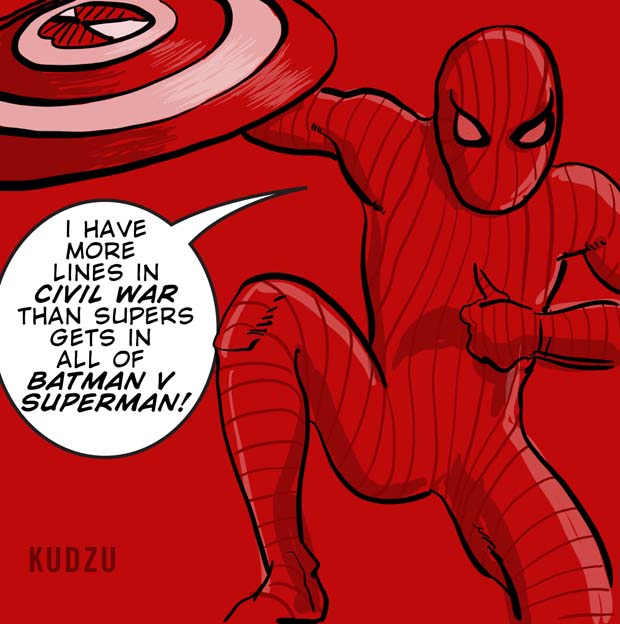 Source: Tumblr
---
Batman V Superman now at $851m worldwide
April 25, 2016: Though the intake of funds has slowed, Batman V Superman keeps chugging along after 31 days in release with a total to-date accumulation of American-market money $319,521,603, foreign market $532,100,000, with a total worldwide take, thus far, of $851,621,603 boxoffice.
---
Main Cast for Batman V Superman
Director: Zack Snyder
Writers: David S. Goyer and Chris Terrio
Cinematographer: Larry Fong
Composer: Hans Zimmer

Main Players:
Henry Cavill
Ben Affleck
Gal Gadot
Jesse Eisenberg
Jeremy Irons
Amy Adams
Laurence Fishburne
Diane Lane
Holly Hunter
Kevin Costner* (Cameo)
Producers (this is rather long list)
Wesley Coller (executive producer)
David S. Goyer (executive producer)
Geoff Johns (executive producer)
Curt Kanemoto (co-producer)
Benjamin Melniker (executive producer)
Bruce Moriarty (associate producer)
Christopher Nolan (executive producer)
Charles Roven (producer)
Jim Rowe (co-producer)
Deborah Snyder (producer)
Emma Thomas (executive producer)
Michael Uslan (executive producer)
Gregor Wilson (co-producer)
---
Batman V Superman at $827.3 million
April 19, 2016: Gal Gadot, Ben Affleck and Henry Cavill's big launch of the cinematic DCU into direct confrontation with Marvel/Disney has added another $27 or so million after 27 days in release to make a $827,311,730 grand total. This makes it #8 on the all-time Superhero list, worldwide ranking.
---
Batman V Superman now at $783,485,542 worldwide
April 10, 2016: Domestic numbers are at $296,685,542 and foreign box office has piled up to $486,800,000 for Batman V Superman [Source: Boxofficemojo].
This means that, in terms of worldwide earnings, Batman V Superman is now #9 in all-time earnings for superhero movies (measured by worldwide box office, not just North American market numbers). This puts Zack Snyder's mega-opus just behind the 2004 Spider-Man 2 and just out ahead of the 2014 Guardians of the Universe. Not far behind is Deadpool, now at #12 in worldwide earnings.
None of these numbers are adjusted for inflation, which would throw the rankings around quite a bit if measured in actual dollar-values in ratio to ticket prices. Altered in that fashion, the 1989 Tim Burton Batman and the Chris Reeve's Superman of 1978 might still be the all-time winners. For example, the 1978 Superman, adjusted for inflation, comes in at nearly $1.1 billion in adjusted value. And that's without correlating that sum to ticket prices of 1978, which on average were approximately $2.30 per seat.
---
Batman V Superman $683,957,793 worldwide
April 5, 2016: Box Office Mojo on the big dip in earnings for Warner's big superhero film of the summer:
"The steep second weekend drop suffered by Batman v Superman: Dawn of Justice will receive the bulk of attention this week and rightfully so as it is the fifth largest second weekend drop for a film that opened over $100 million. That said, the superhero feature maintained the #1 position and has now crossed $680 million worldwide..."
---
Opening Week: Here comes Batman V Superman and it's "an Epic Mess"
March 25, 2016: A passle of reviews are out on Warner's huge anti-Avengers effort at box office glory. Superhero movies have been able to skate on pretty smooth ice because of Whedon's Avengers movie and Nolan's Batman films, but after years of waiting and a monster-sized marketing campaign, this movie is in the unfortunate position of being the perfect target for movie critic backlash. Here's a round up of some of their words:
---
"... this very long, very brooding, often exhilarating and sometimes scattered epic succeeds as often it does therefore has to be seen as an achievement..... amidst all the grueling work of saving the world and shouldering a franchise toward the heights, it would be nice to see these heroes, and this series, take a few more breathers to enjoy the view..."
Review at Variety
---
"Zack Snyder makes superhero movies, but his characters don't act very heroic. Batman v Superman: Dawn of Justice features all the other trappings of the superhero genre: Capes, gadgets, outlandish muscles, punching stuff. But the two stars aren't noble, selfless, or chivalrous; they're violent, aggressive, and angry — mostly at each other instead of the bad guys. In Snyder's formulation, protecting the world from evil isn't a gift or a calling; it's a burden. And that feeling is reflected in the movie itsel..."
Review at Sreencrush
---
2 for $5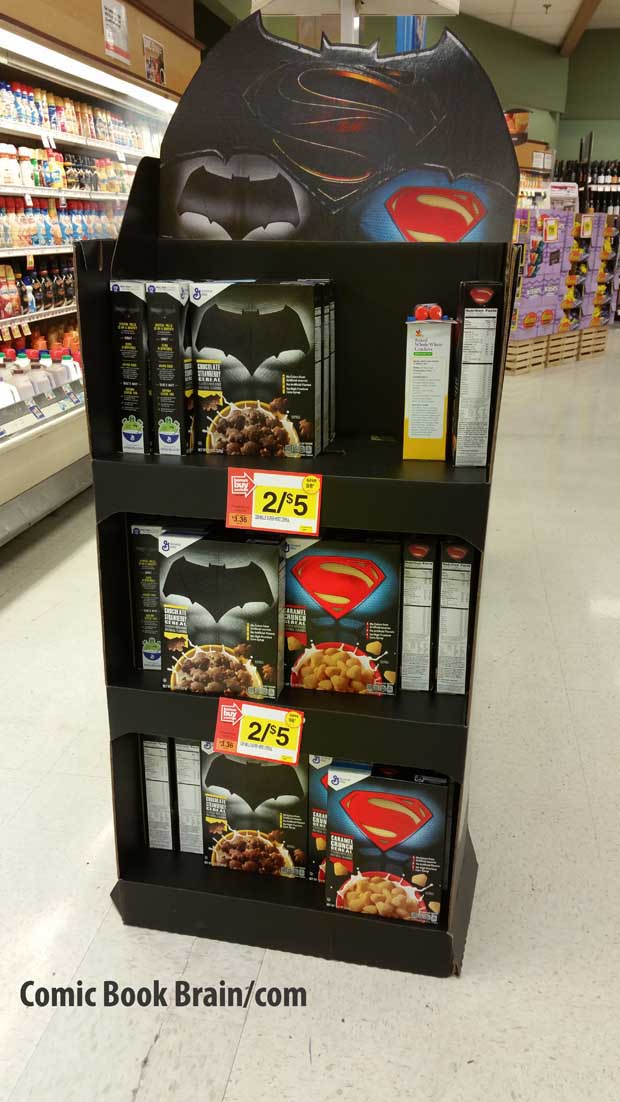 ---

Batman: Year One (Batman (1940-2011) - Amazon
---
Batman Amazon Streaming
Batman Begins – Amazon Streaming
Batman (1989) – Amazon Streaming
The Dark Knight – Amazon Streaming
Batman: Soul of the Dragon – Amazon Streaming
The Dark Knight Rises – Amazon Streaming
Batman v Superman: Dawn Of Justice – Amazon Streaming
Batman Returns – Amazon Streaming
Batman & Robin (1997) – Amazon Streaming
The LEGO Batman Movie – Amazon Streaming
Batman: Death in the Family (Blu-ray + Digital) – Amazon Streaming
---
More Batman on this website
Adam West - Batman for All Time
All the Batmen - actors who played the Dark Knight
Batman and Robin 1997 - The greatest superhero film of all time
Batman Family - the past and future of Batman
Batman Returns 1992 - Tim Burton II
Batman V Superman Dawn of Failure
Batman the Billion Dollar Hero
Detective Comics #27 - First Batman appearance
Joker Graphic Novel by Azzarello
Is the Bat-suit funny looking, and Mask of the Phantasm
---
Original Page July 2014 | Updated March 2016