Dark Knight Movie Log
Info on DC Comics' Billion Dollar Movie
The sequel to Chris Nolan's 2005 Batman Begins
FILM FACTS:


General release July 18, 2008 (Both USA theaters and IMAX)
Finally pulled from theatres on March 5, 2009 by Warner Bros: A 231 day run in national release.
World Gross: $1,003,045,358 Billion USD Worldwide (checked 2012)
IMAX Gross: $64.9 million ($49.9 million domestic): Was re-released to IMAX on January 23, 2009
Released by Warner Bros (which owns DC Comics, which in turn owns
the intellectual property credited as originated by cartoonist Bob Kane)
DVD release on December 9, 2008
DVD sales estimated to June 2009: 12.8 million copies, $222 million USD in earnings. ($260,679,798 in DVD home video sales through 2012).
Original Production Budget $185 million
MPAA Rating PG-13
Running Time: 152 minutes
Sources: Boxofficemojo.com, deadline.com, thenumbers.com
---
2012: For the page on Dark Knight Rises, go here.
July 24, 2009: Actor Gary Oldman (who has had the role of cop Gordon in the two Nolan Batman films) mentioned at the San Diego Comic-Con 2009 convention that Batman III (or is it Dark Knight II?) will start filming in 2010 for a 2011 release. Nothing was said about who was directing, though implied was that Chris Nolan would be doing it again. But as has been pointed out in a number of places, that would seem to contradict Nolan's shooting and release schedule for his film Inception which stars Leonardo DiCaprio, and will be in theatres next year.
June 22, 2009: The marketing firm 42 Entertainment ran the "viral marketing" campaign for The Dark Knight during the lead up to the film's release. Here is a list of the domain names used as part of the effort at getting attention from existing Batman fans and to also grab the attention from mainstream movie goers:
SEE THE list at the Dark Knight Viral Movie Marketing list
February 23, 2009: The results are in from the 2009 81st Academy Awards - Heath Ledger won for Best Actor in a Supporting Role for his role as the Joker. The Dark Knight also brought in the award for Best Sound Editing -so, 2 wins out of the eight nominations Dark Knight rolled up in January. Just before the awards ceremony, Warner Bros released that The Dark Knight had recently crossed the one billion dollar mark, putting it's earning at $1,001,082,160 - which places it into the top four "all time" earners.
January 22, 2009: The American Academy Award nominations were released - - the one surprise is that Dark Knight didn't make it to the Best Picture category, which seemed a strong possibility until the Bernhard Schlink book adapted as The Reader from Harvey Weinstein, came out late in the year, which seems to be the picture that edged out Chris Nolan.
The Dark Knight scored eight nominations. They are: Best Supporting Actor Heath Ledger as the Joker; Art Direction: Nathan Crowley, Set Decoration: Peter Lando; Cinematography Wally Pfister; Film Editing Lee Smith; Makeup John Caglione, Jr. and Conor O'Sullivan; Sound Editing Richard King; Sound Mixing Lora Hirschberg, Gary Rizzo and Ed Novick; Visual Effects Nick Davis, Chris Corbould, Tim Webber and Paul Franklin . [Source: Variety]
January 6, 2009: The British Academy Film Awards has The Dark Knight up for 13 award nominations: Best Picture, Best Adapted Screenplay, Best Director - Chris Nolan, Best Makeup and Hair, Best Visual Effects, Best Sound, Best Editing, Best Costume Design, Best production Design, Best Cinematography, Best Music, Best leading Actor - Christian Bale, Best Supporting Actor - Heath Ledger. [Source: Variety]
---
The Dark Knight film won major awards at the People's Choice Awards in January 2009. More at CNN web site here

From CNN.COM:
"The movie, which won high praise and acclaim from critics and fans, won the award for favorite movie, favorite action movie, favorite cast, favorite on screen match-up (Christian Bale and Heath Ledger) and favorite superhero (Christian Bale as Bruce Wayne/Batman).

"Here's to Heath," Bale said after accepting the award, referring to his co-star, who died of an accidental drug overdose in January 2008."
---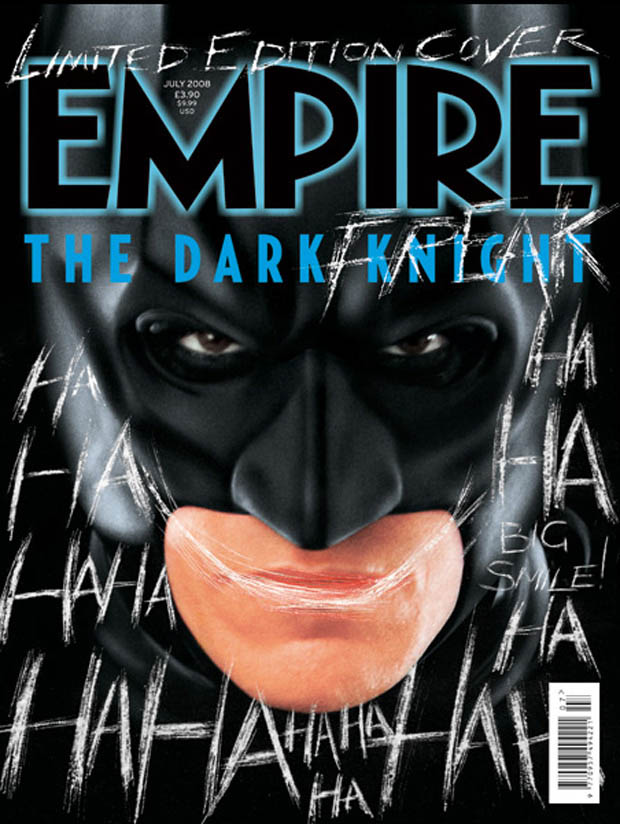 Dark Knight Raw Numbers
January 5, 2009: Dark Knight has grown it's domestic theatre take to $530,917,814 USD, and the worldwide numbers are $469 million USD. That's approx $997 million total (source: Warner Bros and boxofficemojo.com). Pretty good for a film that only has 29% of its opening weekend ($158 mil) as part of that total - - apparently quite a few people saw this film more than once.
Nikki Finke is saying The Dark Knight has strong Oscar hopes in at least in one department:
"Heath Ledger in The Dark Knight for Best Supporting Actor is considered a lock."
(Incidentally: Ledger was nominated for a Golden Globe award for this same category for Dark Knight)
DVD Blu-Ray Update for end of 2008: It has been estimated that The Dark Knight DVD sold 10 million copies pulling in approximately $220 million USD. It is also has the record for the only Blu-Ray to sell more than 1 million units during its first week of release.
Warners plans to re-release The Dark Knight for another IMAX run on January 23, 2009. Besides pulling in additional earnings, the Academy Award nominations that will be announced on January 22 are expected to have at least Heath Ledger singled-out for his Joker role; and there will probably be other nominations in the technical departments. There are 5,810 voting members of the Academy.
---
Dark Knight DVD / Blu-ray outselling everything
December 10, 2008: Nikki Finke at the deadlinehollywood:
"...This isn't a superhero, it's a cash cow! The Dark Knight was not only 2008's best DVD sales day, but is also likely to be 2008's bestseller of the year by next week with a projected number of 7 million units. This is beyond huge! Christopher Nolan's pic is truly the gift that keeps on giving after already making $1 billion at the worldwide box office. Warner Bros should use this phenomenal performance to help push The Dark Knight and everyone associated with it for Oscar nominations as a box office phenomenon and critical darling. ."

She mentions Dark Knight is outselling the DVD sales on Iron Man by about three-to-one. Sounds like it's a bonanza for Marvel and DC Comics when it comes to those licensing checks.
Chris Nolan's film is credited with pushing the envelope on how far a superhero "comic book" movie can go in garnering aesthetic approval from the mainstream critics (on a smaller scale the same thing happened with Nolan's 2005 "Batman Begins" which had critics like Roger Ebert calling it "This is at last the Batman movie I've been waiting for. The character resonates more deeply with me than the other comic superheroes...".
The two-disk "Special Edition" of the film has these features:
* Gotham Uncovered: How Christopher Nolan and his team developed the new Bat-suit and Bat-pod and composer Hans Zimmer musically characterized the Joker's reign of chaos.
* The Dark Knight IMAX® Scenes: View these 6 action-packed sequences--shot on the largest format possible--in their original IMAX framing, just as they were intended
* Gotham Tonight: 6 episodes of Gotham Cable's premier news program
* The Galleries: Poster art and production stills
* Digital Copy of the feature film
---
The raw numbers: Dark Knight vs. Titanic
October 20, 2008: Dark Knight has grown to $527,394,547 USD Domestic, and $463,500,000 Foreign earnings, giving a grand total of $990,894,547 USD. In World-wide earnings, still out in front of Dark Knight are the films Lord of the Rings: The Return of the King which has an estimated $1,119.1 billion USD and also Pirates of the Caribbean: Dead Man's Chest which has $1,066.2 billion USD. Still the all-time earner is Titanic, with $1,842.9 billion USD.
See more about the numbers on Dark Knight, Dark Knight Rises and other super hero films on the Top Earning Super Hero Films.
September 15, 2008: Box Office Mojo reports that at day 59, Dark Knight has rounded up $517,680,000 USD domestic: this versus Titanic's 59-day total of $371,562,244 USD domestic. Dark Knight's estimated foreign earnings are $966,580,000. Dark Knight still needs to pull in approximately $450 Million to beat out Titanic in the arena of world-wide earnings, Cameron's film being the all-time box office champ (though some contend, with adjustments for inflation, M-G-M's Gone With the Wind is still the record holder).
August 18, 2008: Batman The Dark Knight hits 800.1 Million USD
The comic book movie genre is now officially triumphant, closing on the number one spot held by James Cameron's Titanic. [Source: Reuters]
---

Batman: Year One (Batman (1940-2011) - Amazon
---
More Batman on this website
The Batman movie 2022 - Robert Pattinson
Adam West - Batman for All Time
All the Batmen - actors who played the Dark Knight
Batman and Robin 1997 - The greatest superhero film of all time
Batman Family - the past and future of Batman
Batman Returns 1992 - Tim Burton II
Batman V Superman Dawn of Failure
Batman the Billion Dollar Hero
Detective Comics #27 - First Batman appearance
Joker Graphic Novel by Azzarello
Is the Bat-suit funny looking, and Mask of the Phantasm
---
Original Page 2008 | Updated April 2020
---
---
---