The Avengers Movie Log
The Billion Dollar Marvel Studios Movie
This page contains older new items related to production, release and effects of the movie
Marvel (and Disney's) Superhero Cash Cow
The success of The Avengers in 2012 has galvanized the major Hollywood studios (and the smaller ones) to find the superhero cash-cows that can emulate the numbers Iron Man, Captain America, Hulk et al produce.
With the billion+ dollars Avengers has made, and then the unexpected record-setting cash run of Guardians of the Galaxy, it's clear the superhero concept has finished the conquest of the modern mind that began with Chris Reeves Superman in 1978.
There was a lot of doubt fostered about the popularity of spandex after the terrible box-office of the big-budget Green Lantern, which was supposed to build on the billion-dollar success of the Nolan Dark Knight movies.
But that crisis in confidence has been erased by Marvel and Sony's meticulously marketed and organized hero films that overlap each other and build audience laterally, not just through sequel-prequel. DC/Warners, Marvel/Disney, 20th Century Fox and Sony own the rights that allows them to create a superhero cinematic world never seen before, or to blow the whole thing up.
The argument after Lantern was that superhero films was a fad that simply burned itself out. The Avengers/Guardians nexus has killed the idea. There's a deep well of superhero comic book properties yet to be exploited, and unless Marvel or Warners puts out a couple of bombs in a row using established top-line characters (Batman, Iron Man etc), so that the audience simply won't trust the brand names any more, the inevitable bubble-burst may be a decade or more away.
---
Avengers sequel announced by Disney
Feb 2014: Joss Whedon to direct. Includes a deal for a Marvel superhero television (Shield) program from Whedon.
---
Update Aug 6, 2012
Avengers has pulled $1,461,368,487 worldwide

Amazing Spider-Man $678,526,210 ($251,426,210 Domestic)

Dark Knight Rises $737.1 Million
See list of top earning Superhero Movies & their numbers
---
The Avengers now #3 all-time-earner
June 10, 2012: Avengers has another $10+ million dollar domestic weekend on its 5th week out. Total domestic earnings now at $10,809,000. New totals puts the film at $1,396,260,000 worldwide. Box Office Mojo tells the whole story on the Avengers numbers here.
June 5, 2012: Avengers has climbed past The Dark Knight to become the #3 all-time domestic USA earner, with a $552,950,398 gross after a month in theatres. The total worldwide numbers are $1,359,450,398.
May 29, 2012: Avengers, though pushed off the #1 perch by William Smith's Men in Black III, still pulled $48 million over the Memorial Day weekend - - this puts total worldwide earnings at approximately $1.3 Billion.
May 21, 2012: Predictions on the final earnings for The Avengers put it at $3.7 Billion, with a guess at boxoffice of $2 Billion, $50M to come from television broadcasting, $1.2 Billion from home video, and $500 Million from licensing toys and merchandise.
This same prediction (which in fuller detail is at Nikki Finke's Deadline Hollywood) projects $2.4 Billion in costs for all this activity.
How can it cost $2.4 Billion to rent out movie prints that were already made before the premier even occurred? That's Hollywood Accounting.
Avengers finally pushed off the #1 spot
May 27: The release of Men in Black III has finally edged out The Avengers from the number #1 spot in movie cinemas, but not with the expected force makers Sony Pictures (and Columbia) wanted.
Avengers beat off both the premiers of Battleship and The Dictator in previous weekends, but the Will Smith sequel movie was supposed to finally clobber The Avengers with a $90 million opening weekend - instead MIB III is tracking toward a relatively weak $78 million domestically (numbers that would make most other film makers happy, though - for example the weakly performing Dark Shadows from Tim Burton and Johnny Depp).
In the meantime, the totals for The Avengers keep climbing: it is now at $1,199,984,788 billion for worldwide earnings, and number 4 for all time earners in the United States, and there are many more weekends left in its run up until the expected billions to be earned off home video, DVDs, BluRay and streaming.
May 20: The Avengers, still #1 at the boxoffice, finishes out its 3rd weekend with a total earning of $1.18 Billion ($55.6 million earned over the weekend).
Avengers sequel announced by Disney
May 18, 2012: This is not exactly a decision that requires much effort: Disney says there will be an Avengers II.
Disney is expecting The Avengers to have another #1 weekend. Receipts around the world are already at $1.042 billion, and the momentum of the film in only it's third weekend has it still climbing up the record charts. Currently it sits as the #9 all-time moneymakers, but that will change soon as it overtakes Pirates of the Caribbean: On Stranger Tides. With the current trajectory of the film, it may will end up as the #3 all-time earner. Here's the numbers on the top ten:
1 Avatar (2009 Fox) $2,782.3 Billion
2 Titanic (1997 Paramount) $2,183.5 Billion
3 Harry Potter and the Deathly Hallows Part 2 (2011 Warner Bros) $1,328.1 Billion
4 Transformers: Dark of the Moon (2011 Paramount - Dreamworks) $1,123.7
5 The Lord of the Rings: Return of the King (2003 New Line Cinema) $1,119.9 Billion
6 Pirates of the Caribbean: Dead Man's Chest (Buena VIsta - Disney) $1,066.2 Billion
7 Toy Story 3 (2012 Buena VIsta - Disney - Pixar) $1,063.2 Billion
8 Pirates of the Caribbean: On Stranger Tides (Buena VIsta - Disney) $1,043.9 Billion
9 Marvel's The Avengers (2012 Marvel Studios) $1,042.5 Billion
10 Star Wars: Episode I - The Phantom Menace (1999 Fox - Lucas) $1,027.0 Billion
At this point, it is interesting to remember that after the squalid returns on last years $300 million budget Green Lantern movie, there were articles about whether movie audiences had become bored with spandex and tights.
---
Meanwhile, here comes the Iron Man 3 sequel
Savin is the announced villain for Iron Man 3, probably to be played by James Badge Dale. Robert Downey Jr returns as Tony Stark and Shane Black is directing, the man who directed Downey in Kiss Kiss, Bang Bang, and who also wrote the Lethal Weapon and Long Kiss Goodnight movies.
Gwyneth Paltrow will be back as Pepper Potts and the production on #3 is due to start by the end of May. What will be the budget? Robert Downey Jr has a reported contract that gives him a 7% participation on grosses for any Marvel Studios film in which he plays Iron Man, meaning The Avengers will pocket Downey $50 million plus.
Avengers first Marvel movie to cross $1 billion USD mark
May 15, 2012: With earnings from international screens ($628 million) piled up with the $373 million in domestic monies, The Avengers will not only be Marvel's first film to cross the $1 billion dollar mark, but puts it on track to edge past the Chris Nolan The Dark Knight for total earnings (which is the #3 all time USA top earner, #11 worldwide).
The most recent record broken with The Avengers is the domestic earnings number, with an unprecendented second opening weekend earning of $103 million, beating out the previous record-holder Avatar's $75 million.
The Avengers Helicarrier
The hull numbers seen on the Avengers Helicarrier indicate it is a rendition of the USS Constellation, which shares identical hull numbers (The actual USS Constellation aircraft carrier is now part of the mothballed U.S. Navy "ghost fleet" of stockpiled ships.)
Avengers heading for $1 billion USD over weekend.
May 12, 2012: Avengers breaking more records: second weekend numbers show the Marvel Studios picture to fetch another $100 million USD, which has never been done before (the nearest would be the James Cameron Avatar, which had a $75 million USD second weekend). The accumulating receipts show The Avengers to probably top $1 billion in worldwide earnings by Sunday night.
Avengers Money piling up: $775,427,807 and counting
May 11, 2012: Heading into the second weekend domestically, The Avengers has already piled up $775,427,807 through Wednesday night, and no new opening title seems to stand a chance of pushing the Marvel film off of the number one spot.
Avenger's Assembled! Walmart, near Richmond VA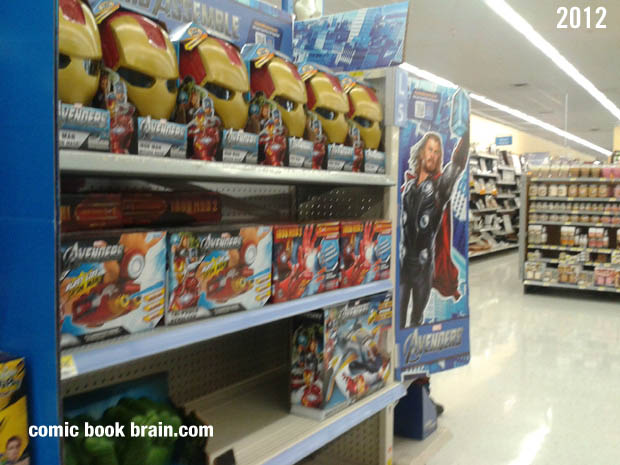 ---
---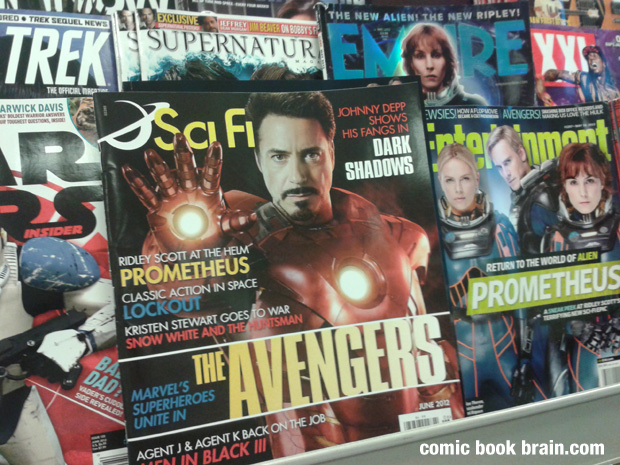 ---
Avengers Movie Setting Records - $207 Million USD Opening
May 10, 2012: Avengers has had a phenomenal week thus far, with foreign money (especially from the opening in Russia and China) pulling the movie in 47th place for all-time earnings, with gross numbers for The Avengers now at over 700 million USD.
May 7, 2012: Disney has announced that it happened: The Avengers has had the biggest opening in Hollywood history:
$207.1 million Domestic
$447.4 million Foreign
$654.5 million Total
The Avengers was made with a reported budget of approximately $220 million USD.
The Avengers is the first Marvel Studios film that is is put out while being owned, promoted and distributed by Walt Disney Studios, though Paramount Pictures has participation due to older contract obligations. When Marvel was bought by Disney for $4 billion USD September 2009, they got the Marvel library of 5,000 characters and a control over the lucrative movie properties.
The slate of coming Marvel Studios films are:
The Amazing Spider-Man (2012)
Captain America 2 (2014)
Ant-Man (2014)
Deadpool (2014)
The Incredible Hulk (2014)
Thor 2 (2013)
Iron Man 3 (2013)
It is probably safe to say that director Joss Whedon (since the numbers from this weekend accumulated) has been asked a dozen times by "the Mouse" the obvious question: when can he start planning on the Avengers II sequel?
---
Avengers Toys
Superhero movies usually have a long line of ancillary tie-ins in the toy industry, and The Avengers is no different.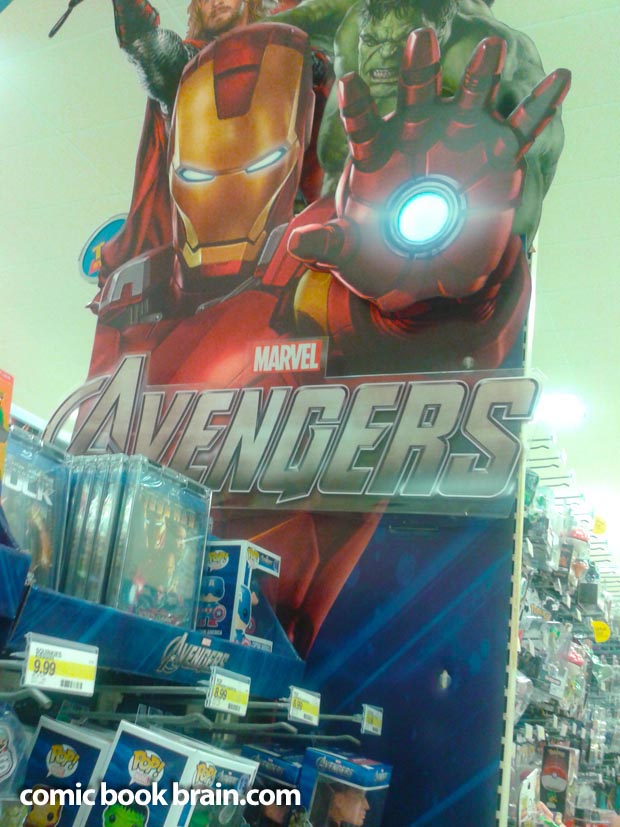 Looking through the offerings on the aisles, though, I noticed no sign of a Scarlett Johansson / Black Widow toy figure!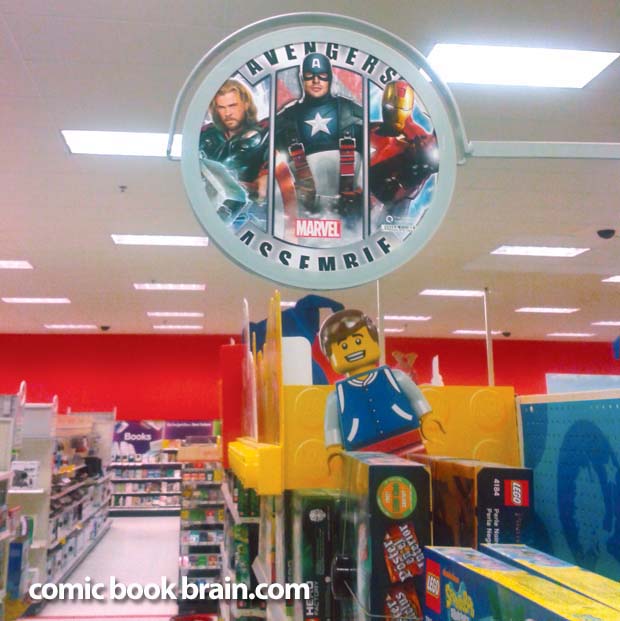 ---
May 6, 2012: Now the estimates on the Avengers opening is pushing it to a probable $200.3 million USD. This puts it out ahead of the previous number 1 opening film, Harry Potter Deathly Hallows Part 2. Here's how the top ten stacks up according to the opening earnings numbers (nothing adjusted for inflation, or any accounting for actual audience numbers):
Marvel's The Avengers $200,300,000
Harry Potter and the Deathly Hallows Part 2 $169,189,427
The Dark Knight $158,411,483
The Hunger Games $152,535,747
Spider-Man 3 $151,116,516
The Twilight Saga: New Moon $142,839,137
The Twilight Saga: Breaking Dawn Part 1 $138,122,261
Pirates of the Caribbean: Dead Man's Chest $135,634,554
Iron Man 2 $128,122,480
Harry Potter and the Deathly Hallows Part 1 $125,017,373
May 5, 2012: Nikki Finke reports Avengers doing $80.5 million USD on Friday, an expected total of $60 to $64 million USD on Saturday, with Disney hoping for a opening weekend total of near $175 million USD by Sunday night, which beats out recent expected high-hopes of $160 million (which was well above the hope of a mere $125 million USD opening put forth by the experts back in April).
The film keeps beating out expectations, and Finke goes on to speculate (by quoting other film 'insiders') that the Avengers success is built upon letting people with genuine comic book backgrounds shaping the material in the story and onscreen, and a cast that also liked and wanted to do the genre.
I guess this helps to fix things for Disney that had a huge $200 million write-down over the incredibly poor box office on John Carter which opened in March, 2012.
May 4, 2012: Already having raked in $281.1 million overseas (and should finish at over $300 million USD by Sunday night in overseas markets alone), Marvel's Avengers film is tracking off of late Thursday night "Midnight Showing" opening numbers (Fandango counted over 1,000 sold out theater's for the Midnight events) bringing a potential opening to end at near $585 million + for worldwide/domestic markets combined.
I guess the next question is how will Chris Nolan's 3rd Batman (Dark Knight Rises opening July 11) movie fair against the Avengers numbers? Disney paid $4 billion in stock and cash for ownership of Marvel in August of 2009. Between the success of the Iron Man movies and this Avengers film, Disney is easily recouping its costs.
On newstands: Avengers dominate film mags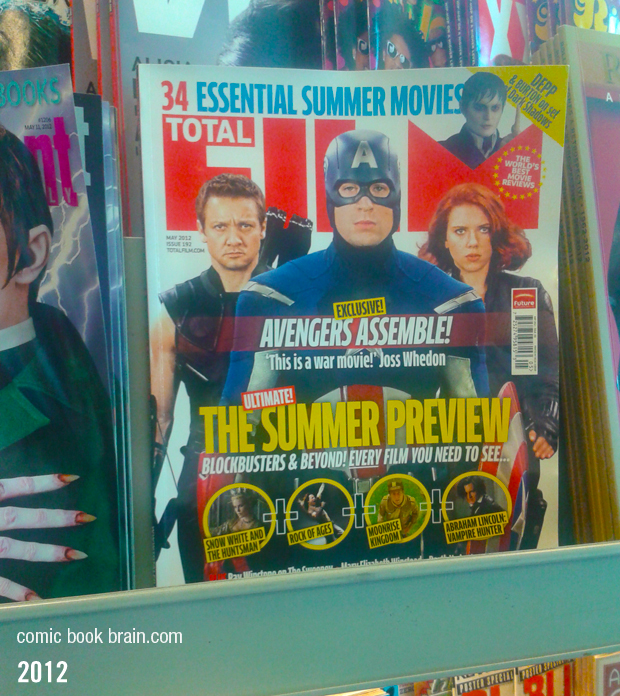 ---
Comic Book Movies
The Coming Comic Book Movies 2023-2026
Top Earning Comic Book Superhero Movies
---
Screen Reviews
Short Review: She-Hulk, Attorney-at-Law
Fast review: Dungeons and Dragons: Honor Among Thieves
Dungeons and Dragons Honor Among Thieves – a Film with antecedents – Harry Potter plus Guardians of the Galaxy plus Lord of the Rings, etc.
Fast review: Dungeons and Dragons: Honor Among Thieves
Dungeons and Dragons Honor Among Thieves – a Film with antecedents – Harry Potter plus Guardians of the Galaxy plus Lord of the Rings, etc.
---
Disney and Marvel:
Disney approaches the crossroads – Summer of 2023
Disney vs its vassal companies – 2023
The Disney and Marvel future 2020 and beyond
Marvel summary of productions, November 2020
Marvel's plans mean expansion 2020
Kicking Marvel in the kneecaps 2019
Disney Buys Marvel Comics for $4 billion - 2009 The House of Mouse buys the House of Ideas
Disney spends $71.3 billion to get 21st Century Fox - March 2019
Disney Movies:
Star Wars: The Rise O'Skywalker Log
Captain Marvel II - the Superman problem: the hero is an overpowered, unrelatable hero
Marvel currently rules the cinematic world - May 2019
My Marvel Wish List - March 2019
---
---
Original Page May 2012 | Updated April 2020