The Dustbin of cancelled comic book films
Hollywood announces movies far out of proportion to the actual number of films that they actually make and release to the public. On this page below is information about titles that never came forth, or schedules that turned out to be tougher than the hero, constantly pushing a superhero movie to a new "start" date (meaning real production, and spending, on a film really begins) until the title finally ceased to be mentioned, going into what Hollywood calls "turnaround."
Pandemic wrecks the superhero movie schedule in 2020
Birds of Prey - February 7, 2020 - (This actually came out in time to not be effected by the blooming noxious flower of COVID19, but it got trashed at the boxoffice anyway because it simply wasn't verey well made.)
Bloodshot - (Originally intended for February 21) released March 13, 2020 - This came out right in time to experience massive shutdowns of theaters, so it quickly went to Video-On-Demand on March 24th (where it ranked number one for viewership on Amazon Prime). Then it released again via a smattering of theaters in July and then in August, though barely drawing any audience at all due to the continued fears of infection. The film finished out with a worldwide haul of $37.1 million, but the production budget of $45 million meant it finally quit its theater run in deep negative territory, something which surely contributed to how Hollywood was pulling movies off schedule in a effort to protect them from release-disaster.
The New Mutants - April 3, 2020
Black Widow - May 1, 2020
Wonder Woman 1984 - June 5, 2020 - This film is still strugglign to find some window of opportunity to get into theaters, with intentions to put it out on Hollywood's favorite desperation release date: Christmas. But even that is very much in doubt as of this wrirting (November 2020).
Morbius - July 31, 2020
Venom II - Oct. 2, 2020
Eternals - Nov. 6, 2020
---
---
Films that were almost-but-not-quite-announced for a release date, but were instead mostly only on the Hollywood "dream" list instead:
Unknown release date Comic Book Movies
Harley Quinn (this eventually became Birds of Prey: And the Fantabulous Emancipation of One Harley Quinn)
Black Widow
Superman Man of Steel II
Mouse Guard
Son Of Shaolin
Malignant Man
Justice League Dark
Inhumans
Suicide Squad II
Lobo
100 Bullets
Lumberjanes
Aleister Arcane
Irredeemable
Starlight
Gambit
Booster Gold and Blue Beetle
The Sinister Six
Announced with fanfare, but never made
2016 The Amazing Spider-Man 3 (June 10, 2016) (Cancelled) (This film eventually morphed into a Sam Raimi project)
2017 The Fantastic Four 2 - not officially cancelled but presumed
2018 The Amazing Spider-Man 4 (2018) (Cancelled)
---
Superhero films in the 2017 cinematic future
These films below were meant to come out accordingt to how Hollywood thought things would go in the year 2017. Most didn't happen, some are still "in production" though nobody is shooting any scenes and no actors are in front of cameras yet. But, some did make it (Thor, Black Panther, Avengers final, Spider-Man, Justice League, and unfortunately with very bad timing, Deadshot.)
2017 Batman: Caped Crusaders 2
2017 Wonder Woman - June 2, 2017
2017 Bloodshot (This eventuallyw as released twice to theaters, only to get squished by the pandemic)
2017 Spider-Man: Homecoming - July 7, 2017
2017 Thor: Ragnarok - Nov 3, 2017
2017 Justice League - Nov 17, 2017
2018 Black Panther - Feb 16, 2018
2018 Batman IV (A Batfleck film)
2018 The Flash
2018 Gotham City Sirens
2018 Avengers: Infinity War- May 4, 2018
2018 Deadpool 2 - June 1, 2018
2018 Animated Spider-Man movie
2018 Ant-Man and the Wasp - July 6, 2018
2018 Venom - Oct 5, 2018
2018 Aquaman - Dec 21, 2018
2019 - Untitled Marvel Film - Feb 14, 2019
2019 Captain Marvel - March 8, 2019
2019 Shazam!
2019 Justice League II - iffy release date
2019 Avengers: Infinity War II - May 3, 2019 (rumoured title Infinity War Gauntlet)
2019 Spider-Man: Homecoming 2 - July 5, 2019
2020 Cyborg - April 3, 2020
2020 - Untitled Marvel Film - May 1, 2020
2020 Green Lantern Corps - July 24, 2020
2020 - Untitled Marvel Film - Aug 7, 2020
2020 - Untitled Marvel Film - Nov 6, 2020
---
The Dustbin of cancelled comic book films
The proposed 2020 superhero movie slate
Top Earning Comic Book Movies List
---
---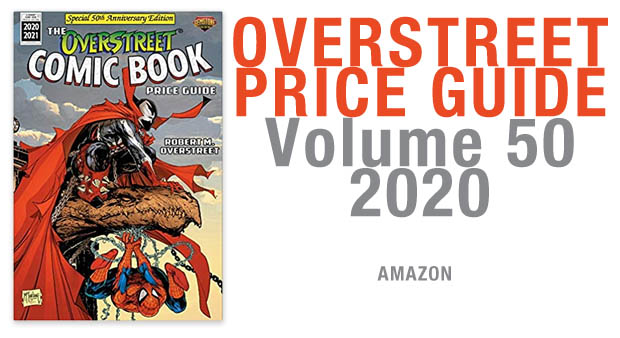 The Overstreet Comic Book Price Guide Volume 50 – Spider-Man/Spawn
---
Original Page November 2020