Richard Corben's Edgar Allan Poe
Poe's Haunt of Horror #1, 2006
POOR POE
This is the first issue of a 3-issue MAXX series from Marvel adapting Edgar Allan Poe to comics for $3.99 with scripts by Richard Corben and Rich Margopoulos and art from Corben. A longtime veteran of underground comics and the Warren horror comics of yore, Corben is probably one of the first names that comes to mind when thinking of Poe in comic book form (in fact, the only other artist who has specialized at comic book Poe I can think of is Berni Wrightson. If there are others, I certainly would like to hear of them.)
---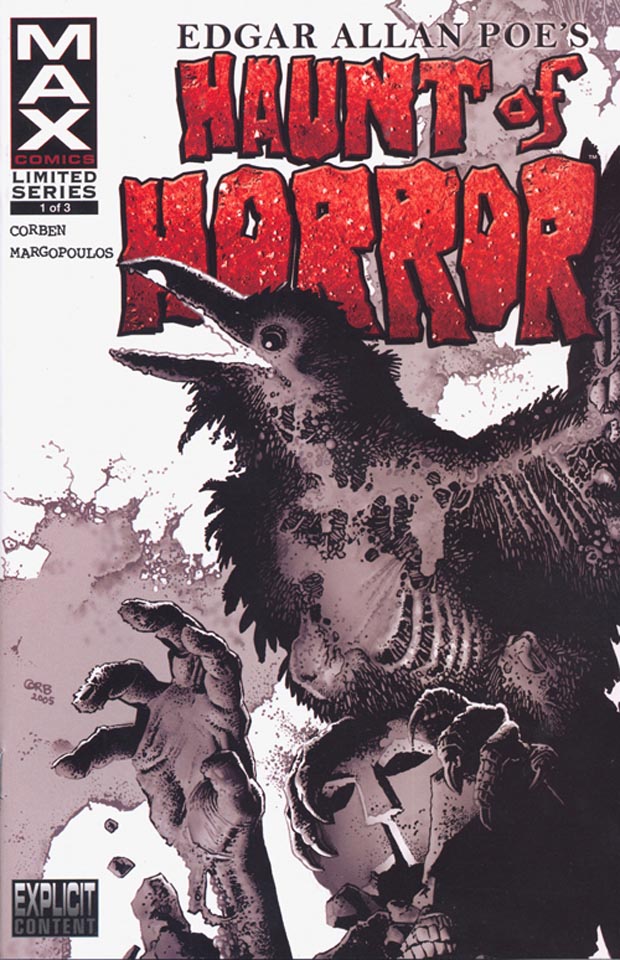 ---
---
Amazon: Haunt of Horror: Edgar Allan Poe 1 (Haunt Of Horror: Edgar Allan Poe Vol. 1)
---
Batman: The Definitive History of the Dark Knight in Comics, Film, and Beyond
---
This trio of tales based on Poe is well drawn in Corben's slightly cartoony pen and ink style, which has a nice humor to it that relieves a bit of the unremitting bleakness of the stories.
Corben is responsible for the scripting of the psychotic take-off of Poe's The Raven, in which the narrator is clearly out of his head and not the (at least potentially) sensible victim overwhelmed by events beyond his control as is themed in Poe's original poem.
Margopoulos scripts the other two Poe tales, The Sleeper and Conqueror Worm. Both tales are hardly strict adaptations, with one concerned with vampiric cannibalism and the other with a post-apocalyptic nightmare of survival. Neither are themes of Poe's original poems, but make for unusual adaptations, and particularly in the case of Conqueror Worm, are successful in creating a cohesive genre short story. All three adaptations are pun-like in their overall execution and would not make a serious Poe scholar happy, unless that Poe scholar had a healthy sense of humor. (Complete versions of the original Poe poems are printed in this issue for comparison - either a nice touch or more so a brave move considering the treatments.)
Corben's art is unique and his control over shadow and the depiction of figure weight is terrific. It's well thought-out and hardly like the frequently stigmatic styles in American comic books (it seems there has developed a figure style in American comic books that look a lot like - to me - figures from El Greco paintings, that is if El Greco's saints and Spanish noblemen had spent a lot of time working out with weights).
Another strong trait of Corben is his populating the stories with varied character faces that do not look formulated all off the same head - - to the point, Corben draws people, though caricatured. He also throws in small sight gags here and there, but gets down to business quickly with horror visuals (these are pretty short tales) and any of these stories seem like they would easily fit into an old Warren comic from the 1970s (or even one of Corben's self-published books, though I suspect this MAX series is still tamer in regards to explicitness of the visuals).
Is there a nostalgic element to this package for Marvel comics? Corben has a cartoon "host" ("Uncle Deadgar") which opens up the contents page, who makes a few bad pun comments introducing the book (not unlike the 1950s EC Comics, or Warren's Eerie & Creepy, or for that matter, some of Corben's own self-published underground work from the 1960s and on.) Its hard for me to call it nostalgia when the man doing the work is one of the original progenitors of the style.
The scripting here is solid and is in contrast to that being the flaw that marred Corben's DC Comics "Solo" book from 2005.
The next issue of the MAXX Poe adaptations includes the stories The Tell-Tale Heart, Spirits of the Dead, Eulalie and The Lake. Judging from the contents of this first issue, there is no telling which way the adaptations might go, but they will be inventive riffs from off Poe's wordplay with out much respect for Poe's original goal.
True to Poe? No.
Does this method of adaptation do justice to the Poe tales/poems? It seems an unfair question because the original material is so changed, it really bears slender relationship to the source material.
Corben's Poe is much like those old Universal horror films based on Poe from the 1930s and all those truer to the source "Poe" American International movies from the 1950s-60s, all of which typically significantly changed the stories and made them "more Hollywood" that Poe.
Its quasi-Poe, or ersatz-Poe, but it's not really Poe. Probably a "visual Poe," either in film, or comics, or illustrated in books, is near impossible.
More Corben
Marvel has a page about the series here.
Silverbulletcomics has a page on it here.
An Edgar Allan Poe Timeline and other info at eeweems.com
---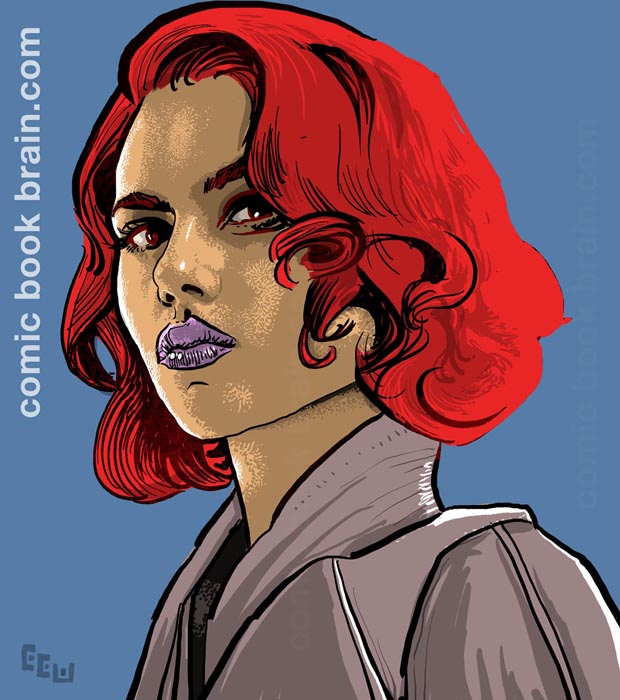 Related: More Reviews!
Brave and the Bold #131, DC Comics December 1976 by Bob Haney with art by Jim Aparo
Review Adventure Comics #423, featuring Supergirl DC Comics Sept 1972
Review: Knight Terrors First Blood #1 DC Comics July 2023
Hell is a Squared Circle by Chris Condon and Francesco Biagini September 2022 AfterShock Comics
Review: Weird Mystery #4, Jan-Feb 1973
The Secret Life of Catwoman, Batman #62, Dec 1950–Jan 1951
The Origin of the Superman-Batman Team - review of World's Finest #94, May-June 1958, art by Dick Sprang
The Spirit Reborn - Review of The Spirit #1, Feb 2007 By Darwyn Cooke
Superman Confidential #1, January 2007 By Darwyn Cooke and Tim Sale
Richard Corben's Edgar Allan Poe – Poe's Haunt of Horror #1, 2006
Bloodstar - 1975 - Richard Corben
House on the Borderland 2000 - by Richard Corben
Review of the Joker Graphic Novel - Brian Azzarello and Lee Bermejo 2003
Review Harley Quinn #55, Feb 2019 - "We'll All Be Home for Christmas"
Edgar Allen Poe Haunt of Horror #1 2006 - by Richard Corben
---
Amazon: Haunt of Horror: Edgar Allan Poe 1 (Haunt Of Horror: Edgar Allan Poe Vol. 1)
---
Batman: The Definitive History of the Dark Knight in Comics, Film, and Beyond
---
Comic Books and American Cultural History: An Anthology
---
---
---
Orginal Page 2011 | Updated July 2021
---