Frazetta "The Destroyer" sells for $1.5 million USD
1971 painting originally used as cover for "Conan the Buccaneer"
July 23, 2010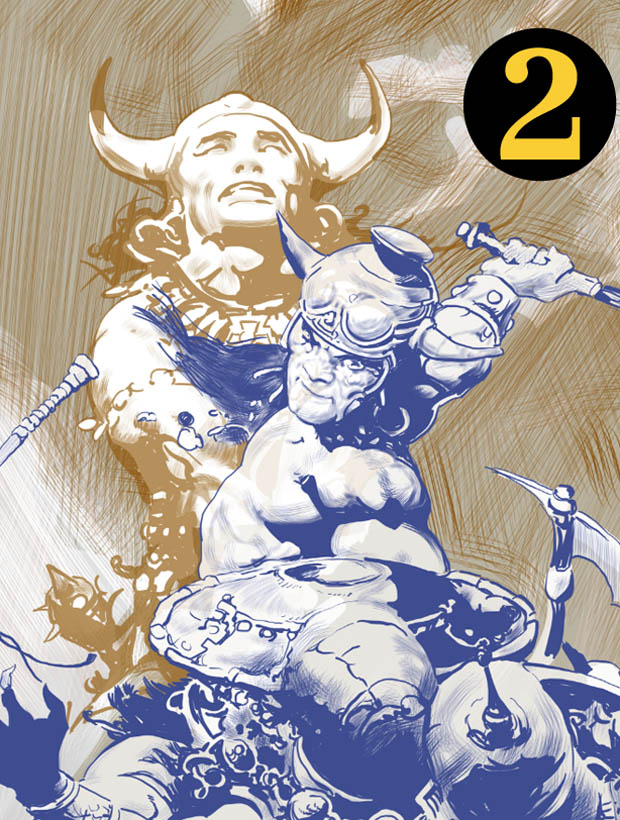 ---
---
The original oil painting by Frazetta (for "Conan the Buccaneer" Ace Books, 1971) had a slightly different battle scene, with the Conan figure depicted differently (see the analysis here with visual aids). Instead of the axe-swinging figure shown below, Conan was instead strangling his enemies one at a time. Frazetta produced the painting at least in three different ways, according to documentation, the final form ("Destroyer") after publication of the paperback book for Ace. (The matter is covered in the Frank Frazetta "Testament" book, page 72, which shows two images of the earlier versions.)
There is also a version of this painting with the face of actor Jack Palance painted inside Conan's helmet, apparently created by Frazetta onto a print of the painting, and used as a promotional material for an unrealized Hollywood production of the Conan property prior to the Arnold Shwarzenegger movie of 1982.(This would mean there are four different versions of the painting in total from Frazetta's hand.)
This painting sold in 2010 for $1.5 million USD - - the highest price yet for a single piece of Frazetta artwork (long since outstripped by later sales for other works, presumably pushing the value of "Destroyer" to other hieghts, since it is one of the most recognizeable works from Frazetta's career). The previous record for a Frazetta work was the $1 million USD paid for "Berzerker" (i.e., "Conan the Conqueror") in 2009. (The record for a Frazetta ink drawing is $380,000 in 2010 for the cover art to EC Comics Weird Science Fantasy #29.)
---
More Frank Frazetta
---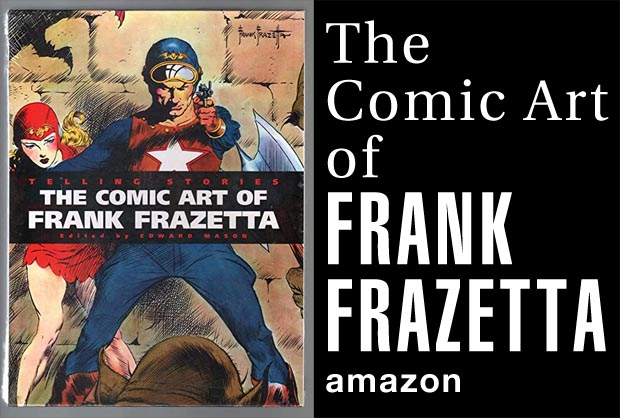 ---
Fantastic Paintings of Frazetta Hardcover – July 21, 2020
by J David Spurlock (Author), Frank Frazetta Jr. (Afterword)
Fantastic Paintings of Frazetta - AMAZON
---
Telling Stories: The Comic Art Of Frank Frazetta-Hardback - AMAZON
---
Frazetta: The Definitive Reference - Amazon
---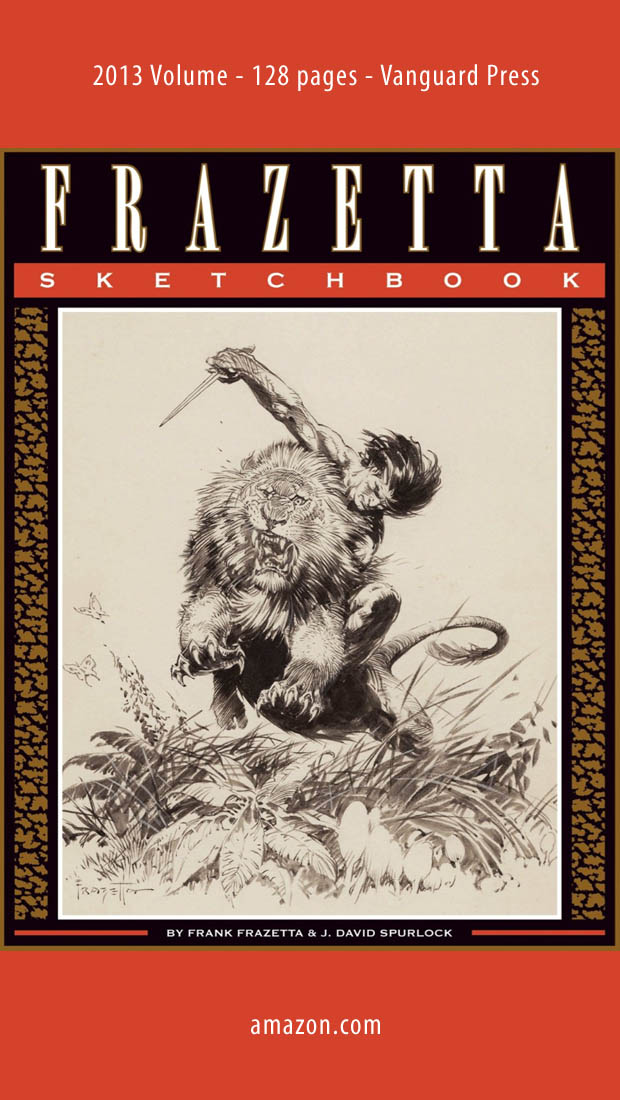 ---
Frazetta Sketchbook (vol II) (Vanguard Frazetta Classics) - Amazon
---
Conan the Phenomenon - Dark Horse Conan historian Paul Sammon looks at all the stages of the character's development, with commentary and archival material from the most integral players in that history, in this must-have book for anyone who's followed the barbarian through any of his incarnations.
---
Frazetta - Painting with Fire by Eleanor Frazetta - documentary - AMAZON
Frank Frazetta - Fire and Ice (Two-Disc Limited Edition) - AMAZON
Harcover Collection: Legacy by Frank Frazetta - AMAZON
---