Frank Frazetta: Buck Rogers cover from EC Comics Weird Science-Fantasy #29 sells for $380,000 USD.
Line artwork that appeared on EC Comics Weird Science Fantasy #29 in 1955
Artwork size 14.5" x 22.25"
June 2010
Originally drawn for a Buck Rogers themed cover to Famous Funnies (published by Eastern Color Printing/Famous Funnies Inc), it was rejected as too violent. Ended up as the cover to Weird Science-Fantary #29 for E C Comics in 1955 after Frazetta cut a special deal with Bill Gaines (for $30.00). In order to keep the original artwork (Gaines usually required complete ownership of the original art) Frazetta was paid half-price on the standard cover rate. Marie Severin did the original coloring job for the cover of WSF #29.
Frazetta told Gary Groth, in the Comics Journal magazine 1994 interview with the artist, that Frazetta considered this piece of artwork his peak work in his pen technique.
---
---
The black and white art was eventually hand-colored by Frazetta as a print issued by Frazetta-impresario Russ Cochran in 1971. For an interesting story about that print and the signed-hand-colored run, see this story at Golden Age Comic Books.
The original artwork sold to Joseph Halperin for $380,000 in May 2010. Halperin is the co-founder of Heritage Auctions, which handles a great deal of original comic book and phantasy art, among other collectible items. The previous record for a single piece of American comic book art was a Wally Wood cover to EC's Weird Science #1.
More Record Setting Comics related sales
Weird Science Fantasy 29 original art at Comic Art Fans
"Frazetta Cover Smashes Record for any Page of American Comic Book Art" – CBR – June 8, 2010
---
More Frank Frazetta
---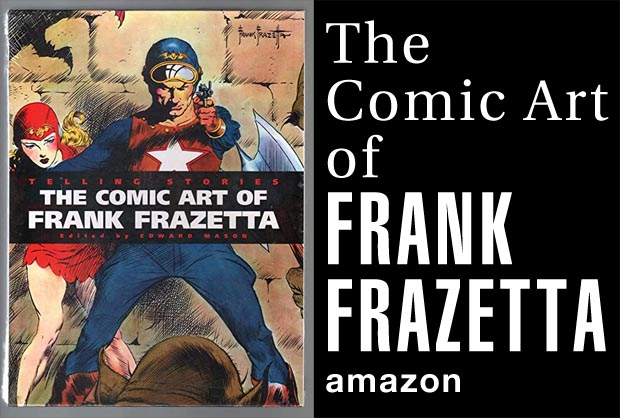 ---
Fantastic Paintings of Frazetta Hardcover – July 21, 2020
by J David Spurlock (Author), Frank Frazetta Jr. (Afterword)
Fantastic Paintings of Frazetta - AMAZON
---
Telling Stories: The Comic Art Of Frank Frazetta-Hardback - AMAZON
---
Frazetta: The Definitive Reference - Amazon
---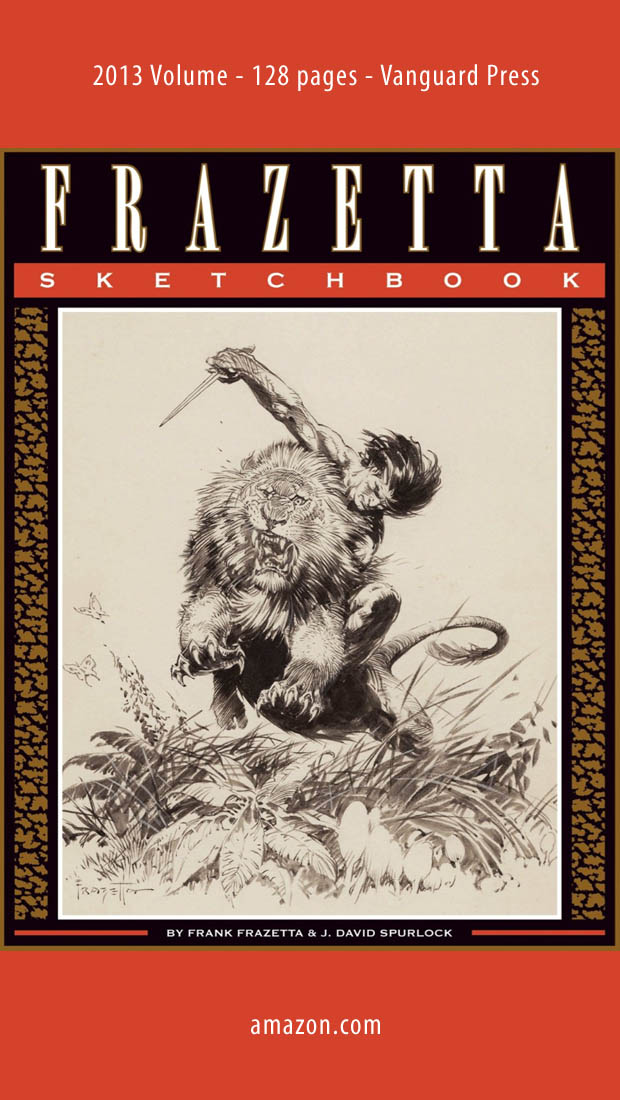 ---
Frazetta Sketchbook (vol II) (Vanguard Frazetta Classics) - Amazon
---
Conan the Phenomenon - Dark Horse Conan historian Paul Sammon looks at all the stages of the character's development, with commentary and archival material from the most integral players in that history, in this must-have book for anyone who's followed the barbarian through any of his incarnations.
---
Frazetta - Painting with Fire by Eleanor Frazetta - documentary - AMAZON
Frank Frazetta - Fire and Ice (Two-Disc Limited Edition) - AMAZON
Harcover Collection: Legacy by Frank Frazetta - AMAZON
---