Archive Page 2188
November 2023
---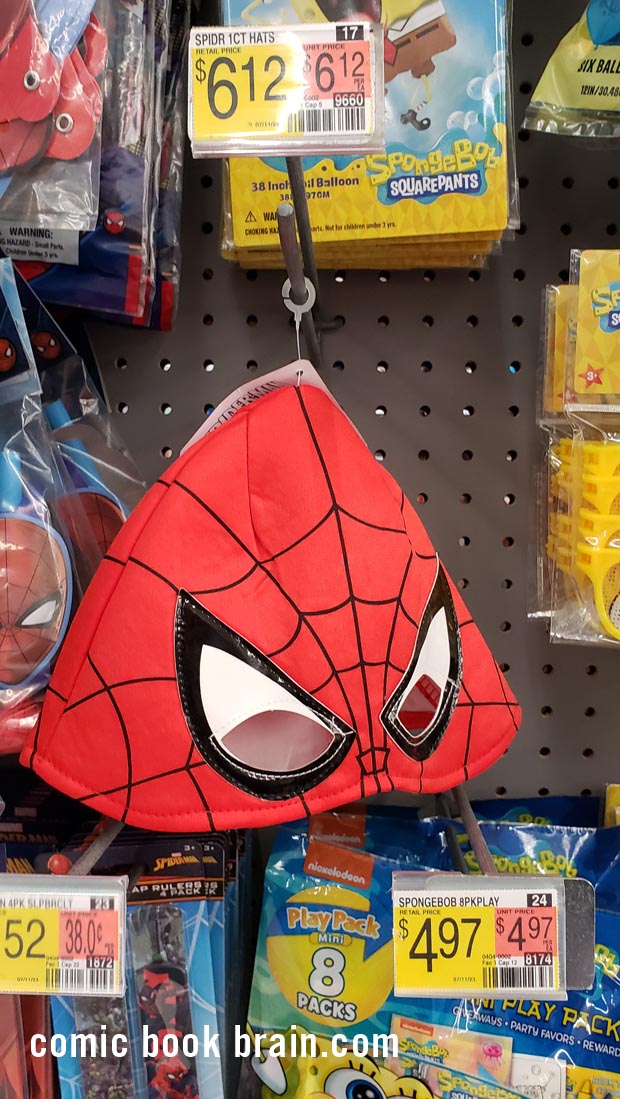 ---
The Crisis in Confidence at Marvel – Variety
This past September, a group of Marvel creatives, including studio chief Kevin Feige, assembled in Palm Springs for the studio's annual retreat. Most years, the vibe would have been confident — even cocky — given how the premier superhero brand, owned by Disney since 2009, has remade the entertainment business in its image.  
But this occasion was angst-ridden — everyone at Marvel was reeling from a series of disappointments on-screen, a legal scandal involving one of its biggest stars and questions about the viability of the studio's ambitious strategy to extend the brand beyond movies into streaming. The most pressing issue to be discussed at the retreat was what to do about Jonathan Majors, the actor who had been poised to carry the next phase of the Marvel
The article puts a lot of the burden of Marvel cinema/TV's grim future on the back of Jonathan Majors, more or less creating an unintended (or maybe intended) corollary that brings to mind DC's troubles with Ezra Miller.
More The Crisis in Confidence at Marvel
---
Lucasfilm troubles brewing – Bounding into Comics
---
Top fifty comic books from October 2023 – Icv2
---
DC introduces the Anti-Justice League – Screenrant MSN
---
Disney infighting heating up? – Barrons MSN
Walt Disney is finding it hard to shake off figures from its recent past. Activist investor Nelson Peltz has returned to the offensive at the company and he is being backed by former Marvel Chairman Isaac Perlmutter, according to The Wall Street Journal.
Isaac Perlmutter is the guy responsible for Robert Downey Jr in Iron Man (2008) and kicking off the "Marvel Universe" before getting pushed out of Disney in 2015.
---
Back in space: Flash Gordon strip returns – Comicsbeat
Comics institution Flash Gordon has returned to newspapers after a 20 year break, with cartoonist Dan Schkade taking over the strip.
---
Disney's Snow White remake shifts cast, reshoots, new controversies – Screenrant
For years it looked like Warners/DC could do nothing right, now that is being applied to Disney.
More about this: delayed for another year Disney's Snow White – Bounding into Comics
---
"Not even a superhero could save two of Los Angeles's oldest comic book stores" – LAist MSN
The drumbeat of closing shops continues – Geoffrey's Comics and Hi De-Ho Comics.
---
The Wolverine Bone Claws changed Mavel – MSN CBR
---
Gamer movie Five Nights at Freddy's leads box office
Story at The Numbers
---
Will The Marvels have a cameo of an OG X-Men? – Dexerto
---
The best horror comic artists of all time? – Yahoo Entertainment
The artists listed herein are fine (and any list like this of course has Berni Wrightson) but where is Johnny Craig? Dick Briefer? Jack Kamen? Well, a lot of other names come to mind! (If I was writing up this list it'd have Alex Nino on it.)
---
Putting new blood into the Conan series
Story at CBR MSN
In an exclusive interview with CBR, Conan the Barbarian writer Jim Zub revealed his personal connection to Howard's enduring hero, reflected on the appeal and core themes of the ultimate fantasy adventurer...
---
New The Marvels preview trailer
It's interesting the first image you see in this trailer are Chris Evans and Scarlett Johansson, who aren't even in the listed cast.
---
Warner Bros. restructuring includes changes to DC Comics businesses – Deadline MSN
---
About The Canada Comics Open Library
Story at The Comics Journal
This volunteer-run library in Toronto hosts comics artist residencies, workshops and other comics-related events. An interview by Kim Jooha with CCOL founder Rotem Anna Diamant and the manager of the project, Jordan Reg. Aelick, talks about what the CCOL does and where it emphasizes its attention.
---
Comic Book investing guide – Geek Wealth MSN
Talks about the basics of grading, provides an outline of values possible, says "education is key. "
---
Profile of comic book artist and publisher Derek Rook – Worcester Mag
---
The vast comic book collection at the University of South Carolina – Post and Courier
Gary Watson started the collection in 2019 with a donation of 150,000 comics, magazines and pulps he had amassed since 1958. The donation, valued at about $2.5 million, spread the word that the USC Library was a home for comics.
---
"...there's an assumption that anyone in the comic book business is making tons of money. The reality is an entirely different matter..." – Polygon
---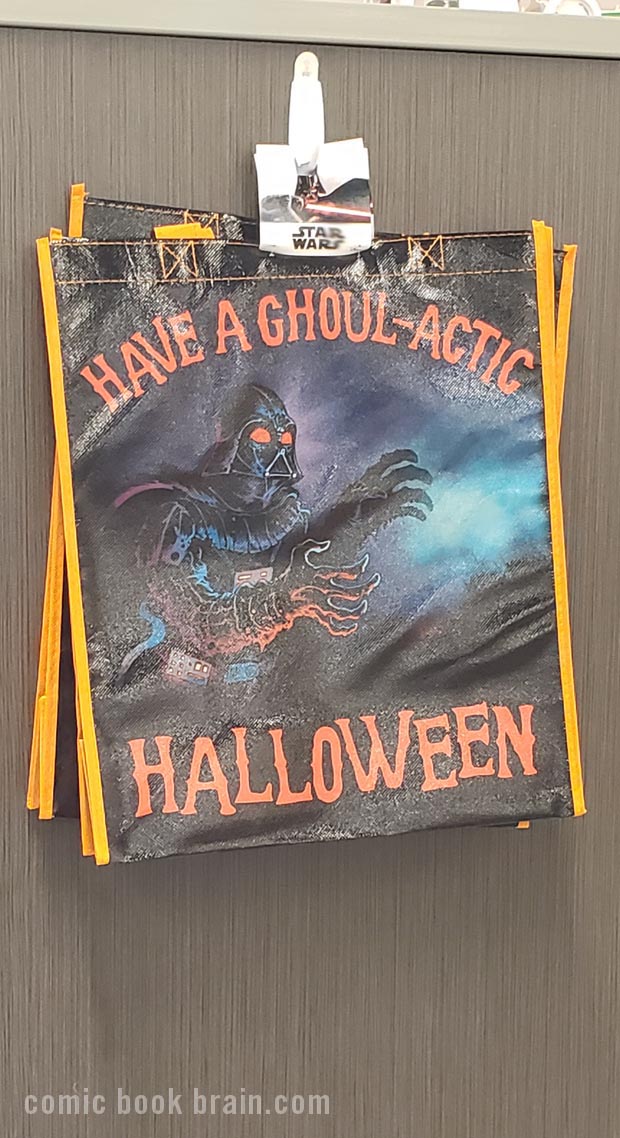 Darth Vader Ghoul-actic Halloween bags, grocery store check out wall
---
Paul Levitz and the Ra's al Ghul connection – 13thdimension.com
---
Manga title My Dress-Up Darling Manga has ten million copies "in distribution" – Comicbook
I take it that means printed copies in distribution is at ten million, but not sales.
---
"The Comics Industry Is a Dysfunctional Hellhole" says Alan Moore – Screenrant MSN
For someone no longer in the industry somehow Alan Moore is in the industry news a lot.
---
Secret Wars getting a complete 12 issue reprint from Marvel – Superherohype
---
The January 2024 DC comics list – Comics Beat
---
Striking actors in Hollywoood told to not wear certain "content" costumes – Bounding into Comics
---
Amazing Fantasy No. 15 from 1962 goes up for sale – Milwaukee Sentinel Journal MSN – References the $3.6 million dollar sale of a copy of Amazing Fantasy #15 in 2021, story at NY Times
---
Survey of apps for reading digital comics
Story at Tech Advocate
---
200,000+ fans at NY Comicon Javits Center "recharge the comic book industry"
Story at Publishers Weekly
For publishers, it was a transitional year. Marvel was the only major comics publisher to invest in a prominent show floor presence, as DC, Dark Horse, and Image mostly sat it out, while IDW set up in Artist Alley on the lower level. But the gap left an opening for upstart exhibitors like Vault and Mad Cave to shine... ...The splashiest announcement was for Ghost Machine, added as an imprint at Image Comics led by veteran writer/producer and former DC Comics executive Geoff Johns.
A lot of positive reportage in the article on the optimism within the industry, among fans and the publishers. It also talks about how the "big" book trade houses— PRH, MacMillan, HarperCollins, etc., were grouped together, but, it occurs to me, if anything, it seems to indicate that the independent nature of comic book publishing (as in not being one of these big labels) is becoming less and less with each year as non-comic book publishing houses swoop in for market share.
The question then becomes whether the non-comic book publishing houses can adequately understand comic books to keep them going (i.e., selling) and make the business flourish. In my experience, only "comic book people" understand comic books and can sell them to the comic book fans, and the non-comic book people typically want to "improve" comic books and end up making a mess of it, and understandably, alienate the "comic book people" who were the core audience.
On the other hand, packaging reprints of old comic books doesn't take any particular taste or understanding, and I'd say that the way Penguin Random House has been reprinting collections of old Marvel books has been much better than average. Good paper, spacing the pages in a logical way so the dreaded 'art disappears into the binding at the middle of the book" doesn't occur. That might seem like a small thing, but it is aggravating to see art (and sometimes text) vanish into the glue binding and you've got to crack the spine to see it. This reminds the reader, why don't I just go look at the original flat comic book stapled in the center? (Provided you have access to one, a dubious notion for those comics that are simply too expensive to acquire.)
---

---

---
---
Original page November 16, 2023 | Updated Nov 27, 2023