Archive Page 2156
February 20, 2023
---
The Superhero Comic book Future
Superheroes to lose their spot as Manga eats the American market – icv2
That ICV2 article from Feb 13 speculates on the causes and solutions for the "creative rut" in superhero comic books (and their sales problems). The article produced a response from the Perch Comics Youtube channel:
What does it mean?
I've been buying comic books since 1973 when I suddenly had a weekly allowance which made owning 20 cent comics possible. My observation from participating in the comic book business (as a custumer and as an employee) over the years is ...
---
Quantumania gets a $118 million start – Hollywood Reporter
---
San Diego Rocket-Con in its fourth year
Article at San Diego Union Tribune
Rocket Con was started more than five years ago by father-son duo Steve and Chase Lirley, who co-own comic book store TC's Rockets in Allied Gardens. It had 500 people in attendance the first year, Chase Lirley said, 1,500 the second and 3,500 last year. Last year was the first that the show turned a profit, he said. He admitted to being a bit overwhelmed Saturday morning as a line stretched around the parking lot of the Scottish Rite Center, with some comic book fans waiting nearly an hour to get entrance badges...
---
Quantumania at 3-day total of $109 million – MSN Deadline
---
Batman and Superman in the James Gunn future
James Gunn on Twitter talking in response to questions about how old Batman and Superman will be for the upcoming Gods and Monsters project list at Warners/DC:
"People are speculating about both ages. All I ever said was Superman was younger than in his forties and Batman MIGHT be a couple years older than Superman."
Superman: Legacy is supposed to come out July 11, 2025 and Gunn's Batman will show up first in a TV version of The Brave and the Bold
---
Quantumania starting to look like a $120 million opening weekend – Hollywood Reporter
---
Captain Marvel sequel moves from July 28th to November 10, 2023 for release.
---
Ant-Man III goes to $17.5M in Thursday Box Office – Hollywood Reporter
---
New WEB3 comics company online – 247comics
Well, you may ask, what is Web3 combined with comic books?
Web3 refers to the "decentralized web" using blockchain technology. This means using decentralized applications and services, this is meant to address the limitations of the current internet, such as centralized control, lack of privacy, and vulnerability to censorship and hacking.
Basically, Web3 is being used in conjunction with comic art to create decentralized platforms for buying and selling digital comics.
---
Ant-Man III estimated at $100 million for three-day-weekend start – Deadline Hollywood
Critics have been unusually cruel on this Marvel movie, giving it 48% on Rotten Tomatoes, which is very close to where Eternals was at 47%. However, Quantumania could prove to be Teflon to reviews, the walk-up factor here is the new MCU villain Kang the Conqueror, played by Jonathan Majors...
---
The May 2023 Marvel books coming out – Comicsbeat
---
Quantumania weekend
Whoa, there are some harsh reviews out there about the new Ant-Man film. On the other hand, there are a number of generally positive reviews, but they come from genre news organizations that may be a bit dependent upon the goodwill of Disney, that is, compromised review sources. As far as positive press goes, there is this at Deadline: 'Ant-Man And The Wasp: Quantumania' Looks To Swell To Franchise Best $280 Million Global Opening"
I expect the big media web sites (Hollywood Reporter, Variety, Deadline Hollywood, Billboard) will weigh in with critical reviews, versus promotional "about the filming of" articles of which there are plenty already, within the next day or two.
If Ant-Man And The Wasp: Quantumania tanks at the box office (rather unlikely) then the "I knew it all along" pieces will start flowing from the usual big news sources.
Quantumania "where more is less" – Wall Street Journal
Anyone who has been to a comic-book movie lately can tell you that should any interlude dare to linger more than about 37 seconds in a situation where not much is taking place except people talking, the theater will start twinkling like a galaxy as viewers take out their phones to check their messages..."
Quantumania "splat" – New York Times
"Clunky Fun" – Insider
"Quantumania proof we can officially panic about Marvel" – True Jersey
"Abysmal Reviews Has Internet Convinced MCU is Now a Sinking Ship" – Fandomwire
"Busy but enjoyably bonkers third installment" – Entertainment Weekly
---
Comic Book Sales Charts
Notice the mention of a comic shop chain going to a no-new-comics model. This is a phenomenon that appears to be spreading as the smaller, tight-budgeted shops cut off the heavy overhead of bringing in new stock every week that may, or may not, sell.
---
The "streaming purge is here" – Deadline Hollywood
Lists of shows getting pulled from online libraries. The article mentions how creatives are now looking at contract provisions that will require "guaranteed exhibition" because stuff is getting made and then departing so fast they don't even get to see it.
Westworld
Raised By Wolves
The Time Traveler's Wife
FBoy Island
The Nevers
Love Life
Minx and Gordita Chronicles by HBO Max
Dangerous Liaisons
Becoming Elizabeth and Step Up by Starz
Jordan Peele's The Twilight Zone
Real World: Homecoming
Interrogation
Coyote
No Activity
Guilty Party
Kidding
Super Pumped
On Becoming A God In Central Florida
American Rust
The Harper House
Pantheon
61st Street
Moonhaven by AMC+.
"The library content slim-down is probably not over yet; speculation is that Disney could be next."
---
What are the three most expensive collector comic books?
Action Comics #1 (1938) - The first published appearance of Superman makes this issue the highest sought and most expensive of collectible comic books. In 2014, a copy of Action Comics #1 sold for a record-breaking $3.2 million.
Detective Comics #27 (1939) - This features the first published appearance of Batman. A copy of Detective Comics #27 sold for $1.07 million in 2010.
Amazing Fantasy #15 (1962) - Spider-Man appears for the first time in the only (and last) issue of this title which was a retitling and reformatting of Amazing Adult Fantasy. Subsequent Spider-Man stories appeared in Amazing Spider-Man beginning with cover dated March 1963. In 2011, a copy of Amazing Fantasy #15 sold for $1.1 million.
Sources:
Spider-Man – March 9, 2011 – New York Daily News
Superman – April 11, 2021 - USA Herald
Batman – November 6, 2020 – CGC Comics
---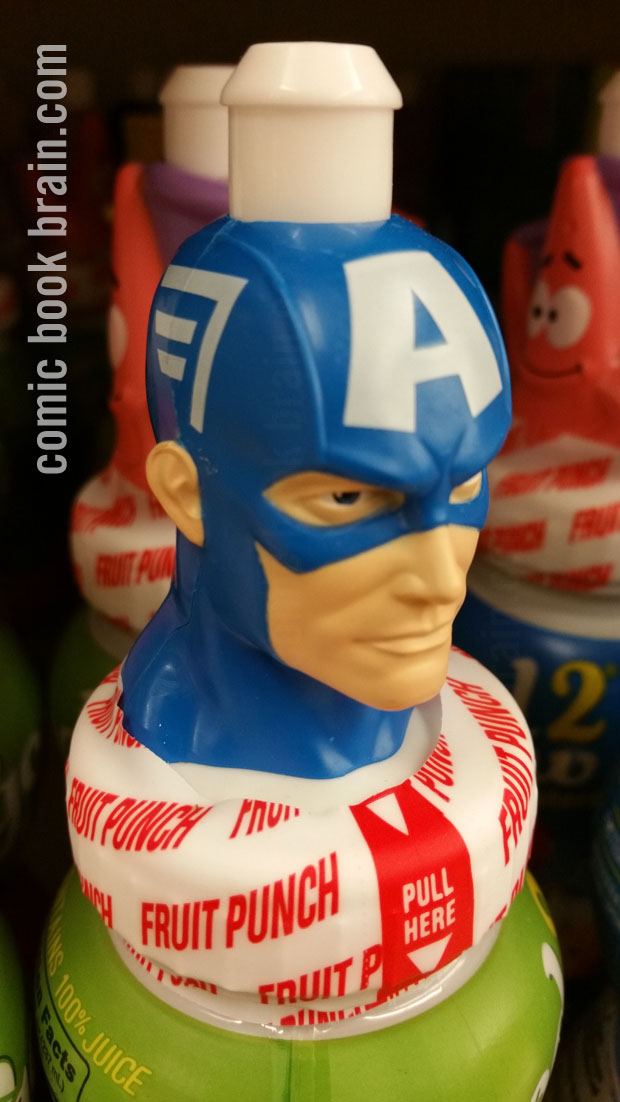 Captain America Fruit Punch
---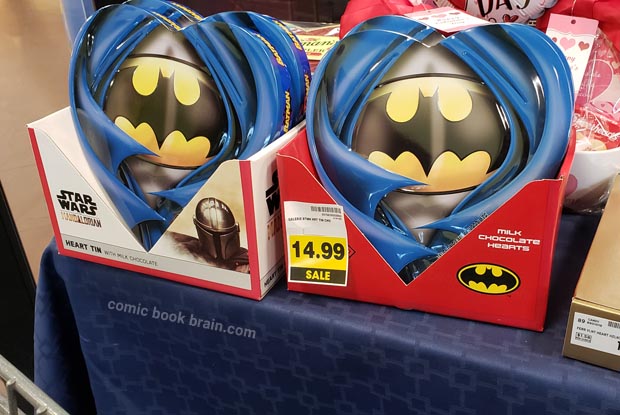 The day after Valentines at the grocery store
---

---

---
---
Original page Febraury 14, 2023