Archive Page 2149
November 22, 2022
---
On the right is the real Namor on the left is a cheap knockoff Halloween costume from a discount store. pic.twitter.com/R9JRuPfGeY

— The Astonishing one! (@andysmithart) November 22, 2022
---
Spider-Man and pop star Eminem duel raps on variant cover of issue Amazing Spider-Man #1 (Legacy #895)
Story at Gamesradar
---
Robert Pattinson tried to keep his audition for #TheBatman a secret from Christopher Nolan while filming 'Tenet'

'I said I had a family emergency. And as soon as I said 'it's a family emergency' he said: 'You're doing the Batman audition, aren't you?'' 😂 pic.twitter.com/E8cyNKfm5x

— Film Facts 🎬 (@Factsonfilm) November 22, 2022
---
Bob Iger back in charge at Disney
Story at UK Yahoo
On Sunday, Disney announced that Iger would be returning as CEO to replace Bob Chapek. Iger had stepped down as CEO in February 2020 but stayed on as executive chairman until December 2021, when he retired. The change is effective immediately, and Iger will remain CEO for two years, during which time he will work with the Board to "set the strategic direction for renewed growth" and identify a successor.
---
Has Netflix plagiarized a 2016 comic by Brazillian artist Mary Cagnin? – TheBrag
"I'm in shock," tweeted Cagnin. "I discovered that the 1899 series is simply identical to my comic Black Silence, which was published in 2016." "It's all there: The Black Pyramid. The deaths in the ship. The multinational crew. The seemingly strange and inexplicable things. The eye icons and when they appear. The voices that call them. Subtle plot details, like the personal dramas of the characters, including the mysterious deaths."
---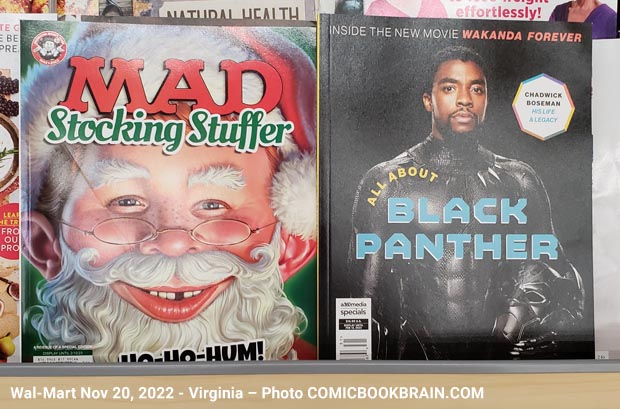 More stuff on Store shelves and racks
---
Thirty years ago: Superman died. Well, sort've.
Story at Tulsa World
Four different Superman titles per month were published in that era, and sales hovered around 150,000 per issue. Six million copies of the death issue were sold, which was great in the short term for DC Comics and comic store owners, but not so great for investors who hoped to make a killing in the re-sale market. With six million copies floating around, pretty much everyone who wanted a copy already had one — or more than one.
---
Short Review: She-Hulk, Attorney-at-Law
Ribald in places, plagued by what plagues TV shows in general (mainly repetition, especially in visuals and sets); but on the whole this series took the risks of playing up more humor and "4th wall" dynamics, to the extent that we literally see a She-Hulk crawl out through the holding screen for Disney-Plus programming and address the audience and then go on a hunt for the "writer's room" where she castigates the script-makers of She Hulk, Attorney-at-law for taking the "easy way" out on a particular episode.
Review of Short Review: She-Hulk, Attorney-at-Law
---
Chainsaw Man hits new high mark in copies sold – comicbook
According to Ametalk! TV Program in Japan, there are currently twenty million copies of Chainsaw Man in the world today, with the manga circulation an impressive number considering the fact that there are merely a dozen volumes that have helped in telling the tale of both Denji and Asa.
---
Concept art for She-Hulk and Daredevil designs from the Disney+ TV Show – comicbookmovie
---
Paul McCartney on the cover of the Batman-Superman Holiday Issue – futurecdn
---
Funky Winkerbean comic newspaper strip coming to an end – MSN Akron Beacon
---
New DC movie effort to "streamline Batman" - there won't be four Batmen – CinemaBlend
---
What's gonna happen in MCU Phase V – AV Club
But as Phase Five signals the beginning of the Multiverse Saga's second act, expect a greater crossover cohesiveness as the MCU begins to assemble characters into intriguing configurations and reveal more of the stakes posed by the increasing bleed-over of alternate chronologies. Every announced Phase Five film and TV series to date spotlights characters the audience is already familiar with—even Blade and Daredevil, to a certain extent—so in most cases origin stories and explainers can be set aside...
---
Star Trek #1 sells for record $46,500
Published by Gold Key in 1967 – CBS News MSN
That's a pretty good jump in value considering that Star Trek #1 as a 9.2 NM in Overstreet last year was only estimated at $2250.00
First "Star Trek" comic book sells for record $46,500 https://t.co/mxz4nZYe0x pic.twitter.com/MiIP6dwxVv

— CBS Sacramento CBS13 (@CBSSacramento) November 16, 2022
---
James Tynion IV has partnered his own comic book company with Dark Horse: Tiny Onion Studios – comicbook.com
The imprint will officially launch in February 2023 with Blue Book, a series from Tynion, Michael Avon Oeming, and Aditya Bidikar previously released on the Tiny Onion Substack. The second series in 2023 will then hit shelves in June, featuring the first time The Oddly Peedstrian Life of Christopher Chaos will make it to print. Christopher Chaos, again, first debuted on Substack from Tate Brombal, Isaac Goodharts, Kurt Michael Russell, and Bidikar.
---
Variety: Wakanda Forever has huge debut
Story at MSN Variety
Those ticket sales fell short of its predecessor, 2018's "Black Panther," which became an instant cultural phenomenon with its $202 million domestic debut. Still, the sequel's initial turnout underscores the reality that Marvel is simply operating on another level, at least when it comes to getting butts in seats. Case in point: "Wakanda Forever" has earned almost as much at the global box office in three days as rival comic book movie "Black Adam," has generated after four weeks in theaters. And that film, which has $352 million in the bank, features Dwayne Johnson, who is considered to be one of the biggest movie stars in the world.
---
Review of Hell is a Squared Circle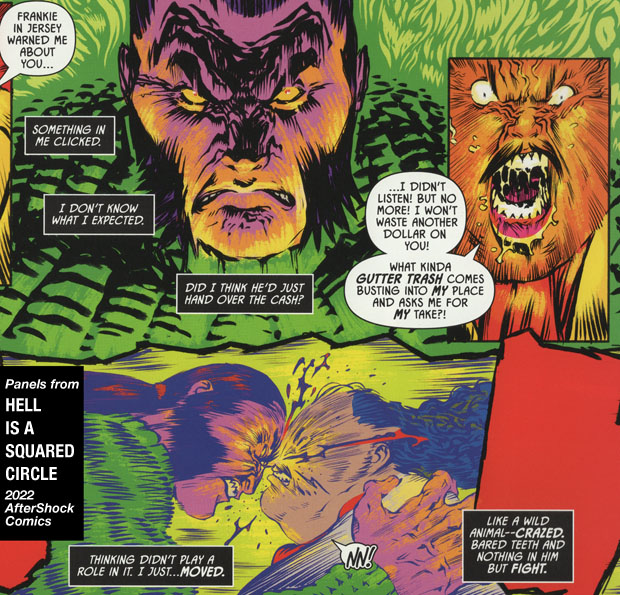 ---

---

---
---
Original page December 14, 2022