Archive Page 2123
February 15, 2022
---
Copyright fight over Wonder Woman and "Wonder Mom" – UK Daily Mail
DC Comics locked in a High Court battle with Unilever over Wonder Mum brand... UK-based manufacturing giant Unilever was granted permission to register the Wonder Mum line by the Intellectual Property Office (IPO) in June last year, despite DC's opposition over alleged copyright infringement.
The comic book giant insists that customers will assume the products, which will include soaps, perfumery and shampoos, are linked to its Wonder Woman superhero - created in 1941.
---
Is DC Comics getting merged? – Bleeding Cool
....a number of West Coast sources have woken up this morning to the word that something big is happening at Warners with DC Comics. Just no one is willing (or is entirely sure enough) to share details. Not with me at least. Not yet, I mean, do you blame them? I'll tell anyone. The only detail I have been able to ascertain is that it is a Merger. A merger with whom? No idea? Merging two divisions with Warners, such as DC and HBO? DC and CW as a saleable entity? DC and Consumer Products aligning finally? DC Comics and DC Film being merged into one operation? Selling off DC to Disney so they can merge it with Marvel? Absorbing another publisher already under Warners' ownership? No idea..."
---
Why is it hard for new characters to survive in comicbookdom? – MSN News
---
Spider-Man No Way I Don't Go Home in a Gold Rolls Royce now pushes past Avatar for #3 all time domestic box office champ – Hollywood Reporter
Globally... Avatar remains the No. 1 film of all time worldwide after earning $2.84 billion throughout the course of its lifetime. Avengers: Endgame ranks No. 2, after earning $2.79 billion.
Dr. Strange says: I didn't think Spider-Man could do this well – Yahoo News
---
Disney's Moon Knight Series use of "Mr. Knight" design does so without apparently compensating the designer Declan Shalvey – Bounding into Comics
---
Academy Awards introduces "Fan Favourite" category, also says Zack Snyder's Justice League not eligible – Digital Spy
---
Mitchell's Auction in UK lists Marvel Comics as big sellers in recent sale – Cumbriacrack
Joint top selling lot was a box of around 300 comics, including Marvel's Wolverine and The Uncanny X-Men, which also sold for £420."
---
Supposedly the "restore the Snyderverse" tag on Twitter has had over 120K retweets.
---
So there's a Star Trek #4 movie coming – CBR
---
How The Batman became an "AMC Artisan Film" – Cheatsheet
---
Moon Knight Empire Mag covers – Comicbookmovie
---
The Batman is being predicted for a $80 million dollar starting weekend – Slash Film
---
Death on the Nile rules weekend as #1 film
Death on the Nile – $12,800,000 ($33,500,000 worldwide)
Marry Me – $8,000,000 ($16,534,000 worldwide)
Spider-Man No Way I Get An Oscar For Best Picture – $759,000,817 ($1,804,000,817)
Jackass Forever – $37,420,000 ($47,420,000 worldwide)
Black Light – $3,600,000 ($3,600,000 worldwide)
Story about the box office over Super Bowl weekend at Deadline Hollywood
---
30,000 comic books, many "vintage," go on auction in Newcastle UK
Auction house web page with pix of comics – Anderson & Garland
Article about event at Chronicle Live
A huge collection of 30,000 ''interesting and collectable'' historic comics featuring everyone's favourite super heroes from Marvel and DC such as Spider-Man and Batman, as well as characters from X-Men, The Avengers and Fantastic Four plus many other rare and unusual issues are going on sale at Anderson & Garland Auctioneers in Newcastle.
Today, comics are more valuable than at any point in history and this latest comic auction on the 15th and 16th February 2022 at the Westerhope auction house is expected to attract bids from buyers from not just here in the UK but also from America and around the world.
---
Moon Knight covers for Empire – art at comicbookmovie
---
Spider-Man, NFTS, changing the world – Hindustan Times
---
Valentine's Day Comic Books: Harley Quinn, Archie, Red Sonja – Yahoo News
---
Superhero Anthropology
Why is comic book fan "ownership" towards characters so much stronger than in other media? – MSN News - Newsarama
"Attaching yourself to a character means you want to share their story," says Louise Krasniewicz, an anthropologist and lecturer for the University of Pennsylvania who studies fan culture. "You want to enter their world and see what happens. It is more like being alongside them as a buddy. You don't walk in their shoes but rather in their shadow, quietly, as they live in their alternative world."
......Krasniewicz said she has experienced first-hand the type of unique sense of ownership comic fans feel.
"I remember years ago being at a Green Lantern session at Comic-Con International: San Diego, in which the authors of the new series were confronted by bewildered and angry fans who pointed out endless inconsistencies between the old series and the new," she says. "My companions and I - none of whom read Green Lantern; we were waiting to see Ray Bradbury - were hysterical with laughter, but these guys were deadly serious about their feelings."
---
Batman is afraid of Willem Defoe – Uproxx
The Batman tickets go on sale on Fandango – Deadline Hollywood
---
Could Spider-Man finally bring a special effects Oscar for a Marvel character film? – MSN News
---
Russell Crowe is cast for Kraven the Hunter – Variety
---
The Batman is a "Riddler Origin Story" – Comicbookmovie
The Batman is "a true detective story" – Hollywood Reporter
Batman is "weirdo" says Robert Pattinson while promoting the coming The Batman movie – The Week – DC/Warner marketing is dead on point, I take it.
Pattinson interview at GQ about "Nihilistic Batman" featured in "Blonde and Bloody GQ Cover" – TooFab
---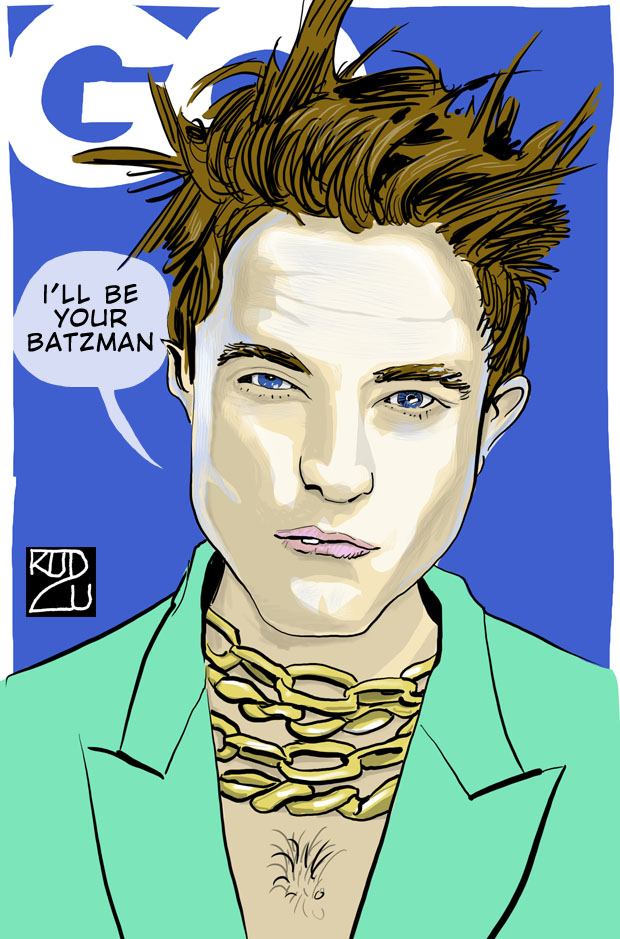 ---
Special effects legend Douglas Trumbull has died – Vulture – the guy who worked on 2001, Silent Running, Close Encounters of the Third Kind, Star Trek, Blade Runner, and a lot more - credits list at IMDB
---
Huge theft of comic books at Florida University – MSN News - theft apparently by the school security chief
---
Spider-Man No Way I Don't Get Two or Three Sequels could've gone to over $2 billion if it had been allowed to release into China – or so says MSN News
---
DC planning custom cardboard display promotional set-ups for comic shops to coincide with release of the The Batman, Black Adam, The Flash, Batgirl, and Aquaman Sequel movies – Gamesradar – Also promo trailers for The Batman have had "get these comic books" add-ons to persuade people to go to a comic book shop to buy some Batman comics
---
Batman Collection coming to Nintendo Switch – Yahoo
...listing was discovered on French retailer WTT's website, which lists the trilogy for the Switch to arrive this August for €60 EUR (approximately $69 USD). Though no official announcements have been made by Warner Bros. or Nintendo just yet, it's notable that WTT is also responsible for leaking the release of The Witcher 3: The Wild Hunt early when that game was ported over to the Switch.
---
Heavy duty DC Comics promo for new Batman - comicbook
DC Comics' I Am Batman series is popping up around New York City to celebrate Jace Fox becoming New York's Batman. These "wild postings" advertise the upcoming release of I Am Batman #6, written by award-winning screenwriter John Ridley (12 Years A Slave, American Crime, Let It Fall) and featuring art by Ken Lashley and Rex Lokus. The banners feature artwork by Taurin Clarke (Icon & Rocket: Season One) that shows Jace in costume but with his face revealed, the New York skyline serving as his background. The images are six feet tall by eight feet wide, making it an ideal backdrop for fan photos.
---

This art crime by kudzposter
---
Now everybody from Belgium is Tintin - 9news
Famed comic characters Tintin, the Smurfs to feature on Belgium's new passport
---
Cinema: Jackass is number one film in America, Moonfall falls and Spider-Man No Way I don't make another couple of million dollars slides into the #2 spot – Variety
---

---

---
---
Original page February 28, 2022