Superhero Popeye
---
---

Superhero Popeye
Segar's Popeye is a unique figure. Bill Blackbeard argues Popeye is the original first "superhero," predating Superman by years. Kids and teens of today may find it hard to reconcile what they picture as a "super hero" with the image of a sailor man whose super power lies in eating his spinach.
But the proof of Popeye's superhero bone fides lies in the argument that Popeye gained super strength from a can of spinach and that's how he defeated his foes, not completely dissimilar to gamma rays, isotopes or potions.
In his essay "The First (Arf, Arf) Superhero of them All," from the book All In Color for A Dime, published 1970, Blackbeard's description of the Popeye that Elzie Crisler Segar created back in January 17, 1929, is the best one I've yet read:
"Segar's Popeye is a character compounded of vulgarity and compassion, raw aggression, and protective gentleness, violent waterfront humor and genuine 'senskibiliky,' thickheaded stubbornness and imaginative leadership, brutal enmity and warm friendship, who knock out a 'horsk' in a rage and nurses a baby carefully while it is suffering a fever that makes thermometers pop. He is no paranoid daydream, but a realistic, complex, often wrong but determined man of action who suffers continual agonies of decision, who pursues what he believes to be right far beyond the bounds of cop-interpreted law and order, who has to fight his very way to comprehensibility through the warp and woof of an English language that is often almost too much for him." (Page 94, paperback edition, All in Color for a Dime)
Blackbeard goes on to summarize the Popeye phenomenon of that era by saying that the popularity of the little sailor far outstripped anything enjoyed by the costumed heroes in capes and masks that began to appear after him, and the Fleisher cartoon versions for movie theatres drew many more people than ever showed up for the Superman and Batman serials that played at local bijou's. All of that underscores how much America has changed, as Popeye has become a fringe character in the current pop art character pantheon.
Besides Popeye, Segar also used his page space provided by Hearst to run another strip titled "Sappo." In this space Segar also provided the artwork for the original reason Hearst brought him in: "Thimble Theatre," a miniature 'movie theatre' diorama, which was a substitute for a previous strip series called "Minute Movies" by a different artist. Popeye was the unexpected phenomenon growing from being a minor side character within an already established comic strip, popularity gaining until he eclipsed it entirely.
Elzie Crisler Segar was born December 8, 1894, and died October 13, 1938 at the age of 43 from complications of liver disease. Segar debuted his cartooning career with "Thimble Theatre" on December 19, 1919, the strip featured the characters Olive Oyl, Castor Oyl, and Ham Gravy. In a January 17, 1929 episode of the strip, the character Castor Oyl goes to find a sailor to navigate his ship to Dice Island, that sailor's name: Popeye.
---
Original Page 2006, Updated May 2019
---
---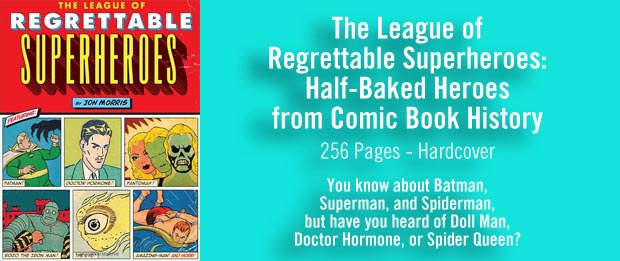 The League of Regrettable Superheroes: Half-Baked Heroes from Comic Book History - AMAZON
---