The Plight of the coming DC Movies
Opinion: How it looks going forward
---
---
May 2018
(A note on sources: Just the usual stuff on the internet, land of a billion distortions and half-truths. IMDB and Box Office Mojo used for stats.)
Trying to get a cinema DCU hatched has proved a real chore, with box office disappointment and bad critical responses hurting several DC premieres. DC/Warner's has a mountain of goodwill aimed at their characters from so many decades of comic book reading, Super Friends TV shows, and so on, but the powers that be seem unable to really capitalize on this built-in fan base. Did the success of Wonder Woman signal a change? Or is the meagre earnings of Justice League an indication of what is still ahead?
Aquaman - Scheduled for a Dec 21, 2018 release. Directed by James Wan with Amber Heard as Mera and Jason Momoa as the underwater Lord. Momoa's anti-hero Aquaman was one of the brighter spots in Justice League, the character less the golden-haired DC comics hero of yore (literally, Momoa's hair was a dark mass probably meant to imply seaweed, like the ancient depictions of mer-people in old paintings). Momoa's Aquaman was also a bit touched with Namor-like ferocity, the original 1939 sub-mariner who had attitude to spare in his animosity toward the 'surface world.' Whatever the case, DC is surfing forward with this project but another box office failure would probably make some people start scratching their heads about how Patty Jenkins was able to get a well done Wonder Woman made and were all those Nolan Batman movies just flukes.
Batgirl - In limbo, with a number of Hollywood names having come and gone. The only officially attached name is writer Christina Hodges (who is also listed on the Birds of Prey project with Margot Robbie).
Blackhawk - Spielberg is producing and has David Koepp writing the script. The rumor is that Spielberg might direct this project, which would automatically move the relatively obscure DC hero squad into major Hollywood attention. Spielberg is a professional up and down the line with his projects, and this is something DC/Warners really needs. Marvel has the advantage right now because of attention to details, cohesion across the franchise, deepening wells of good will inside and outside of comics fandom, and luck. Maybe Spielberg could bring some of that to DC (if Spielberg ends up walking away shaking his head that might indicate a more deep-rooted, fundamental problem at DC/Warners.)
Wonder Woman 2 - November 1, 2019 scheduled release. Patty Jenkins is directing again and Gal Gadot returns as Diana Prince. As one of the definite hits within the battered DCU film world, the pressure is on Jenkins (and Gadot) to repeat the major-league success of the first film. Currently the rumor is that the film will take place during the 1980s with some kind of Soviet threat, and Cheetah will be the villain to battle. Nefarious Russians up against Diana Prince seems like a too obvious conflict, as if sprung right out of a season 3 episode of Lynda Carter's Wonder Woman TV show. Whether this is an example of DC playing it safe (which is certainly understandable considering how much trouble has come with trying to get the cinematic DCU off the ground) or does this indicate a lack of ideas? It all comes down to the script, and writers David Callaham and Patty Jenkins are the ones carrying this sequel forward.
The Batman - Matt Reeves is the current official director, but The Batman has already morphed several times and there seems to be some inherent volatility to this project. Officially, the cast is Ben Affleck back as Bruce Wayne with Joe Manganiello as Slade Wilson / Deathstroke. J.K. Simmons is cast as Commissioner Gordon and Jeremy Irons as Alfred Pennyworth. With the burden of the dismal Justice League movie hanging over the cinematic DCU, and the multi-billion-dollar earning Nolan Batman movies not too far away in the rear view mirror, Reeves has his work cut out for him.
Birds of Prey - Harley Quinn - This is Margot Robbie's film, with Cathy Yan directing and Christina Hodson writing (she's also attached to the hibernating Batgirl film). One of the bright spots in all of the slagging that hit David Ayer's Suicide Squad in 2016 was how much Robbie's version of the Harley Quinn character dominated the film (in a good way) making up somewhat for the over-tweaked, over-done shenanigans that was up on the screen.
The New Gods - Jack Kirby's 1970s bid for popularizing an on-demand new hero mythology has Ava DuVernay directing and Kario Salem writing. The question here is that Kirby's work on his "4th world" stories was influential (just see Lucas' Star Wars for a quick sense of Kirby's reach) but the Kirby New Gods didn't particularly sell well in the 70s (Mister Miracle and Big Barda seems to be the main popularized element). What will be the difference now?
The Joker and Harley Quinn - This film project seems to be lingering on the edges of limbo, but officially has two directors attached: Glenn Ficarra and John Requa. Supposedly it is to be a Margot Robbie and Jared Leto showcase, but it is apparently being subsumed by the Harley Quinn - Birds of Prey project.
The Joker - Ditto, being subsumed by the Birds of Prey project.
Suicide Squad 2 - Director Gavin O'Connor with Dwayne Johnson as Black Adam attached. Like others, this project is sidelined in favor of the Birds of Prey project.
Black Adam - Dwayne Johnson is the only thing that is attached to this, and until he gets on the screen somewhere as Captain (Shazam) Marvel's anti-hero nemesis, this film is probably in the ice box right next to Justice League 2.
Shazam! - Ditto
The Flash - Before the Justice League movie implosion, this project had more steam behind it. Officially marked for 2020 release, it appears that this is another of the DCU missing-in-action projects until more clarity is available about what will sell tickets and what won't when the DC logo is on it
Green Lantern Corps - Ryan Reynolds 2011 Green Lantern made $219,851,172 worldwide, which didn't even cover production and marketing budget. Since then, the Green Lantern comics have been experimenting with different ideas and new characters (the Lantern Jessica Cruz, who is directly related to a Batman story, being one of the highlights). With a Batman connection, a Green Lantern Corps film might be able to overcome whatever residual shadow of failure lingers from the 2011 movie.
Lobo - Limbo.
Justice League Dark - The problem with this project is that is relies on good will at the cineplex from a successful Justice League movie, which isn't the case at present. Put a different way, running a variation on a successful property to capitalize on it's fandom, you've got to have a happy fandom that is pleased with the original item you're making a variation from, and that's exactly the opposite of the problem with the 2017 Justice League which annoyed a lot of JLA fans, and then you add in the underperforming box office. The IMDB description makes it perfectly understandable idea, though: "...the film is considered to center on a dark 'Justice League' team that consists of John Constantine, Swamp Thing, Deadman, Zatanna and Etrigan the Demon." With the main brand of JLA damaged, getting people to buy tickets for a mostly unknown corps of new characters looks like an impossible bid, and this project seems like a cog meant to fall into place following rabid demand for more Hollywood Justice League, which as we now know is simply not the case. Put Wonder Woman in charge of this cadre of characters (or Batman) and you might have a shot at positive attention.
Booster Gold - almost certainly Blue Beetle will be tossed into this, too. Though it has a director attached (Greg Berlanti) this film appears to have a big question mark hanging over it's actual production.
Nightwing - Another question mark production with a director attached, Chris McKay.
Abandoned Projects?
Justice League 2 - At this point, it looks like Justice League II is filed alongside a Sony Amazing Spider-Man 3 movie, i.e., only likely to premier in an alternative universe.
Man of Steel 2 - The original Man of Steal did pretty good box office and got Henry Cavill and Amy Adams off to a good start as the iconic Lois Lane and Clark Kent. Most of the complaints about the original film came from people who already nursed misgivings about the Superman character in general. At one point in 2013, Man of Steal was in the top 10 all-time performing superhero movies for worldwide box office, but that was before a slew of Marvel movies came along and banked millions (and billions) more in earnings. Somehow, compared to the intricate soap opera and tesseract-fueled unifying plotline of the Marvel movies, Man of Steal seems from a different era.
Note: the idea for this article came from this over at MTV : A complete guide toDC's upcoming superhero movies - Their article contains more Hollywoodish info and speculation.
- Alonso Petreski
---
---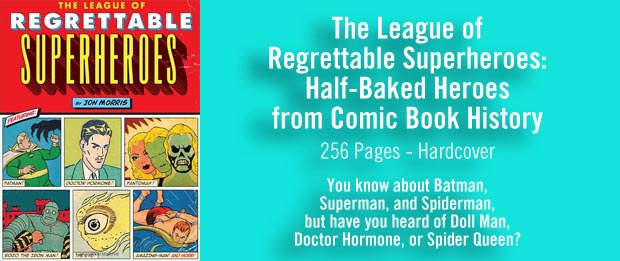 The League of Regrettable Superheroes: Half-Baked Heroes from Comic Book History - AMAZON
---
Original Page June 2013 | April 2018
---