Jack Kirby
August 28, 1917 – February 6, 1994
The Jack Kirby Museum and Research Center Web Site
The Kirby Estate Legal case against Disney/Marvel
Short Bio of Jack Kirby
One of the most famous comic book artists of the 20th century, Jacob Kurtzberg was born in New York City to Austrian Jewish immigrants, and he spent the majority of his childhood on Suffolk Street, always interested in art and seeking out ways to learn about it. [Some of how Kirby remembered his childhood is depicted in the penciled comic book story "Street Code" which was published by Twomorrows Publishing in the anthology collection Streetwise – Amazon.]
Kirby used the name "Jack Curtiss" in his first comic book efforts during the 1930s as a teenager. He had also worked for the Fleischer Studios in animation film for awhile, and had drawn images for various New York City area publications. He was finally working at Fox Feature Syndicate in 1942, drawing the hero book "Blue Bolt," and from there he went to Timely Comics and was soon drawing Captain America, a character he co-created with writer and artist Joe Simon. The contract on Captain America gave Kirby a 15% stake in profits for the character through Timely Comics owner Martin Goodman.
---
---
With the second world war underway, Kirby and Simon generated a years worth of Captain America and other material for Goodman in anticipation of being drafted into the United State military. Kirby finally went into the army at the end of 1942, after marrying "Roz" Goldstein. Kirby was released from the service after hospitalization for frostbite which he received from his combat duty in Europe. Kirby was discharged as Private First Class on July 20, 1945, having received a Combat Infantryman Badge and a European/African/Middle Eastern Theater ribbon with a bronze battle star.
Kirby and Simon teamed again to produce material for Harvey Comics, Crestwood and Hillman Publications, working on children's comics, "kid gang" books and then finally their biggest success, "romance" comics which Simon and Kirby had negotiated a 50% share in profits for the flagship title "Young Romance," the sales volume was enough to allow Kirby to purchase a home for his growing family, which now included three children.
At the same time, Timely relaunched Captain America, and Simon and Kirby countered with "Fighting American" which originally was played as a straight hero book, but then began to include satire following the uproar over the anti-communist "witch hunts" of the 1950s and particularly the career of Senator Joe McCarthy.
---
---
At about this time Kirby and Simon began to disagree on projects for their partnership (and a comics company they began together called "Mainline Comics"), and following a financial battle with Crestwood over $130,000 in unpaid monies, the pair split up.
Freelancing, Kirby then started a 600 plus-page run at National Periodicals (DC Comics) but after a multitude of disagreements with various DC Comics editors and fellow-artists/writers, Kirby went to Atlas Comics, then edited by Stan Lee, nephew of Martin Goodman of Timely Comics. Kirby continued to contribute some work to DC Comics, but finally settled in at Atlas which had begun the transformation into Marvel Comics. Kirby's work on monster titles like Tales to Astonish were selling particularly well, and Kirby and Stan Lee took the concept and expanded it into superhero books with Fantastic Four #1, in 1961.
This comic book, and its sales success, prompted Kirby to create dozens of additional characters and in effect create a theme for all of the Marvel comics throughout the 1960s, attenuated by Stan Lee who was both editor-and-chief and a principal writer. The success of the company, and fighting over ownership of Captain America (litigation prompted by Joe Simon filing a copyright renewal on the character in his own name in 1969) combined into a legal and personal chasm between Kirby and Martin Goodman, Marvel's owner.
In 1970 Kirby signed a three-year contract with DC Comics and discontinued his Marvel work. At DC he created a series of various books under the rubric of "The Fourth World" which touched upon an expanded view of superhero existence into a kind of galactic mythology of super powered deities. Though not particularly successful from a sales point of view, the books have been imitated and strongly contributed to the "superhero mythos" ideas that abound in later 20th century and now 21st century superhero comics.
In 1976, Kirby was back at Marvel, but was still rankling over financial fights in which he sought either compensation or ownership over characters he had created in the 1950s and 60s. By the 1980s, Kirby was again freelancing and did work for various publishers, but specializing in animation design which he was doing from his California home, having left New York City with his family to escape the winter weather.
He continued to agitate, by various means and with the support of friends, for acknowledgement of his seminal comics work and for legal ownership of characters he has created in the past.
Kirby died of heart failure on February 6, 1994, at the age of 76.
Vaguely related: The Superman Copyright Wars
---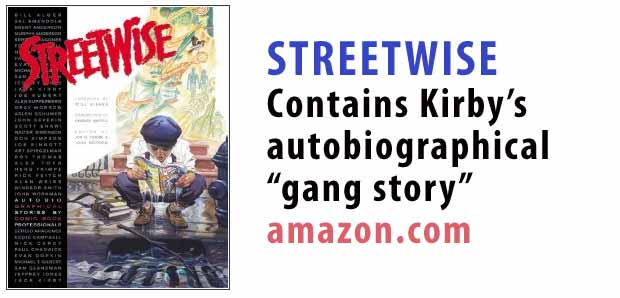 ---
Jack Kirby's DC Years
"After his breakup with Stan in 1970, Kirby had gone over to DC, where publisher Carmine Infantino had promised him artistic and editorial freedom. Kirby created several titles for the company, including the acclaimed Fourth World Line – The New Gods, Superman's Pal Jimmy Olsen, The Forever People, and Mister Miracle. However, it soon became apparent that Kirby, for all his mastery of plots and pencils, needed an editor, someone to restrain his more outlandish impulses and to clean up his clunky dialogue. At Marvel, Stan had fulfilled this function in what had been a near-perfect arrangement for both men until their later difficulties . On their own, neither creator would ever again match the specific, accessible brilliance of their combined efforts during the formative years of the Marvel Age. Kirby's early-1970s DC work – raw, frenzied, laden with metaphor but occasionally baffling – underscored that point. Increasingly, DC's editors meddled with Kirby's titles, rankling the veteran artist to the point that when it came time to re-up his contract in 1975, he was already headed back to his former employer."
– Stan Lee - The Rise and Fall of the American Comic Book, by Jordan Raphael and Tom Spurgeon, page 178, Chicago Review Press, 2003.
Amazon - Stan Lee and the Rise and Fall of the American Comic Book
---
August 23, 2017
Why Pop Culture Is Celebrating Jack Kirby's 100th Birthday - Forbes
"...Kirby worked for Marvel as a freelancer, not a staff artist. Under the terms of his deal, he did not participate in revenues from licensing on properties he created, or receive royalties when his work was reprinted. He did not even get his original artwork back after it had been published, even though that was the practice in other fields of commercial art and illustration. He was willing to overlook those slights to maintain good relationships with his employers, but it soon became obvious that everyone was making millions off Kirby's work except for Kirby.

...By the late 70s, Kirby was engaged in a protracted legal struggle to establish his rights – a struggle that would last the rest of his life. The issue would not be resolved until Disney, which purchased Marvel in 2009, settled with his estate to avoid a Supreme Court ruling on the entire issue of work-for-hire and copyright ownership that could have upended the entire entertainment industry. That settlement took place in 2014, twenty years after his death and half a century after he'd established the bulk of his creative legacy."
Was Darth Vader a Rip-Off of Jack Kirby's Doctor Doom? - MovieWeb
"...There is no hard evidence that says George Lucas stole the design for Vader from Jack Kirby, but it is more than enough to raise an eyebrow. Regardless, they don't call him King Kirby for nothing. The man created Captain America, Black Panther and a whole host of incredible characters for Marvel and DC Comics during his lifetime. Not the least of which was Doctor Doom. And, even if we can't say for sure, he very well may have had a big part in influencing one of the greatest villains ever in any medium with Darth Vader from Star Wars. All hail the king."
Marvel Comics Jack Kirby 100 Page - Marvel Comics
Celebrating Jack Kirby, the King of Comics, at 100 - techcrunch.com
"Kirby would have turned 100 on August 28. It may seem a little strange for us to be celebrating him just a few weeks after worrying that comics publishers are becoming little more than IP factories for Hollywood. After all, if DC and Marvel have become IP factories, then it was Kirby who laid the factories' foundation."
Captain America's Creator Spent a Lifetime Punching Nazis - thedailybeast.com
"Jacob Kurtzberg was a thug by default. His immigrant family paid $12 a month to live in a Suffolk Street tenement, where violence was as ubiquitous as poverty. For protection more than sadism, Kurtzberg's friends were gang members, engaging in what they called "climb-outs," the art of chasing or being chased up fire escapes to get money or settle scores."

"...Captain America was not an instant, universal American icon in 1941. Kirby and his co-creator Joe Simon, both Jewish, received death threats. A biographer, longtime Kirby assistant Mark Evanier, described Kirby getting a phone call from someone urging him to come down to the lobby of Timely Comics (the company that would become Marvel), where three thugs wanted "to show him what real Nazis would do to his Captain America." Kirby, Evanier recalled, "rolled up his sleeves and headed downstairs."
10 must-read single issues to celebrate Kirby's Centennial - comicsbeat.com
Captain America Comics #1 (1941)
Young Romance #12 (1949)
Challengers of the Unknown #3 (1958)
Tales to Astonish #13 (1959)
Fantastic Four #51 (1966)
'Captain America' creator Jack Kirby's work has new relevance - mystatesman.com
...There is no doubt in my mind, and the minds of others, that he is easily one of the most important artists of the 20th century, up there with Picasso, Louis Armstrong, Elvis, Chuck Berry, the Beatles and Andy Warhol.

...Kirby never really saw the financial rewards of his labor. From "The Incredible Hulk" TV show in the late 1970s to the upcoming "Justice League" movie in which denizens of Apokolips look to be the main villains, properties that he created are worth quite literally tens of billions of dollars. Did Kirby receive the compensation he was due in his lifetime? Nope. Will his descendants? It's not looking good.
Jack Kirby Museum Reveals KIRBY 100 Plans For NYC - newsarama.com
"To mark the 100th anniversary of Jack Kirby's birth, the Jack Kirby Museum and Research Center will open a special, limited-engagement event, celebrating the life, legacy, and boundless creativity of the King of Comics. "Jack Kirby 100 Years" will take place at One Art Space, located at 23 Warren Street in New York City, from August 27-30."
---
Jack Kirby!
King of Comics - NY Times
Amazon – Kirby: King of Comics (Anniversary Edition)
June 1, 2008: A review of the Mark Evanier "Kirby King O' Comics" book (Publisher Abrams) over at the New York Times, written by John Hodgeman, where he discusses Kirby's DC 'New Gods' concept and stories:
"It was a cosmic "epic for our times," with one foot in ancient myth and the other in the wildest science fiction. And unusually for a comic book story, it was designed to be told slowly, over many years, and to come to an end.

But it was also a personal epic. Kirby, as you ought to know, was the King. He got the nickname while working at Marvel comics, where, with Joe Simon, he created Captain America. Later, with Stan Lee, he helped fashion a completely new, psychologically rich aesthetic in comics, reviving a flagging industry and unveiling a pantheon of pop-culture deities — the Hulk, the Fantastic Four, the Silver Surfer — that still walk the earth today.

But Kirby's share of the riches they generated was modest. Like nearly all comics artists of the day, he worked for hire. Born in 1917, Kirby (né Jacob Kurtzberg) was a pugnacious child of the Depression-era Lower East Side and thus far more likely to favor a sure paycheck over a smartly negotiated contract. (Often, there were no contracts at all.) By the end of the '60s, fights with Marvel over money and growing resentment over Stan Lee's celebrity led Kirby to an unthinkable defection to the competition.

DC, by contrast, offered him vast creative latitude and an almost overdetermined amount of credit. "KIRBY'S HERE!" shouted bold sunbursts on the cover of early Kirby issues. The Fourth World was to be his liberation — the place where he would at last get to do his own thing.

The results were startling. Kirby fans already knew that his art was muscular and kinetic, and in this collection, he's at the height of his powers. His characters are always in motion, leaping and punching at impossible angles, straining at the panels that try to contain them. Kirby's writing was the same way. His stories were linear — even primitive. But there is something powerful and melancholy and personal that weeps in Orion's epic, city-smashing rages.

At other times, though, the pages cannot seem to keep up with Kirby's astonishing imagination. Concepts, characters, subplots and themes are wildly thrown into the mix like drunken punches and then abandoned, never to be seen again: A whole city "hewn from the giant trees of a great forest"! Space giants lashed to asteroids! Werewolves and vampires living on a miniature planet in a scientist's basement (a planet with horns on it)!
---
Related:
Copyright Wars of the Superheroes
---
---
Original Page April 2011 | Updated January 16, 2022