ARCHIVE PAGE 83 - Dec 2010
Previous posts that appeared on the front page of comic book brain.com
---
---
---
Chris Nolan "Batman 3" getting underway
From Fandango online:
"...the third installment of Christopher Nolan's 'Batman' franchise. Most (if not all) of the same cast will be returning (Christian Bale, Morgan Freeman, Gary Oldman and Michael Caine), but this time around Bruce Wayne will need a new love interest and a new villain or two to square off against.
... it appears as if Nolan has chosen Tom Hardy (Inception, Bronson) to play "a lead role" in the new Batman movie, presumably as one of the main villains since, other than a replacement for Harvey Dent, there doesn't seem to be anyone else for him to play. Because Hardy is so versatile, the list of villains he could potentially play is pretty long – from The Riddler to Killer Croc, there are a number of large-and-in-charge bad boys this actor could take on."
"Batman 3" (surely this won't be the title) will go to theatre screens July 20, 2012.
More Catwoman - Dark Knight Rises
---
---
The Black Cat - Karloff, Lugosi
---
---
More Scarlett Johansson "The Black Widow"
More Black Widow - Agent Romanoff
---
Crepax art "Man from Harlem"
See page enlarged.
Guido Crepax
Man from Harlem, Heavy Metal #10, Jan 1983, Crepax splash page
Man from Harlem, Heavy Metal #10, Jan 1983, Crepax page 2
Man from Harlem, Heavy Metal #10, Jan 1983, Crepax page 3
---
Black and white page from the Takeshi Obata BAKUMAN manga book
---
Superheroes bad for you?
Superheroes bad for growing minds and bodies? Rebut to researchers conclusions: Seduction of the innocent redux
---
Archie Comics Patrol
[Above and below, Archie comics on the local supermarket racks]
See an index of Archie comics related material on this web site.
More Archie Comics
---
Comic Book Stores and More
---
Store rack superheroes
Superhero Cups 2013 - Spider Man, Batman, Marilyn Monroe
Marvel Comics
Avengers Assemble - stuffed dolls, 2013
Crayola Giant Coloring Pages with the Avengers
Sugar and spiders. See more Many Spiderman Cup Cakes
Jack Kirby Shorts - instore display with Captain America
Spider-Man - Hamburger Protection Services (Photo)
Spiderman Geek vs Christian Bale Dark Knight
Daredevil vs the Most Dangerous Man in the World
Ironman Movie 2 and Dr. Pepper Soft Drinks
DC Comics
He looks pretty angry. See the Mr Freeze Lego image larger.
Dark Knight Batman Lego Pajamas
Superman iconography on Rolling Stone Magazine, Jan 2013
Dark Knight Rises - Cardboard rack next to girls clothing
Dark Knight Rises - Cardboard Catwoman - Store Display
Dark Knight Rises Cardboard DVD/Toy and Bluray Display instore
Dark Knight Rises Theatre Posters
Dark Knight Rises - Mezitz Batman and Catwoman toys
Dark Knight Rises -Mez-itz Batman and Bane DKR toy set
The Dark Knight - Batman the chocolate bar
The Dark Knight - Batman the Dark Knight Cheerios
Super Hero jackets - Batman, Superman and Bazinga
Large Plastic Man Give Away Toy
Odd Couple - Batman and Merida from "Brave"
Misc Comics
Archie comics on the supermarket stand in Chesterfield Virginia
---
Rack Comics
Comic Books at the Barnes and Noble
Comic Book Spinner Rack on the Island of Mackinac ("Mackinaw")
Archie comics on the supermarket stand in Chesterfield Virginia
Why is Manga eating the lunch of 'graphic novels'? Barnes and Noble shelves
Magazine war: Ironman 3 vs Man of Steel
---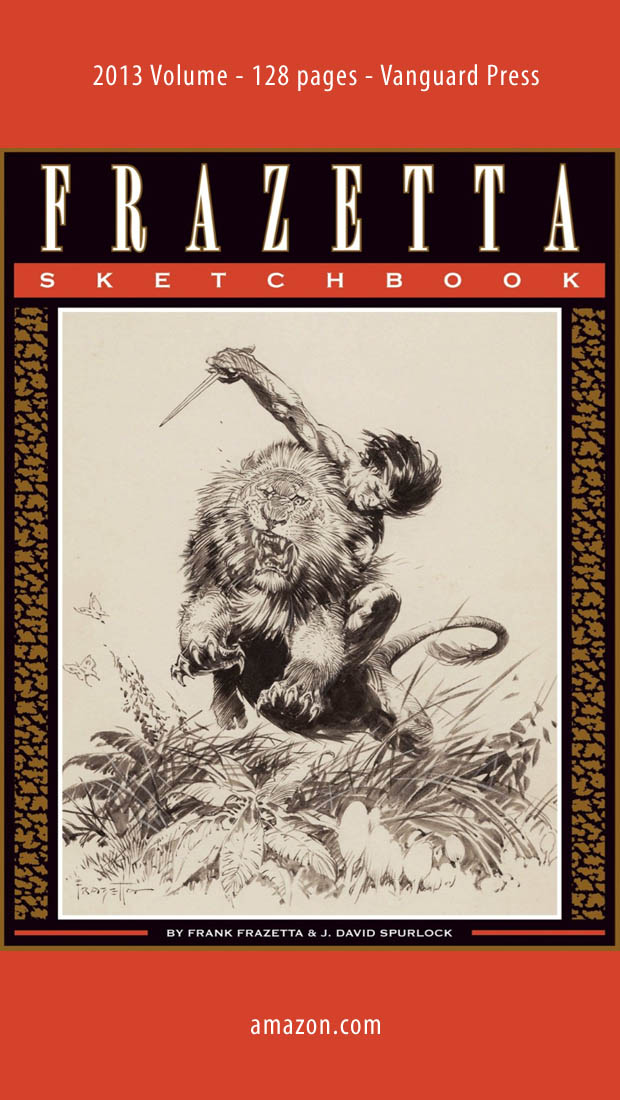 ---
---
Frazetta Bio riddled with errors
August 19, 2010: Possibly the worst of the Frazetta bios to come along in the wake of his death is this one just published in the Brooklyn Eagle. The dates are a bit mixed up, and the resume given for Frazetta's achievements are only marginally correct or just flat-out wrong. Obviously the paper is trying to lionize a native son, but surprisingly poor journalism went into the fact-checking. Here's a sample quote:
"In the 1940s, he became addicted to comic books and comic book art. His comic book contributions started with Buck Rogers but then he sat in for Al Capp by drawing "Lil Abner." He moved on to "Tarzan," and eventually "Little Annie Fannie" for Playboy magazine.

But his claim to fame was his creation for the Conan the Barbarian comics in 1966."
A simply awful (or hilarious) biography sure to be quoted authoritatively in many places through the magic of the internet and search engines.
---
Supergirl #1 - 1972
More Bob Oksner
---
---
---
Original Page Dec 2010 | Updated June 2015
---
---