ARCHIVE PAGE 75 - Jan-April 2010
Previous posts that appeared on the front page of comic book brain.com
---
James Sturm and the lure of electronica
"I'm quitting the internet"
James Sturm (writer/artist of Golem's Mighty Swing among others at the Slate web site on the problems of tech-culture and living a life with (or without) the glow of a computer screen.
---
Archie
SEEN AROUND TOWN: Archie Comics Digest on the checkout shelf at Ukrops grocery store in Chester, Virginia, Feb 2010.
More Archie Comics
---
Comic Book Stores and More
---
Store rack superheroes
Superhero Cups 2013 - Spider Man, Batman, Marilyn Monroe
Marvel Comics
Avengers Assemble - stuffed dolls, 2013
Crayola Giant Coloring Pages with the Avengers
Sugar and spiders. See more Many Spiderman Cup Cakes
Jack Kirby Shorts - instore display with Captain America
Spider-Man - Hamburger Protection Services (Photo)
Spiderman Geek vs Christian Bale Dark Knight
Daredevil vs the Most Dangerous Man in the World
Ironman Movie 2 and Dr. Pepper Soft Drinks
DC Comics
He looks pretty angry. See the Mr Freeze Lego image larger.
Dark Knight Batman Lego Pajamas
Superman iconography on Rolling Stone Magazine, Jan 2013
Dark Knight Rises - Cardboard rack next to girls clothing
Dark Knight Rises - Cardboard Catwoman - Store Display
Dark Knight Rises Cardboard DVD/Toy and Bluray Display instore
Dark Knight Rises Theatre Posters
Dark Knight Rises - Mezitz Batman and Catwoman toys
Dark Knight Rises -Mez-itz Batman and Bane DKR toy set
The Dark Knight - Batman the chocolate bar
The Dark Knight - Batman the Dark Knight Cheerios
Super Hero jackets - Batman, Superman and Bazinga
Large Plastic Man Give Away Toy
Odd Couple - Batman and Merida from "Brave"
Misc Comics
Archie comics on the supermarket stand in Chesterfield Virginia
---
Rack Comics
Comic Books at the Barnes and Noble
Comic Book Spinner Rack on the Island of Mackinac ("Mackinaw")
Archie comics on the supermarket stand in Chesterfield Virginia
Why is Manga eating the lunch of 'graphic novels'? Barnes and Noble shelves
Magazine war: Ironman 3 vs Man of Steel
---
Amanda Conner Supergirl

Page from the 9th issue of DC Comics' Wednesday Comics: A Supergirl page by Amanda Conner.
---
Frazetta Museum center of Family Feud
April 25, 2010: Frazetta Feud "Officially over" Plus other updates
April 21, 2010: Another burglary on the Frazetta property. This time Frazetta's gun collection and other items taken.
April 1, 2010: Update on the Vigil held at the Frazetta Museum on March 26, 2010.
March 26, 2010: The Frazetta Feud goes on. Recent web sites online seem to advance the interests of the parties involved: theghostofellie (named after Frank Frazetta Srs wife Ellie Frazetta) takes the side of Alfonso Frazetta Jr. And the site frankfrazettamuseum seems to be on the side of the other three Frazetta children, and has the bonus of Frank Frazetta himself speaking in online video from his place at Boca Grande in Florida.
Frazetta Sr has been interviewed in a March 26 issue of the Pocono Record: "
"Frank Sr. said he didn't understand why his son thought he had permission to take his paintings. But he doesn't think Frank Jr. was acting in his best interests, as the son has claimed.
---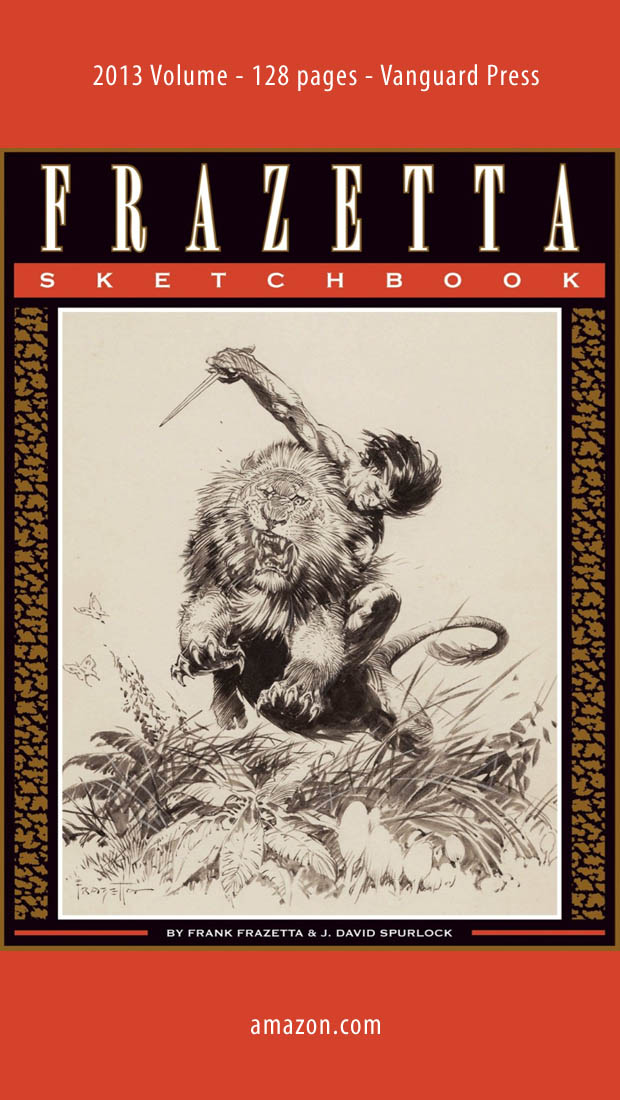 ---
Detective Comics Batwoman by WIlliams III

A J. H. Williams page from Detective Comics #857 from DC Comics Nov 2009 cover date. Click to enlarge.
More J. H. Williams III
---

A Ron Barrett page from Cloudy With a Chance of Meatballs childrens book from 1978. Click to enlarge
---
Rubeny Art from House of Mystery

A Rubeny page from House of Mystery #248 from DC Comics 1976.
Related: DC Comics' House of Mystery
---
Gerry Talaoc - House of Mystery 1973

GERRY TALAOC: See enlarged page to the House of Mystery, DC Comics, Feb 1973.
---
FRANK QUITELY BATMAN AND ROBIN
A Frank Quitely page from Batman and Robin #3 from DC Comics 2009.
---
Robert Lawson Ferdinand page has updated.
The classic children's story book artwork from 1938
---
---
Original Page April 2010 | Updated March 2014
---
---
Lynda Carter - Wonder Woman
---